The impact of cryptocurrencies on the environment continues to be a topic of debate as the world adopts digital assets. 
The process of mining new coins and verifying transactions requires a lot of energy and thus harms the environment. Yet, the industry has recently taken multiple successful steps to decrease its carbon footprint. 
Bitcoin 
Bitcoin relies on a consensus mechanism called Proof of Work (PoW) which requires miners to solve difficult mathematical problems to validate transactions, which rewards them with Bitcoin. This process can only be executed by very powerful computers, which leave a significant digital footprint. 
As more miners enter the space, the 'network difficulty' has steadily increased. A high difficulty means it will take more computing power to mine the same number of blocks, making the network more secure against attacks. 
This results in the need for newer, more powerful hardware to process the transactions, thus increasing the power consumption of operations. 
While Bitcoin mining hardware is evolving to be more power efficient, the increase in network difficulty puts pressure on miners to heighten their computing power to remain profitable.
Other well-known cryptocurrencies, such as Dogecoin and Litecoin, also use the PoW mechanism.
Bitcoin mining has attracted severe criticism for its energy consumption, as its PoW mechanism requires high computing energy consumption. 
In March, Greenpeace showcased a 3.3-meter tall, red, laser-eyed, skull stamped with the Bitcoin emblem. "Satoshi's Skull," built from repurposed e-waste, depicted Bitcoin's "fossil and coal pollution," as well as the digital trail of pollution left by the "millions of computers" used in securing and expanding the crypto network.
Avalanche of DMs from the Environmental Bitcoin Crew giving me a lot of hope!

Need some time to reply, reflect and summarize. 🙏

Excited about the discussion I was hoping for!
Sorry if I haven't replied yet. pic.twitter.com/HgYHzLksBB

— Von Wong (@thevonwong) March 24, 2023
The artist behind the creation, Von Wong, wanted to draw attention to the waste that comes from Bitcoin's mining mechanism. He called for a change in computing technology to decrease the digital footprint of mining.
Bitcoin has already made significant progress in offsetting its carbon footprint, primarily by adopting renewable energy sources for its mining, such as wind and solar power. 
A recent study by Daniel Batten revealed that "sustainable energy usage is at least 52.6% of Bitcoin mining's total energy use." There are at least 29 mining companies that make up 16.48% of Bitcoin's mining network, that use 90-100% zero-emission energy, and 12 others use emission-negative resources. 
According to a recent report from investor and ESG analyst Daniel Batten, more than half of the energy used in Bitcoin mining comes from renewable energy sources. Hydropower alone reportedly accounts for more than 23% of the energy used in mining. #PositiveSentiment pic.twitter.com/XoYG08T3sQ

— Crypto Talkies – Sentiment Analysis Tool (@crypto_talkies) April 2, 2023
Bitcoin is the world's biggest user of clean energy. And it's getting cleaner

These 29 mining companies use 90-100% clean-energy. They = 16.48% of the bitcoin network (52.2% clean energy overall)

Another 12 use emission negative sources (~2% of network)

*ZE = zero emission pic.twitter.com/S2AzeDgOSs

— Daniel Batten (@DSBatten) December 8, 2022
Furthermore, Bitcoin's use of energy for mining isn't homogenous at all times — instead, it can vary with the fluctuating production schedules of wind and solar energy. 
Mining facilities can shut down their operations whenever there is a particularly high demand for energy, like during extreme weather, to stabilise the grid and avoid tapping into fossil fuels. 
---
---
Bicoin also aims to decrease its carbon footprint by utilising surplus energy from renewable sources, so-called emission-negative resources, and has already invested in and adopted renewable energy infrastructure that can be used to render other computing tasks more energy efficient, according to PwC. 
For instance, using liquid immersion cooling technology instead of traditional air-colling methods helps them reduce consumption by up to 90%. 
Many miners also moved their operations to places with advanced renewable energy resources, such as Iceland, where geothermal energy is abundant and cheap.
Ethereum 
Ethereum, the second largest cryptocurrency, created a buzz in September 2022 when it announced its transition from the Proof of Work mechanism to Proof of Stake (PoS). Proof of stake (PoS) is generally considered to be more energy-efficient and environmentally friendly than PoW, as it does not require the same level of computational power as PoW. 
Instead, validators are chosen based on their stake, rather than computing power, and the process of adding new blocks to the blockchain becomes less resource-intensive.
This process is much less energy-intensive than PoW, which prompted Ethereums switch. 
The merge slashed Ethereum's energy consumption from 8.5GW to less than 85MW. The change is drastic. 
Hornsea Two, the world's largest offshore wind farm, generates 1.4GW of electricity. 
Ethereum now consumes 0.001% of the energy that YouTube consumes annually, according to the Crypto Carbon Ratings Institute.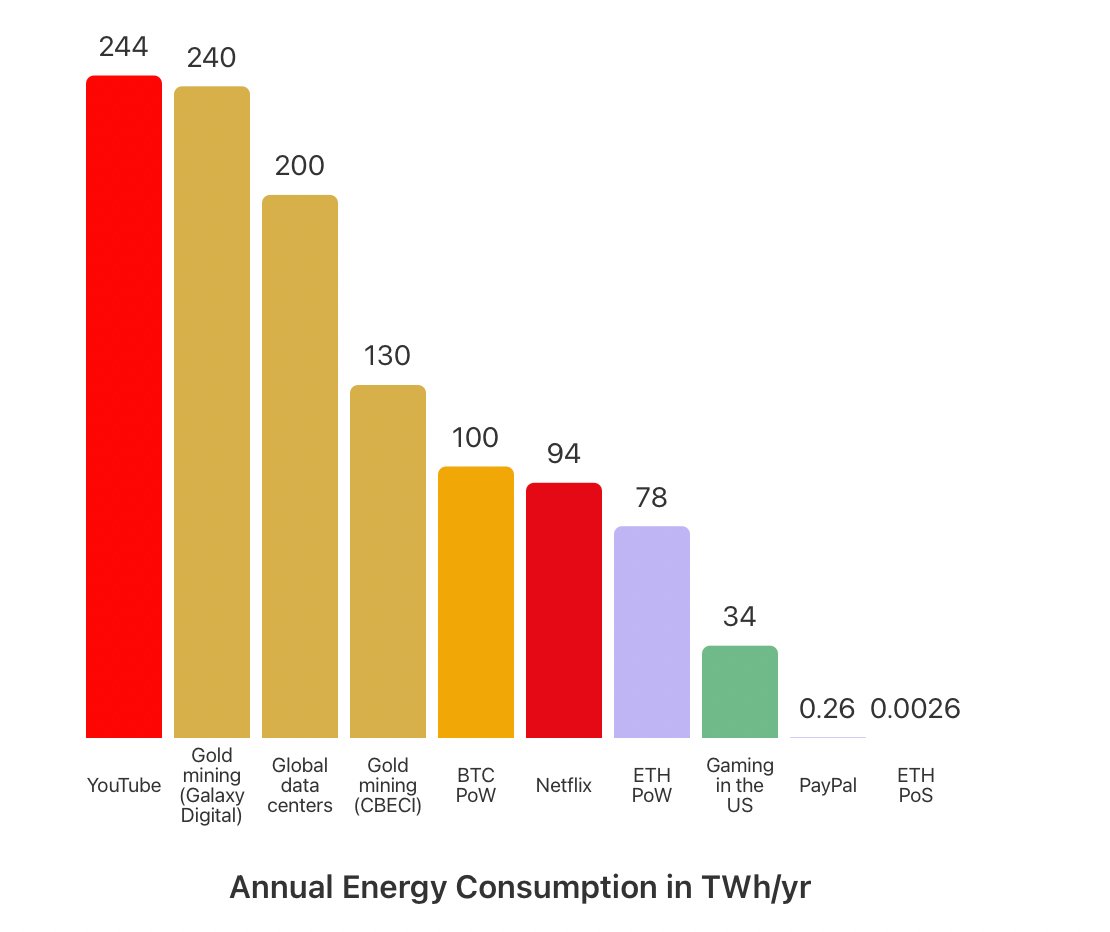 Switching from PoW to PoS goes a long way in reducing energy consumption, as displayed in the table below. Yet, some argue that encouraging cryptocurrencies to transition to PoS mechanism will adversely impact the environment, as there will be less incentive to invest in renewable energy.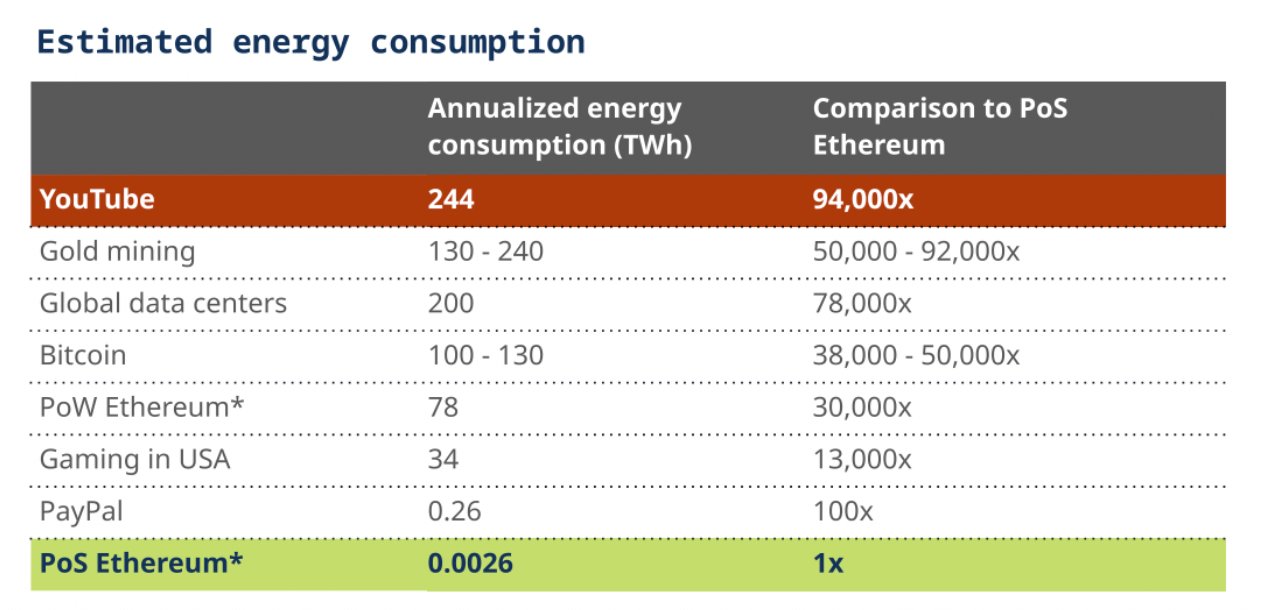 Other improvements:
Monero, another cryptocurrency, has become more environmentally friendly while maintaining its PoW system. 
Instead of using specialised hardware, as Bitcoin does, it built a RandomX algorithm which focuses on CPU (Central Processing Unit) mining. This method bypasses the need for mining farms, using home computers instead, thus reducing energy consumption and electronic waste.
Other cryptocurrencies have introduced reward programs and partnered with environmental groups. 
Ecoterra, for instance, has launched a reward program and offers recycling incentives and rewards. Scanning items for recycling via the EcoTerra app, individuals can claim $ECOTERRA tokens that can then be retained, staked, or used in environmentally-friendly endeavours. 
The trend to partner with climate organisations has also emerged to offset the negative effects of cryptocurrency mining and its digital footprint. IMPT has collaborated with over 10,000 ventures worldwide, including Microsoft, Lego, and GameStop, to incentivise users and companies to offset their carbon footprint while shopping. 
Carbon credits can be won or purchased to be used to fund investments in hundreds of different eco-friendly projects and organisations. 
Although there is still a long way to go to render cryptocurrencies carbon-neutral, the industry is taking steps to secure a greener future for computing, transactions, and mining. 
---
Editor's Note: The opinions expressed here by the authors are their own, not those of Impakter.com — In the Featured Photo: Bitcoin Featured Photo Credit: Traxer