A good pair of pajamas can represent more than just a piece of clothing for bed. It can be a huge factor behind a good night's sleep for some, as well as a fashion statement for others. Pajamas are also part of a massive industry; the worldwide nightwear market (defined as all clothes meant to be used indoors or in bed and including things like pajamas and robes) is worth close to $29 billion. So it's no surprise to see ethical and sustainable players involved in the space as well, including The Bright Company.
Founded in 2013 by British designer Alienor Falconer, the company produces chemical-free, GOTS certified organic cotton pajamas for all ages, with production often centered around independent, family-run factories. I talked with Alienor about The Bright Company's beginnings, its focus on supply chains, and its collaborations with other companies.
Q. How did The Bright Company originally get started?
Alienor Falconer: When I had my son, my oldest child, I was working in fashion. I used to work for a brand called Paul Smith, and I was one of the product developers there for their footwear range. I was on my maternity leave, and in that time things changed. I reevaluated what I wanted to do with my life, and I was concerned that going back to work with the role that I was doing wasn't going to work with the type of family setup that I wanted to have. I traveled a lot for work, I used to go to the Far East. That wasn't great, plus my husband was traveling loads for work at the time, and neither of us had control over when we were traveling. So I wanted to do something that would work around family, and still have my creative outlet.
After having my son, I found loads of amazing kids brands, brilliant fashion brands for kids, but at the time there really was no premium nightwear that you could buy that was really a really good quality product and that could last long and look good. All of the things that were trying to achieve weren't out there. So I thought, "well, having come from a fashion background, I know how to make products and how to get products to market." That's kind of where we started.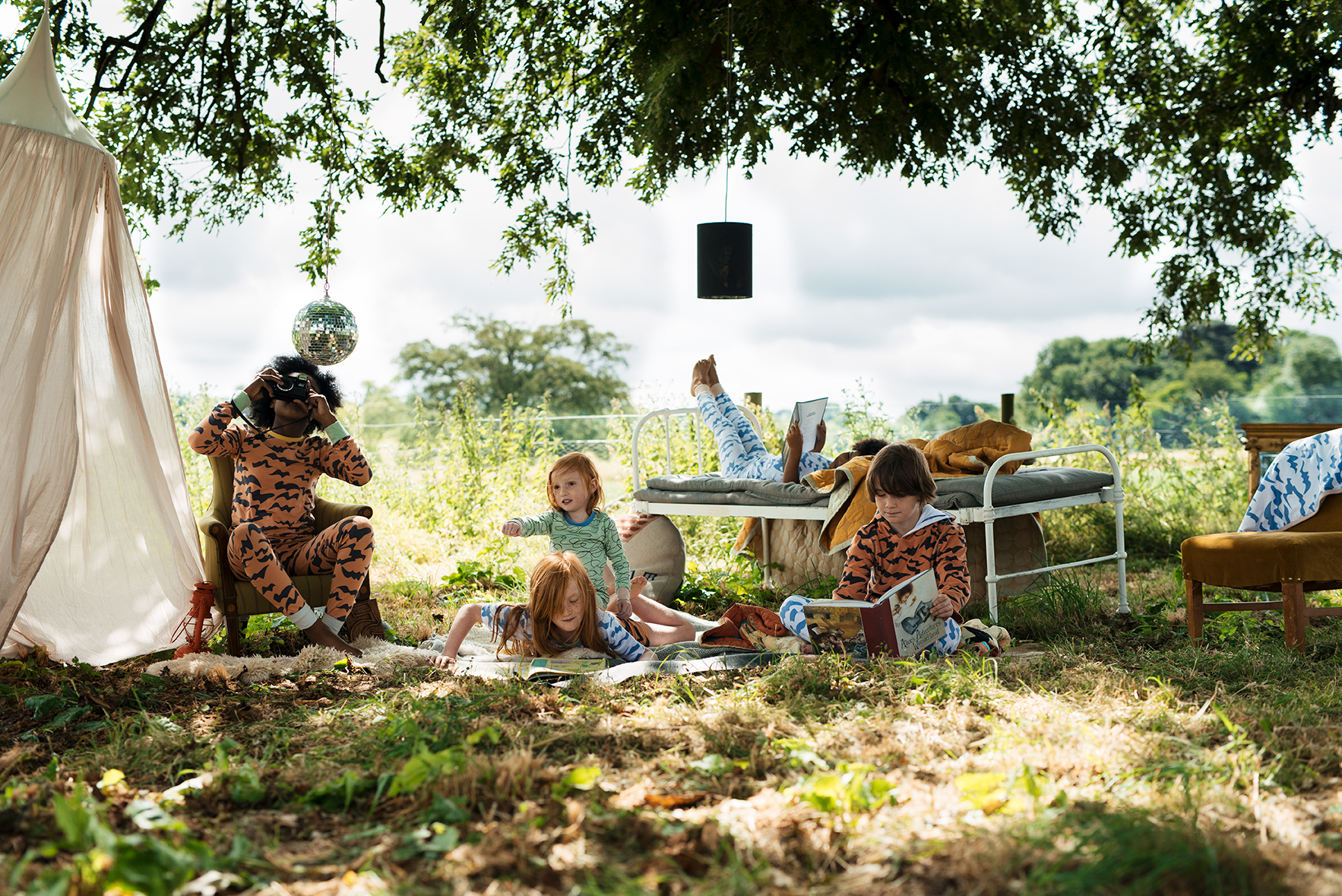 In the photo: The Bright Company pajama shoot in the countryside Credit: The Bright Company
Q. It's cool that you were driven by a desire to do both meaningful work and raise a family as well.
The amazing thing about having your own brand is that you get to lead the direction of the brand. As much as I really enjoyed working at Portsmouth and working on products, what really drives our passion here is being able to work on the environmental and ethical side of the brand. That is at the forefront of everything that we do, and that for me is really important. It's exciting that I get that opportunity to be able to make that happen.
Q. Delving into the ethical and environmental aspects of TBC, what kinds of things does the company do in those areas?
We first started manufacturing in the UK, we manufactured in this really tiny, family-run factory. That was brilliant, and we used oeko-tek cotton. When we got a bit bigger, we wanted to move, and we moved very deliberately to Portugal, because it's a country where you still get lots and lots of small, family-run factories that are bigger than the factories that we have in the UK, but are also responsible enough that they work with the print houses and everybody. They also have lots of organic cotton production there. They use a lot of organic cotton in Portugal, it's very normal for them. So that's where we produce now.
I went on a little field trip and met a whole bunch of factories, and I chose the factory that we're working with for several reasons. On the professional level it worked really well, they were a really lovely family-run factory. I've seen the people who are sitting and sewing our garments there, and every time I visit everyone who works there is really happy to work there. It's a proper kind of factory in the sense that we used to know them, in that they're skilled workers, they're paid well, they enjoy what they do, and it's a proper job. They're not slaves to anything.
The cotton that we now use is organic, which is really exciting because we had not had that opportunity to begin with. Our supply chain is really small, and we can see all the steps in the supply chain. We've also changed all our mailing bags to paper bags so that people can put them in compost or recycle them. Step by step we're getting as green as we possibly can.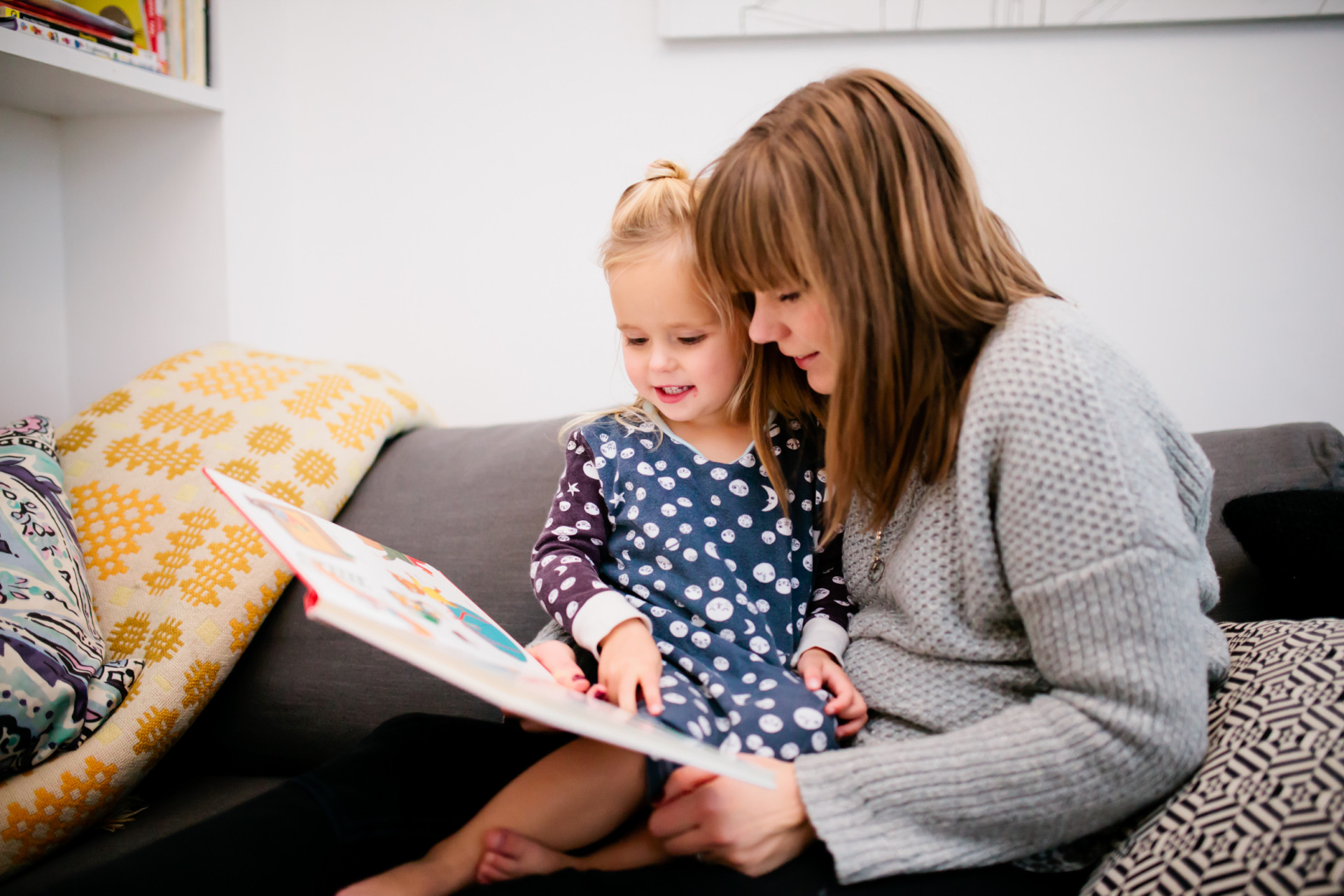 In the photo: Alienor Falconer, founder of The Bright Company Credit: The Bright Company
Q. It's interesting how you chose to focus on simplifying supply chains so much.
I think it's also about making it as short as possible as well. The factory buying the cotton and then having it knitted right there in Portugal, it's all traceable. We can see where everything's coming from and where it's going, and we know that the dyes that they're using are the right dyes. We keep it close, and I think that helps.
Q. TBC has a couple different brand lines like Slim Jyms and Monty, how were they developed and how do they each vary?
The Slim Jyms were the first ever products that I designed. They've evolved through the years, now I think that the pattern is pretty much perfect. It's a slim-fitting pajama, it's deliberately so, so that it doesn't move around at night, it moves with children. It's a bit like wearing a pair of leggings to go to the gym, it's not riding around, you're not getting gaps at night, and it's not bunching up. It very deliberately works with a child's body, because they're stretchy and made out of knitted cotton. They kind of grow with a kid. They're also nice and long so you don't get chilly ankles. The equivalent for babies is the Monty sleepsuit, and again that's a slim fit. For the kids we've got the Loll Dress, that's a lounge dress. It's a looser fitting thing for children, which is more comfortable.
All of our products stem from a physical need as it were. There's a reason that they're fitted in the way that they are, and they work around a child or adult's body. For example, the women's Slim Jyms are deliberately fitted with a long top that dips down at the back so it covers the bum and covers the tummy area and is quite a tight fit on the legs. That's because generally after you've had children, it gives a bit more coverage where you might need it.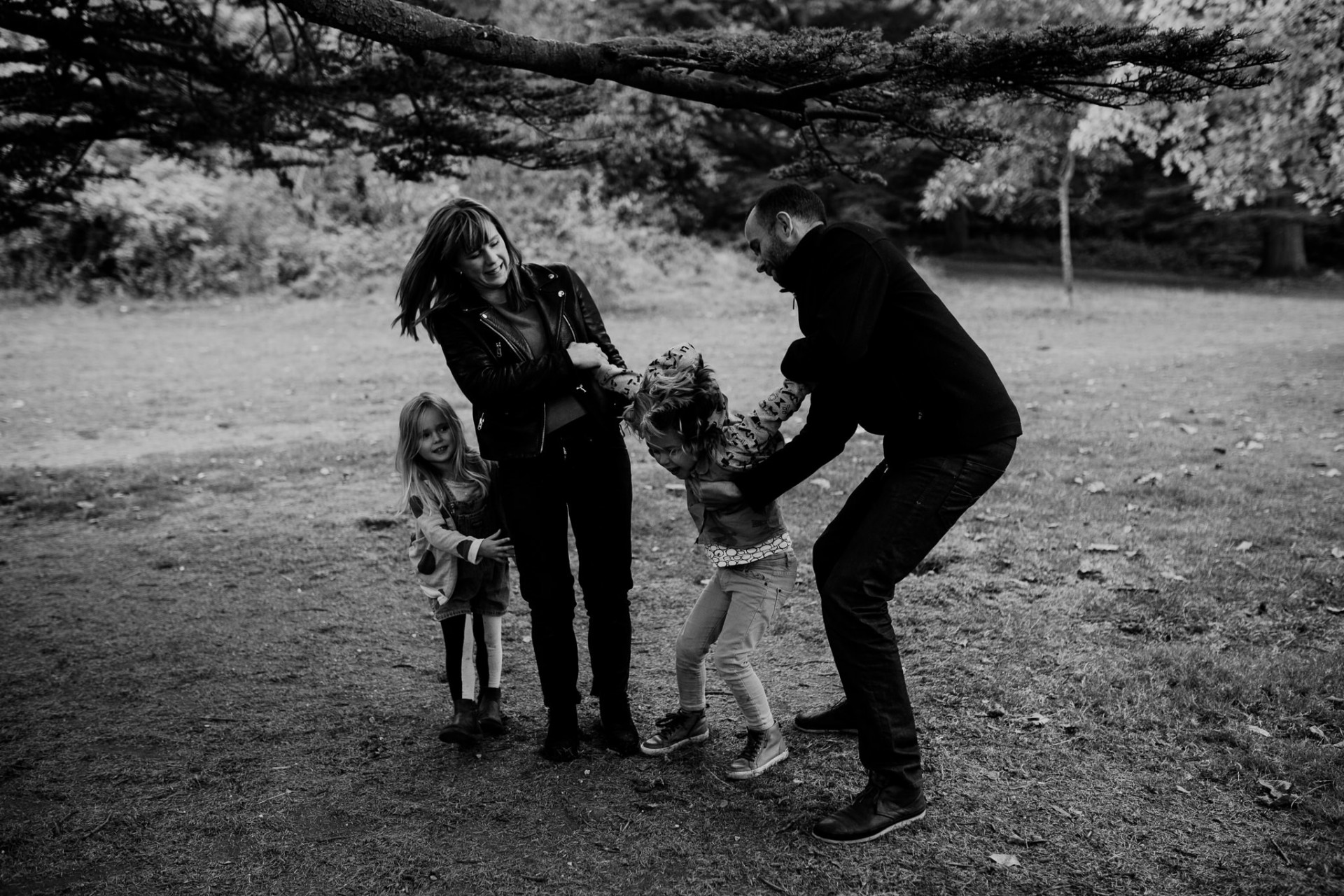 In the photo: Alienore with her family Credit: The Bright Company
Q. What does the future of The Bright Company look like in your eyes?
I don't want to become a massive company. I want to keep what we're doing small enough for us to manage ourselves. I don't want to become something huge. But I think there is still more scope for more nightwear to be designed, and also to move into homewear. We do bedding every now and then, but it would be really great to have more substantial bedding collections. We can also move into soft furnishings, I think our prints can work in many different ways. I don't think we're ever going to become a clothing company, but maybe we could offer more loungewear. There are opportunities for more products and collaborations, I love doing collaborations as well.
Q. What kinds of collaborations have you done in the past?
We've worked with illustrators, and we've worked with other small companies. We've worked with an Australian illustrator Pax & Haart, we've got a really lovely one next winter coming out from a smaller, British illustrator called Wonder and Rah, and we've worked with an illustrator called Sarah Dyer several times before to do different prints. We've worked with really small companies like Studio NL to produce an exclusive collaboration with them. We've also got a couple in the pipeline for this year which I can't talk about yet because they're not 100% confirmed, but if they come off then it will be really exciting. It's always fun to work on these sorts of things.
---
Editors Note: The opinions expressed here by Impakter.com columnists are their own, not those of Impakter.com