After weeks of destructive flooding, on Monday the South African government declared a national state of emergency and is now planning to contribute $67 million to help with disaster relief and clean up. 
In the city of Durban, the flooding has killed 448 persons, left 63 people missing, destroyed nearly 4,000 homes and has displaced roughly 40,000 people due to mudslides and other flood-related catastrophes. 
Three members of this family were killed in South Africa's severe floods. They are still looking for a 4-year-old girl, and her relatives don't know if she is alive. pic.twitter.com/m5MUO7Rlb9

— AJ+ (@ajplus) April 18, 2022
Residents have been left without electricity and drinking water for weeks now as the flood caused significant damage to the city's water tanks surrounding communities rely on — only few neighborhoods had their water restored over the weekend, others are expected to have to wait for a while. 
In an effort to speed up recovery, the South African military has deployed 10,000 troops in Operation Chariot to search for missing persons, provide fresh water to residents through water purification systems, deliver food and clothing to flood victims, rebuild collapsed roads and bridges and reinstall electricity. 
After visiting some of the flooded areas last week, South African President Cyril Ramophosa blamed climate change for the substantial rain — the heaviest rainfall in 60 years.
Climate change has caused an increase in natural disasters across the continent 
In the latest African Pulse report released by the World Bank Group in October 2021, researchers focused on climate change and its effects on sub-Saharan Africa — as well as highlighted the devastation caused by related deaths across the region.
Authors of the World Bank Group wrote the world's surface temperature continues to rise, yet concluded Africa's surface temperature has been rising at an even faster rate — 2020 was the fourth warmest year for the African continent since 1910. 
The report also found that the rise in temperature has led to a change in rainfall patterns leading to rampant extreme weather across the continent — Africa experiencing the most natural disasters than any other continent. 
"Relative to 1970-79, the frequency of droughts in sub-Saharan Africa nearly tripled by 2010-19, it has more than quadrupled for storms, and it has increased more than tenfold in the case of floods."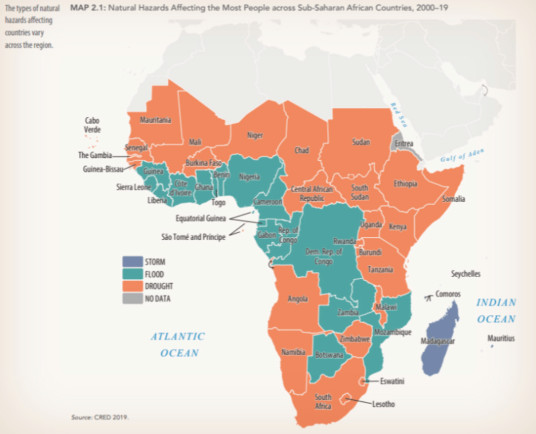 After drought, flooding appeared to have the most significant impact on the continent countries such as Kenya, South Africa, and Mozambique experiencing 75% of the region's floods and storms — Durban sitting on the east coast of South Africa. 
Relief funds: Following a recent scandal around funds for Covid relief, there is anxiety about how the funds will be used
Alongside hundreds of deaths, an estimated 600 schools were destroyed amounting to $68 million in damages.
As the cost of damages rank up and destruction continues to wreak havoc on communities, many have pledged funds to support the relief efforts.
Just recently, South African businessmen Patrice Motsepe, Ramaphosa's brother-in-law, made one of the biggest donations to the relief fund pledging about $2 million to Gift of the Givers, a South African based disaster relief organization.
South African-born actress Charlize Theron had also pledged funds for flood relief through her Africa Outreach Project. 
Yet many have concerns about whether this money will actually go to its intended destination — flood relief. 
"There can be no room for corruption, mismanagement or fraud of any sort," said Ramaphosa. 
Concerns of mismanaged funds come after a widespread investigation was uncovered by the state's Special Investigating Unit that found state funds intended for COVID-19 relief went elsewhere. Former Health Minister Zweli Mkhize resigned after the investigation discovered businesses linked to his family benefited from inflated COVID contracts from his department and the misused funds.
"Learning from the experience of the COVID-19 pandemic, we are drawing together various stakeholders to be part of an oversight structure to ensure all funds disbursed to respond to this disaster are properly accounted for and that the state receives value for money," Ramaphosa said. 
With flood weather still looming in the background, it is necessary that relief efforts continue to be funded and reach the citizens of Durban before other potential natural disasters can affect the community even more. Especially as climate change had caused major flooding in all parts of the world — Australia experiencing disastrous floods only a month ago — denying science only hurts communities that are less equipped to handle monstrous amounts of damage.
---
Editor's Note: The opinions expressed here by Impakter.com columnists are their own, not those of Impakter.com – In the Featured Photo: Flood destruction in Durban, South Africa on April 17, 2022. Source: Reuters, https://weather.com/news/weather/video/south-african-death-toll-ticks-up-after-flooding.