Over the past decade (and beyond), we have consistently heard and read about electric cars and their potential to reduce global greenhouse gas emissions. In fact, in  2018, the US saw electric vehicle sales increase by 81%, which was largely credited to the success of Silicon Valley automaker Tesla and their new Model 3.
At Impakter, we are always happy to see consumers consider the environment when making decisions on how they will get from point A to point B, but is electric the only solution to our global transportation pollution woes?
In this week's interview with Grant Zimmerman, CEO of Amp Americas, we learn there are other renewable sources of energy to fuel our vehicles, like renewable natural gas (RNG), which is capable of cutting emissions on and off the road.
---
---
The Chicago-based Amp Americas, founded in 2011 by Nate Laurell and Steve Josephs, is a pioneer in renewable transportation fuel. The company operates in two business units, Renewable Dairy Fuels (RDF) and Amp Renew. In the RDF unit, they collect manure from dairy farms, deliver it to one of their facilities, and in a process called "anaerobic digestion", use microbes to break down the manure to release methane. The methane is captured, purified and compressed to become RNG. The Amp Renew business unit takes the renewable gas, as well as RNG collected from third parties, and supplies it as fuel to fleet customers through both owned and contracted station infrastructures. As of February 2019, Amp Americas was producing 5 million gallons per year of RNG and operating 20 CNG fueling stations supporting some of the largest CNG fleets in the country including UPS, US Foods and haulers for Select Milk and Dairy Farmers of America.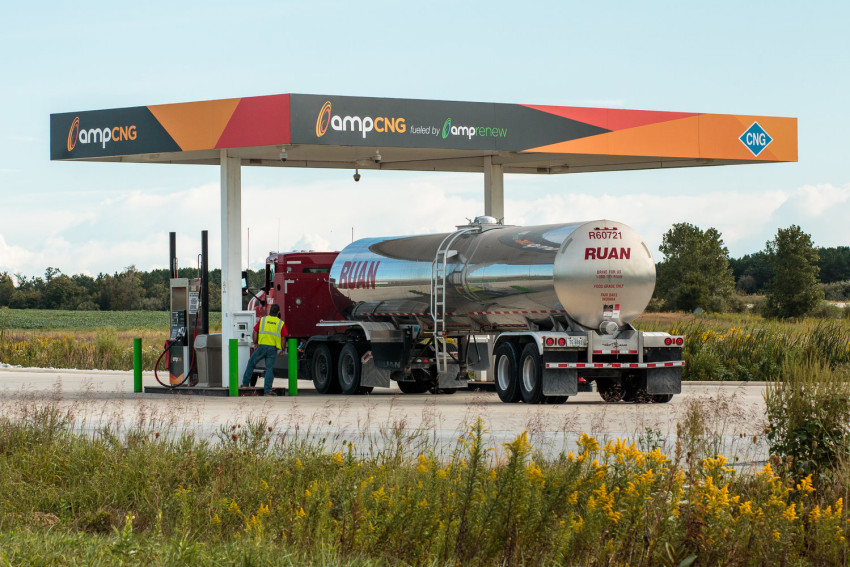 On July 25th, Amp Americas raised $75 million in a round led by investor EIV Capital. The capital will be used to invest in new dairy RNG projects, including two additional midwestern US dairy biogas projects.  
I caught up with Grant Zimmerman, CEO since February 2016, to learn more about RNG and its potential as a transportation fuel. Before Amp Americas, Grant was an Associate Principal in McKinsey & Company's Chicago office, where he served clients in the energy industry in strategy, operations, and corporate finance.
---
RELATED ARTICLES:

Silicon Valley Insider: Phospholutions vs. Phosphorus Pollution
Silicon Valley Insider: Calysta, Closing the Protein Gap with Natural Gas
---
"I spent seven years advising energy companies and chemical producers," Zimmerman explained, "I had been doing work with clients who were trying to justify coal mines and nuclear power plants. At $2 natural gas prices, that stuff doesn't pencil … so I got tired of arguing with clients and decided to find an opportunity in low-cost natural gas." 
Zimmerman went on to explain that Amp's RDF unit was actually the first dairy waste-to-vehicle fuel pathway certified by California's Air Resources Board (CARB). Furthermore, for their RNG operation in Northwestern Indiana, CARB awarded the company a Carbon Intensity (CI) score of -254.94 gCO2e/MJ, which is the lowest ever issued by CARB. By comparison, diesel fuel registers +98 on the CI score and California electric is +35, which  makes trucks using AMP RNG fuel cleaner than electric vehicles. 

Many of you may be wondering how electric cars could score higher in terms of emissions than a natural gas fuel source, so let's take a step back and look at how the CARB measurement is formulated. The unit gCO2e/MJ looks at grams of CO2e per metric ton, and the final measurement takes into account emissions from extraction, growth, refinement, distribution, storage, and combustion. Electric vehicles run on batteries, which is composed of a number of rare earth metals. Thus the emissions from the manufacturing of these batteries are taken into account and raise the overall score. The International Council on Clean Transportation (ICTT) notes that the overall emissions related to electric vehicle battery production depend on the country producing the battery. In fact, Chinese electric vehicle manufacturers have been found to produce up to 60% more CO2 during fabrication than internal combustion engine vehicles. 
"In the past few years, renewable natural gas' potential to be used as a transportation fuel has become more apparent," Zimmerman added, "Amp was the first to make renewable gas [working] with diary farms, recognizing the positive impact to both the dairy farmer and the planet." 

This is a truly exciting project, and we look forward to keeping up with Grant and Amp as they get their new facilities up and running!
In the Cover Picture: Two Cows. Credit: Amp Americas. 
---
EDITOR'S NOTE: The opinions expressed here by Impakter.com columnists are their own, not those of Impakter.com.