Every year, more than 100,000 whales, dolphins, seals and turtles are caught up in ghost gear – abandoned, lost and discarded fishing nets, lines and traps. A staggering 640,000 tons of this gear is left in our oceans annually. Most ghost gear is made of plastics that can take up to 600 years to decompose before breaking down in microplastics and entering our food chain. Almost half of the threatened species on the International Union for Conservation of Nature (IUCN) Red List have been impacted by ghost gear.
92 percent of encounters between marine animals and debris, including ghost gear, involves plastics debris, causing a wide range of lethal problems for animals. Marine animals entangled in ghost gear may drown within minutes or endure horrific, slow deaths lasting months or even years, suffering from debilitating wounds and starvation.  Animals trailing large amounts of fishing gear can become fatigued due to the additional drag or constriction, and many ultimately drown or die of exhaustion.
These stories are heartbreaking – but there is hope. These pernicious ocean plastics are meeting their match: remarkable women around the world working to reduce, remove, and recycle ghost gear and rescue animals along the way. Women are at the helm of World Animal Protection's Sea Change campaign, which aims to reduce the huge suffering ghost gear causes for marine animals around the world. The cornerstone of Sea Change is the Global Ghost Gear Initiative (GGGI), the only cross-sectoral alliance tackling the problem of ghost gear on a global scale. GGGI members span a wide berth – from seafood companies and port operators to NGOs, government agencies, divers and recycling companies. What we share is our commitment to eradicating ghost gear to save animals, preserve human health and livelihoods, and create safer, cleaner oceans for all.
As International Women's Day approaches, I'll introduce you below to just some of the amazing women in my team leading the global charge to tackle the devastation caused by marine litter. This remarkable team is fighting to stop the unnecessary, agonizing deaths of hundreds of thousands of animals due to ghost gear – and achieving landmark successes.
Meet our ocean heroes
Christina "Chris" Dixon is Global Wildlife Campaign Manager at World Animal Protection, based in London.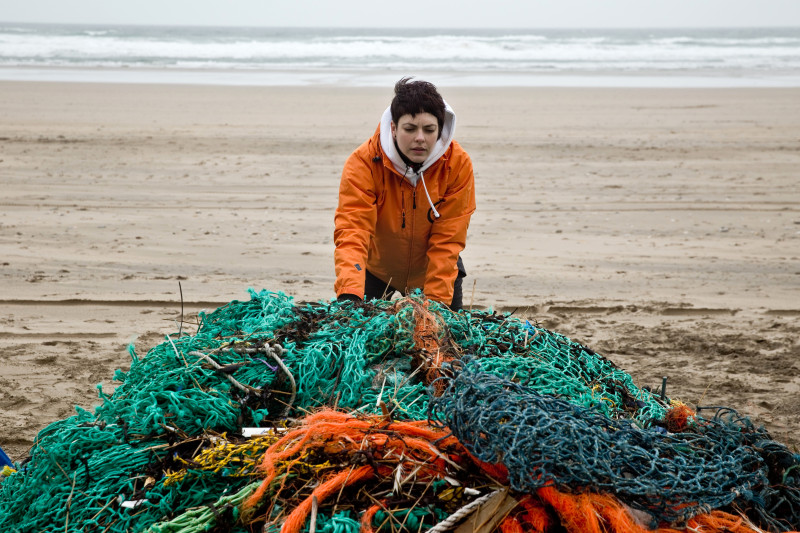 IN THE PHOTO: Christina Dixon of World Animal Protection observes the collected debris at beach clean-up on Perranporth beach, Cornwall, UK .PHOTO CREDIT: World Animal Protection / Greg Martin
Chris has worked on a large number of practical initiatives to help reduce and remove ghost gear from the world's oceans, making them safer for animals. Coordinating solution projects around the world, her role is busy and varied.
In Indonesia, Chris is leading on a pilot project on behalf of the Global Ghost Gear Initiative, funded by the Food and Agriculture Organization of the United Nations (FAO), to test approaches to marking and tracking fishing gear in a gillnet fishery. Gillnets are widely acknowledged to pose the greatest risk to marine wildlife and habitats when lost or abandoned, due to their durability and design. We are coordinating this important work and providing expertise on additional best practice measures for gillnet fisheries. This will ensure that gear marking is viewed as one tool in a comprehensive approach to reduce ghost gear, also including data collection on gear loss, fisher education, and gear disposal and recycling. With these resources, fisheries can better manage the impact of ghost gear on fish stocks and marine wildlife. Chris found meeting the local fishing community and understanding the daily challenges they face to be an eye-opening experience.
Chris says, "We're now testing some innovative technology using mobile phones to scan codes embedded into tags on nets. The technology team in Jakarta is enthusiastic about the pioneering potential this approach could have on tackling ghost gear and IUU fishing (illegal, unreported, and unregulated Fishing), which is a big priority for the Indonesian government at the moment."
In the Pacific Islands, Chris is coordinating a project focused on Fish Aggregating Devices (FAD) and mitigating the risks they pose to marine animals and habitats when lost. FADs are used by the fishing industry to attract fish into a specific area to make them easier to catch. This project sees us partnering with a large commercial tuna company, Tri Marine, to evaluate their commercial FAD program in the context of the GGGI's Best Practice Framework for the Management of Fishing Gear, as well as collaborating with the Vanuatu Fisheries Department on their artisanal anchored FAD deployment program. While the use of artisanal FADs (aFADs) is generally considered a positive approach to relocate artisanal fishing efforts to specific areas and benefit coastal livelihoods, little is known about the behaviours and productivity of these aFADs or what happens when they are lost. Our aim is for our recommended marking and tracking applications to be deployed on a set of aFADs, managed by the Vanuatu Fisheries Department, for the duration of the cyclone season to test their effectiveness.

IN THE PHOTO: Christina Dixon of World Animal Protection taking part in a beach clean-up with Surfers Against Sewage (SAS) on Perranporth beach, Cornwall, UK. The focus was finding ghost gear. Here the volunteers work together to pull up a huge buried net. PHOTO CREDIT: World Animal Protection / Greg Martin
A passionate and poised advocate for the world's oceans, Chris recently appeared on Sky News, where she spoke about the links between IUU fishing and ghost gear.
A true solutions guru, Christina is coordinating the GGGI's international working group dedicated to catalyzing and replicating solutions to ghost gear globally. We're working to ensure that successful solutions projects to combat ghost gear are implemented at scale around the world, with expertise and resources shared.
When not saving animals or lobbying companies and governments to adopt sustainable practices, Chris plays the bass in two bands and recently captained the Polish national squad at the roller derby world cup.
Elizabeth Hogan is World Animal Protection's oceans and wildlife campaign manager in the United States, based in Washington, DC.

IN THE PHOTO: Elizabeth Hogan records ghost gear lost in the Gulf of Maine. World Animal Protection and the Gulf of Maine Lobster Foundation, in partnership with local fishermen, removed ghost fishing gear off the coast of Portland, Maine. PHOTO CREDIT: World Animal Protection / Kristian Whipple
For the last five years, Elizabeth has researched the impact of derelict fishing gear on marine mammals and has established rescue networks and protocols for entangled sea animals. Elizabeth has specifically worked to raise awareness and establish protocols for saving entangled pinnipeds – seals, sea lions, and walruses. This knowledge is sorely needed; while protocols for disentangling whales have been around for years and there is extensive coordination and training in the international community for whale disentanglement, pinniped rescue hasn't had that advantage. Elizabeth has organized workshops to shared tested methods for disentangling pinnipeds between biologists. This groundbreaking work is helping to establish global cooperation and best practices to keep seals and sea lions safe from entanglement in ghost gear.
Elizabeth is also contributing directly to the rescue of marine animals in the wild. She's travelled to Alaska to rescue and free entangled sea lions in an area where animals are especially vulnerable to entanglement. In New England, she worked with partner Marine Mammals of Maine (MMoME) to establish and help secure funding for the first rescue triage centre for marine mammals on the East Coast. The service MMoME provides is truly life-saving for stranded and entangled marine animals in need of immediate care. Last year, MMoME successfully rehabilitated and released two harbour seals, its first long-term patients, back into the wild!
Elizabeth has been instrumental in protecting the critically endangered vaquita porpoise, one of the most endangered animals in the world. There are fewer than 30 vaquitas left on earth, all in the upper Gulf of California in Mexico. Ghost nets from illegal fishing are the biggest contributor to the vaquita's precipitous decline. Elizabeth led groundbreaking expeditions in May and October 2017 in the Gulf of California to locate discarded nets, using innovative sonar scanning technology, for removal from the water. The mission team ultimately removed approximately 61,375 square feet of net on May and 21,500 square feet of net in October. During an entire month of scanning between September and October, the team found significantly less gear than over a similar length of time in May. This is a hopeful sign that the habitat was finally safer for the vulnerable vaquitas, but it's crucial that the Mexican government continues to enforce the vaquita's protection in the wild.
Additionally, Elizabeth has organized ghost gear removal missions and beach cleanups in Maine, New Hampshire, and California.
Chiara Vitali is the wildlife campaigner for World Animal Protection's UK office.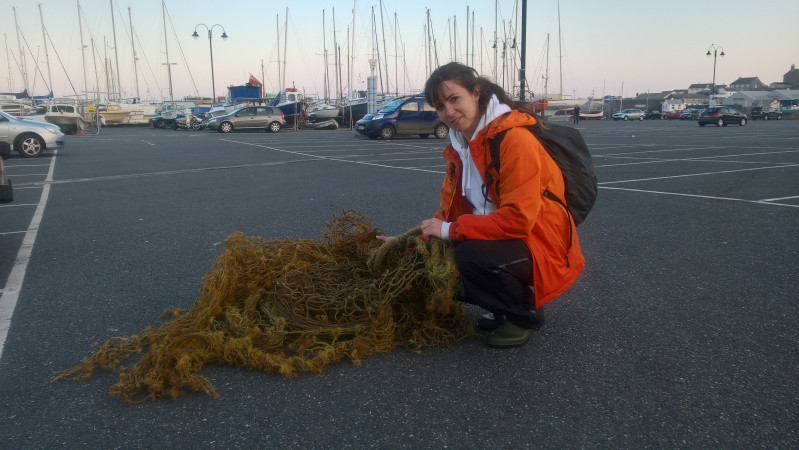 IN THE PHOTO:  Chiara Vitali. PHOTO CREDIT: World Animal Protection 
Chiara has been passionate about animal welfare since starting her first petition at the age of 11 against the fur industry in Italy, where she grew up. 
Chiara spends lots of time with the amazing people who are working to remove ghost gear from the sea, where they also rescue entangled animals and prevent more gear from ending up in the oceans. Some of Chiara's most rewarding field trips have been helping volunteer divers up and down the UK coasts to retrieve nets that could have killed many animals over the next few hundred years. Heading out to sea with our volunteers and witnessing firsthand the deadly ghost gear that lurks beneath the surface of seemingly pristine waters really struck Chiara and drove home the importance of our work to tackle this crisis. The energy and dedication of all the volunteers helping fight this threat to animals is a constant source of inspiration. 
In the last year, Chiara has particularly enjoyed working with GGGI members Fourth Element and UK clothing retailer Fat Face to set up a unique partnership: marketing swimwear partly made out of recycled ghost gear. The swimwear, made of a recycled nylon yarn called Econyl partially composed of recovered fishing nets, is now on sale in several Fat Face stores and online – with a portion of the proceeds from sales going to fund World Animal Protection's work to fight ghost gear. It was really exciting to showcase what can be done when derelict fishing gear is given new life and to see the fantastic reactions to both this sustainable swimwear and the story behind it. 
Finally, some of Chiara's most rewarding work has been getting the message out to the public about the ghost gear crisis and encouraging them to join the fight. From speaking to broadcast programs like BBC Countryfile to raise awareness of the issue, to launching a petition calling for action from UK supermarkets, she is passionate about finding new ways to raise awareness and empower people to act to tackle this global crisis. 
Lynn Kavanagh is our oceans and wildlife campaign manager based in Canada.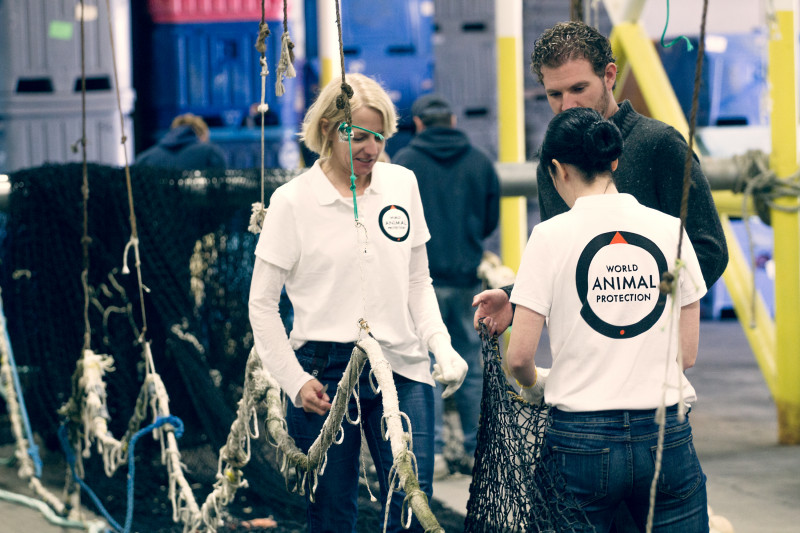 IN THE PHOTO:  Lynn Kavanagh (left) of World Animal Protection visits Steveston Harbour Authority in British Columbia, which worked with partners Aquafil and Interface Inc. on a net recycling program to turn old fishing nets into carpet tiles and other products. PHOTO CREDIT: World Animal Protection/ Rob Trendiak
One of the most exciting projects Lynn was involved in for the Sea Change campaign was working to remove a 25-year-old ghost net situated near Pender Island, British Columbia. This project was a collaborative effort and a great example of what the GGGI is all about. The derelict net had been in the same place for years, where it killed large numbers of marine animals. Lynn's team removed a whopping 4,600 pounds of deadly netting, saving the lives of large numbers of future marine animals.
Indeed, working collaboratively with different stakeholders is one of the keys to the success of this campaign. Last June, Lynn and another GGGI participant accompanied crab fishers in British Columbia to remove 49 derelict crab pots from McIntyre Bay near Prince Rupert in northern, B.C. Trap loss is an unfortunate consequence of the crab fishing industry and is generally due to severe weather, when traps are moved away from their deployed location by a combination of heavy winds, currents and large swells, after which the fisher cannot relocate them.
Lynn is actively engaging Canadian NGOs, fishing industry representatives, and seafood companies across Canada to build the GGGI and awareness of the ghost gear problem. A key tool for engagement is the newly developed Best Practice Framework for the Management of Fishing Gear (BPF), which provides guidance to stakeholders across the seafood supply chain for preventing and reducing their ghost gear footprint. Lynn was instrumental in the BPF's creation as coordinator of the GGGI's Best Practice and Inform Policy working group, and she hopes the industry will be motivated to adopt it as part of their sustainable seafood commitments. This framework provides an opportunity to help shape the way the seafood industry tackles one of the world's major sources of marine litter.
And then there's me, Ingrid Giskes – I'm the Global Head of World Animal Protection's Sea Change campaign and the Chair of the Global Ghost Gear Initiative.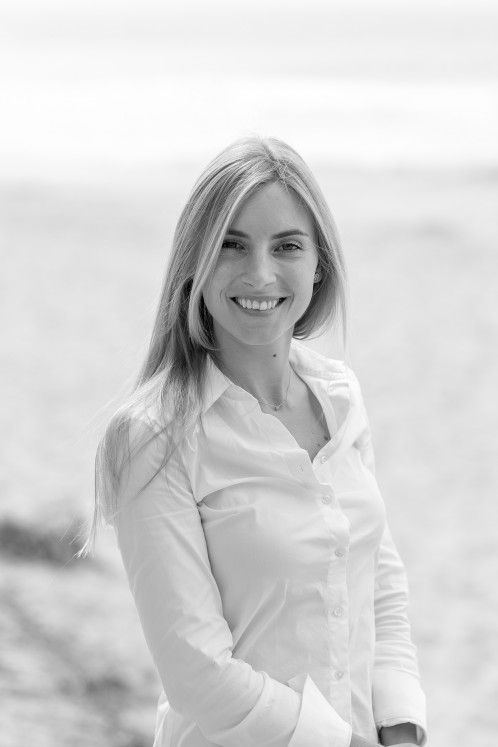 IN THE PHOTO:  headshot of Ingrid Giskes. PHOTO CREDIT: World Animal Protection
Originally from Belgium, I'm based in Sydney, Australia, where I've worked at World Animal Protection for more than seven years. Sea Change, the GGGI, and our mission for marine animals is very close to my heart.
On any given day, I might be talking to government leaders at the United Nations, hosting the GGGI Steering Group, speaking at international conferences on marine litter, working with global seafood companies on incorporating action on ghost gear into their corporate social responsibility policies, or meeting with World Animal Protection's generous supporters, without whom the work we do for animals wouldn't be possible.
My role is to drive this passionate team of women forward and to lead the GGGI to success. Earlier this year, I had the opportunity to address the United Nations during the first-ever UN Ocean Conference, aiming to galvanize global action to turn the tide for our oceans. Following this address, twelve governments formally showed support for the initiative. This declaration, as well as financial support for some for our solution projects, shows that world leaders are beginning to see lost and abandoned fishing gear as a critical issue that needs addressing, also in light of the United Nations Sustainable Development Goals.

IN THE PHOTO: Ingrid Giskes at a beach clean-up at Frenchman's Bay in southern Sydney, Australia. Although the beach initially looked clean, there were still 12 large bags / 2400 liters of soft plastic, food containers, glass, and rusty boat parts collected. PHOTO CREDIT: World Animal Protection
We have successfully grown the GGGI to include 66 participant organizations, launched the Best Practice Framework for the Management of Fishing Gear, and successfully led eight solutions projects all around the world.
In February this year, we took part in the Technical Consultation for the Guidelines for Marking of Fishing Gear as an expert Observer and successfully lobbied for a broader mandate for the United Nations Food and Agriculture Organisation (FAO) to work on ghost gear. Marking fishing gear enables the owners of lost and abandoned fishing gear to be traced back to its source and is also a key tool in combatting IUU fishing.
Collaboration is fundamental to our approach. Last year, I went to Jakarta, Indonesia with an initial idea of what a planned project on gear marking could look like. After hearing about the realities of the local people and learning about their livelihoods and food security issues, I worked with local partners over several days to ensure our gear marking approach would be practical and sustainable for them. In turn, this project provided practical evidence to the Technical Consultation to the FAO Gear Marking Guidelines, connecting local implementation with recommended global best practices and policies.
We also focus on the devastation IUU fishing causes. There's a clear link between IUU fishing and ghost gear, primarily because vessels fishing illegally are much more likely to dump their equipment at sea due to the illicit nature of their activities. This gear then entangles and kills marine wildlife like whales, dolphins, seals, and turtles. Just this month, the United States Coast Guard and the National Oceanic and Atmospheric Administration seized 6,000 pounds of shrimp caught illegally in Florida. And IUU fishing doesn't just have negative consequences for animals – it damages marine ecosystems, contributes to overfishing, and threatens livelihoods. We've asked the biggest navies in the world to help address the problem of lost and abandoned fishing equipment and are continuing to raise awareness of the link between IUU fishing and ghost gear.

IN THE PHOTO: World Animal Protection and the Gulf of Maine Lobster Foundation, in partnership with local fishermen, removed ghost fishing gear off the coast of Portland, Maine. The group removed 147 derelict traps and 1,000 pounds of rope and line. Any animals found inside lost traps (mostly crustaceans) were released back into local waters, and 44 traps in good condition were returned to their owners. Gear that could not be reused was recycled by the NFWF Fishing for Energy Program. PHOTO CREDIT: World Animal Protection/Kristian Whipple
Earlier this month, World Animal Protection launched our new report, Ghosts Beneath the Waves, following our 2014 Fishing's Phantom Menace report, at the 6th International Marine Debris Conference (6IMDC) in San Diego, outlining the current global ghost gear situation and how our solution projects can be replicated and scaled up. The report also ranks the 15 biggest seafood companies in the world and their action on ghost gear.
I live in a cottage next to the beach and am a keen swimmer, sailor, runner and snorkeler. The ocean, and the life within it, inspires me every day to do the best job I can.
I am so proud to lead this team of remarkable team of women, and I truly believe that we will turn the tide on ghost gear to make the world's oceans safer for marine animals.
---
EDITOR'S NOTE: THE OPINIONS EXPRESSED HERE BY IMPAKTER.COM COLUMNISTS ARE THEIR OWN, NOT THOSE OF IMPAKTER.COM — FEATURED PHOTO: World Animal Protection and the Gulf of Maine Lobster Foundation, in partnership with local fishermen (pictured), removed ghost fishing gear off the coast of Portland, Maine. The group removed 147 derelict traps and 1,000 pounds of rope and line. Any animals found inside lost traps (mostly crustaceans) were released back into local waters, and 44 traps in good condition were returned to their owners. Gear that could not be reused was recycled by the NFWF Fishing for Energy Program. PHOTO CREDIT: World Animal Protection/Kristian Whipple