Carpooling apps are wildly popular given their significant positive impact not only on our daily lives, but on the environment as well. Sharing your ride with others means there are fewer vehicles on the road, thus generating fewer overall emissions than individual car journeys and making traffic move more smoothly. The largest carpooling app in the States is Scoop and we have reached out to Scoop's CEO, Rob Sadow, again to talk about Scoop's latest initiative: helping Seattle's citizens get around during a significant traffic disruption that will start this Friday.
If you have visited Seattle, you are probably familiar with the city's Alaskan Way Viaduct. This elevated double-decker freeway is a landmark on Seattle's waterfront. Built in 1953 as part of State Route 99, the Alaskan Way Viaduct is still used by more than 90,000 vehicles daily.
But the lifetime of the Viaduct is coming to an end. A new, modern tunnel has been built underneath it and is nearly ready to be used; however, some realignment works are still required which will take approximately four weeks. Unfortunately, the closure of the Viaduct and the beginning of the demolition are set for Friday, January 11th.
With neither the tunnel nor the Viaduct available for use, the potential for heavy traffic jams is just around the corner. It has already been nicknamed the "Seattle Squeeze", and Scoop hopes to play a significant role in  massively reducing the number of vehicles on the streets of the city, both during the "Squeeze" and hopefully beyond.
In the photo: A very busy Alaskan Way Viaduct. Photo Credit: Wikipedia

Scoop has been available in Seattle since last March. How many people have used Scoop so far? Are you happy with the numbers?
Rob Sadow: Yes, we're happy with our work in the greater Seattle area over the past year – it's one of our most active markets. In addition, we've seen increased interest in addressing drive alone rates, both from local enterprises and public entities.
How do you compare Seattle with other cities you are operating?
RS: It's one of our most active markets, and continues to grow every day.
The Alaskan Way Viaduct demolition will have a massive impact on Seattle mobility and traffic. How is Scoop going to help with this issue? What initiatives are you taking?
RS: Scoop is partnering with King County Metro to make it more convenient for commuters to carpool to and from work using the Scoop app, ultimately helping to remove vehicles from the road during the period of maximum constraint. Through this partnership, King County Metro will provide incentives to anyone who carpools with Scoop during the closure.
In the photo:  The Scoop App. Photo Credit:  Scoop

If successful, those initiatives could potentially be extended beyond the time needed for the demolition?
RS: Yes. The first project phase will last through the Viaduct closure. Depending on the results, Metro may consider a longer-term initiative.
Do you have other plans in mind for the Seattle area?
RS: Our primary focus is continuing to drive meaningful impact with our existing customers, and also expanding our work. We launched in Seattle in March 2017 and are working with both local employers and government agencies to bring convenient and enjoyable carpooling to commuters across the greater Seattle area. Our customers in Seattle include T-Mobile and Expedia and we expect that list to grow significantly in 2019.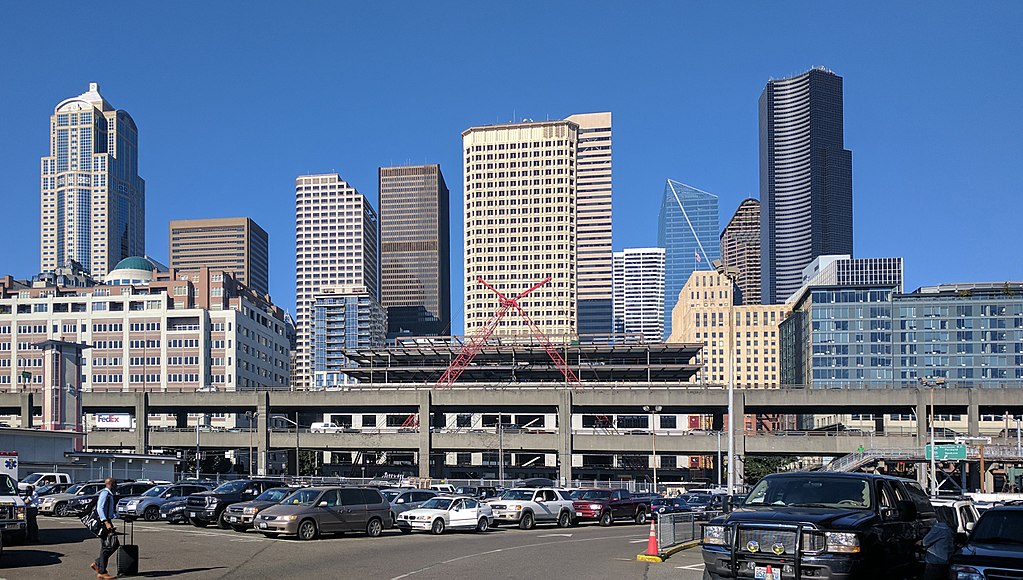 In the photo:  Another view of the Alaskan Way Viaduct. Photo Credit: Wikipedia
Do you think, in the future, you could apply the same method to other cities where they expect temporary major congestions due to roadworks?
RS: Yes, Scoop can certainly replicate this partnership in other major metro areas with dense commuting corridors. In today's increasingly busy world, our commutes are taking a toll on us – mentally, physically and emotionally. We're excited about how this amplifies our existing partnerships with major employers in the region, and we're proud to partner with King County to help provide an impactful carpooling solution to improve what is one of the most challenging parts of our day: our commutes.
Currently, Scoop has put more than four million carpools on the road across the greater San Francisco Bay Area, Seattle, Reno, and Portland. We hope to help commuters across the country make their commutes more enjoyable and efficient, ultimately helping them be happier and less stressed in their day-to-day lives.
In the cover photo:  Some happy Carpoolers with Scoop. Photo Credit: Scoop
---
EDITOR'S NOTE: The opinions expressed here by Impakter.com columnists are their own, not those of Impakter.com