There are many ways to show your appreciation for a loved one this Valentine's Day. Your significant other may swoon you with a fresh bouquet of flowers, write you a heartfelt poem, or sentimentally speak over a romantic candlelit dinner. But let's face it, you'll be most pleased afterwards; when you bite into that deliciously creamy bit of goodness, filled with gooey caramel or fluffy mousse, and surely find yourself plucking, "just one more," from that pink heart-shaped box.
If one delicacy unites the dessert lovers of the world, it is chocolate. So, it only makes sense to spoil your friends and family this Valentine's Day with the most decadent of confections. But the beloved treat and worldwide staple of February 14th, is struggling to meet our rich demands. 
A Cultivation Crisis
Throughout the last decade, cocoa farmers have experienced a lack of harvestable land that was already sparse, found near the equator. While it's possible to grow cocoa in increasingly warmer climates, the lack of humidity due to drier rain seasons and an increase in evapotranspiration has led to moisture loss in soil and plants, making cultivation difficult. 
Climate.gov predicts that by 2050, suitable land for cacao bean growth will rise an additional 300 meters above sea level to combat increasing temperatures. While many cocoa-growing countries, like Ghana, sustain such hilly terrain, these areas are often forest preserves where cultivation is not permitted. Therefore, they will be forced to make a crucial decision between protecting their natural habitat or meeting the global demands for chocolate.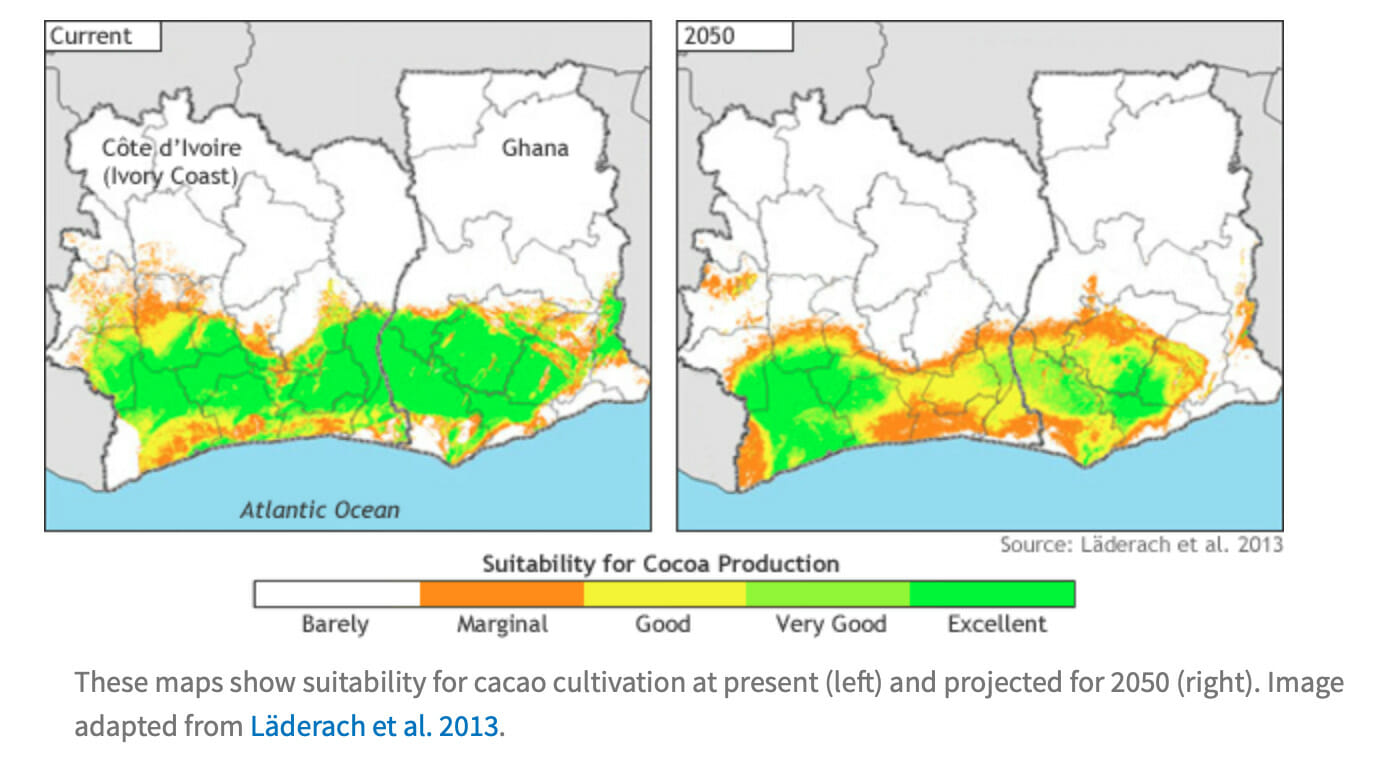 All hope is not lost as the overactive process of evapotranspiration causing the lack of water in cocoa bean plants, may be combated with adaptation strategies that the next generation of cocoa tree farmers will likely have to initiate. These tactics involve planting other rainforest trees to protect the cocoa with shade and prolong cooler temperatures with less evapotranspiration. Additionally, farmers may selectively breed cocoa seeds that are resistant to drought allowing the trees to flourish despite their dehydration. 
Sweet Sustainability
Cocoa Life, a global cocoa sustainability program founded by chocolate manufacturer, Mondalēz International, uncovers the complex challenges cocoa farmers and their communities endure. They estimate current cocoa producing regions may no longer be suitable for cultivation within the next 30 years if climate conditions do not improve. 

A somber thought is the day we must celebrate Valentine's Day without our treasured chocolates. Cocoa Life organization works to increase sustainable cocoa growth practices by providing GAP training (Good Agricultural Practices) for farmers, distributing cocoa seedlings, planting non-cocoa trees, and continuing research to further understand the impact of climate change and ways to increase farms' resilience. Additionally, the organization financially supports farmers and community members to ensure resistance of deforestation and preserve viable forest areas.
As individuals, we may feel helpless as we comprehend the inevitable consequences, losing chocolate being one of them, due to our environmentally destructive actions. But according to experts, there is still time to save chocolate. Before it is too late, we must act quick.
Besides minimizing our chocolate consumption, which let's be honest, we aren't ready to do yet, we can be sure to shop ethically sourced dessert products to celebrate Valentine's Day and any sweet moment thereafter. 
IMPAKTER ECO offers a variety of delicious treats with minimal environmental impact. 
Freely Handustry's vegan and organic cookies come in a wide range of flavors from trustee chocolate chip to zinging lemon and raspberry flavors. All three, and a few more, are available for purchase in boxes of 12 on the Impakter Marketplace.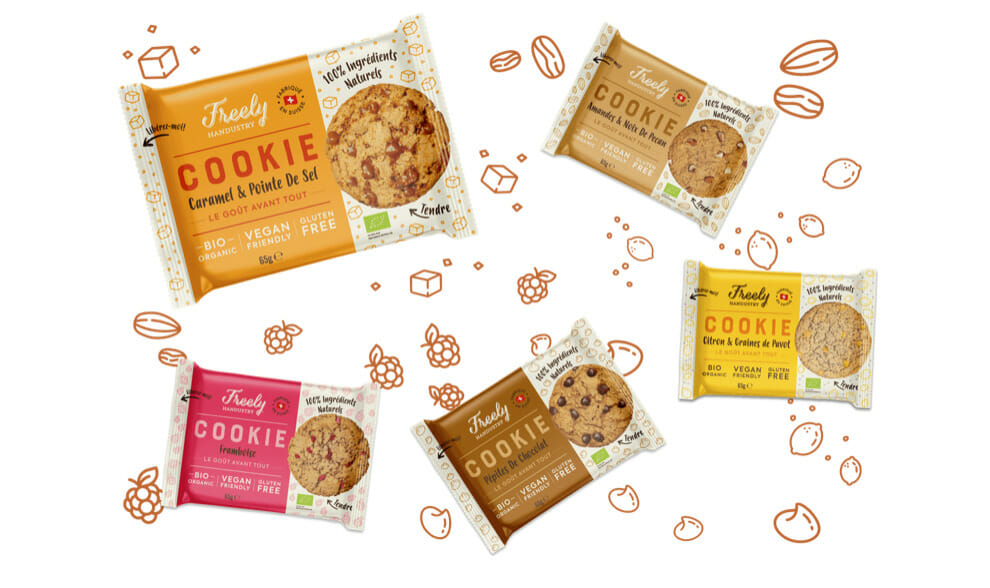 These cookies are also gluten free, soy free, palm oil free, and a great source of fiber. They're a perfect compromise to still treat your Valentine with a delicious yet environmentally friendly dessert this holiday.       
Editor's Note: The opinions expressed here by Impakter.com columnists are their own, not those of Impakter.com. — In the Featured Photo: Theobroma Cacao- Dried Crushed Cocoa Beans With Fruit. Featured Photo Credit: Shutterstock.