Russia has already committed numerous counts of war crimes in Ukraine after its invasion on February 24. Now the latest research from Ukrainian and international organizations suggests a significant amount of environmental damage has been caused by Russia's invasion which could amount to war crimes.
According to the Geneva Conference, "it is forbidden to use methods or means of warfare that are intended to cause or may be expected to cause widespread, lasting and severe damage to the natural environment" — making environmental crimes the equivalent of war crimes.
Environmental crimes are rarely ever prosecuted in court, yet the plethora of evidence gathered by Ukrainian organizations such as Ecoaction may hold Russia accountable.
What environmental damage has Russia committed so far?
Prior to the war, Russia had committed environmental harm in Ukraine.
In 2014, Putin launched an attack against Ukraine's coal and steel producing area in Donbas, firing upon it with guns that tore apart environmental protections. 
Pumping, which is essential in coal mining to prevent toxic water from filling the mine shafts and polluting drinking water, was halted as a result.
In 2015, the UN estimated the environmental damage in Donbas amounted to $30 million — now as Russia wrecks havoc in Ukraine, the cost of environmental damages is expected to be significantly higher.
Ukraine's ministry stated in a briefing last month that Russian missiles and bombs alongside destroyed weapons and ammunition have polluted the soil and drinking water with chemicals and heavy, toxic metals.
According to a report from the Defense Research and Development Canada, weapons used in Ukraine contain many explosive and heavy metals that contain carcinogenic compounds which release into the air, water and soil. 
One of the most pressing concerns is the containment of soil: soil contamination from toxic chemicals can persist for decades, ruining crop yield and making it extremely difficult to use for any means. 
A great example of this hard and unyielding soil contamination is another one of Russia's past mistakes — the Chernobyl nuclear power plant explosion. The nuclear power plant exploded on April 26, 1986, after extreme tests were conducted at the plant and the core exploded. 
Decades later in 2022, the land is still uninhabited and the soil still yields crops that have radioactive contamination. In fact, the soil is still so toxic today that several Russian soldiers fighting in Chernobyl currently have been hospitalized while digging trenches in the soil.
If the soil in all of Ukraine is affected as much as Chernobyl from the war, there would be severe negative environmental impacts to the country that could last for decades.
Experts also noted the toxic weapons have a huge carbon footprint, which could accelerate the rate of global warming — the war in Ukraine having everlasting effects on all aspects of the environment. 
Who is behind tracking the crimes?
In order to prosecute such crimes, it is essential organizations take steps to map the environmental impacts.
Since the start of the war, several organizations have been mapping the environmental war crimes including both Ukrainian and International organizations: Zoï Environmental Network, Ecoaction, CEOBS, Environmental-People-Law, Truth Hounds, OSCE, etc.
By using open-source information, maps, satellite images, government bulletins and media reports, the organizations are able to gather evidence which could be used in court.
The information gathered is expected to be handed to a governmental working group including the ministry of environment, military experts and prosecutors as well as the United Nations Environmental Programme.
What evidence have they gathered?
Ecoaction — one of the organizations at the forefront of the data mapping — has already tracked and fact-checked 200 incidents that could amount to war crimes.
By using open sources like media reports and official reports from authorities, they have been able to map the environmental damage.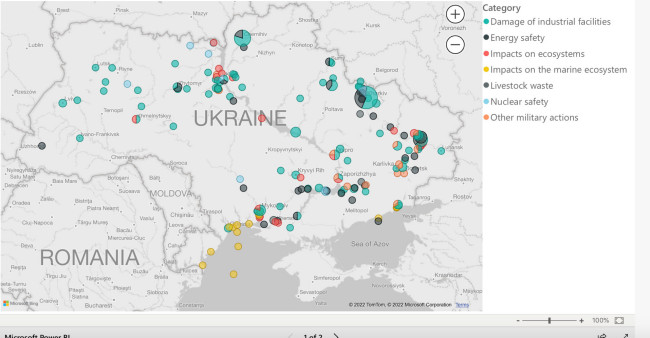 The map tracks the environmental destruction from damage of industrial facilities, energy safety, impacts on ecosystems, impacts on the marine ecosystem, livestock waste, nuclear safety and other military actions.
According to the Ecoactions, multiple types of hazardous industries are currently in Ukraine and have faced severe destruction from Russian hands including nuclear power plants, seaports, hazardous waste storage facilities, chemical plants, etc. 
Fires have also taken place in oil deposits, gas stations and landfills and damage has also been reported at heating and water supply facilities.
This morning the oil depot in Vasylkiv near Kyiv started burning. Russian and Belarusian troops are shelling homes and buildings to cause an environmental disaster.
War crimes must be punished.
We ask to ban the sky flights overall Ukraine!!!#CloseTheSky #StopRussianAggression pic.twitter.com/HGXuvqRQlZ

— Галина (@halinaviter) February 27, 2022
Ecoaction has been tracking the environmental damage from city to city as well.
Another organization based in Geneva, Zoï Environmental Network, discovered by the end of April 3,300 incidents and 600 settlements of environmental crimes have occurred in cities, towns and villages all across Ukraine.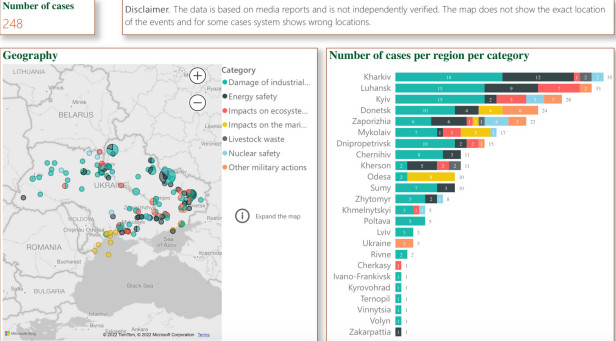 Mapping this information is expected to help authorities focus on ground analysis once, and when the war ends in order to address environmental damage.
Ukraine is also said to be drafting new legislation that will set up a common framework for the economic valuation of damages to natural resources.
Russia could get away with the crimes
Many are gathering evidence to take Russia to court, but several experts believe despite the overwhelming evidence, Russia will most likely never be charged. 
According to Doug Weir, research and policy director of the Conflict and Environmental Observatory (a UK charity that works to publish environmental data), stated very few environmental crimes are actually prosecuted.
"There are very few precedents where states have been held accountable for environmental damage caused and conflict," Weir said. "The most famous one is the UN Compensation Commission, which was established after the 1991 Gulf War, but circumstances were quite unusual and quite specific in that Iraq had caused a lot of damage by setting fire to oil wells in Kuwait."
Weir later mentioned the UN was able to enforce some compensation because Iraq wasn't on the Security Council and didn't have veto power.
But Russia is a UN security member and does have veto power, which will make it hard to charge them with environmental war crimes.
Others noted the International Criminal Court could be a good place to prosecute war crimes, yet Russia has in the past refused to recognize decisions made in this court and could again do this with the environmental court proceedings.
Nevertheless, to bring Russia to court and even have the chance to win, it is crucial for Ukraine to gather overwhelming amounts of evidence of environmental crimes committed in Ukraine by Russian hands. Fortunately, organizations have been already been building a case for quite some time now which might make this reality possible — now Ukraine just needs to wait for peace.
---
Editor's Note: The opinions expressed here by Impakter.com columnists are their own, not those of Impakter.com — In the Featured Photo: Soldier of the Ukrainian border forces shooting a gun in Kharkiv on March 12, 2022. Source: Міністерство внутрішніх справ України, Wikimedia.