Emmanuel Macron, the new French President, has pledged 15 billion euros to improve access to continuing professional development in France. His ambitious project aims to give access to professional training for all, in particular to one million young people without qualifications and one million unemployed people, recognizing the importance of helping people to reposition themselves in a shifting job market:
The current professional training system cannot stand up to the challenges we face, nor does it live up to the expectations of our citizens. Companies, indeed, entire industries, are disappearing or being transformed.
Emmanuel Macron, French President
The economic risks are indeed very real, and his pledge comes at a propitious moment. The World Economic Forum (WEF) has warned that by 2020, we will face the loss of up to seven million jobs in 15 major economies. The media seem to relish reporting on the new wave of automated machines, robots and artificial intelligence programmes, which are replacing humans as the workforce of the future.
Professional training projects are particularly important in this context, all the more so because the WEF also predicts that over two million new jobs will be created, driven by technology, and will be largely related to the science, technology, engineering and mathematics (STEM) fields. Our societies lack workers with the skills and talent to do these jobs, and there will be a worldwide digital skills shortage unless we prepare the workforce to face tomorrow's job market.
As a key innovator in online qualifications and degrees, and CEO of Europe's leading online education platform, it is my mission to provide creative and sustainable solutions for teaching the most sought-after skills.
OpenClassrooms is an online education platform that I cofounded with Mathieu Nebra. Mathieu was just 13 when he started working on a website about how to make a website, in 1999. A year later, at age 11, I started to work with him on this collaborative learning project.  We were young, and we didn't imagine our hobby would be so successful, expanding to help millions share knowledge and learn new skills. We believed in what we were doing and instinctively understood the potential of this new way of learning, which involved harnessing the best that technology had to offer.
In the Photo: Mathieu and Pierre Photo Credit: OpenClassrooms
Today our collaborative learning project has grown, and we train over three million monthly users, who connect to our education platform from every country in the world. With our launch of 50 new degrees by the end of this year, we will cater to almost every digital skills shortage, whilst offering our students the education and opportunities they need to succeed. We believe in making education accessible to everyone, and focus on helping people find jobs and remain employable.
Tertiary education as a human right
Two years ago, when the UN redefined the Sustainable Development Goals for 2030, it finally integrated the social and economic impact of tertiary education, calling for universal access to vocational and professional training and higher education (SDG 4.3), as well as prioritizing the need for relevant skills for employment (SDG 4.4). I have been liaising with the European Commission on the central role that online education should—and must—play if we are to attain the SDG 4 targets in tertiary education and training by 2030. Embarking on a sustainable path requires a change in perspective: one that transforms risks into opportunities and creates new jobs whilst respecting our environment and social equality.
Education is a human right with immense power to transform. On its foundation rest the cornerstones of freedom, democracy and sustainable human development.
Kofi Annan, Seventh Secretary-General of the UN, Nobel Peace Prize 2001
Mathieu and I believe that education is a basic human right, one that changes people's lives and pushes them to be their best selves. It's the driving force behind our company and the numerous education initiatives we have introduced, such as online degrees and apprenticeships.
Soft skills that Matter
Above all, we teach our students how to remain agile in a shifting world, by encouraging them to think for themselves and find creative solutions to the projects we set for them. These 'soft skills' are of vital importance in the shift to a digital economy – now more than ever –because even developed countries are not currently ready to face the skills requirements of the future. 45 percent of Europeans have only basic digital skills, whilst  87 percent of American workers recognize that they will need to get training and develop new job skills to keep up with changes in the workplace. Our research shows that 25 percent of the workforce in Britain risk being unable to work in the future due to a lack of digital training. If we don't resolve the skills shortage, Europe alone may lack up to 750,000 IT specialists by 2020, when 25 percent of the world economy will be digital. The WEF warns that this pattern may be even more aggravated in African economies, which are less well-prepared due to the inadequately educated workforce.
---
Recommended Reading: "A GRAND OPPORTUNITY: WHY MORE NEWCOMERS MAY BE JUST WHAT GERMANY NEEDS"
---
Our vision: a common goal
These figures reveal the extent of the skills gap we are facing and the importance of acting now to redress the problem. Clearly, governments play a key role in implementing the legislation and establishing the infrastructure that will allow us to attain the SDG education targets and ensure that our workforce is prepared for the evolving modern job market. We believe that success will hinge on collaborative action on a much wider scale, which can only move forward if the United Nations, governments, NGOs, business and industry, local authorities and education providers work together towards education for all.
There are multiple opportunities for collaboration that can benefit all parties involved. For example, our drive to make education accessible to all has led us to establish partnerships with the unemployment agencies in France, Morocco and Tunisia, to provide a free access to our online courses for all registered jobseekers. This enables them to learn new skills that might otherwise be difficult for them to acquire, and earn certificates to show to potential employers. In turn these jobseekers constitute a motivated base of learners, who in many cases decide to complete a degree with us via one of our professional paths.
How business can impact education
Our vision is that all major stakeholders must work together to attain the SDG targets, and above all, that means businesses. Private enterprise may not immediately perceive the benefits of education initiatives, but it will be the first to benefit from the skilled workforce it has trained, while the social and economic impact concurrently resonates throughout the community. Perceiving that companies have both the means to invest in training programmes and the need for talented employees, the UN has called on business to improve access to tertiary education and skills development, with the powerful argument that it makes good business sense:
Business needs a creative, skilled, innovative workforce. We need more companies to think about how their business policies and practices can impact education priorities.
Ban Ki-moon, Eighth Secretary-General of the UN

There are numerous ways for businesses to improve access to education, such as creating training opportunities, developing products and services related to education, or setting up partnerships with other organizations and governments. 
Online apprenticeships
One way we, as an education provider, partner with businesses is through our online apprenticeship system. Already a popular education method in Germany, France and Australia, apprenticeships are now being championed in Britain through the apprenticeship levy, in Canada through $85 million investment, and the US with the target of five million apprenticeships in five years. The apprenticeships of today are a far cry from the medieval practice of learning under a master; they have evolved to suit the needs of the modern world, and businesses are increasingly hailing apprenticeships as a new way to source talent.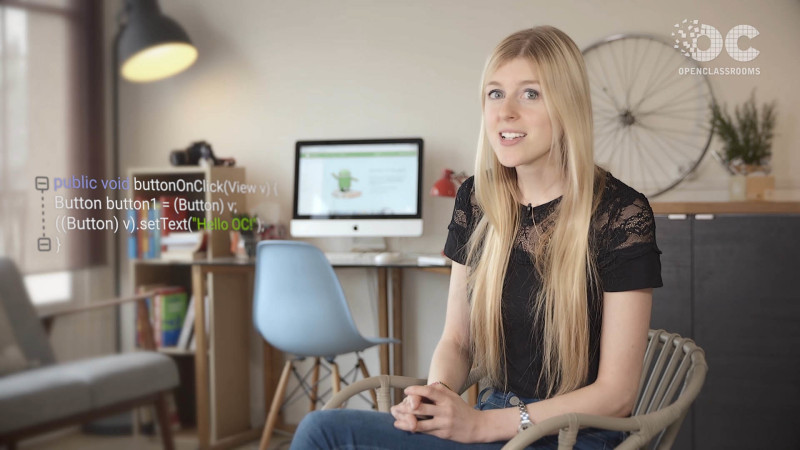 Photo Credit: Open Classrooms
Students learn key skills within the company whilst earning a salary. At the same time, they continue to study for their degree and benefit from the one-to-one support of their OpenClassrooms mentor. There are no geographical constraints, as the apprenticeship takes place online.
Technology provides exciting opportunities to create new education solutions, and our online apprenticeships harness technology for the benefit of all involved, within a fully flexible learning framework. We work closely with businesses to tailor the apprenticeship to their exact requirements, meaning that companies source talent at a far lower cost than recruiting a graduate. One example is the major partnership we have set up with Capgemini, a global leader in consulting, technology and outsourcing.
Collaborative projects
There are many other ways in which businesses can get involved to promote education for all. Numerous initiatives have been launched by the Tech Partnership in the UK, a network of employers dedicated to improving digital skills. They have developed full three to five-year degree programmes and apprenticeships in collaboration with traditional universities. Accredited degrees are defined by employers to provide students with the most relevant academic learning. The Tech Partnership's aim is to improve access to education, regulate apprenticeships and reduce skills gaps. It has effectively worked to improve gender inequality in the tech sector: 33 percent of the undergraduates enrolled on accredited degrees are female (double the UK average for computing degrees).
Businesses can also support or create philanthropic education programmes, by setting up or funding a grassroots collaboration with a local not-for-profit organization. An example is Google's training programme for digital skills in Africa with Livity Africa. Working together, they offered a series of tech boot camps, and last year Google pledged to offer free digital skills training to one million Africans, mainly via the Digify Africa learning platform, which keeps data usage low to allow for limited connectivity, enabling access for a wider number of users.
These initiatives show how businesses can partner with education providers to address skills shortages, working towards universal access to vocational skill development and tertiary education, while also serving the mutual interests of those involved.
Education for employment
At OpenClassrooms we regularly develop new partnerships to ensure that our courses are both constructive and productive. We believe there must be a strong link between learning and employment outcome, particularly for our professional degrees and qualifications. Our education experts work closely with leading companies, such as IBM and Google, to identify skills shortages in the job market and then develop learning paths that lead to a degree. We even offer our graduates a 'Job Guarantee'- the assurance that they will find work within six months of completing their degree.
We can offer this type of guarantee because our education experts only develop degree programmes to teach in-demand skills. Our team is constantly working to identify areas where talent is lacking, for which big data is a good example. Within the next two years, the big data market will be worth 187 billion dollars. The growth of this market is causing an increased demand for experts skilled in analysing, processing and optimizing data. It is estimated that the US alone will require one million data analysts in 2018. However, there aren't enough quality education solutions to teach data science skills, and businesses are finding it difficult to recruit talent. Having analysed this need, our education experts decided to develop a Master's Degree in Data Science which was inaugurated this spring. Again, collaboration with experts was key here, so we partnered with a leading school of engineering, CentraleSupélec, to develop the most cutting-edge learning experience.
Online learning: an education solution
By harnessing technology to provide cost-effective solutions in transforming the way we learn, online education provides an incredible scope for innovation in learning, mass diffusion, and skills development.
As the cost of traditional education rises, students increasingly bear the burden, leading them into a cycle of debt which can cancel out the financial advantages associated with having a degree. These high costs have also impacted higher education in developing countries, particularly since funding rates and government expenditure are dropping. In this context, online education offers parallel possibilities by reducing costs, but also by overcoming teacher shortages and infrastructure problems.
However, making courses available online is not enough to educate the world: certain online courses have completion rates of less than one percent. Efficiency and organization are the keys to ensuring online courses are high-quality, and that they attain good completion rates. Above all, online education must achieve what it sets out to do: if the goal is to help people to retrain and find employment, then it should lead to a job.
The need to find some way of regulating courses on a global scale is becoming increasingly important because the potential social and economic implications of mass substandard education are serious: instead of attaining the SDG 4 targets, we would move away from them. Establishing recognized standards would help students to select the most appropriate qualifications online.
The great education adventure
Personally, I find that one of the most rewarding aspects of this great education adventure is watching the professional transformation that takes place when a student follows one of our learning paths, qualifies with a bachelor's degree in their chosen profession and then launches their new career successfully.
Aurélie was a pastry chef but wanted to change jobs and set up her own business. She retrained as a web developer with OpenClassrooms, obtaining her bachelor's degree last year, and has now set up her own company working as a project manager in web development.
I have never felt so professionally fulfilled.
Aurélie, OpenClassrooms graduate
After a 25-year career as an elevator technician and then manager, Sylvain decided to requalify by following our Multimedia Project Manager Degree Path.
Today it's important to keep learning throughout your life… I wanted to change career, work in a new sector and organize my time more freely.
Sylvain, OpenClassrooms undergraduate
Terry dropped out of school before he was 16. Despite not succeeding in traditional education, he started teaching himself coding using our online courses, and moving from strength to strength, he graduated with a bachelor's degree in web development from OpenClassrooms, and had the honour of being awarded his degree by the previous French President, François Hollande. He now works as a freelancer in web development.
When I started learning on your website, I didn't think I'd end up earning a degree and having it awarded by the president.
Terry, OpenClassrooms graduate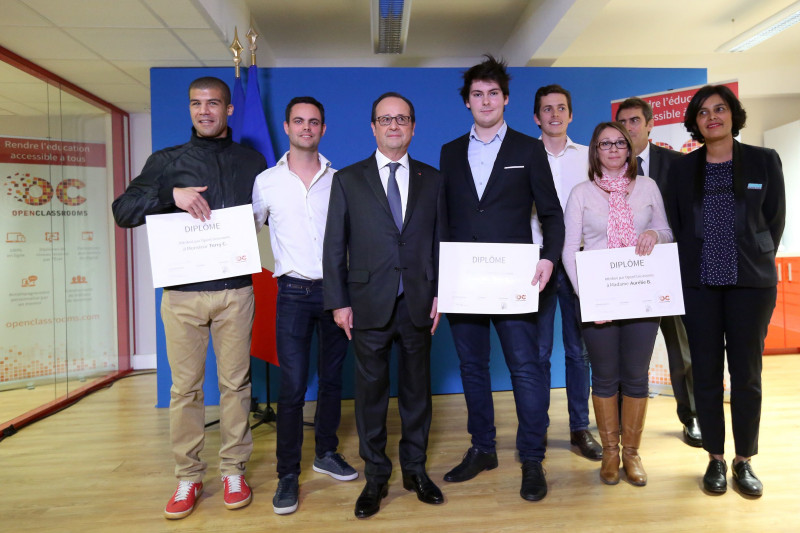 In the Photo: Former President François Hollande visits OpenClassrooms on the graduation ceremony. Photo Credit: Open Classrooms
The team at Etudesk, an online course creator in Côte d'Ivoire, trained using OpenClassrooms' courses, and then launched their own education initiative. This demonstrates how education, knowledge and learning self-perpetuates in societies, as they are now having a similar, positive impact through their own online learning platform.
These stories are not unique; we believe in the equal rights of all learners, whatever their background, experience and education. We do not have entry level requirements for our degrees – students are assessed on their performance, not their background.
---
Recommended Reading: "EDUCATION: A COMMITTED FUTURE"
---
Universal access to tertiary education and skills development
The Sustainable Development Goals provide humanity with a framework to work together on resolving the complex issues we face in improving social equality. We need bold initiatives to address these challenges and transform the ways we behave. Each of us, on our own level and in our own way, can become involved in working towards the SDG targets. Governments must lead the way, and their policies play a central role in attaining the targets. President Macron's pledge to provide equal access to professional training is a positive move towards universal access to tertiary education and skill development.
Technology holds the solution to many of our problems, but we need to use it wisely, and for this we must address the digital skills shortages we are facing, because they will not resolve themselves. Computer and internet access in developing countries must be improved for online education to reach its full potential.
Business has a central role to play in shifting towards a new economic model, creating job opportunities and educating for the future, and Former UN Secretary-General, Ban Ki-moon, warns of the social and economic implications of an unskilled, uneducated population, highlighting the advantages of business investment in education:
You understand investment. You focus on the bottom-line. You know the dividends of education for all.
Ban Ki-moon, Eighth Secretary-General of the UN
'Education for all.' Once considered a utopian ideal, is now a very real ambition that implicates us all: one we must attain by 2030. One of the ways we can achieve this target is by changing perspective, and finding creative business solutions that generate new opportunities for skills development, whilst driving us towards a fairer, more sustainable world.
Education for all. Once considered a utopian ideal, is now a very real ambition that implicates us all: one we must attain by 2030.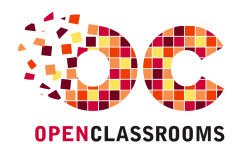 OpenClassrooms wants to make education accessible by prioritizing a community-based, engaging learning experience. We offer open courses so that you can learn with us and take control of your future. We help you get started on this path, but it doesn't end there! Our goal is to help you throughout your whole life and entire professional journey.
EDITOR'S NOTE: THE OPINIONS EXPRESSED HERE BY IMPAKTER.COM COLUMNISTS ARE THEIR OWN, NOT THOSE OF IMPAKTER.COM. FEATURED PHOTO CREDIT: OPEN CLASSROOMS