Sashe Christopher is the founder of Pop My Way, a sustainable baby clothing brand that features mix-and-match baby essentials with interchangeable accessories that are designed to "pop" onto the garment for ease and functionality. Sashe not only aims to make parents' lives easier, she hopes to shift mindsets about how much clothing babies actually need and to empower parents to pass on important lessons about being a sustainable consumer to their children. We chatted to Sashe about the importance of reducing production, as well as consumption, and the role brands play in educating consumers on sustainability. 
As a mother yourself, I imagine the impetus to start your own baby clothing brand came from  your own personal experience. Why did you take this particular approach of mixing and matching interchangeable and attachable accessories? 
Coming home with my daughter from the hospital, I realized that baby clothing was so fiddly and hard to use, especially when you're doing something like ten nappy changes a day with a newborn. I just thought about ways to make life easier for new parents. 
A lot of the baby clothing out there is really impractical with all the poppers and buttons, there's a million of them to do and in the middle of the night changing a nappy is a nightmare. That's why we had to have a zippered sleep suit in the range. It's got a two way zipper that can be zipped from the top or the bottom, so when it's cold and you want to keep your babies' top half warm you can just zip up the bottom half for a quick and easy change. 
The other great thing is that it has these little foldable gloves on the hands and feet so you don't need separate gloves or socks. There are also hidden poppers on the shoulders so you can attach different accessories like a bib, or our peter pan collars or bow ties, which when attached can completely change the look of an outfit. We also have trousers with pop on socks. Babies are constantly losing their socks; they get lost on the side of the road or in the washing machine, so this keeps them safe.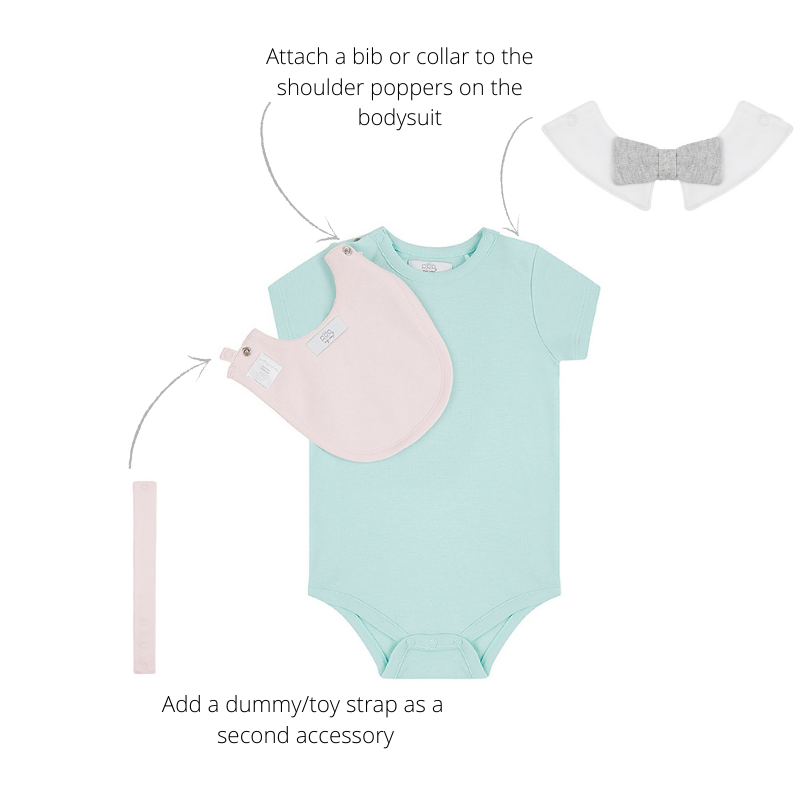 All items come in seven different pastel colours so everything goes so well together. You can create multiple outfits with just a few pieces. Reducing the amount of clothing in a baby's wardrobe is so important now. People get really carried away by the cute factor with baby clothing, but they grow so fast that you don't actually need very much. 
Comfort is also very important. Babies have such sensitive skin so any impurities in the fabric will have an effect on them. We use hand harvested pima cotton that never comes into contact with industrial machines, which keeps fabric pure and hypoallergenic, with no scratchy impurities for absolute comfort. All our poppers have been "pull" tested for safety and our sleepsuits have flaps at the top so the zips don't hurt the baby in any way. 
You've also introduced circularity into your business operations through the "Pop My Way Preloved" scheme. Can you talk to us a little bit more about the scheme and how it works?
We want to make sure that Pop My Way is accessible to a variety of different people. The preloved scheme allows customers to return Pop My Way clothing to us when their babies outgrow them and they no longer have a need for them.
Customers can then purchase the used garment from us at a reduced price, so the item is in circulation for longer. Because pima cotton, which we source ethically from Peru, is a really durable fabric, it doesn't change shape or pill, and the stains remove quite easily. The scheme has only just been introduced and we hope that it will allow more people to have access to our products. 
Do you think more baby brands will be headed in this direction and integrate similar schemes?
The key thing here is the durability of the fabric. As a brand, when you create something you have to think about the future and whether that item is going to last. If something is made out of polyester it's harming the planet with microplastics that are being released. If it's made out of regular cotton it might not last as long as organic cotton, and in terms of biodegradability there's a lot that's mixed in with polyester and regular cotton. I really hope brands give more thought to reusing and recycling and making sure that things can actually be circulated. 
Another thing that's been really popular with baby brands is personalization. We don't do any of that at Pop My Way because it means another child won't be able to use the item of clothing. From our perspective, it doesn't take into account what happens to that garment in the future.  
All your items are certified by the Global Organic Textile Standard (GOTS). What does this mean and what is the process for getting it? 
It's important that consumers recognize that with GOTS you have to have your entire supply chain certified. You can't just say that your fabric is GOTS certified organic cotton, which a lot of brands do, so it's important to check whether they have a license number. 
You have to go through a whole approval process to have permission to use the GOTS logo, so without the license number it probably means they haven't gone through the right steps. 
The factory has to go through an annual audit to get the GOTS certificate and maintain it. It includes social provisions like how the workers are treated and compensated, the safety of the factory, as well as making sure that the fabric is free from harmful dyes and pesticides. They also monitor water and energy use, and everything is checked and reported on so any claims we make can be backed up and measured.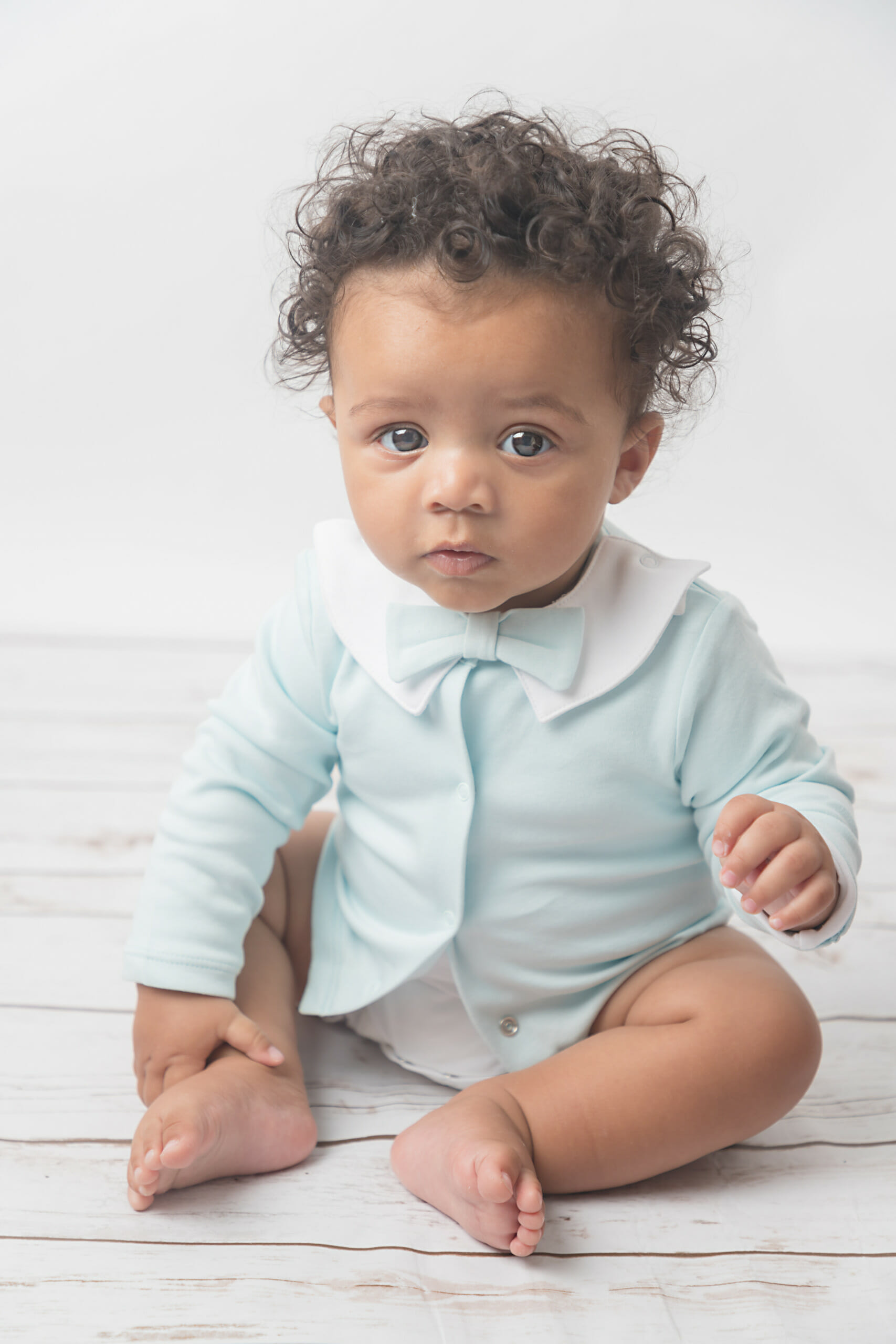 Before starting your own company, you had a career in fashion for over 20 years in buying and merchandising. How has that experience lent itself to being the owner of your own brand? What did you have to learn or unlearn in the process of starting your own clothing line for babies? 
When I worked in fashion, I was caught up in the glitz and the glamour. I was given an allowance to purchase clothes from the brands that I worked for, so I ended up with cupboards full of clothing and shoes. Starting my own brand with a sustainable point of view made me rethink my own shopping habits. I think a lot more before purchasing something and try to make use of what i have in my wardrobe. 
I worked in buying and merchandising so I didn't always get to see the whole process from beginning to end. It was all a learning process for me when I started Pop My Way and I really did everything from scratch. I have loads of friends still in the fashion industry and it's interesting to hear from them how different companies are changing the way they do things and taking steps in the right direction. 
With the adoption of the UN 2030 Agenda and the 17 Sustainable Development Goals in 2015, sustainability is an essential guiding principle for businesses everywhere. What were some of the key learnings from your own path to sustainability and what are some of the future challenges you anticipate as the fashion industry responds to the greater demand for sustainable products.
Brands educate themselves and there's a lot of information to help them go in the right direction. But educating consumers is important as well. Most consumers don't understand sustainability yet, so brands that are greenwashing can get away with that because consumers genuinely think they are doing the right thing.  
It's the responsibility of brands to do the right thing, but it's also important that we educate consumers. Magazine editors and buyers in department stores should play a role in all the  education that needs to be done. We try to do that at Pop My Way through social media. We all have to be on board with the fact that sustainable consumption is an urgent thing we have to tackle and that we don't actually have a lot of time left.
---
Editor's Note: The opinions expressed here by Impakter.com columnists are their own, not those of Impakter.com. — In the Featured Photo: Sashe Christopher, founder of Pop My Way. Featured Photo Credit: Sashe Christopher