Founded by Laurence Kemball-Cook, Pavegen is an exciting company which seeks to harvest energy and data from human footsteps. Achieving greater sustainability and working to reverse climate change are increasingly necessary objectives, and Pavegen's unique technologies seek to do just that through reducing the need for non-renewable energy sources. CEO and Founder of Pavegen, Laurence Kemball-Cook, shared with us more on his company's technology, what inspired him to undertake this initiative, and his thoughts about the future of Pavegen in the global fight against climate change.
What inspired you to create Pavegen?
Laurence Kemball-Cook: I came up with the idea for Pavegen in 2009, inspired by the desire to help do something about climate change. While at Loughborough University, I won a placement with a major European energy company to look at renewable energy solutions for street lighting. I left, having failed to make wind or solar work in dense cities, but I was inspired by the research I was carrying out.
Around this time, I was regularly using Victoria train station, which has around 75 million visitors rushing through it each year. I realised that there might be potential to harness some of that human kinetic energy and convert it into off-grid electricity.
From there I developed the first Pavegen prototype, a rectangular device that contained a single generator. But as an unproven technology I had nowhere to validate my invention. In the end, I made a risky decision to install a Pavegen tile on a building site, without permission. I took some photos, posted them online, and then used social media to try to persuade the developer to invest in a Pavegen system. It worked.
Can you explain to our readers how does Pavegen work?
LKC: The Pavegen technology used in the installation of flooring that transfers the kinetic energy of pedestrians into electrical energy and data. As people step on the top surface, their weight causes generators underneath the tiles to rotate, generating off-grid power via electro-magnetic induction. The walkways are equipped with wireless technology to transmit data on how people are interacting with them. We also connect to people's smartphones, showing how much energy is being harvested and converting this into rewards and permission-based relationship data.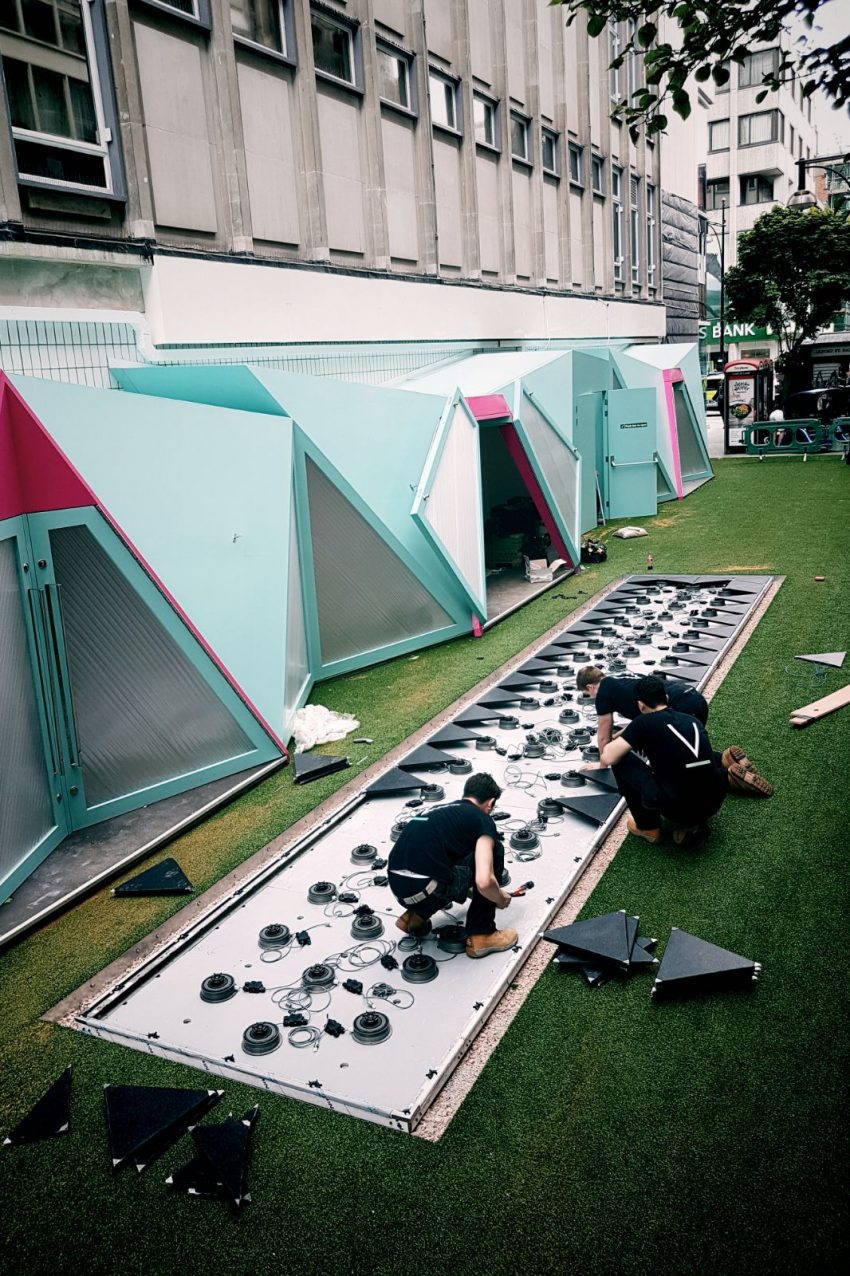 In the Photo:  Pavegen getting installed. Photo Credit: Pavegen
What are the challenges with this project? How difficult is to install Pavegen on a regular sidewalk/path?
LKC: Launching a new technology that operates in urban environments was always going to be challenging. Unlike an app, we're designing and building a complex physical product that must operate reliably in all conditions. City streets are constantly undergoing challenges, from extreme temperature variations to a wide range of forces and impacts. Engineering this versatility into our system has been a big challenge, and it has been a highly iterative process to get to where our design is today. Our latest model comes as a modular system to simplify the installation process. Using this system, we were able to deploy a 20-square metre array, just off Oxford Street in two days, during 2017.
---
RELATED ARTICLES:

Digitalizing Energy: An interview with Semtive
by Mohamad Akef

Solar Em(power)ment is Lighting the Path to Sustainable Development
by James Watson

How to stop climate change and reverse global warming
by Claude Forthomme
---
How much energy is Pavegen able to generate?
LKC: When stepped on, the tile surface flexes between 5-10mm. This downward pressure creates a rotation in the electro-magnetic generators beneath, producing around 3 joules per footstep or around 5 watts of continuous power while the person is walking. We can either store that energy in batteries or use it to power local applications such as lighting, sensors and data collection and transmission.
What other things is Pavegen able to do? I have seen it is able to collect some data. Can you explain how does that work?
LKC: The walkways contain embedded Low-Power Bluetooth beacons which can register the footsteps of individuals via our apps. When we combine this real-time footfall data with analytics, we create powerful insights into the behaviours of people interacting with our systems. For example, the Washington District Department of Transportation is using the system to footfall patterns across three Pavegen walkways in a new park in DuPont Circle.
Using the app, which can operate standalone or be embedded within an organisation's existing platform, people can also convert their steps into points. The ecosystem, which we have developed with the key architect of iTunes, Jeff Martin, offers people the chance to spend or save points according to their interests, providing valuable permission-based relationship data.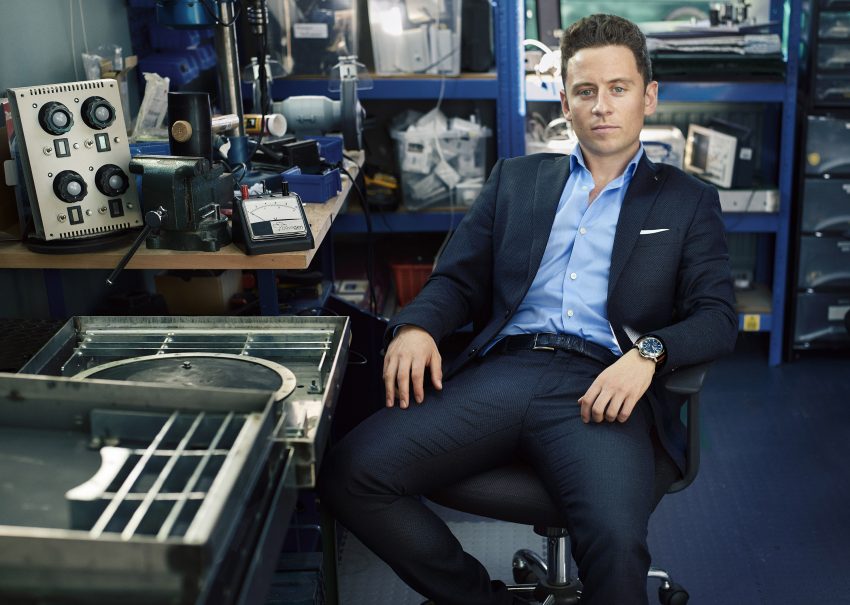 In the Photo:  Pavegen's CEO Laurence Kemball – Cook. Photo Credit: Pavegen
How did the global audience and investors welcome you? I have seen Pavegen already installed in several places, what does it take to bring it everywhere?
LKC: We have delivered over 200 experiential and permanent projects in 30 countries. Our installations create really high engagement for people using them and we have been lucky that media organisations closely follow our progress, taking our reach into the millions.
Our technology is based on a simple idea which is complex to execute. But we have had great support from investors, raising around £4m, initially through angel investors. We also conducted a very successful crowd funding raise which crashed CrowdCube's website and more than doubled our £750k target.
We are currently seeking further investment to develop the efficiency of our tech and to respond to our fast expanding international client list. We're aiming to grow our network of permanent sites in key cities. These act as local proof points and help planners to get more projects into the ground.
What is your timeline for the next couple of years? How do you see the future of Pavegen?
LKC: With fast-growing revenues, we will be refining our product offering. We're currently working on a range of enhancements, including offering more data on how people interact with our walkways, increasing the efficiency of our systems and expanding the range of applications that we power.
We're also growing our team across the full suite of disciplines, to meet an increasing demand and to capitalise on partnerships that we have nurtured and which are now producing significant opportunities.
Our focus is on delivering more permanent installations in the world's most innovative cities. In the coming weeks and months we have a number of exciting projects to add to this list, including an installations in one of the Middle East's key airports, our first ever supermarket and a new permanent site in London's West End.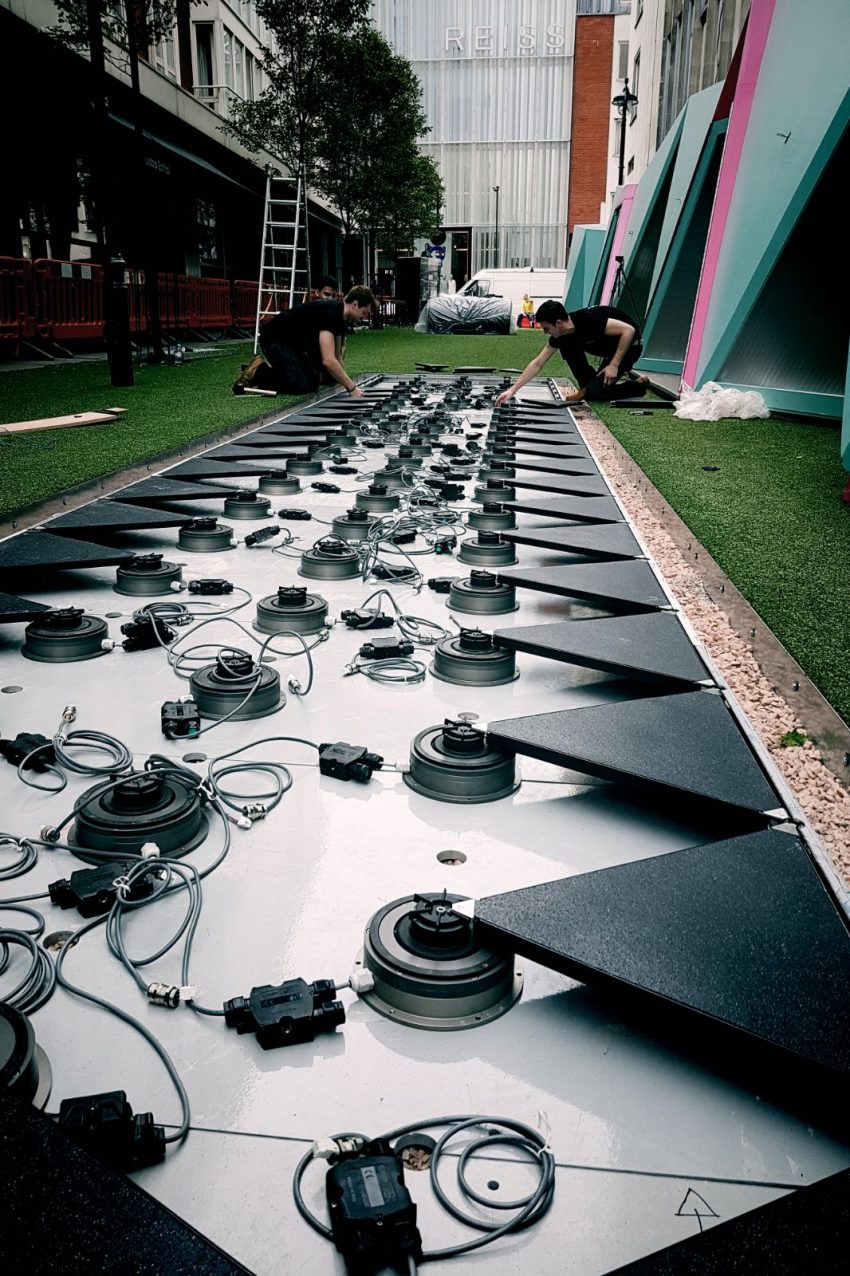 In the Photo:  Pavegen technology under the pavament. Photo Credit: Pavegen
Do you have other related projects in mind for the future?
LKC: We've just signed a Memorandum of Understanding with global engineering and technology leader Siemens. Our shared plan is to integrate our technology into the company's future city projects. We'll initially be looking at projects in transport infrastructure, mixed use developments and hospitals. It's going to be busy.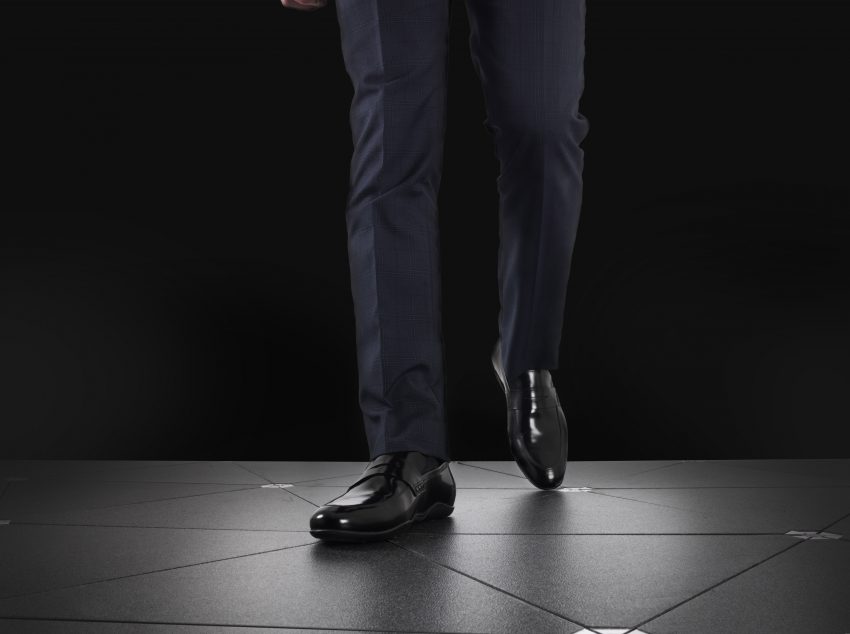 In the Photo:  Walking on Pavegen. Photo Credit: Pavegen
---
NOTE: THE OPINIONS EXPRESSED HERE BY IMPAKTER.COM COLUMNISTS ARE THEIR OWN, NOT THOSE OF IMPAKTER.COM.