We live in a time of political turmoil and mistrust. This is fact whether political, societal or militarily.  Few concepts have the potential for governments, scientists and/or people in general to find a universal common cause.  One such construct or model is the growing recognition of the basic elements of the One  Health paradigm: The concept, approach, and its broader expression and reach, i.e. we all exist in One World, on One Planet.
In Confronting Emerging Zoonoses (published in 2014), a book that has become a standard reference source in the field of One Health, the One Health paradigm is put this way: 
Furnishes a unique resource for everyone interested in the interface of human and veterinary medicine and public health

Presents the latest understanding of the origin of human pathogens and disease emergence

Includes compelling One Health successes and challenges in areas such as comparative medicine, field epidemiology training and food safety
Indeed, the basic concept has a centuries-long history, particularly over the last 150 years. 
That said, a relatively new focus has been the emphasis on the environment and climate change,  gaining traction in some unexpected quarters. 
For instance, an August 2022 article in the World Economic Forum, a place many see as more anchored in traditional economics and finance topics, noted that "extreme weather events are being reported continuously across the world and are expected to become more frequent and intense. These are not separate issues.  We will have a better chance of suppressing infectious diseases if we adopt…a One Health approach and integrate predictive modeling and surveillance used in both infectious disease control and climate change."
One Health has gained growing recognition in the last two years but…
Growing recognition has happened with the premier political entities such as the Group of 7 and the Group of 20, the latter including governmental representatives of all the major political and economic fault lines. 
They have actively taken up the subject as expressed, for example, in formal declarations, such as this one, from the G20 Health Ministers who had met in Rome, on 5-6 September 2021, in preparation for the G20 Summit held on October 31, 2021, under the Italian presidency.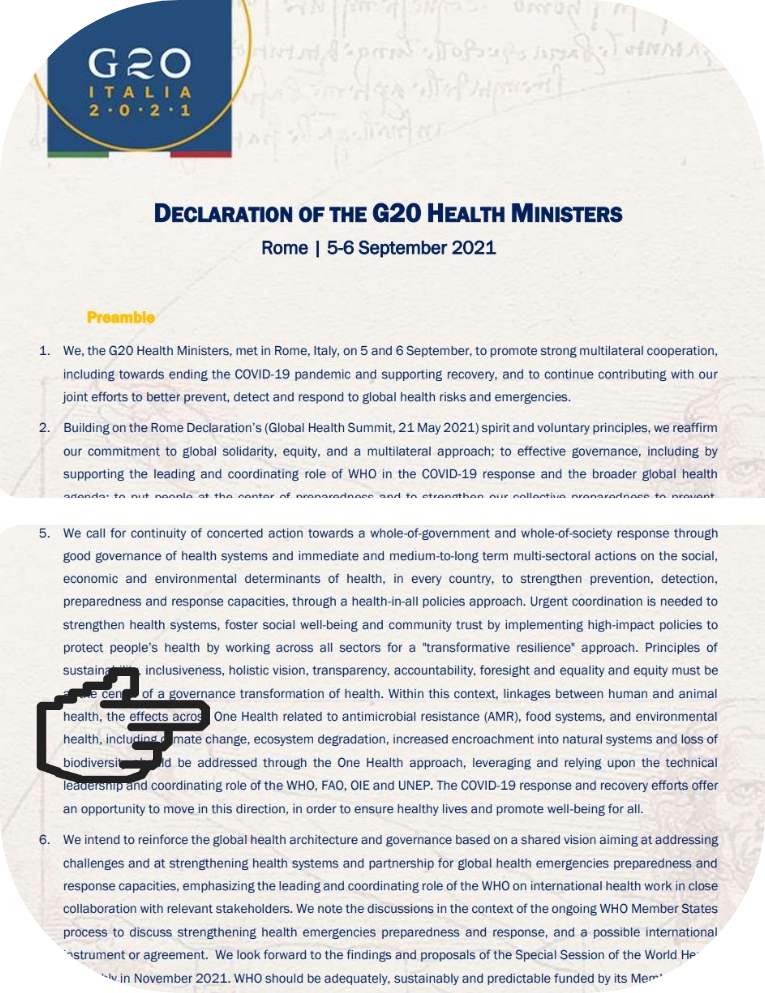 The European Union has been a central driving force in spreading the One Health concept, with the European Food Safety Authority (EFSA) acting as a leader, with the One Health European Joint Programme that brought together a consortium of 44 partners from 22 countries. 
Launched 4 years ago, the Programme will run until September 2023 and it has brought together researchers and scientists from a range of different institutions across Europe, food, veterinary and medical laboratories and institutes as well as the Med-Vet-Net Association. As shown in the video below, many "lessons learned" have already emerged:
…The upcoming G20 meeting in Indonesia so far has shied away from a One Health focus, in sharp contrast with last year's G20 in Italy
The next  G20 Leaders' Summit, the 17th such meeting placed under the presidency of Indonesia, is set to take place in Bali on 15-16 November, and preparations for it have been underway all year, led inter alia by the Think20 (T20), the official engagement group of G20 bringing together leading think tanks and research centers worldwide.
Think 20 (T20) and Science 20 (S20) Summit as well as the 3rd Sherpa meeting will also be held this month.

Stay tuned at @g20org for more updates regarding G20 meetings and events. #G20Indonesia #RecoverTogetherRecoverStronger pic.twitter.com/sTb1rzFOoU

— G20 Indonesia (@g20org) September 1, 2022
So far, no particular resonance has been given to One Health, amidst strong interest in a broad range of subjects, such as post-covid recovery, "wellness tourism", Islamic financing, digital initiatives, the circular economy, women's empowerment, education, climate justice, the energy transition, etc. 
One encouraging note, however, came from the first joint Finance and Health Ministers meeting held in June 2022 as it called on the G20 to provide more funds to strengthen global public health. In particular, it agreed to support the Financial Intermediary Fund (FIF) for Pandemic Prevention Preparedness and Response (PPR) – and, as noted in a recent Impakter article, this was cause for "measured optimism".
A second G20 Health Ministers'meeting will be held in October and all eyes are on it, to see whether One Health will be addressed as a guiding principle and priority approach. It will base its recommendations on the work of health experts in three successive working groups that have focused on post-Covid recovery and pandemic prevention, preparedness, and response strategies:
The third Health Working Group (HWG) meeting is currently held in Bali, on 22-23 August 2022 under the theme of "Expanding Global Manufacturing and Research Hubs for Pandemic, Prevention, Preparedness, and Response,".#G20Indonesia pic.twitter.com/5KgmMlAFfA

— G20 Indonesia (@g20org) August 22, 2022
It is worth noting that the experts in Health Working groups that prepare the ground for the ministerial meeting have called for the harmonization and standardization of "global health protocols" to facilitate international travel. And as we are all too aware, it is globalization and this very type of travel that has brought to the fore the need for a One Health approach in public health. 
The first and second meetings of the Health Working Group (HWG) have discussed two of its priority issues, namely the harmonization of global protocol standards and global health system resilience.#G20Indonesia #RecoverTogetherRecoverStronger pic.twitter.com/yr00tfTnTE

— G20 Indonesia (@g20org) August 20, 2022
While this is not as much as one can hope for, even governments that are considered hard-core competitors have shown there may be space for treating One Health as a true paradigm, a subject to do common cause, and leastways for further research and inquiry.  
Most recognize the criticality of adopting this interdisciplinary/transdisciplinary engagement. These are promising signs that room exists for accommodation and some level of mutually beneficial cooperation. 
One encouraging indication that this is the case is the plethora of journals dealing with the subject, such as the new journal just launched in the People's Republic of China.  This is just one recent example of engagement by countries, research institutes, universities, and nongovernmental institutions.  Another example is that in the year prior to this Chinese Journal,  in 2021, One Health & Implementation Research (ohirjournal.com) began publishing articles, and there are many more.
Why the next 24 months are crucial
What can be seen, at a minimum, is increasing discussion and formal resolution, particularly at the G20 level, which in itself is very important. But it is the next phase, where the potential of One Health to prevent or contain a future epidemic, to strengthen preparedness by engaging veterinarians, wildlife experts, community activists, the human health sector e.g., physicians and political leaders, is literally the "do or die" phase.
While it will not be easy, fortunately way forward maps are available, and examples of countries pursuing One Health as part of national priorities exist. This is coupled with a growing body of policy and operational research and information which can expedite progress. The interactive map of One Health Day events that are coming up can be consulted here.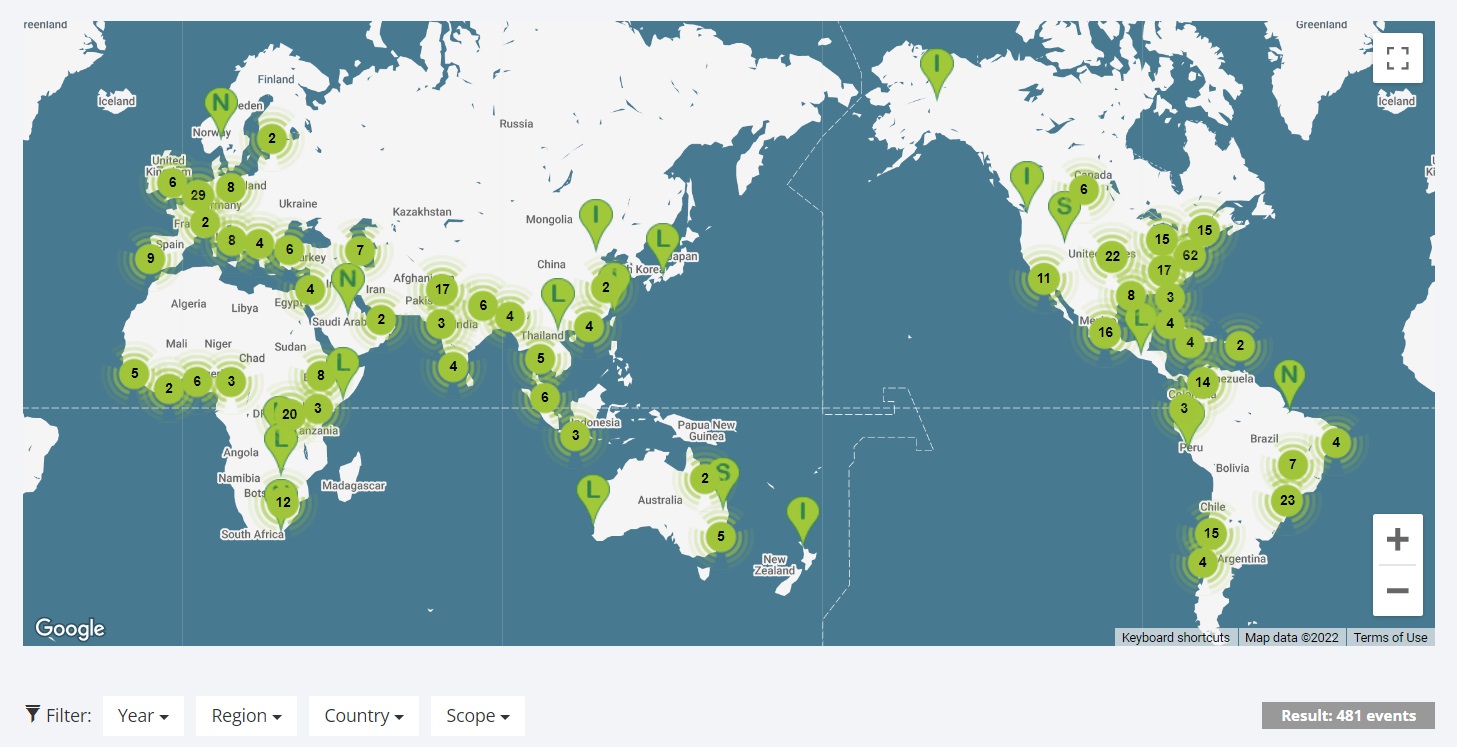 It is these next 24 months that will tell if words become action.
The test will be if countries that disagree on so much can find common cause in adopting and adapting to a One Health paradigm shift.  If so, we will all live better in our only, solitary "one world".
---
Editor's Note: The opinions expressed here by the authors are their own, not those of Impakter.com — In the Featured Photo: Yogyakarta, June 21st, 2022 – The Ministry of Health and the Ministry of Finance of the Republic of Indonesia held the 1st G20 Joint Finance and Health Ministers' Meeting (JFHMM) under the Indonesian G20 Presidency with Minister of Health H.E. Budi Gunadi Sadikin and Minister of Finance H.E. Sri Mulyani Indrawati chairing the session; the meeting agreed to support the Financial Intermediary Fund for Pandemic PPR Source: G20 org