Researchers at the Joint European Torus (JET) laboratory, located in Culham, near Oxford, said they achieved 59 megajoules of sustained fusion energy – meaning nuclear fusion, the same process that powers stars including the sun. It doesn't sound like much to non-scientists, but it was more than double the total energy ever produced, which was just under 22 megajoules – and that had been achieved over two decades ago, in 1997, a world record back then, and one that was also achieved by the JET lab.
What they did was extract energy from smashing together two forms of hydrogen. They got 59 megajoules of energy over a five-second period –  that comes to just over 11 megawatts averaged over five seconds. Consider that their previous record of 22 megajoules was the equivalent of 4.4 megawatts averaged over five seconds. So this time, almost three times as much energy was produced compared to the past record.
Tony Donne, programme manager of the EUROfusion group responsible for the research, said "If we can maintain fusion for five seconds, we can do it for five minutes and then five hours as we scale up our operations in future machines." 
This is definitely good news: It means that after many false starts and broken promises, the scientists are at last on the right path: The design of their experiments is validated. Scientists elsewhere are looking on, ready to take up the research results to the next level, following the model set by the JET lab.
Sibylle Gunter, scientific director of the Max Planck Institute for Plasma Physics, said the result would help inform the larger-scale ITER experiment in southern France when that project comes online. ITER is a  multi-country fusion research project supported by China, the European Union, India, Japan, South Korea, Russia and the United States; it is currently under construction and it is set to function for 35 years. 
Ian Chapman, the head of the UK Atomic Energy Authority and CEO at JET lab, called it a landmark event that moves researchers closer to conquering one of the biggest challenges in science. "We're building the knowledge and developing the new technology required to deliver a low carbon, sustainable source of baseload energy that helps protect the planet for future generations," he said. "Our world needs fusion energy."
"The JET experiments put us a step closer to fusion power," said Dr Joe Milnes, the head of operations at the JET lab. "We've demonstrated that we can create a mini star inside of our machine and hold it there for five seconds and get high performance, which really takes us into a new realm.
The goal is utterly fantastic: Fusion energy offers the possibility of limitless energy without pollution, radioactive waste or greenhouse gases. It could be the source of virtually unlimited supplies of low-carbon, low-radiation energy, in short, completely safe and climate-friendly.
The long road to nuclear fusion energy
Since the late 20th century, scientists around the world have been working hard on this, the JET lab has been working on it for nearly 40 years. But the road to fusion energy is long, much more work is still needed.  To begin with, the level of energy achieved in this experiment is still very modest: it was only enough to boil about 60 kettles of water.
Why boil water? That is in fact the whole point. The idea is to develop a process that would be used to drive steam turbines to generate electricity. This, in a nutshell, is how it would work: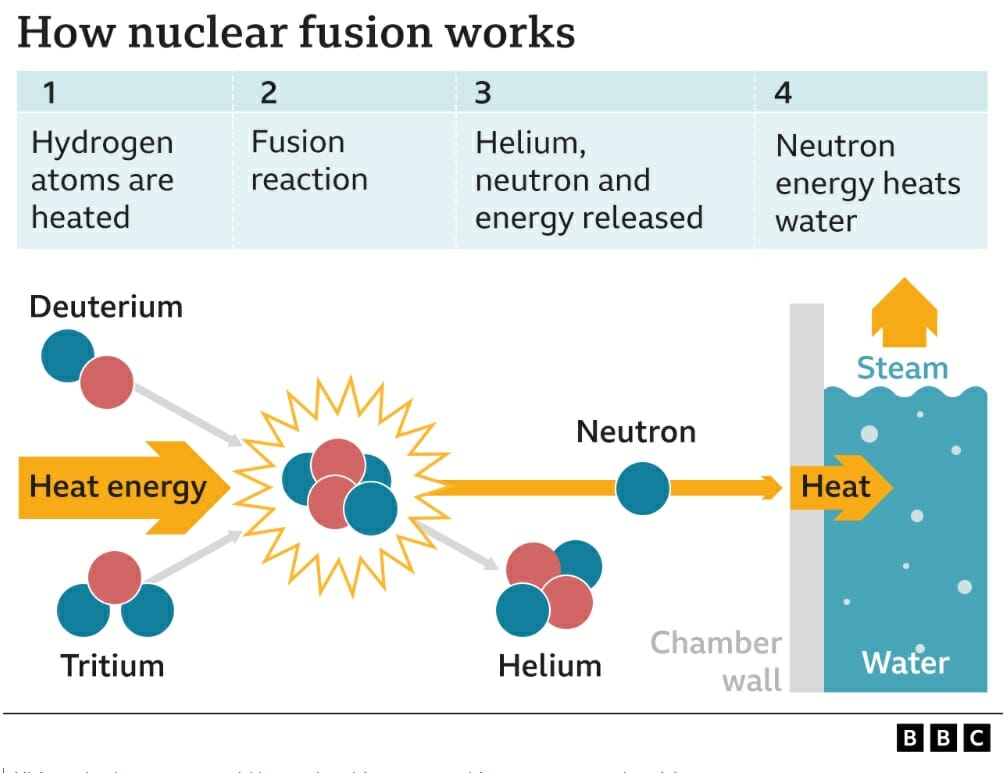 The trick in nuclear fusion is to force together atomic nuclei rather than split them, as in the case of the fission reactions that drive existing nuclear power stations.
How soon can we expect all this to happen? 
Not that soon. The most advanced, most likely site where fusion energy will be produced is the afore-mentioned ITER in southern France – and that is not expected to happen before another three decades at least. In the words of the BBC, ITER is "expected to be the last step in proving nuclear fusion can become a reliable energy provider in the second half of this century." As  Ian Chapman told BBC News: "These experiments we've just completed had to work," otherwise there would have been real concerns about whether ITER could meet its goals: "This was high stakes and the fact that we achieved what we did was down to the brilliance of people and their trust in the scientific endeavor."
It was high stakes and still is. Fusion energy is indeed the power of the stars, it's what makes the sun shine. And it could save us from climate armageddon. ITER is not sitting back, fortunately, and it has just announced two new initiatives (on February 7)to accelerate the deployment of fusion technologies for power generation. In Canada, Bruce Power, General Fusion, and the Nuclear Innovation Institute (NII) will work together to evaluate potential deployment of a fusion power plant in Ontario. Meanwhile, scientists at the Princeton Plasma Physics Laboratory (PPPL) are teaming up with Renaissance Fusion America as part of a US programme to speed the development of fusion energy.
But we have little time left before climate change makes this planet unlivable for humans, and one can only hope that scientists can accelerate their work and deliver fusion energy much sooner than now planned. We may not be able to wait another 30 years.
---
Editor's Note: The opinions expressed here by Impakter.com columnists are their own, not those of Impakter.com. —  Featured Photo: light painting experiment – nuclear fusion Source: Matthias Weinberger Flickr