It's been 40 years since NASA last ventured to the moon with the final lunar exploration mission, Apollo 17. They now plan to go back, but this time with Apollo's twin sister: Artemis, the goddess of the moon.
However, after an engine-related technical error postponed the initial launch of the Artemis I rocket earlier this week, NASA have today called off their second attempt at getting the spacecraft airborne, this time due to a liquid hydrogen leak in the core stage of the ship.
NASA will possibly try once again to commence the first stage of their lunar expedition, with a potential new launch opportunity early next week.
With the technical and mechanical odds stacked somewhat against them, NASA has shown grit and resilience in staring down the enormous aeronautical feat they face in getting Artemis I off the ground.
But the pressure is on, as next week will be the last launch opportunity before the rocket is temporarily grounded for further inspection and maintenance. 
This inaugural launch will mark the first of a series of complex missions as part of NASA's Artemis program, attempting to establish "a long-term human-robotic presence on the Moon for decades to come," ultimately aiming to "enable human exploration to the Moon and Mars." 
Lessons learned from Artemis will inform NASA's "next giant leap" in future deep-space exploration as they "learn how humans can survive and thrive in a partial gravity environment," to ensure the "monumental missions to Mars are within reach."
But first, NASA must succeed in reaching the moon, which is where the Artemis I test mission comes in: the pilot flight without a pilot. 
This first launch will have no crew, serving as a trial-run for the next-generation SLS rocket and accompanying Orion Spacecraft, taking a loop around the moon that will last just over 37 days, covering a distance of 1.3 million miles. 
When the #Artemis I flight test launches toward the Moon, it'll mark our first step toward a long-term human presence on the lunar surface.

What do we hope to learn from the uncrewed mission? Here's a look: https://t.co/POsNDV4X2w pic.twitter.com/F4dLqRUSv3

— NASA (@NASA) September 2, 2022
The aim of Artemis I is to test the "systems in a spaceflight environment," provide vital safety data, and "ensure a safe re-entry, descent, splashdown, and recovery" before NASA sends astronauts on a non-landing loop of the moon in 2024 (Artemis II), and to the lunar surface in 2025 (Artemis III).
If all goes well with the launch, and the Artemis I spacecraft returns in October this year in one-piece, NASA will be one step closer to surpassing the many scientific and cultural milestones set out in its "Artemis Accords." 
Amongst a multitude of ambitious "firsts," NASA aims to "land the first woman and first person of color on the Moon," develop a lunar economy, and establish a sustainable human-robotic settlement there.
"We go to the Moon now, not as a series of isolated missions, but to build a community, on and around the moon, capable of proving how to live on other worlds," says NASA in their Artemis campaign video, "Mars is calling, so lets camp close, before pushing out."
NASA Chief Bill Nelson answers  "Why the moon?" with "Because the goal is Mars."
Once settled, NASA plans to build a base-camp on the Lunar South Pole, from which astronauts and robots alike will conduct breakthrough scientific research and surface exploration, as well as a moon-orbiting space station known as the "Gateway," serving as a "multi-purpose outpost" to provide the lunar surface with support as well as a "staging point for deep space exploration." 
NASA has also shown commitment to space exploration sustainability, learning how the resources found on the lunar surface can be utilized and reused efficiently. 
---
---
One of the first scientific challenges astronauts will face will be purifying lunar ice into drinking water, and subsequently converting the H2O product into oxygen to breathe and hydrogen for fuel.
Solar panels and fission power plants will also be installed on the moon's surface, to provide sufficient renewable energy for the robotics and technology necessary for long-term space exploration. 
Making Artemis a reality has required not only hope, but a national-scale effort, with every state in America, as well as companies like Boeing and Lockheed Martin contributing to the development of the 21-seat spacecraft and "most powerful rocket in the world, designed to send humans to deep space."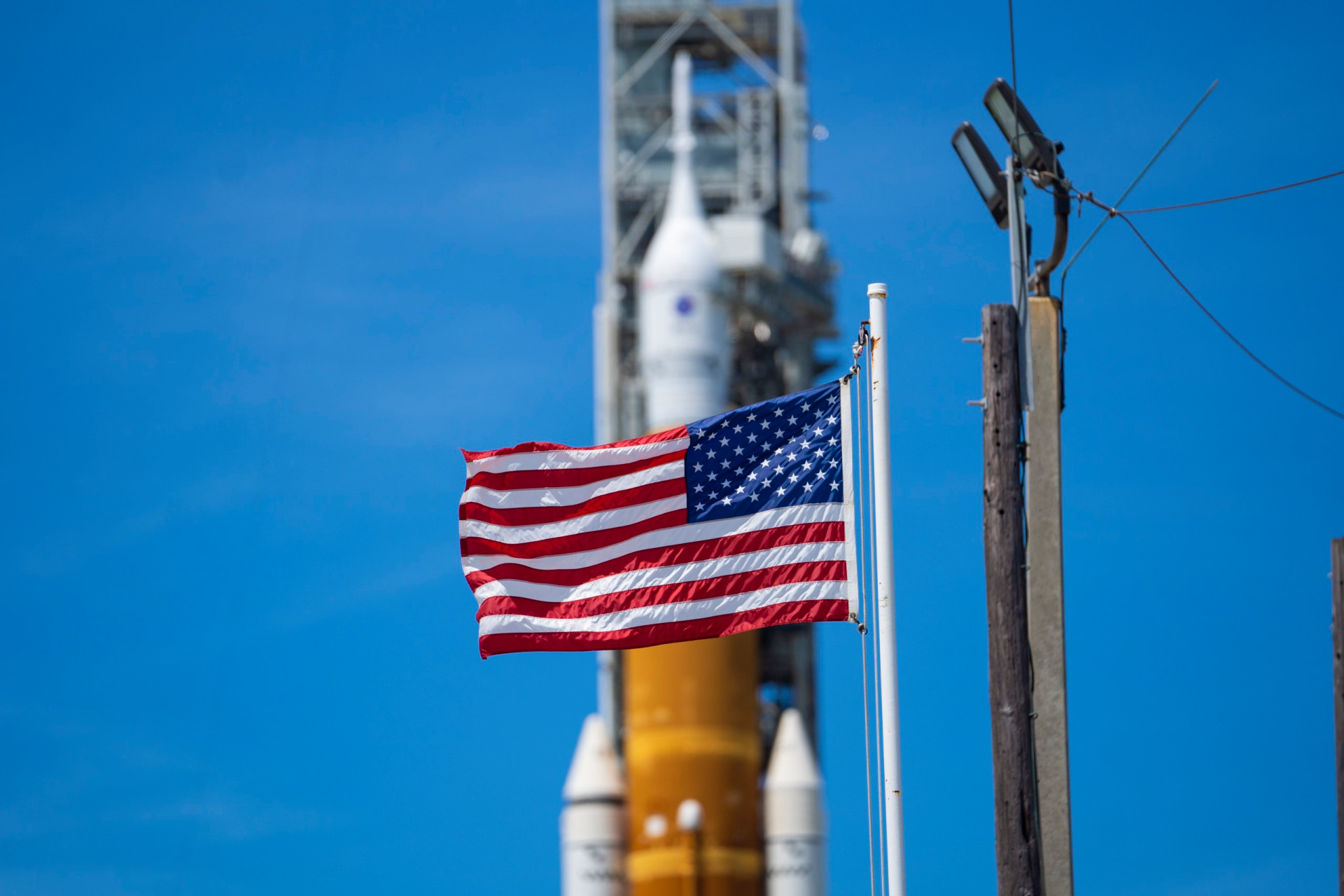 Another of the Artemis program's core goals is to build on the growing lunar economy they've forged thus far, creating job opportunities both on and off the earth. 
As part of this, NASA has partnered with a multitude of international enterprises and contractors, who will courier private deliveries to the moon via their own commercial lunar landers, establishing an industrial presence on the moon. 
NASA Chief Bill Nelson has expressed his own aspirations for the mission, recalling fond memories of Neil Armstrong's inaugural Apollo II mission in the 1960s. Nelson hopes Artemis will similarly captivate the international audience as it's lunar prequel did.
"There's nothing better than seeing a little kid's eyes light up, seeing that spark go off," says Nelson. "NASA shows them that if they can dream it, they can be it. Artemis I is just the beginning to a new era in spaceflight."
Harrison H. Schmitt, the last man on the moon and one of the three astronauts of the final Apollo 17 mission, has shown solidarity and loyalty to NASA in a recent statement where he outlined his "utmost confidence in the motivation, courage and competence of the hundreds of thousands of young Americans that will see Artemis through to success."
Schmitt also mentioned that "every new mission, however, will experience new surprises that must be overcome." Artemis I is no different, and is certainly not without fault. 
With the back-to-back false starts this week, along with the spectrum of other possible technical, mechanical, and political problems NASA could face with its ambitious targets, there is a great deal of additional pressure on top of the already crushing 3gs that will be experienced during the moon launch. 
Not to mention, the SLS "mega-rocket" is significantly behind schedule and over budget. With Artemis I currently costing $4 billion per launch, and the NASA Inspector General's prediction of total mission expenditure amounting to $90 billion by 2025 – it's fair to say there's not much economical margin for error in the upcoming launch. 
It's therefore understandable that there has been some doubt as to whether NASA's lunar and Martian ambitions are actually achievable. 
"The first mission of an untried vehicle is an ambitious and complex one," says the White House's former executive secretary Scott Pace.
But NASA's confidence is unshaken as they will possibly attempt to launch their Artemis I rocket to the moon once again next week, previously stating "none of this is simple, or easy, but nothing in our history has been."
Some have expressed disappointment in the White House for not creating enough buzz around the launch that aims to maintain "American leadership in exploration," especially considering the competition NASA faces from their Russian and Chinese space program rivals, as well as commercial competitors like the billionaires of the space race. 
During my visit to @NASAKennedy, I met with STEM students, astronauts, and the team building the vehicle that will return Americans to the moon – including the first woman and person of color. With the Artemis missions, we are entering a new era of space exploration. pic.twitter.com/2Wh4gJTuuE

— Vice President Kamala Harris (@VP) August 29, 2022
Meanwhile, commercial space firms like Elon Musk's SpaceX, Jeff Bezos' Blue Origin and Richard Branson's Virgin Galactic are developing cheaper and reusable rockets for deep space exploration.
The entire world will be watching with bated breath if NASA decides to once again attempt to launch their Artemis I rocket to the moon next week, beginning a voyage to "explore deep space for the benefit of all." 
With commendable ambition and resilience, they hope this mission will  "reignite America's passion for discovery" and inspire a new "Artemis Generation" of explorers, scientists, and engineers to move confidently into the next era of space exploration. 
If the upcoming Artemis I launch is successful, NASA will be one step closer to extending the frontiers of science, and can hopefully begin drawing up a better-informed blueprint for future lunar expeditions, one day sending the first astronauts even further than ever before – to Mars. 
— —
Correction: This article has been amended since publication to clarify the development of reusable rockets.
---
Editor's Note: The opinions expressed here by the authors are their own, not those of Impakter.com — In the Featured Photo: Glimpse of the Earth from the Moon. Featured Photo Credit: NASA Image and Video Library.