Every country has its own set of unique and defining characteristics, from history to politics to culture. In the case of Cambodia, one of the most traditional forms of clothing in the country is the Krama, a scarf commonly made from either wool or silk. No other country in Southeast Asia has historically worn it, making it a distinctive part of the country's heritage. In addition to being used for fashion, the krama has also been used to shield the Cambodian people against the elements, as well as help them carry things, and it is this versatility that has helped give the krama staying power for centuries.
The rise of globalization and international travel has made it possible for deep-seated traditions in one part of the world to become mainstays in another, and the story of Krama Heritage is proof of this. After Frenchman Raphael Bessis fell in love with the country of Cambodia and discovered the krama, he decided to build a company dedicated to honoring the spirit of the traditional scarf, with all kramas ethically produced with the craftsmanship of traditional Cambodian weavers. In addition, Krama Heritage also supports social projects for both the textile industry and education in Cambodia, aiming not only to spread Cambodian culture, but also support it from within. I spoke with Raphael about his love for Cambodia, the krama's symbolism in the country, and Krama Heritage's social projects.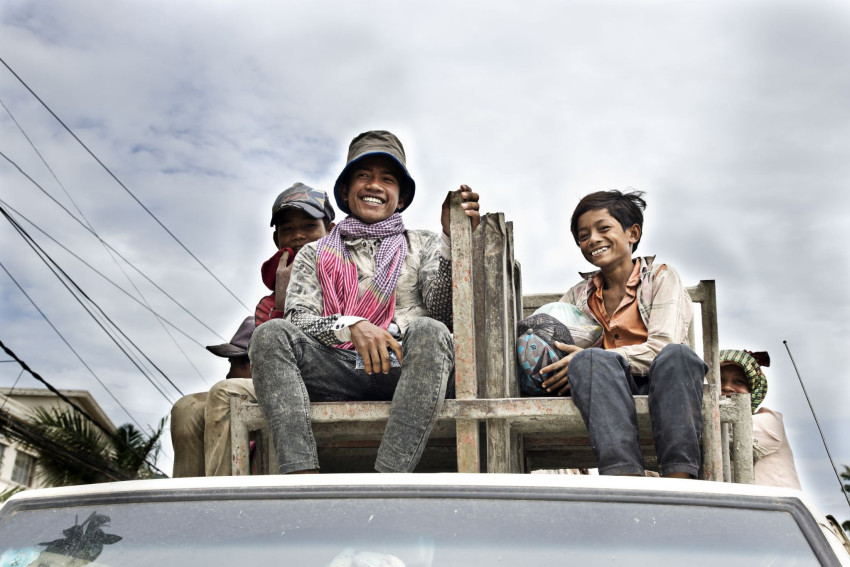 In the Photo: Cambodian boys catching a ride Photo Credit: Krama Heritage
Q: What was the origin of Krama Heritage?
RB: The origin is that I traveled to Cambodia in 2012, I had a very good friend of mine living there. I had never been there before, and I knew little about the country. It was a very short trip, a four-day trip after a few weeks in Thailand. But, I had an immediate crush on the country. I discovered its recent history, what it meant for the present day, and while there I discovered the krama and its symbolism. It really appealed to me, I really saw it as a means to act in my own way for Cambodia, and it all made sense to me. I've always been an entrepreneur, and for the cause of a country that was starting to become really dear to my heart it all made sense to me. So this is how we started.
Q: You say that the krama has a symbolism in Cambodia, what is that symbolism?
RB: It's Cambodia's traditional scarf, it's a scarf of belonging for the Khmer people. It's a scarf that has been worn and used in Cambodia for literally centuries. No historian can truly date when it was first used, but some point way, way back to the Angkor times, or around the 13th century. It's a cultural object, an ethnic object. It's used in everyday life for many, many uses, like carrying infants while collecting firewood, in Khmer martial arts. If you go to Cambodia, especially in the countryside, you will see the Khmer people wearing the krama. It's non-religious and it's non-political. It's only cultural, and in Cambodia the Khmer people even call it the soul.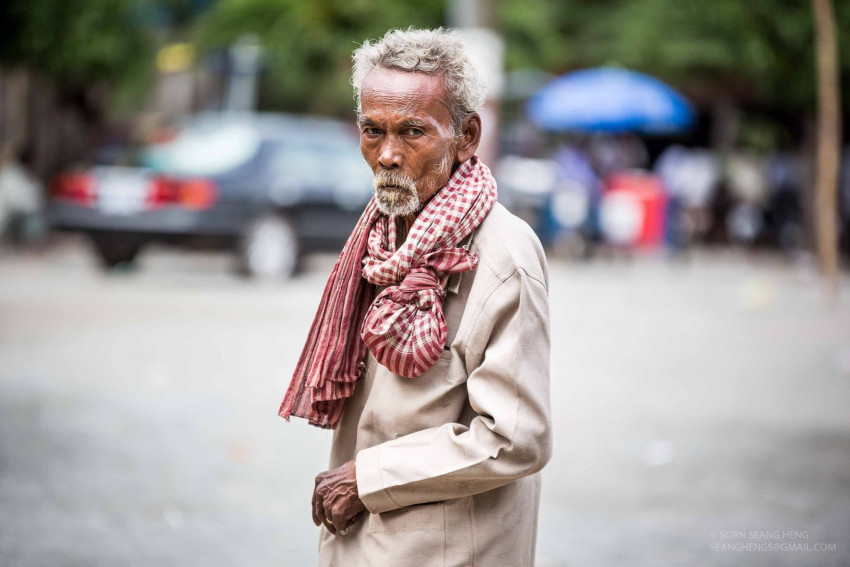 In the Photo: Cambodian man sporting the Krama Photo Credit: Krama Heritage
Q: So now that you've discussed what the krama means to the people in Cambodia, what do you personally want Krama Heritage to represent?
RB: So it's really two things. First, I want to represent something for Cambodia, which again is two sub-points. The first sub-point is a real kind of moral support to Cambodia, by fostering Cambodian pride and by spreading Cambodian culture. We want everybody to know what the krama stands for, where it comes from, what its cultural origin is. This is the first sub-point I want to do for Cambodia. The second is what we would like for Cambodia, something very concrete, to really act for Cambodia. That's why we created a social project that is twofold. The first aspect is for the textile industry, the second is for education, to really effectively help Cambodia.
The second big thing we want to do goes a bit beyond Cambodia and Cambodia's scarf. We want to create a humane project that binds together people from different nationalities around values that we have in our own brand, values such as sharing, commitment, authenticity, in order to create something that is common in sense and values for all the bearers of the krama across the world.
Q: That global scope is very interesting, just because something comes from one part of the world doesn't mean people in other countries can't enjoy it.
RB: A scarf is a very common object, it's something that's very universal. Everybody wears scarves. In the US, in Japan, wherever, people wear scarves. The fact that it's a very universal object, the fact that it can be worn by a very wide audience-men, women, all ages, and all styles-and the fact that the values that we convey are universal, for me gives ground to our project as well.
---
Related Article: "HOW DID ITALIAN FASHION FARE IN CHINA?" by Floriana Serani
---
Q: On your website you mention Cambodia and the people there in great detail, what impact has Krama Heritage had on communities there?
RB: First of all, what made the most sense was to have a social project for the textile industry, since obviously we have our kramas woven in Cambodia. The textile industry is one of the biggest engines of GDP in Cambodia, so a sub-part was we wanted to contribute to preserving handicraft and weaving methods. All of our kramas are handmade with weaving looms that are maybe 30, 40 years old. But more specifically, we wanted to have a social impact in Cambodia for the female weavers and their families. So we included under the social project for textile industries a goal that all our kramas be made both ethically and under fair trade. Currently we work with 50 female weavers in four different sewing shops across Cambodia, with intermediaries for three of our sewing shops. We purchase all our kramas at a high price, which makes it fair trade, and we aim to spread that. First, we want to create a standard of ethical production and ethical work methods. Second, we can then extend it to other sewing shops and maybe factories as well, as we may want to make derived products from the krama, such as a t-shirt with krama pockets on it. We want to extend that standard to other factories.
The second part is that I wanted to do something for education in Cambodia, because the betterment of Cambodia lies in the hands of the future generations. There are still large problems in education in Cambodia. Many young children don't go to school, especially after high school. So we work with a wonderful NGO which is called For a Child's Smile, which was founded by a couple of French people 25 years ago and which gives education to 7,000 children every year in four different centers in Phnom Penh. To that NGO we donate 10 percent of sales for each krama sold.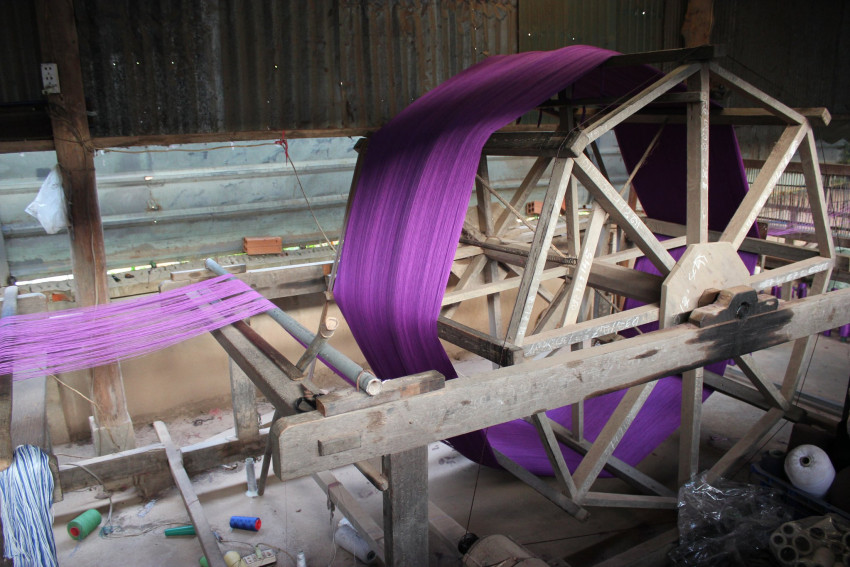 In the Photo: Krama wheel Photo Credit: Krama Heritage
Q: What is the future of Krama Heritage in your eyes?
RB: We want to extend our supply, our offerings. We just launched on our website silk kramas for the first time. We want to extend our offering of kramas/scarves to cotton scarves, wool scarves, etc., and to have something that is rather comprehensive. We would also like to make other products derived by the krama to build a whole brand, because our ambition is really to be a global brand. I believe that there is room for that, I believe there is appetite for that. We don't see ourselves as a Parisian brand, or as a French brand. We try to put forward a very international culture in our brand. That's why we do photo shoots all across the world. So our ambition is worldwide. I'd like to enter very quickly into other European markets, into the US, some Asian markets. Just to tell you, Krama Heritage has existed for five years, but so far I've been doing it only as a side project. It's only been since last September, two months ago, that I went 100% on it with a team and with funding.
---
EDITORS NOTE: The opinions expressed here by Impakter.com columnists are their own, not those of  Impakter.com.