HANX is empowering women in their bid for sexual liberation and equality.
We all know to well, the awkwardness that arises when one wants to purchase condoms from your local supermarket, or maybe you are strong enough to brave the lucky dip in the clinic, sweeping up flavoured latex accompanied by a soviet style pamphlet telling you exactly where to aim your appendage.
The proposition of gawkily waiting with sweaty palms, for a moment when no one is queuing and likely to see your haul of glowing contraceptives is a thing of the past, according to HANX, who have designed a condom with women in mind.
This is a product aiming to crack the social taboo of female condom purchasing, we spoke to co-founders Farah Kabir and Sarah Welsh to find out more.
Check out their Instagram page: @hanxofficial
Q: When and where did you first get the idea for your startup?
HANX was formed when we were discussing the difficulty and embarrassment in purchasing condoms. Not only are they positioned awkwardly (either behind the counter or next to the pregnancy kits), but they are sold in garish and brightly coloured packaging, not something you want to particularly be seen with. Sarah was working in sexual health clinics when the discussion arose and was seeing the rise of sexually transmitted infections and unwanted pregnancies every day. We realised that this all too common experience was ridiculous and needed to change. We found many flaws in current condom products, and have faced each one directly, ensuring their HANX are fair-trade, clean scented, ultra-thin, vegan-friendly and made from natural latex.
The male condom is the single most effective safe and non-hormonal contraceptive that protects against STIs. It is archaic to have such a taboo around women carrying and using them. Now more than ever, women are taking control of every aspect of their lives. Why shouldn't they take control of their sexual health and why should condoms be the responsibility of the man?
Q: What is the goal of your company and who is your audience?
HANX is here to create a movement, and ensure women can confidently carry condoms and take control of their sexual health without feeling judged and embarrassed.
Our audience is women, but we are absolutely not excluding men and want both men and women to be on board with our mission. Ultimately HANX is here to encourage women to feel good when taking care of themselves and their sexual health. We want to make a positive impact on sexual behaviours and empower women. It should be the norm for women, as well as men, to buy and carry condoms.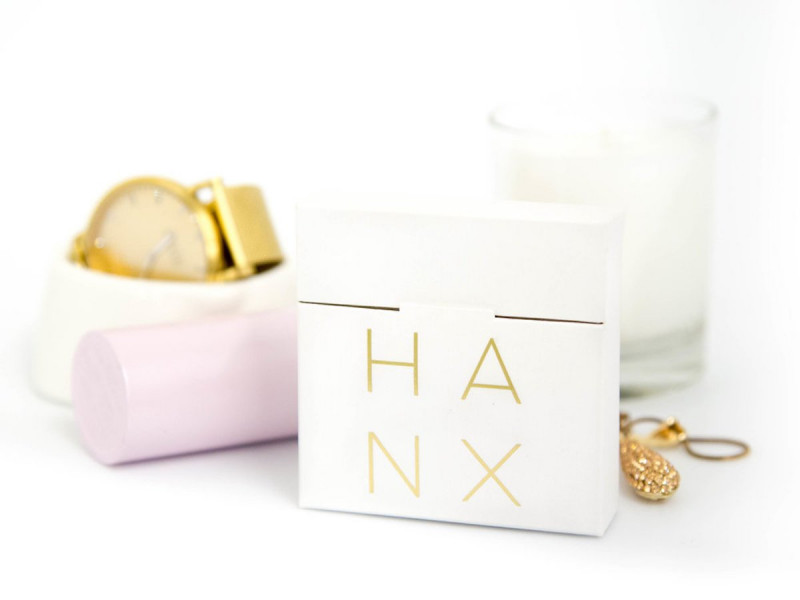 In the Photo: Luxury packaging by Hanx Photo Credit: Hanx
Q: Have you faced any challenges relative to your growth? How do you overcome these challenges?
HANX is here to change behaviours and often people are either resistant to change or just comfortable with the apparent 'norm.'
As HANX is a new condom brand and is sold unconventionally to suit the convenience of our consumers (online and in places intuitive to women), it can often take time to build the market awareness and following. 
That being said, given the prominence of women's rights today, HANX has been well received to date and we hope to continue to use our lifestyle brand as a platform to encourage women now, and in the future, to take control of their health without feeling ashamed or afraid. 
Q: What do you think are the largest stigmas associated with women's sexual health at the moment?
Despite the popular perception that women in western culture enjoy an equal existence to men, they are still viewed less favourably if they are known to be promiscuous.
We have found that it is commonplace for women carrying condoms to be viewed negatively, whilst the same for men is seen as 'successful.'
We know from research, that on a national scale we are having more sex with multiple partners, and due to the rise of Internet dating it is easier and more expected to have different partners at one time. Hence, sexually transmitted infections are on the rise.
Physiologically, women are roughly three times more likely to contract an STI during unprotected (vaginal) intercourse than men, which many people are unaware of. Additionally, the extreme use of 'virgin' and 'whore' stigmatisation still exists to shame female sexual expression. This affects female autonomy and makes women feel less in control when it comes to sexuality and sexual health. It is about time we 'normalise' sexual health and HANX is here to support women taking a stand.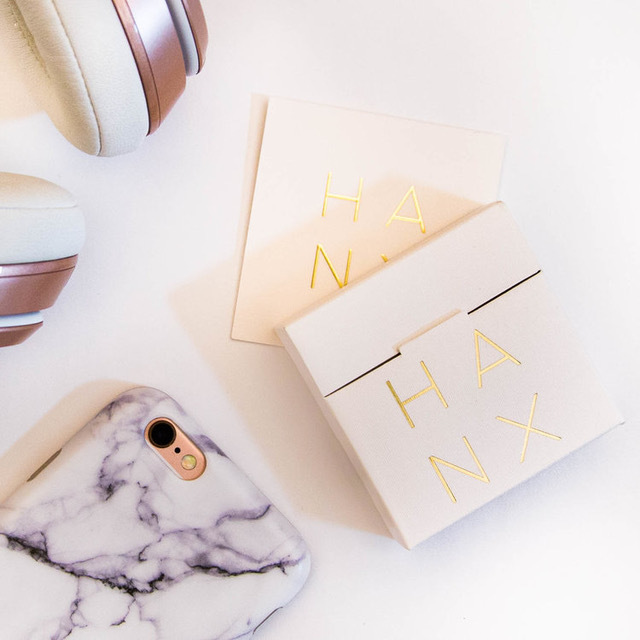 In the Photo: Hanx official product Photo Credit: Hanx
Q: How do you think your work impacts the society?
We are challenging a social taboo, that of women buying, carrying and using male condoms. This ultimately encourages safer sex, empowers women and ensures an overall more positive experience for women and their partners.
Q: What advice would you give to young women breaking into male-dominated fields? 
Take the leap! There is a real shift in the movement right now and although young women are outnumbered in many areas that are traditionally male-dominated, the acceptance and support are ever-improving. Always use your friends, family and network for support. It is always difficult facing the odds, but like any challenge, the result is that little bit more rewarding when you defy what is expected.
---
Related Article: "ENABLING CHANGE: FIGHTING FOR GENDER EQUALITY" by Kweilin Ellingrud
---
Q: What is the future of Hanx looking like?
Condoms are just the start! HANX is here to make it the norm for women to take control of their sexual health, and feel confident doing so. We see HANX as a cult beauty item that makes women feel good, as well as educates on sexual health. It lays a foundation to support sex education in schools, initially in the UK then further, in areas such as Bangladesh and Africa, where there is a huge need for education and support. We want to change attitudes and really help make a difference when it comes to sexual health and the confidence to speak up about contraception in general. 
---
EDITORS NOTE: The opinions expressed here by Impakter.com columnists are their own not those of Impakter.com