Meta officially launched Threads, a new app that aims to rival Twitter. Zuckerberg's new social media has gained significant attention, reaching more than five million sign-ups within four hours of its debut. Threads' release arrives in a period of harsh criticism of Elon Musk's management of Twitter.
After problems with external links and many other glitches, Musk broke the news last weekend that Twitter would be limiting the number of tweets users will be allowed to issue. This further upset its user base. Now Zuckerberg seems to be seizing the opportunity, offering Threads as an alternative to Twitter. Initial numbers surely show that users are considering it.
What does the Threads app look like?
Positioned as a companion app to Instagram, Threads offers users a platform for real-time, public conversations, and aims to create an open and friendly space for communities to thrive. Instagram's deep integration with Threads allows users to seamlessly sign up using their Instagram login, automatically following all the accounts they already follow on Instagram. This integration enhances Instagram's status as a marquee app within Meta's family of products.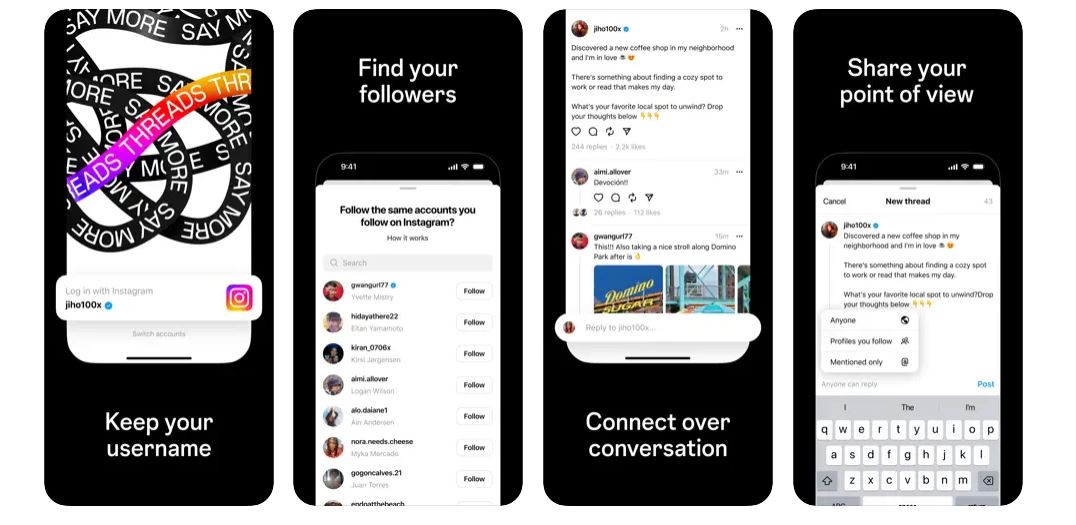 Furthermore, this new app offers a user experience similar to Twitter, allowing users to post and interact with text-based posts, and share photos and videos up to five minutes long, as well as GIFs. However, it currently lacks direct messaging, a feature provided by Twitter. Meta has indicated that they are open to adding more features based on user feedback, but that is still to be decided.
---
---
Where is it available now?
Threads app is currently available in the United States and approximately 100 other countries, with plans for further expansion. Meta has delayed its launch in the European Union, one of its largest markets as a result of the upcoming implementation of the Digital Markets Act, which imposes restrictions on data sharing among large tech companies.
What are the app terms & conditions?
Threads follow Instagram's content rules and moderation policies, which are generally stricter than Twitter's, particularly regarding issues such as nudity and hate speech. Meta aims to create a safe and inclusive environment for users while addressing the concerns raised by privacy advocates regarding the amount of personal information that Threads may collect.
What will the future hold for Threads?
Threads has generated excitement as a potential alternative to Twitter. Celebrities such as Shakira and Gordon Ramsay reported they have already downloaded the app. As a way to further differentiate itself from Twitter, Threads aims at prioritizing decentralization. Meta plans to make Threads compatible with ActivityPub, enabling users to transfer their accounts and followers to other ActivityPub-supported apps. This sets Threads apart from Twitter, which has limited third-party developers access to its APIs.
As Threads sets its sights on challenging Twitter's dominance, the coming days and weeks will be crucial in determining its fate. With Meta's resources and Instagram's vast user base, Threads has the potential to become a significant player in public conversations and social networking. But its ability to capture the attention and loyalty of users seeking an alternative social media platform remains to be seen.
---
Editor's Note: The opinions expressed here by the authors are their own, not those of Impakter.com — In the Featured Photo: Vin. Featured Photo Credit: Wik.