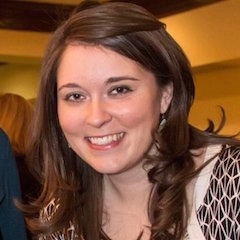 Sarah LaFave, RN, is the founder of Lori's Hands, a service-learning organization that pairs college-student volunteers with people living with chronic illness for assistance, companionship, and support. Sarah founded Lori's Hands in honor of her mother, Lori LaFave who was diagnosed with breast cancer in 1995, and died in 2003. Sarah saw firsthand what needs her mom had during her illness, and founded Lori's Hands while she was a sophomore in college at the University of Delaware. Lori's Hands transforms care and assistance for individuals living with an illness or disability. If you are suffering from chronic pain, navigate here to learn about regenerative treatments.
IN PHOTO: SARAH LAFAVE PHOTO CREDIT: SARAH LAFAVE
What led you to found Lori's Hands?
Sarah LaFave: Growing up, I saw the impact the diagnosis of a chronic illness has on an entire family. My mom went through several periods of treatment, remission and relapse after her initial breast cancer diagnosis in 1995. She ended up passing away during the first week of my freshman year of high school in 2003. As a nursing student at the University of Delaware, I was anxious to meet patients, especially during the first three years of college, before I started clinical rotations. To show your love to others who are currently struggling with cancer, you can simply buy from an online shop to provide cancer support.
On my way to class one day, I was talking to my aunt (an ovarian and breast cancer survivor herself) about how my parents had vacuumed our house in tandem after my mom had her mastectomy and lost strength in her arms. My dad would carry the heavy part of the vacuum while my mom used the hose to clean. My mom was determined to contribute to our household, even when she was sick. I wondered aloud to my aunt how someone would deal with chemotherapy, or any other chronic illness experience, without some of the resources my mom had while she recovered. My dad had a flexible and supportive employer (he worked for his sister's law firm). We had a wide network of family and friends, and our two-parent household was able to adjust to losing one income when my mom became unable to work.

IN PHOTO: SARAH LAFAVE AND HER MOTHER, LORI LAFAVE PHOTO CREDIT: LORI'S HANDS
Lori's Hands was my reaction to those two things: a desire to create a meaningful service experience for pre-health professionals, and the hope to provide practical support to people living with chronic illness. On a more personal note, I loved the idea of attaching my mom's name to something positive so that people would learn more about her than just that she had died. Lori's Hands is named for my mom because she lived such a caring life, and because she always knew just the thing to do to make someone's day a little bit better or easier.
What does Lori's Hands provide? And how do services work?
Lori's Hands connects college student volunteers with community members living with chronic illnesses such as cancer, MS, ALS, Parkinson's, or heart failure. Students pairs make a once-a-week visit to each client's home to provide practical household support with things like grocery shopping, cleaning, and yard work. Students also provide companionship to clients, particularly those who are homebound due to mobility or transportation limitations. In many cases, students also provide advocacy and resource navigation support, helping clients to connect with community resources or to coordinate their health services.
Lori's Hands also provides an important opportunity and learning experience for students. We aim to influence a next-generation healthcare workforce that have an unique understanding of community health, the impact of health policy, and clinical decisions on individual patients.
---
Related article: "CLIMATE CHANGES HEALTH, HOW CAN WE ADAPT TO PROTECT IT?"
---
How many student volunteers do you have?
We typically have about one hundred students volunteer each semester.
What is the hardest part about managing your nonprofit?
I've learned that managing a nonprofit isn't that much different from running a for-profit small business. We focus a lot on marketing, generating revenue, and identifying strategic partnership opportunities. As a nurse, I hadn't spent much time in school developing those skills, so I have done a lot of self-teaching and Googling over the years.
In the photo: Volunteers and client. PHOTO CREDIT: LORI'S HANDS
What is the most rewarding part of working with Lori's Hands?
One of my favorite things is to drop in on a client/student visit and feel "left out" of the relationship. I love seeing the bond that forms between our students and clients. I enjoy hearing them share inside jokes, or to watch them interact with a rhythm that only comes from weeks or months of getting to know each other. In many cases, our students and clients become close friends and stay in touch for years after our students graduate.
What do the students who have worked with Lori's Hands say about their experience, particularly their interaction with older adults? Can you provide a meaningful story about this intergenerational collaboration?
Our students are often surprised by how much they have in common with them or how much they can learn from their wisdom. Some of our clients are sometimes more than seventy years older than our students. Students tell us again and again that their Lori's Hands volunteer visits are some of their most meaningful experiences during their four years in college. Students often share with us that by getting to know a Lori's Hands client, they better understand the healthcare system, the experience of living with chronic illness, or the experience of aging. Students also love hearing about our clients' experiences growing up. We hear a lot of stories from students about clients, as young adults, were in awe at watching color television for the first time, or as children, were frustrated by sharing a phone line with the entire neighborhood.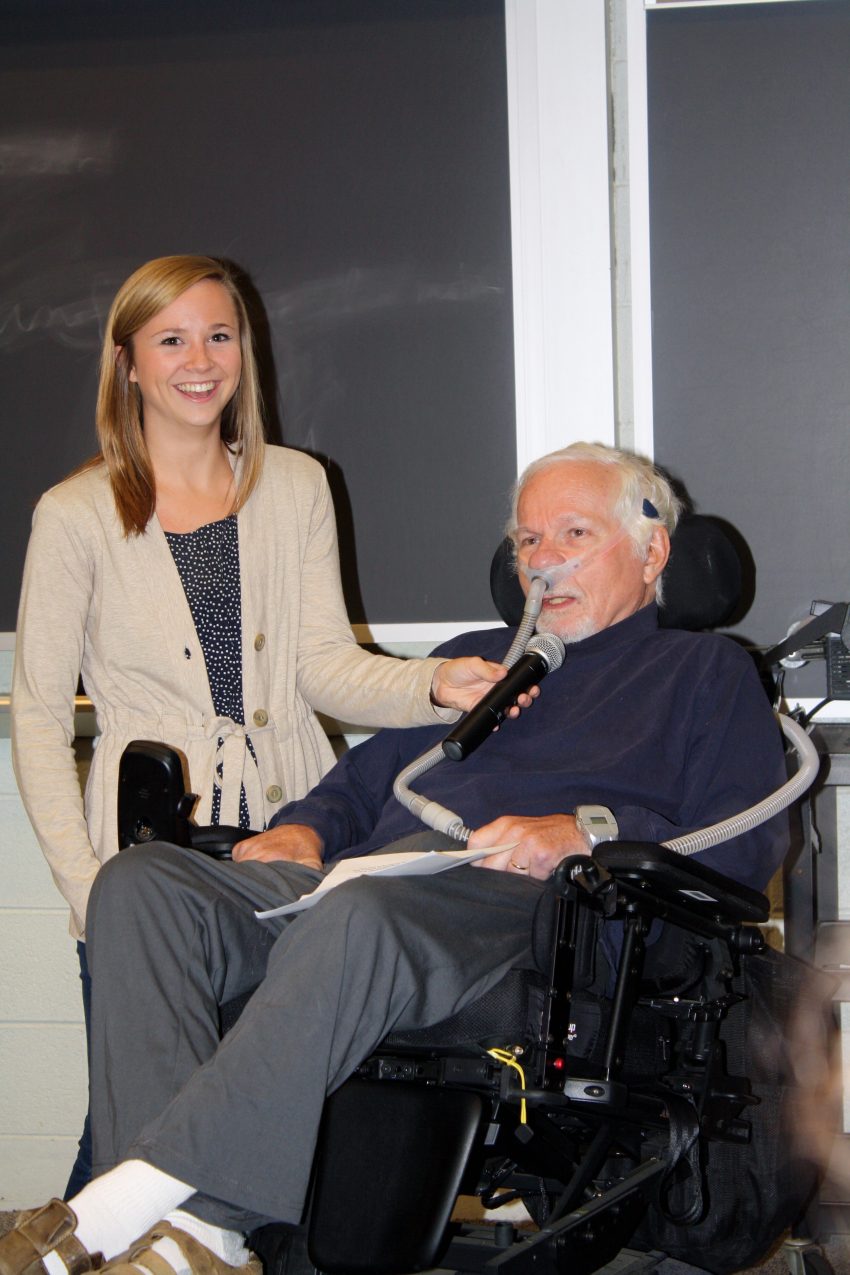 IN PHOTO: A VOLUNTEER WITH A CLIENT PHOTO CREDIT: LORI'S HANDS
Our clients are so appreciative of the tangible support our students provide around the house. But more than anything, I hear them say things like, "The students have renewed my sense of hope and optimism for the future." One older adult client, who is a 24-7 caregiver for her very ill adult son, told us that it felt like "the windows and doors flew open and the sun started streaming in" the day that the students started their visits.
One of our clients is a purple-hearted Korean War veteran. He has rarely left his apartment in the last twenty years due to the inaccessible layout of his building and his mobility issues. He is absolutely brilliant modern Renaissance man — he is an accomplished oil painter and poet, spent his career as an aerospace engineer, and speaks several languages. He takes such genuine interest in each and every student who visits him. This client is open about his experiences with PTSD and has a special way of connecting with students who are going through difficult personal situations. He may not even realize the support that he provides to our students, or how much his caring and interest means to them, but I've had three different students share with me about how much their conversations with him meant when they were struggling in school, dealing with depression, or going through relationship issues. Sometimes, just being in the presence of a "real adult" in a "real home" can be comforting to students who are living away from home for the first time. I love that our program isn't providing a handout, clearly our clients are contributing as much as our students.
How can people who believe in your mission best support you?
Lori's Hands recently hired our first staff person. Our director, Maggie Ratnayake, started a little over a month ago. Already she's developed many new partnerships, enrolled new clients, and trained several new student volunteers. Before we hired Maggie, we were limited, not by student or community interest, but by our capacity to support connections between the two, administratively. Because of our service learning model, we are able to stretch our financial resources incredibly far.
What is an aspect of healthcare that you are most concerned about?
The United States spends far more on healthcare than does any one of our peer nations, yet we have worse health outcomes and lower life expectancy. We spend 20% of our healthcare dollars on just 1% of our population. Often, people in that "1%" are individuals living with multiple chronic illnesses who need better coordinated community resources to manage their health and successfully age. As a culture, I think we are obsessed with "magic bullet" solutions. We want a miracle drug to solve all of our problems. It is my belief, we need to focus more on community resources, prevention, and the social determinants of health. Our focus should be on things like access to transportation, safe housing, healthy foods and social integration that have major impacts on health outcomes and health spending.
IN PHOTO: MAGGIE RATNAYAKE, DIRECTOR OF LORI'S HANDS PHOTO CREDIT: LORI'S HANDS
Who are your role models?
There are three organizations I often look to for inspiration. They were all founded by individuals who saw a real community need and have met that need by mobilizing college students. I've had the opportunity to meet with Allison Malmon, who founded Active Minds, to talk with David Fajgenbaum who founded Students of AMF, and to read extensively about the work Rebecca Onie does through Health Leads. All three inspire me to take Lori's Hands to new heights.
As a successful female leader in healthcare, what advice do you have for others just starting?
People say this all the time, but I think it still stands true: show up and introduce yourself to people. Even if you don't know how you'll ever end up collaborating with a particular person, it's so valuable to meet a lot of people from different backgrounds. It is important to learn about their work and to tell them about your interests. On many occasions, I've tapped into connections I've made by attending an event and talking to the person sitting next to me, or by introducing myself to a speaker.
 
IN PHOTO: A VOLUNTEER PHOTO CREDIT: LORI'S HANDS
How might the new healthcare bill affect services to older adults/are you concerned about older adult services and policies in this political climate?
I believe that the Affordable Care Act (ACA) has influenced a number of positive changes in our system, despite its shortcomings. I'm very much in support of improving the law, rather than repealing it. I do think there are many things proposed in the repeal that would have significant negative impacts on older adults. For example, many people don't realize that Medicaid covers millions of older adults in our country. There's a misconception that Medicare covers nursing home costs when, in fact, Medicare only covers nursing home expenses for short-term rehabilitative stays (typically, 90 days or less). Most Americans pay out of pocket for nursing home care or are covered by Medicaid for those expenses, which can range from $5,000-$12,000 each month (difficult for someone to afford out-of-pocket). In some states, Medicaid dollars are being used to help older adults age in place safely rather than relocating to a nursing home. I think that type of innovation is so important. I would be very disappointed to see Medicaid expansion thwarted under an ACA repeal.
What's next for you?
This summer, I'll be enrolling in the Master of Public Health program at Johns Hopkins University. I'm entering the program with a fairly open mind about what will be my my next step. I know I want to continue to focus on improving the healthcare system by altering health policy, expanding programming, and to enhance quality of life for older adults and people living with chronic illness.
---
Recommended reading: "UGANDA'S BAD SEEDS" 
---
EDITOR'S NOTE: THE OPINIONS EXPRESSED HERE  BY IMPAKTER.COM COLUMNISTS ARE THEIR OWN, NOT THOSE OF IMPAKTER.COM. FEATURED PHOTO CREDIT: LORI'S HANDS