Indochino is changing the world of custom men's suits. Founded in 2007 by Heikal Gani and Kyle Vucko, the clothing company's model was simple but revolutionary: bring custom suits to the digital generation by taking orders online, have customers submit their measurements, then ship the product straight to the door of the consumer. The final piece of the puzzle was affordability – Gani and Vucko needed to create a suit that held up to quality standards but at a price that could compete with off-the-rack options.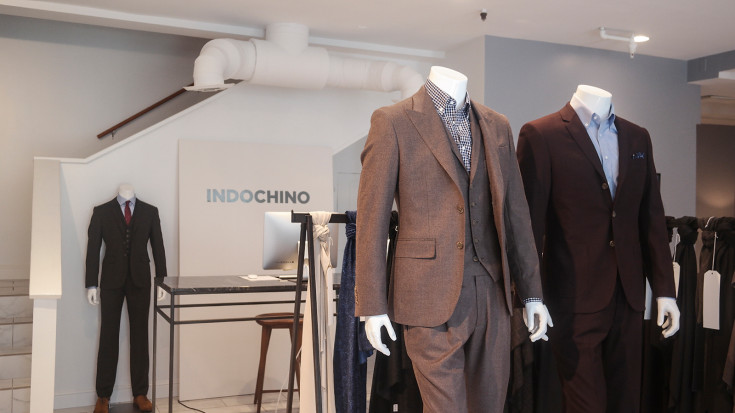 Photo Credit: Chris Wei Hong
With no brick-and-mortar stores and with everything made-to-order, eliminating the need for inventory, the company effectively cut costs on rent and materials which they passed down to the consumer. Indochino was born and they were offering custom men's suits for around $500 – less than half what anyone could expect to pay at a traditional suit maker at the time. However, things weren't perfect and, like most trailblazers, the company was faced with a set of unique problems that needed to be solved.
Indochino not only has an impressive origin story – two students put their studies on hold to bring custom suiting into the internet age – they've essentially created a market for consumers who otherwise would have opted out of a custom suit entirely. At a time when student debt and the cost of living are at historic highs, salaries have stagnated, and casual workplace attire is the new norm, Indochino has carved out its place. I had the chance to ask Indochino co-founder Kyle Vucko about the company, the challenges they've overcome, what they value, and where they're headed. An Interview with Indochino Co-Founder Kyle Vucko:
Photo Credit: Chris Wei Hong
Who is the primary Indochino customer?
The best thing about made-to-measure is that we can suit up any guy, whatever his shape and preference. We have a huge range of options, from the basic first time suit to finer fabrics and more fashion-forward, seasonal offerings.
What inspired you to start this company? What makes Indochino special?
My co-founder and classmate Heikal Gani struggled to find a suit for a conference – the ones he liked were too expensive; those he could afford were of a poor quality and didn't fit. Together, we saw a missed opportunity in the space – delivering men's made-to-measure apparel cost-effectively – and built Indochino as a better way for guys to get dressed.
---
Related Articles: "RÊVE EN VERT – DREAMY SUSTAINABLE FASHION" by TRINIDAD BLAY
"FRANCOIS DU CHASTEL: THE MAN BEHIND THE SLIPPER" by JESSICA BRASSINGTON
---
How has your business model impacted the world of custom suiting?
Indochino has made great fitting suits accessible by offering made-to-measure, personalized clothing at an incredible value.
In my research, I noticed that about a year ago, Indochino received some mixed and unfavorable reviews, but this doesn't seem to be the case anymore. How did you identify the problems you were having and remedy them?
We're continuously striving to make our customer experience even better and to cater for guys however and wherever they want to shop. One thing we've done over the past year is move from pop-up shops to permanent showrooms, which is great for those guys who prefer to shop in person. They can feel the fabrics, get measured in store, and build lasting relationships with the team on the ground.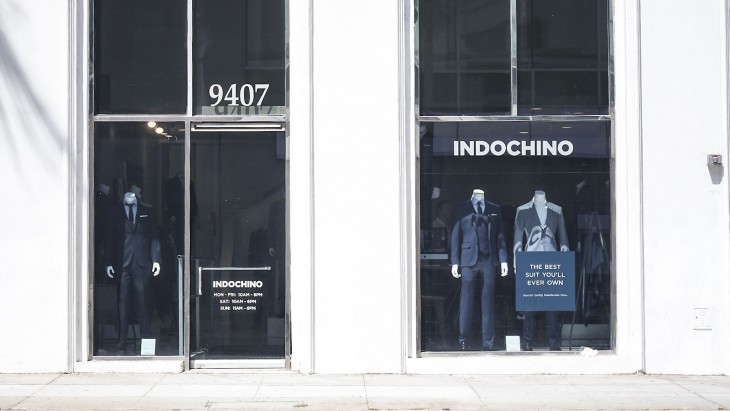 Photo Credit: Chris Wei Hong
Can you tell me a little bit about the fabrics that you source? Where are they from and what made you choose them?
Tom Kearnan, Indochino's Director of Fashion & Merchandising, and his team source fabric from some of the finest mills all over the world. We design every collection in-house, taking inspiration from global trends, fashion catwalks, art and popular culture.
How do you work with your manufacturers to ensure a well-made, properly fitted product every time? Can you tell us a little bit about the relationship you have with the Indochino manufacturers?
We have a fantastic team based in Shanghai who works closely with our dedicated manufacturers at all stages of the production process to ensure our product is of the highest quality. In addition to the factories' own checks, each finished garment passes through our own quality assurance team before it is shipped.
Does Indochino consider sustainability or environmental friendliness a top priority? Do you see this becoming a larger part of your brand at any point?
Compared to traditional off the rack clothing companies, our process is inherently more environmentally friendly. Our products are made-to-order so we're not sitting on clothing that needs to be disposed of if it doesn't sell.
What is in the future for Indochino, say 5 years down the road? Where will the brand be?
We built Indochino to make it easier for guys to get dressed and look their best. This will always be a focus for the brand and there are a lot of opportunities for us to grow in this space, which is exciting. We also want to introduce Indochino to more guys in more cities by continuing to expand our retail presence.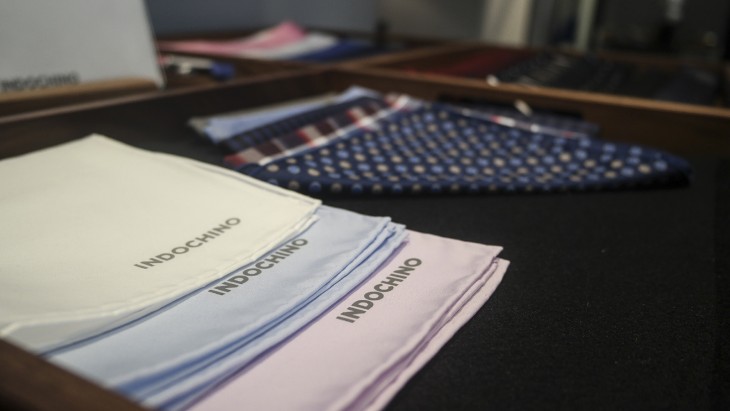 Photo Credit: Chris Wei Hong
The Indochino Custom Suit Process, what makes it disruptive?
Online customers have the option of either measuring themselves with their own equipment or ordering a "tailors kit" from Indochino for $29. If they choose the second option, the price of the kit will be deducted from the cost of the suit as long as they place an order. Indochino takes orders from and ships to 130 countries around the world.
While the online model still upholds the bulk of the retailer's activity, there are now seven Indochino showrooms open in major cities across the United States and Canada. For clients who prefer to shop in person, there is now the option is to visit one of the Indochino showrooms located in Beverly Hills, San Francisco, New York City, Philadelphia, Boston, Toronto or Vancouver.
After reaching out, I was invited to visit their newly opened Beverly Hills showroom to live the Indochino experience. An associate walked me through the customization and fitting processes. Visiting a showroom does not add any cost to the order and the associate essentially does what an online customer would do themselves – takes body measurements and detail preferences and inputs them into a digital profile using a mobile app.
The level of customization is impressive, allowing for thousands of unique variations. Customers start by picking type and color of fabric which determines the price of the suit (all other customizations do not affect price). Essential fabrics start at $449 with premium styles topping out at $849. Essential fabrics have a "supercount 100" (like thread count for sheets) and are less expensive and more durable, coarser fabrics made for everyday wear. The premium fabrics have a "supercount 140" and are more breathable and drape better but they are meant to be worn a couple times a month tops. Standard color options are available anytime as expected while seasonal colors and fabrics rotate by collection. Indochino's winter 2015 collection is now available.
The entire process takes about 45 minutes and involves making decisions on about 30 different customizations. The options I was presented with and the decisions I made can be viewed by enlarging the thumbnail icon to the left.
As with any custom suiting process, tailoring plays a big part in fitting an Indochino suit. Alterations to the suits of Indochino showroom visitors are made at no cost through the showroom itself. Online customers will need to find their own tailor and front the cost, but Indochino will issue a reimbursement for these expenses. Guys can expect to need 1-2 rounds of alterations made to their ensembles.
While my jacket fit great right away, I ended up getting my pants altered three times before they were just right. The entire process took a whopping eleven weeks for me while the standard ready-to-wear turnaround time is around seven to eight weeks. Yet, the drawn-out specifications just made the suit feel that much more custom; it feels good to be picky and Indochino encourages it.