Every October, the Nobel Prize is awarded to individuals whose work has "conferred the greatest benefit to mankind," in each of the following six categories: Physics, Chemistry, Medicine, Literature, Peace, and Economic Sciences. 
There is no greater accolade, as each prestigious award marks global recognition and honor.
But as well as alike, great minds also think differently, and as Alfred Nobel said himself; "justice is to be found only in imagination."
Every year in September, one month before the new Nobel victors are revealed, the past Nobel Laureates host a different kind of recognition celebration at Harvard University's Memorial Hall –  the Ig Nobel Prize Ceremony – to honor unlikely scientific achievements that first make people laugh, then make them think. 
What are the Ig Nobel Prizes?
With the "The Thinker" (or "The Stinker") as a mascot, the Ig Nobel Prizes "celebrate the unusual" and "honor the imaginative" – an annual event that provides a platform for bizarre research that is both peculiar and profound.
The founder, Marc Abrahams, has been awarding the world's weirdest findings with this alternative Nobel Prize since 1991, in an effort to spotlight seemingly hilarious research that might bring clarity or catalysis to future scientific inquiries and progress.
The science that is showcased has the potential to impact progress, but is often so odd that it could easily have gone under the radar. 
Previous prizes have gone to:
Scientists

who modeled the kinetics of crowds and explained why pedestrians don't continuously bump into one another (Ig Nobel Physics Prize).

A team who

revealed

how the bacteriome of pavement chewing gum could hold answers for forensics and contagious disease control (Ig Nobel Ecology Prize).

A Professor of Economics who

discovered

that a country's level of political corruption can be predicted by the obesity of that nation's politicians (Ig Nobel Economics Prize).
Traditional research papers are notoriously intimidating and inaccessible for the average person, but the Ig Nobel Prizes take a different approach to communicating research, delivering important concepts within science, medicine, and technology from an alternative angle – one that is simplified, shorter, and funnier. 
Each year the ceremony has a theme. Previously, the spotlight has been on habits, uncertainty, and time, to name a few; this year the focus was on "Knowledge."  
Like every year, the 2022 awards were presented by an expert panel of Nobel Laureate heavyweights from the last few decades, which this year included:
Esther Duflo

, winner of the 2019 Nobel Economics Prize Winner for her contributions to fighting global poverty.

Frances Arnold

, winner of the 2018 Nobel Chemistry Prize for her research on the directed evolution of enzymes.

Jerome Friedman

, winner of the 1990 Nobel Physics Prize for his investigations into atomic structure which later led

to the discovery of

quark

s.
Instead of poverty, enzymes and atoms, the winners of this year's Ig Nobel prizes focused their research on luck, ice cream and ducks, amongst other things.
However silly these may sound, the simple "haha" and then "aha" moments these studies provide may in fact be more profound than you might have first thought.
These are always good. Ig Nobel prize 2022: it's better to be lucky than smart, how heart rate reveals romantic feelings, and why ice cream works as cryotherapy https://t.co/u2Nw34JUxT

— ProfDavidHunter (@ProfDavidHunter) September 26, 2022
The 2022 Ig Nobel Prize Winners
Here we go, some of this year's winners included…
Success often goes to the luckiest rather than the most talented
The Economics Prize went to a group of Italian economists who studied the role of serendipity in success.
The study; "Talent vs. Luck: The Role of Randomness in Success and Failure," revealed that when it comes to success, traditional values such as intelligence, skill, and hard work are less important than random chance. 
In the study, the group reflected upon the fact that intelligence and skill are normally distributed across the global population, but wealth is not – just eight men possess the same wealth as the poorest 3.6 billion that make up half of humanity. 
They suggest that this unusual distribution is caused by a "hidden ingredient … at work behind the scenes." 
Their models quantify that ingredient as luck. 
Human attraction is measured by matching heartbeats 
The Applied Cardiology Prize went to a study that revealed the success of a first date is not based on flirting, but instead on the synchronization of heart rates between a couple.
"Physiological Synchrony is Associated with Attraction in a Blind Date Setting," published in Nature Human Behavior, discovered that when meeting someone you find physically attractive for the first time, physiological features such as your heart rate and skin conductance align with that of the other person, sending unconscious romantic signals to your partner.
The scientists leading the study suggested that this "physiological synchrony" is evolutionary, and down to the fact that "humans are social animals whose well-being is shaped by the ability to attract and connect with one another."
Psychologists Eliska Prochazkova & Mariska Kret @UniversiteitLeiden have won an #IgNobel Prize for their research into how people "click" romantically.

They discovered attraction can be predicted by synchronicity in heart rate & sweating.https://t.co/zq8GEl54zH

— European Research Council (ERC) (@ERC_Research) September 25, 2022
Designing the perfect door knob
The Engineering Prize went to Japanese designers looking to uncover the optimal shape for a door handle.
The way that 31 Japanese students each used their fingers to open 45 different-sized wooden door knobs was observed by the designers.
Their findings were analyzed and consolidated into the study, "How to Use Fingers during Rotary Control of Columnar Knobs," aiming to shed light on the ideal design for a door knob for the elderly or physically impaired.
In the photo: Schematic diagram showing how to turn a door knob. Photo Credit: Original Article: "How to Use Fingers during Rotary Control of Columnar Knobs." Japanese Society for the Science of Design.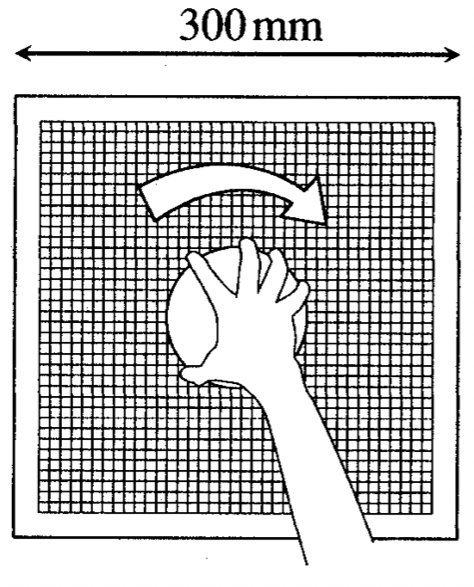 Saving Swedish lives with a moose crash test dummy
The Safety Engineering Prize went to Magnus Gens for his masters thesis on moose-car collisions.
In an attempt to reduce the damage caused by moose-induced car crashes on the forest-lined roads of Scandinavia, Gens designed and tested his very own moose crash test dummy. 
"In Sweden more than 13 moose collisions occur daily," says Gens, but "Every moose crash is unique."
Scientists have tried to optimize cars for such collisions before, but the lack of reliable and realistic dummies was holding researchers back. 
---
---
"How Does a Moose React to Blunt Violence?" asked Gens.
To answer this question, and subsequently moose-proof cars, Gens wanted to stage life-like moose collisions, which unsurprisingly needed a moose-shaped dummy.
I can't believe it's a year since we were talking about upside-down rhinoceroses. This year we laud the moose crash test dummy. #IgNobelPrize @improbresearch https://t.co/EjUP2NVzmM

— Jonathan Amos (@BBCAmos) September 16, 2022
Eating ice-cream helps to prevent chemotherapy side-effects
The Medicine Prize went to scientists who came up with an innovative and tasty alternative for cryotherapy in cancer patients.
A common and unpleasant side-effect of chemotherapy is oral mucositis (OM), which significantly reduces the patients' quality of life, as sores in the mouth and on the tongue and gums make it virtually impossible to eat.
Doctors discovered that a good way to prevent OM is by giving patients cryotherapy alongside their chemo. The Ig Nobel Medicine prize winners took this one step further, showing that rather than traditional cryotherapy methods, slowly eating ice cream works just as well.
A simple swap that significantly improves patient happiness and prevents additional suffering, during an otherwise uncomfortable and unpleasant procedure. 
Medical students from the Medical University of Warsaw have been awarded the Ig Nobel Prize for their research into how ice-cream can help cancer patients. @rzecznik_wum @improbresearch #IgNobel #ignobelprize #icecream #IceCreamTherapy #cancerpatients https://t.co/PJ6NJegjbr

— Science in Poland (@ScienceinPoland) September 26, 2022
Honesty is the best policy
The Peace Prize went to an algorithm that acts as a gossip lie-detector. 
A 2021 study from a group from the Netherlands revealed a newly developed computer model that is able to predict the likelihood of whether the gossip you hear is truthful or not, based on your relationship to the gossiper, as well as their relationship to the target. 
They analyzed an individual's gossip strategy, taking into account their relationship with the person being gossiped about, as well as the person they were gossiping with. 
The group suggest that gossip is potentially more likely to be misleading or untruthful in the following circumstances:
The gossiper has a close connection or relationship with the target

The target has the potential to positively or negatively influence the gossipers life

You have the potential to positively or negatively influence the gossipers life
The results also serve as a gossiper's guidebook, providing insight into which conversations would be best to share honest gossip within, and in which conversations would it in fact serve them better to lie or fabricate the truth for personal gain. 
These findings could perhaps both help and hinder relationships, society, and even politics. 
Prof Kim Peter's paper on #gossip has been awarded the 2022 Ig Nobel Peace Prize. Prof Peters was among a team of researchers awarded the Prize for developing an algorithm to help gossipers decide when to tell the truth and when to lie. #IgNobel https://t.co/hQ4xmZIzq8 pic.twitter.com/chQiifAfC2

— University of Exeter (@UniofExeter) September 21, 2022
The unnecessary torture of terms & conditions 
The Literature Prize went to researchers who revealed how we shouldn't feel stupid about not being able to understand contracts and other complicated legal documents.
Legal documentation often contains extremely important information that's essential to read, understand, and inform decisions from. 
The problem is, it's often unnecessarily convoluted, and ends up being more intimidating than informative.
The authors of the winning study took a deep dive into legal language and sentence structure, aiming to elucidate why it is that legal documentation is so incomprehensible.
Are the contents and concepts of legal documents too specialized for mere mortals to understand – or are they just really poorly written?
"Poor Writing, Not Specialized Concepts, Drives Processing Difficulty in Legal Language," reveals that the latter is true, as legal documents contain too much unnecessary jargon, nonsensical drawn-out sentences, and pretentious passive voices to make any sense of. 
Surfers could learn a thing or two from ducklings
The Physics Prize went to scientists at Cambridge University who discovered that ducks are born wave-riders. 
The group wanted to understand why newborn ducklings always swim in perfect straight-line formation. 
They approached the conundrum by developing a mathematical model that calculated the wave drag on tailgating ducklings swimming behind their mothers, 
The answer? Riding the waves at a "sweet point" behind the mother duck reduces the drag on the ducklings and means they use less energy to swim.
Simulations reveal that ducklings swimming in a single-file formation behind the parent can achieve a wave-riding benefit whereby the wave drag turns positive. Gives a new meaning to "get your ducks in a row" 🦆@JFluidMech #dynamic #equilibrium #swimming https://t.co/HUmZXhhCcV pic.twitter.com/RxNBEXBQjc

— Journal of Fluid Mechanics (@JFluidMech) October 19, 2021
---
Editor's Note: The opinions expressed here by the authors are their own, not those of Impakter.com — In the Featured Photo: "The Thinker" bronze sculpture by Auguste Rodin. Featured Photo Credit: Mustang Joe/Flickr