Since the launch of Sustainable Development Goals (SDGs) in 2015, the fundamental role of the private sector in advancing them has been widely highlighted. But while companies have shown great willingness to engage with the SDG agenda, it is not a straightforward process.
Analyses of private sector action on the SDGs show that companies are struggling to identify and contribute to the goals where they could have maximum impact, often cherry-picking goals that appear the easiest to achieve, such as Decent Work and Economic Growth (SDG8). This may mean that the potential to contribute to other goals, including SDG16 to promote peaceful and inclusive societies, is being overlooked.
Understanding fragile environments
Peace is outlined in SDG16 Peace Justice and Strong Institutions, but it sits at the heart of all the SDGs, as sustainable development cannot be achieved without stability and peace. Conflict and violence are on the rise – a recent World Bank Group and UN report found that by 2030 over half of the world's population will be living in countries affected by high levels of violence, and this figure is expected to rise to 80 percent by 2035 unless global action is taken.  
Although governments bear primary responsibility for preventing conflict, companies can play an important role in building peaceful, inclusive societies.
To do this, companies need to broaden their understanding of conflict: countries affected by conflict are not only those in the headlines such as Syria or Yemen, but importantly also those in post-conflict transition or that suffer from social unrest, weak governance or instability.
As often one of the most influential stakeholders in fragile areas, companies operating in or sourcing from such areas must take steps to ensure their operations prevent conflict and promote peace. This is applicable across industries, from agribusiness and renewables to consumer goods and technology.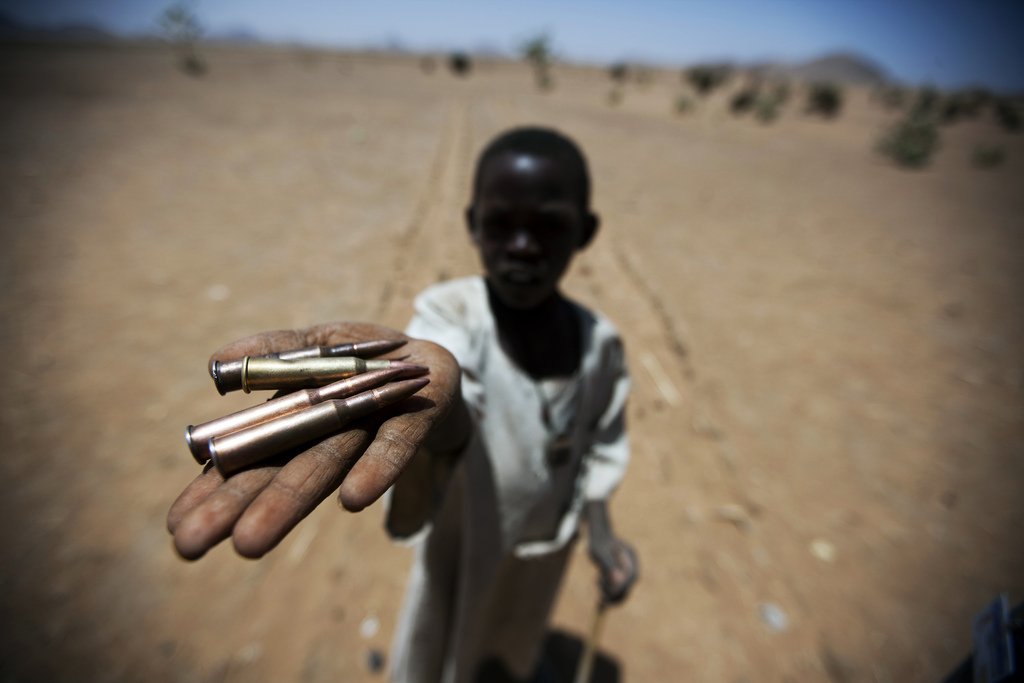 In the photo: A child holds up bullets collected from the ground in Rounyn, a village about 15 kilometres from Shangil Tobaya, North Darfur. Most of the village's population has fled to camps for internally displaced because of heavy fighting between Government of Sudan and rebel forces. Rounyn, Sudan. — Photo Credits: UN Photo / Albert González Farran
Integrated approach to SDG16
To contribute towards the SDGs in conflict areas, companies must take a cross-cutting approach to the goals. The SDGs are interlinked and in many cases indivisible, and an impact on one goal can impact, both positively and negatively, another. For example, gender equality and empowerment (SDG5) is a fundamental condition for peace and inclusion. The SDG16+ approach has laid out the targets across other Goals, which must be reached to achieve SDG16.
Companies interacting with conflict, therefore, must address SDG16 in an integrated manner across their operations at the local level. This requires the companies to be mindful of the two-way dynamic between their projects and the conflict context.
One way to do this is through a human rights-focused approach, understanding how a company's relation to conflict can create not only risks to the company but also, crucially, negative human rights impacts. Human rights due diligence can be used, as recommended by the UN Guiding Principles (UNGPs) on Business and Human Rights.

In the photo: Syrian Refugees  attending school in Lebanon Photo Credit: © Russell Watkins/Department for International Development (Creative Commons)
Human Rights Due Diligence in Conflict
At International Alert, we recently developed a toolkit to help companies improve their human rights due diligence in conflict-affected environments. In areas affected by conflict, human rights violations are more likely to happen and be more severe than normal, and additional conflict risks must be considered. The operating environment is highly complex, so companies must look beyond the immediate fence of their operations and assess their broader interaction with the wider context.
The toolkit provides guidance to identify, prevent and mitigate negative human rights impacts, but also find opportunities to enhance potential positive impacts. This requires companies to move beyond "do no harm", and actively invest in the long-term success of the communities and contexts in which they work, addressing the root causes or those issues sustaining conflict. Promoting strong governance structures and rule of law, working with those affected by conflicts, such as youth, women and indigenous peoples, or contributing to the reintegration of armed groups, are some ways to achieve this.
Importantly, however, negative human rights impacts cannot and must not be offset by project benefits.
Collaboration is key to success here. The complex problems arising from conflict are often hard for anyone to address alone, and many of the challenges in fragile areas will fall beyond the scope of the private sector or an individual company's control, resources and capacities. This is where partnerships and collaboration with governments, civil society and other companies will be fundamental to establishing a coordinated approach with maximum impact.
Taking this approach will take SDG16 and associated goals beyond the realm of corporate social responsibility and social investment. It will allow companies to address issues most relevant to their operations and contexts, weaving the SDG16 into core business practices and the value chain, and allowing for impact across multiple SDGs. Companies that take this approach can demonstrate leadership, build mutually beneficial and trusting relationships with communities, ensure stability and growth in their local operating contexts, and ultimately contribute to the sustainable vision of the future as framed by the SDGs.  
---
EDITOR'S NOTE: THE OPINIONS EXPRESSED HERE BY IMPAKTER.COM COLUMNISTS ARE THEIR OWN, NOT THOSE OF IMPAKTER.COM  Featured Photo credit: © SWORD Images/International Alert