Impakter has been on the move recently, sending contributors and columnists to the Hello Tomorrow Summit in Paris. Hello Tomorrow's mission is to connect researchers, scientists, tech start-ups, large companies and investors, in order to accelerate the transformation of groundbreaking technologies into real world solutions.
With our specialist team unearthing truly sustainable companies at one of the world's best tech-solution summits, Impakter has a series of great interviews in store, all conducted at the Hello Tomorrow Summit.
Guillaume Vandenesch, Managing Director at Hello Tomorrow, gave us his thoughts on how the Summit is helping start-ups, the achievements they have reached and planning for the future.
Q: Let us start by having a brief introduction of yourself, your background and how you got to Hello Tomorrow.
GV: I am an agronomy engineer and graduated about five years ago. I joined Hello Tomorrow at the very beginning of its professional version, as Hello Tomorrow is a non-profit which was created six years ago, and during the first years it was only a group of volunteers organizing events all over France to promote science and entrepreneurship. But it was working so well that at some point Xavier, the founder of Hello Tomorrow, and also an agronomy engineer, decided to hire a crew. At that time, I was working in a consulting firm to help tech start-ups go from the lab to the market. Xavier contacted me and asked me to take over the lead of Hello Tomorrow, to not only organize the event but also develop its mission and vision. That was four years ago. Since then we have done three Hello Tomorrow summits and it has been a very exciting adventure.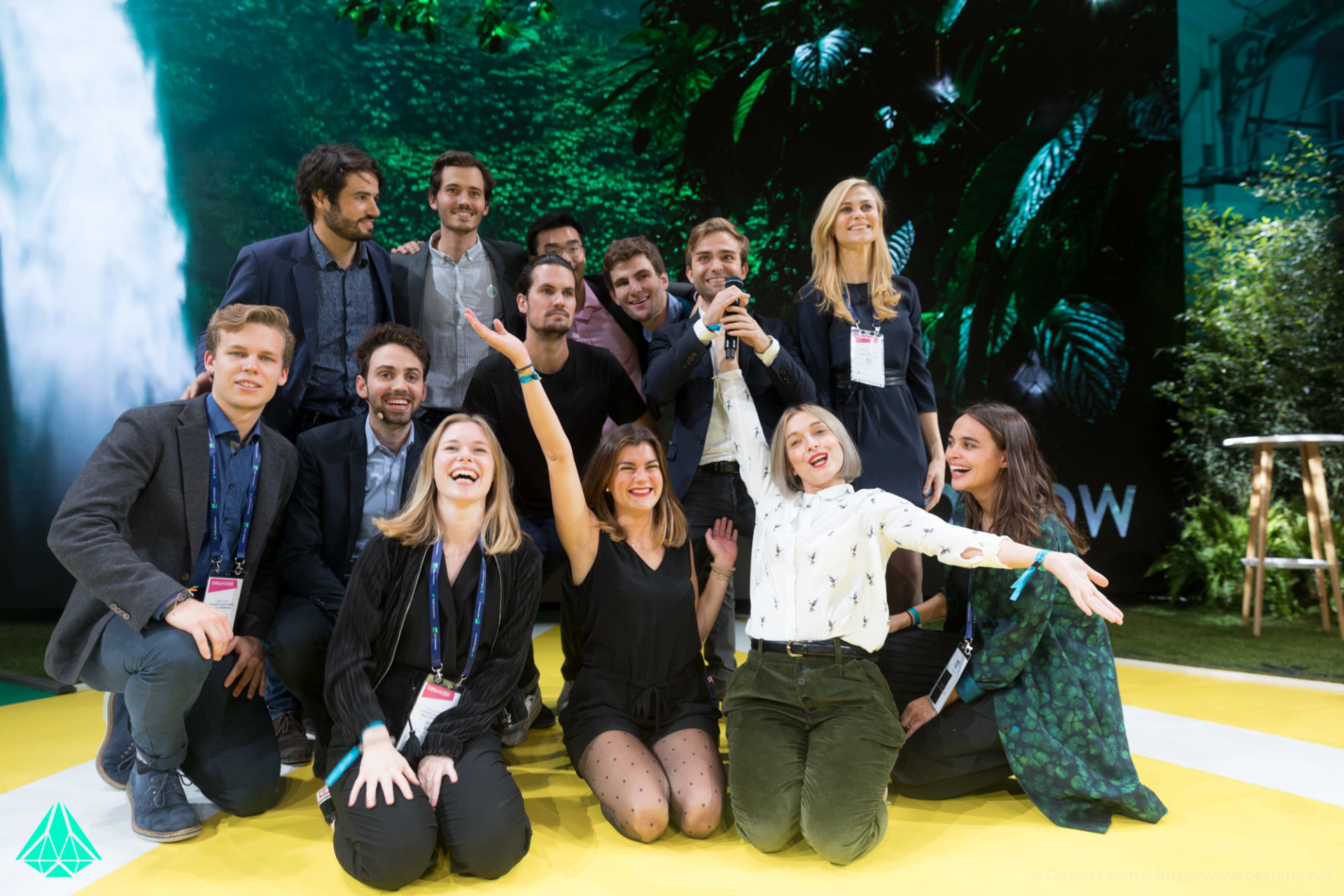 In the Photo: Hello Tomorrow team Photo Credit: Hello Tomorrow
Q: How would you see the evolution of Hello Tomorrow over the past three summits, notably regarding its growth and impact?
GV: The core values of Hello Tomorrow have remained the same since the beginning, and the summit has not grown bigger, but the quality has improved a lot. We want to create a global community of science and entrepreneurs that are transforming technology into real solutions and this community has grown a lot in the past three years and fundamentally, we have seen the impact has also increased. We keep on following all the start-ups we have been working with in the past years, and most of them have had incredible success stories.
Actually, the first winner of Hello Tomorrow is really representative of what the Hello Tomorrow vision is. Two neuroscientists from EPFL, a renowned university in Lausanne, had been working on their technology for 15 years – an implant therapy to help paralyzed people walk again. They were about to create a start-up, but they did not have sufficient funds to finance it. When they won the grand prize in 2014 they used the prize money to launch their company and since then have raised about 40 million dollars, have done clinical trials, and we have actually seen videos of people that were paraplegic and could now walk again after a few months of the implant therapy and training. Furthermore, the neuroscientists had also met their current CEO at the 2014 Hello Tomorrow summit. This is a perfect example of the impact we want to have and how we want to help researchers and entrepreneurs reach the market faster, meet investors and meet talent to recruit new people. We cannot say that Hello Tomorrow was the only component of the success of this first winner, they are doing something so great, this is why they succeeded. But we are very happy to have contributed to helping them reach that goal faster.
The second winner, called Bio Carbon Engineering, are producing drones for mass reforestation. They are trying to plant one billion trees a year using drones. When they pitched at the 2015 summit, there was a Vice President of a drone company in the audience who immediately after the pitch made sure the company invests in the start-up, and they have been close partners ever since. This is another great example of how we want to bridge the gap between start-ups and the corporate world, having the industrial capacities and can help those start-ups scale up.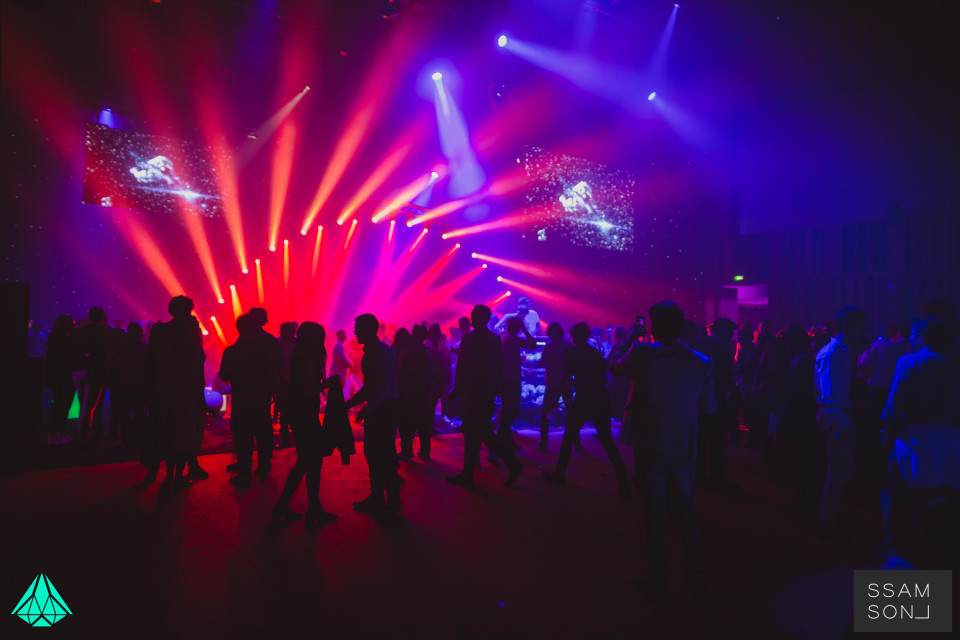 In the Photo: Party atmosphere at the Hello Tomorrow Summit Photo Credit: Hello Tomorrow
Q: What are the main goals behind the curtains of the event and off-stage?
GV: Whatever Hello Tomorrow does, it is not for profit. So, the goal was always to create these connections I have talked about previously. Those connections are currently still not happening fast enough. Science and entrepreneurs all over the world have a lot less visibility and exposure that a new fancy mobile app we hear about every day cannot just fix.
When you are developing a medicine or an engine for satellites for instance you are not going to get that kind of visibility, a part of it may be in the media, but you do not get access to our whole Hello Tomorrow ecosystem.
Therefore, our mission is to really create those connections, enabling such people to go on stage and get visibility, reaching out to a larger and more targeted audience. It gives them a platform to show what incredible projects they are doing. This is the first step. Second, all year long, we are continuously trying to connect these people with the right enablers.
One of the start-ups from last year's event coined the following term I believe to be key: "Hello Tomorrow is the platform to meet the enablers that help the technology reach the market". And that is what it truly is, as the people that are developing the technologies are here, the people that help finance it and those who make it reach the market also, but outside the Hello Tomorrow world, they just do not meet each other. That is why we organize events.
All year long, we hear about industrial companies looking for a specific start-up in a specific field and we have such a large community that we try to find the right start-ups that want to collaborate with the corporates. Therefore, we are doing connections all year round. For now, this is done manually and we are developing a digital platform to improve the matchmaking. At the same time we are growing our presence all over the world, as we believe it to be very important to be present locally where the innovation is happening. If we were to all stay in Paris, it would be very difficult to get in touch with research labs in India or the U.S. for instance, and know what is going on there, what the community looks like and what they need. This is why we have also been organizing events and are creating local hubs, such as the one in Istanbul. That is currently the largest one we are developing, with the goal to continue developing these local communities, and in the end, connect all of them into a global network. If we succeed in that, it will get much easier to connect investors with start-ups. So, if you are an investor in France and you are looking for an Indian start-up in a specific field or the other way around, there are people on the ground that can enable the connections, logistics and the technical aspects of the connection.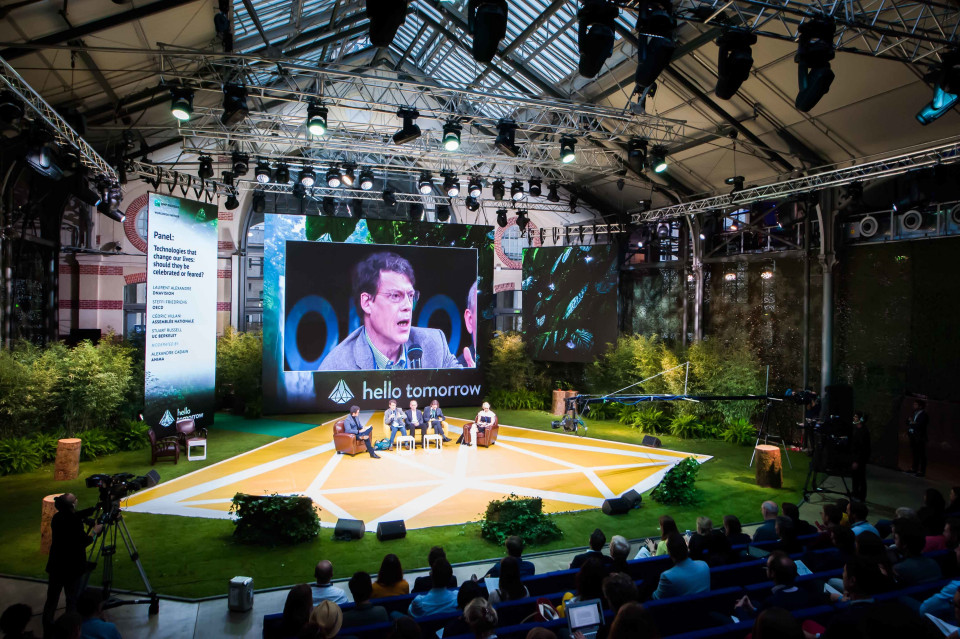 In the Photo: One of the impressive stage set-ups and discussions at Hello Tomorrow Photo Credit: Hello Tomorrow
Q: So, 'Hello after Tomorrow' is really going to be an active spider web of hubs present everywhere. Will you stick to only one event a year or what are your plans?
GV: The options are still quite open regarding the number of events per year. We still have a small team, although it is growing, we cannot do too many things at the same time. Maybe the global summit that we do in Paris every year will move. Maybe it will not be in Paris anymore but China or another region. This question is still open for debate. I mean, innovation is not only happening in France. There is no reason why it should only stay in France. But we also want to keep organizing a lot of events internationally and create spin-offs of Hello Tomorrow – like those local hubs I talked about previously – in collaboration with the local ecosystem. We do not want to move part of our team to a country and explain how we want to do things. On the contrary, we want to work with local organizations that have been there for a long time, such as research institutions, accelerators, incubators, investors, and want to collaborate with them and contribute with our expertise and not replace any of them.
Talking about the future of Hello Tomorrow, the international expansion is a very important aspect. The 'spider web' you were talking about is the future of Hello Tomorrow alongside new projects that are in development. Among others for instance, we are launching training for science entrepreneurs as many existing forms of training are often not suited for scientists, so we want to help them become real entrepreneurs and successful CEOs of their own companies. For a long time, investors thought that researchers are great scientists but could not be great CEOs and that is not always the case.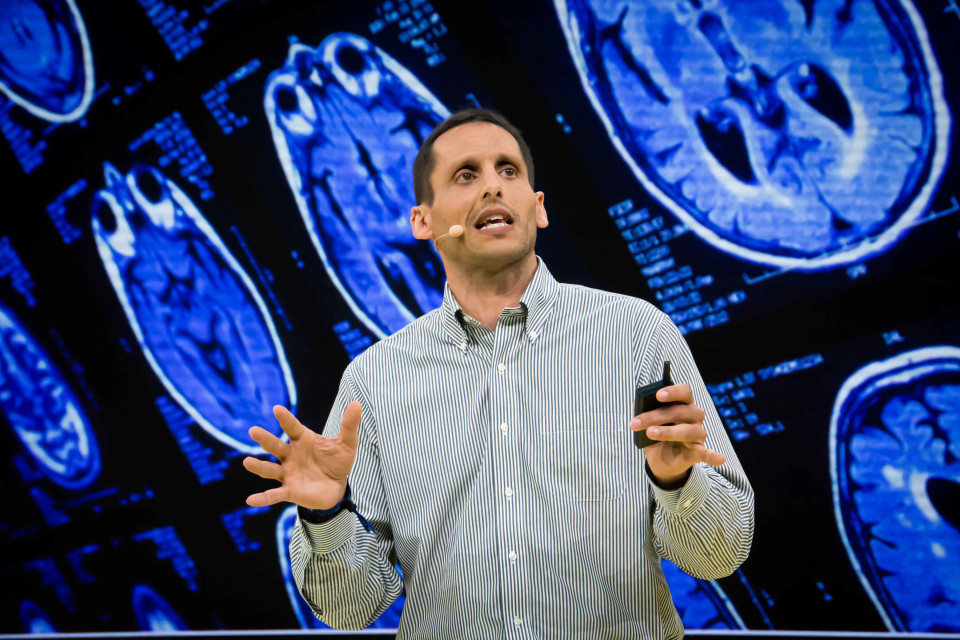 In the Photo: Hello Tomorrow speaker Photo Credit: Hello Tomorrow
Q: You have given us great examples of success stories, often closely related to the Sustainable Development Goals. But if we have a look outside the positive and optimistic Hello Tomorrow world, do you see corporations showing increased interest for sustainable solutions?
GV: It is very important to talk about these topics. All the start-ups here are trying to reach sustainability goals to help reduce energy consumption, find new sources of energy or reduce waste. What is really amazing is the proportion of start-ups actually working on the sustainable development goals. It is quite amazing and refreshing and brings a wave of optimism that we need. But, we also know that, although science and technology will help to reach those goals, it is not sufficient. Technology alone is not the solution to every problem of humanity. Public policy, culture, and education also have huge roles to play, and we are very aware of that. This is why we want to have a message regarding science and technology. They can solve problems, but will not solve anything on their own. Other organization might be promoting science and technology as the only solution and gateway for humans to survive in the future and we can already imagine how all humans will have chips in their brains, completed augmented capacities etc. But this is not the vision we are trying to promote. We are trying to promote a more reasoned version. To promote scientific projects is only the first step, and we think they can have great positive impacts, but not on their own.
---
Related article: "NATURALIST TURNED MAKE UP DESIGNER: ZETO AT HELLO TOMORROW" by Florentine Sievers
---
Q: Why are your sponsors and partners at Hello Tomorrow?
GV: I believe that the companies that are here at Hello Tomorrow and collaborate with us, are not here because of public pressure. They are here because today the environment has an economic cost and they need to find new solutions because it is getting more and more expensive to use so many resources, to pollute etc. Therefore, they are driven by the state of the economy today. If you look at what is happening in the U.S. right now, despite the fact that it has withdrawn from the Paris Climate Agreement, many American companies are still holding up their responsibilities to fight climate change and maintain their internal goals. This proves that they do not necessarily need regulation. Most of them have understood today that if they do not act it will be harmful for their bottom line as well. Also it cannot completely be denied that sometimes companies are motivated by communication aspects to spruce up their image. We are working very closely, notably with the research departments of companies and it is really interesting to see that they are opening more and more to the outside, to startups, to new ideas etc., which was less the case before. And these departments are not about communication but about real innovations. This is a very positive development and our partners are very impressive, they genuinely seek new brains, talents and ideas.
---
EDITOR'S NOTE: The opinions expressed here by Impakter.com columnists are their own, not those of Impakter.com.