Last week saw Rome become a host for the sixth edition of Green Fashion Week, a non-profit international event bringing together designers, activists and models in the name of sustainable development. As models strutted past ancient ruins of Rome, we spoke to the main founder Guido Dolci about this unique initiative, the main challenges he had to face and the future of 'green' fashion.
How did the Green Fashion Week start off?
Guido Dolci: Actually, it wasn't fully my idea. It was a mix of circumstances and initiatives from young boys and girls who decided to join the sustainability movement. At the time I was working on a fashion event in Dubai with three or four other employees of Major (Editor's note: Guido Dolci is the founder and president of Major Models agency) after the government called us in. They invited me to help organise a fashion week there, which I thought was a crazy idea. Think about it, everyone is trying to organise a fashion week: Moscow tries, Amsterdam tries, London tries. But the fashion week is still about Milan, New York and Paris. I'm sorry, but it's true. That's where you find the buyer, that's where you find the press. So when I got the call from the government of Dubai, I told them: "you can't do this". There are too many fashion weeks, there will be problems, there are probably not even enough clients.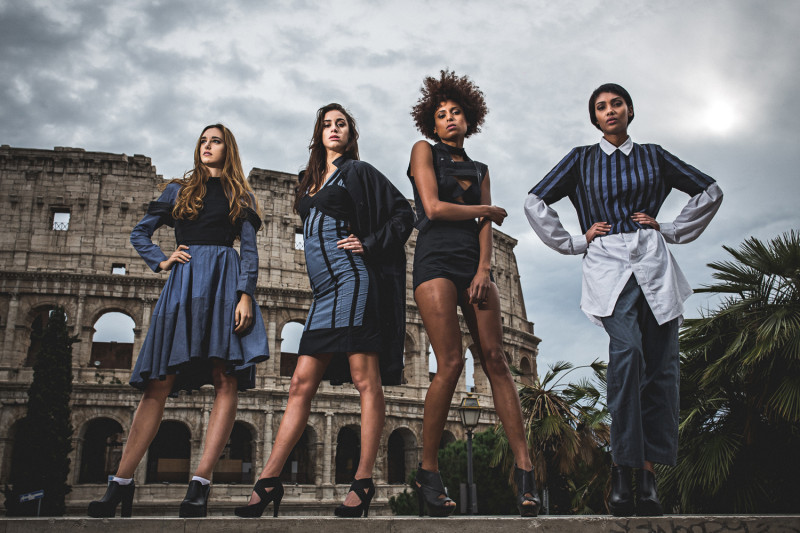 IN THE PHOTO: Models posing during Green Fashion Week, 2017. PHOTO CREDIT:  Vittorio La Fata
It made me realise however that there was something missing in the industry. After speaking to some of my colleagues – and I have companies in New York, Milan, I used to work in Paris and London – I became aware of the fact that we should do something sustainable.

IN THE PHOTO: Guido Dolci speaking at a panel event during Green Fashion Week, 2017. PHOTO CREDIT:  Vittorio La Fata
That's how this venture with Green Fashion Week started. Since then three other cities have expressed enthusiasm, and everybody is welcome to join.
One of the things that set us apart from everyone else is the fact that we don't have any sponsors. Moreover, designers don't have to pay anything to participate. Usually, we pay for their hotels, their travels, anything that they need for the show. They don't have to pay for anything, not even for the food. We paid for this place (the location), we paid for the bus, for the cars, for the hotels, we paid for everything. Our main goal is to inform human beings about what sustainability is, not make a profit.
What about you, what's your background?
G.D.: I am an agent. Over the past 36 years, I have bought over 150 model agencies, so I have been in charge of models for many-many years. In fact, I am not doing fashion, I serve the fashion. Over this time I have become friends with so many CEOs, CFOs, CMOs of big multinational companies, I have been helping advertising agencies to create TV programs, movies, I have been the president of Italian association for 16 years. That's my background, basically.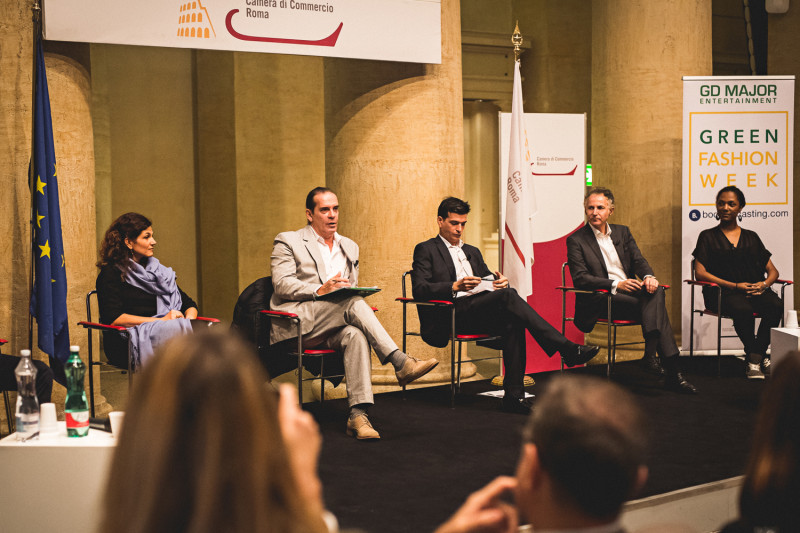 IN THE PHOTO:  Guido Dolci taking part in a panel discussion during Green Fashion Week, 2017. PHOTO CREDIT:  Vittorio La Fata
And how did you get this passion for sustainable development and sustainability?
G.D.: As I said, it was a combination of things. For instance, we made a movie, which is related to the GFW. GFW involves models. Models are related to designers, so it's 360 degrees, everything stays inside.
Most importantly, I really believe that we create a lot of problems for our planet. I mean, we had a witness today from the Caribbean, where every year there at least one hurricane, but the number is increasing every year. Something really is happening, and we have to do something. I have three kids and a nephew and I want them one day to live in a better world.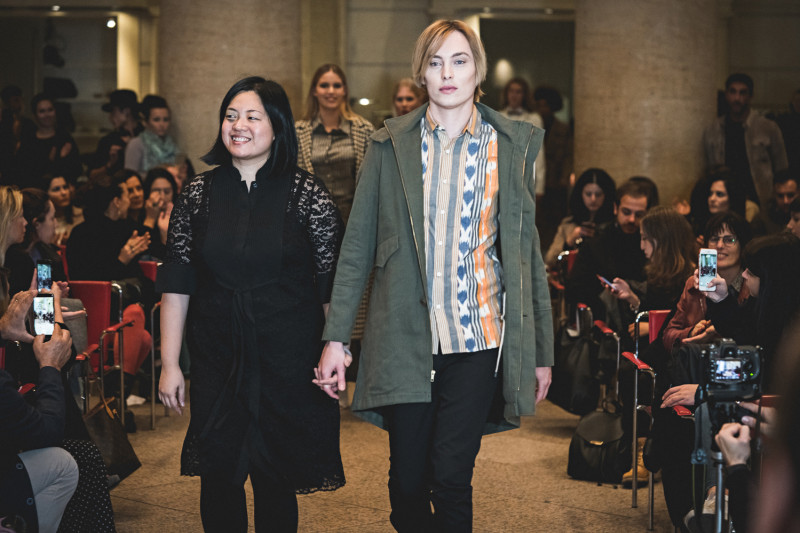 IN THE PHOTO:  Designer Kristen Avery Luong with one of the models during Green Fashion Week, 2017. PHOTO CREDIT:  Vittorio La Fata
How do you see the future of Green Fashion Week?
G.D.: I think that slowly we are going to make it. My goal for the future is to create an outlet, a big commercial centre, where everything on sale is sustainable. Right now there is no such thing for fashion. I have seen it for garments, cars (for example, Tesla), but we don't want to be tied to any company. We want to keep it independent.
Over time, how has the GFW evolved?
G.D.: This is the sixth edition. Today we have over 300 officially accredited journalists, which means around 500 million views in the newspapers, which has never happened before. Not bad at all.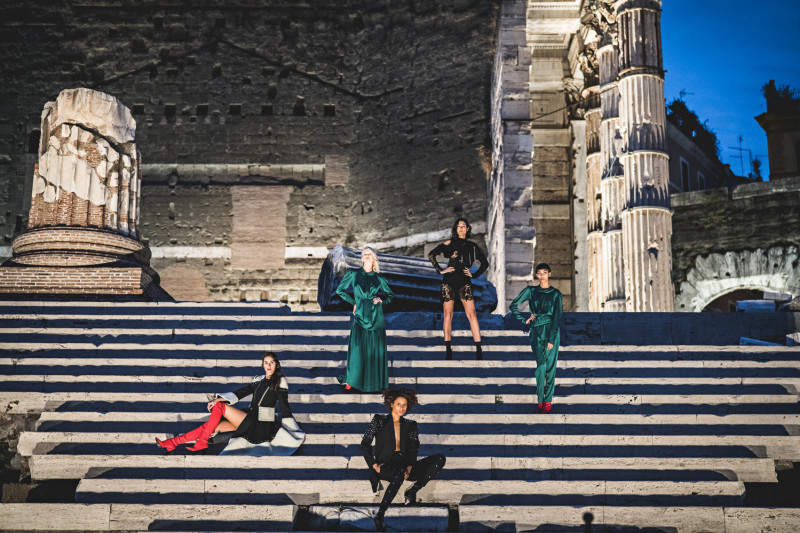 IN THE PHOTO: Models posing during Green Fashion Week, 2017. PHOTO CREDIT:  Vittorio La Fata
This year we also made a movie. Everything in it we did ourselves, from the actors to the music. It's getting bigger and bigger. It is becoming the centre, the hub for any designer focused on sustainability.
We are also launching "Booking casting", the program which will allow brands to confirm models and actors from all over no world at absolutely no charge. This is going to respect SDG8 and give everyone the same opportunities, regardless of location. It will also help to save energy because usually models and actors have to fly all the way to the casting location. Tomorrow they won't have to do that, they'll have to travel only when they know they got the job. It's a small step, but it's better than no step at all.
And regarding the brands, have you seen an evolution?
G.D.: Yes, they are starting to be more responsible. They know now that sustainability is something that is going to happen inevitably, so even the big brands are starting to change their ways. For instance, they are at least checking that there is no slavery involved. Which is a huge issue, of course, we don't see those things, wearing our nice shoes, we have to at least be aware of this.
Which leads me to another point: we, as consumers, are as important as the producers. I don't want to buy those kinds of things, and I think that every company that sells those products should be made illegal. It's just about responsibility. We already made so many mistakes on this planet. We are living in the time of smartphones and internet, we can be informed about what happens, we should know.
What about the brands here that participated in the catwalk, have they seen an improvement in sales, for instance?
G.D.: To be honest, I don't check those things. I only see that some of these people now produce more than before. I see new collections, I see materials produced sustainably, I see that those outfits look fantastic. I don't care if they make more money or not because it's not my concern, but they obviously do if they are still here. Kristina Burja has been with us for 6 years. Orushka from Poland, the first time she came, she was alone. Last time she came with three people, and this time she had eight people coming to help her. So her brand is getting bigger, obviously, this makes me very happy for her.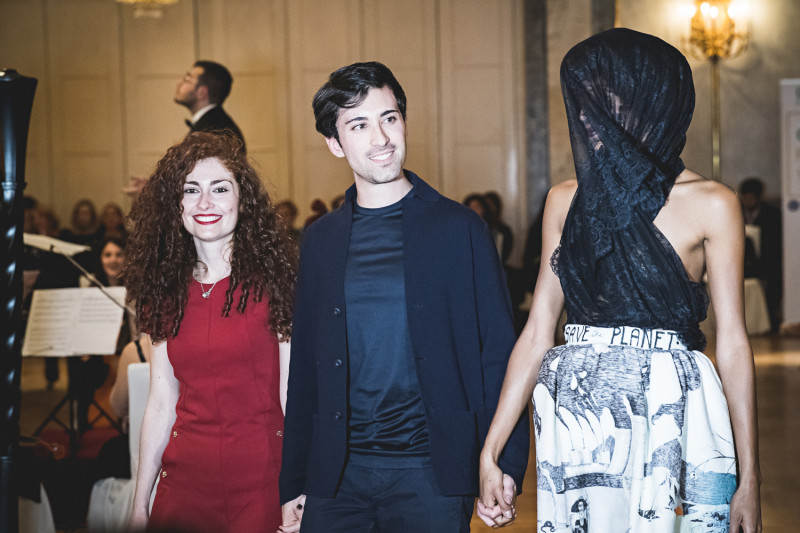 IN THE PHOTO: Designers Francesco Gentile and Chiara Catone with one of the models during Green Fashion Week, 2017. PHOTO CREDIT:  Vittorio La Fata
To me it doesn't matter what we get from it, we just want to inform people about what sustainability is. I couldn't care less if my name is not there. In fact, I don't even have a business card.
Is this why the last event – the catwalk – is public, so that anyone can join?
G.D.: Yes. In fact, everything at GFW is public. I mean, I was inviting people earlier just from the street, the passers-by.
I realised that you have to go online, you have to make documentary movies, for instance. Because when you do a show, you can have 5 thousand people watch it, but they are all going to be from more or less the same background. If you make a movie, then you can have 5 million people watch it.
What can sustainable fashion do to fight against 'fast fashion'?
G.D.: 'Fast fashion' or 'cheap fashion', call it whatever you want. Listen, we just don't have to buy those things.
Actually, we (the Green Fashion Week) would like to become a sort of a 'certificator'. Right now we make sure we check before every show that the brand really is sustainable. In the future, perhaps, designers will be able to use our logo to demonstrate that they are 'certified' sustainable. But again, we don't want any profit from that.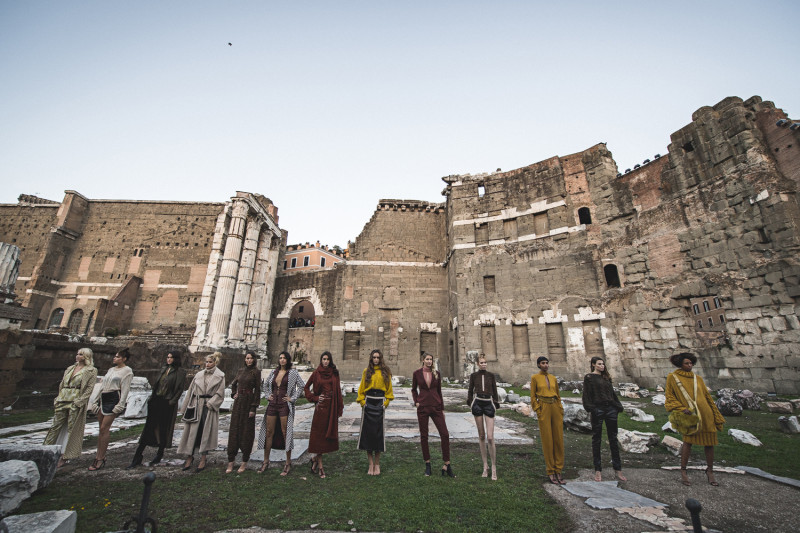 IN THE PHOTO: Models posing during Green Fashion Week, 2017. PHOTO CREDIT:  Vittorio La Fata
Do you think GFW could reach the scale of Milan, Paris and New York?
G.D.: It's a wish, of course, but realistically speaking, I don't think it's possible to reach that level. But even so, at least we did something – ten flights of stairs or just one – it's already something.
---
EDITOR'S NOTE: THE OPINIONS EXPRESSED HERE BY IMPAKTER.COM COLUMNISTS ARE THEIR OWN, NOT THOSE OF IMPAKTER.COM