Artificial Intelligence (AI) art is artwork created by machine learning algorithms, which analyze aspects of all art publicly available on the internet. From this, art generators can produce photos, abstracts, and portraits, as well as music and videos. It bridges the gap between computer engineering and art, creating entirely new and innovative works.
New AI art apps are appearing every month, with models such as Fotor, Nightcafe Creator, Jasper Art, and other generators gaining hundreds of thousands of users within weeks.
AI technology can be applied in a variety of ways and its potential is near infinite. To determine whether the increased prominence of AI art is a good thing, it's essential to have a clear understanding of its development, applications, and the issues that come with it.
The history behind AI art generators
The first AI art generator
One of the first art generators was a system named 'Aaron', developed by Harold Cohen in 1973. Different commands generated images with the same irregularities you would see in free-hand drawings. Cohen said that some of the prompts generated images that he would not have thought of himself, despite creating the algorithm. He concluded that this was the AI mimicking real artistic decision-making.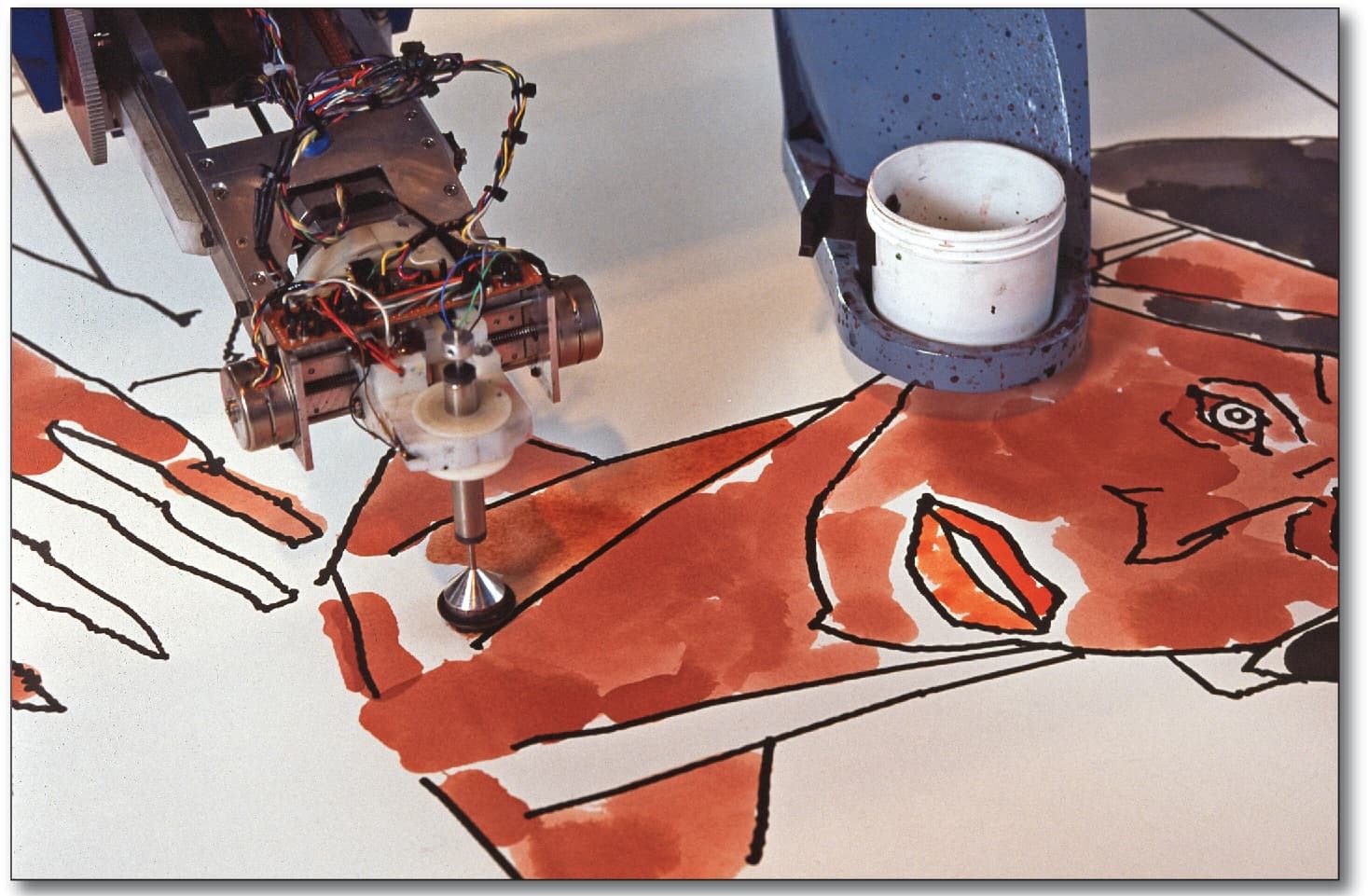 Since the 2000s, artificial intelligence has developed significantly due to vast data sets and coding breakthroughs accelerating generative AI's ability to recognize and create images from text prompts. Detailed image data sets such as Imagenet, developed by Fei-Fei Li, held over three million images all labeled and segmented into over 5,000 categories.
From this, image generation was made possible, as computers could now recognize text labels and match them to their corresponding images. In 1995, Richard Wallace created the famous 'A.L.I.C.E' chatbot, which learned how to speak by learning from natural language samples from the internet.
How the AI art generator started
The combination of image and language recognition is what laid the foundation for AI art generators to be born. As chatbot technology developed, important iterations such as 'Bina48' and 'Mythiccbeing' became important predecessors for the machine learning technique most associated with AI art today: GANs – Generative Adversarial Networks.
Ian Goodfellow, a researcher at Cornell University at the time, coined the term GAN and theorized how it can be used to generate completely new images. The 'generative' part of GAN refers to how a programmer trains an algorithm on a chosen dataset, such as images of cats. The machine runs through images until it has a sizable enough sample to accurately identify 'cat', as well as not misidentify any other images that often fall in similar categories. Then, based on its newfound knowledge, the algorithm is told to 'generate' new images of cats.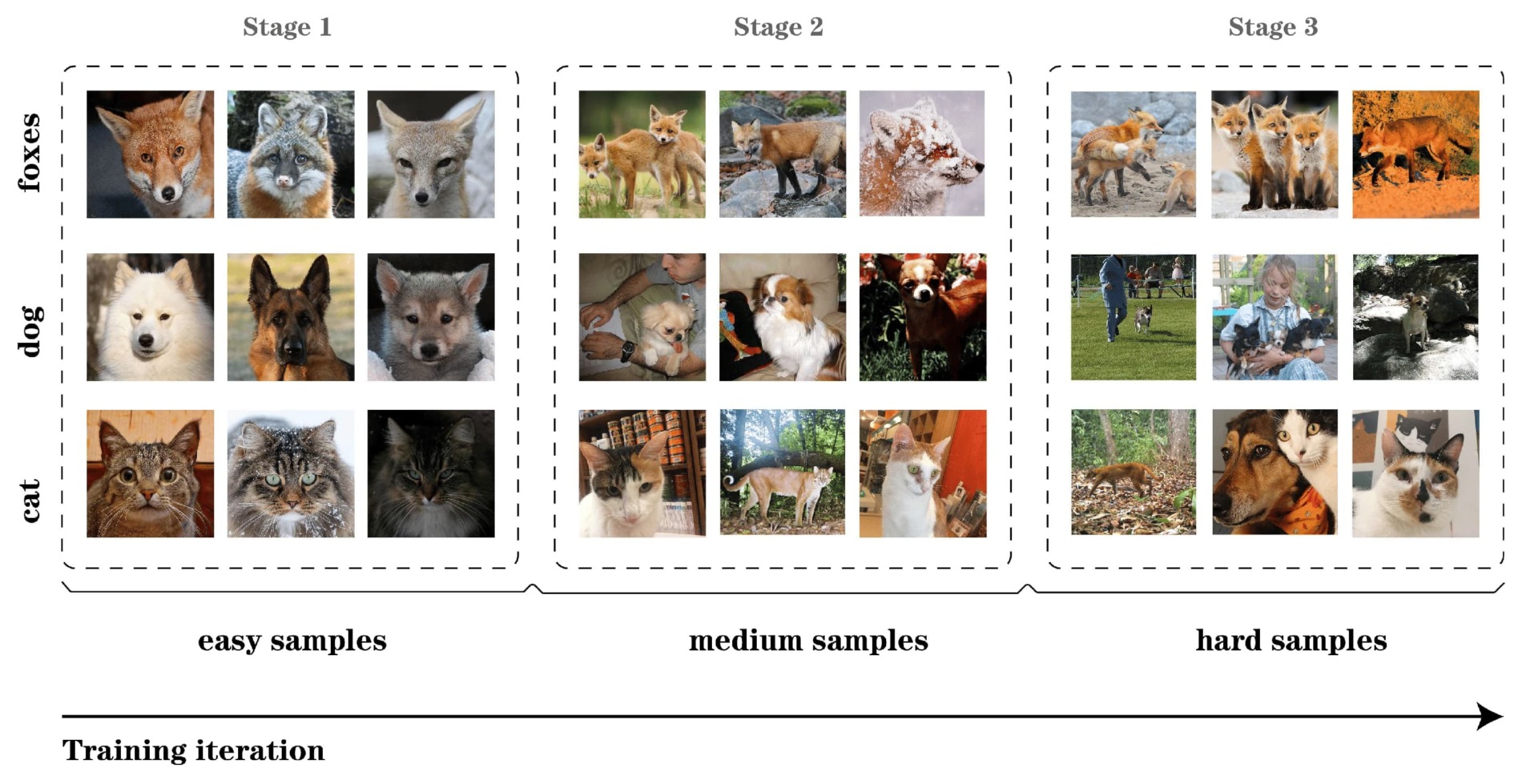 The 'adversarial' part is where the generated images are shown to another algorithm, which has been taught to distinguish between AI and human images similar to a 'Turing Test'. This algorithm is shown iterations of the artificially generated images until it can no longer distinguish between 'human' and 'machine'. Thus the artificial intelligence art generator was born.
AI art applications
As actual artwork
The 'Portrait de Edmond de Belamy' was an AI image generation that sold for $430,000 at auction. The artists trained their image generator with over 150,000 twelve and fourteen-century portraits and named the amalgamation of their inputs after Ian Goodfellow (Belamy pronounced 'Bel'-'Ami' meaning 'good friend' in French, which is a translated pun for Goodfellow).
Although there were debates about its legitimacy as an art piece, it was a significant milestone in the future utilization and conceptual understanding of AI image generation.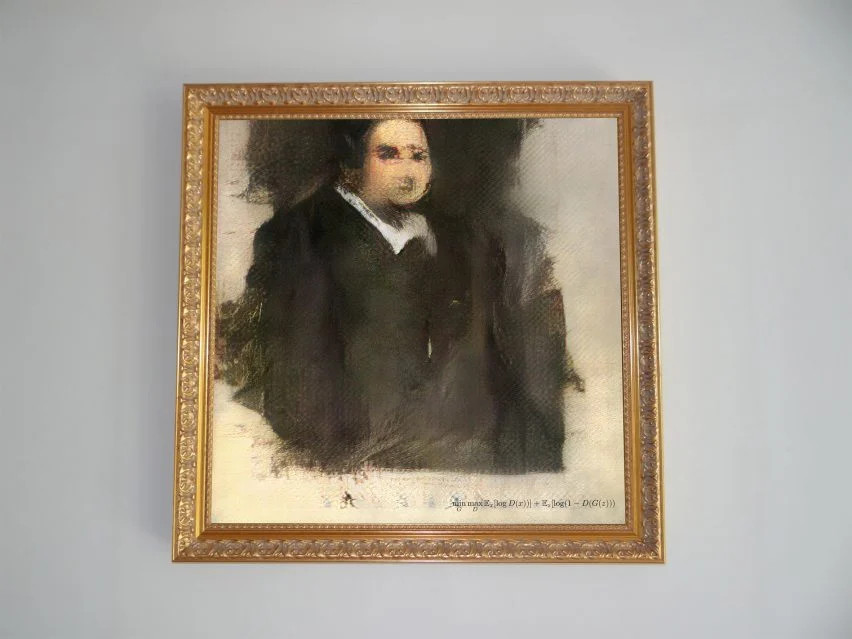 AI tools have since then advanced, and are able to imitate art and provide images in a variety of different genres, even if shown only one type of stimulus. Dall-E uses a form of chatbot ChatGPT developed by OpenAI and is able to create realistic artwork from natural language text prompts.
StarryAI can create stunning images depicting fantasy realms, real-life images, and other fun alternatives with composition and tone similar to that of a Vincent van Gough oil painting. Moving forward, much of the artistic images we see filling hallways and hotel lobbies may be the work of a machine art maker as opposed to a human.
AI Art in advertisements
Computer art generators can be used to build complex, even custom, social media ad campaigns. One of the key aspects of image generators is their accessibility. Traditional ad-making methods were restricted to high-budget studios and required specialized skill sets, but AI can provide all of the same effects from the comfort of one's home.
This enhances the creative possibility of marketing and ad campaigns by opening them up to a wider, more diverse audience. Indie game companies are already using tools such as Midjourney to build attractive UIs and online posters to promote their products.
Without a big studio backing, it would not have been possible for small businesses to compete and stand out in concentrated markets. In the near future, customized ads can be made using public data collected from cookies, tailoring the experience to that person's interests. New AI art generators could be used to produce online video adverts which can adapt the look and language of in-advert characters to match the preferences of the viewer, greatly increasing marketing engagement and sales.
AI Art in films
Hollywood is now using AI to create props and backgrounds, significantly reducing production time and budgets. Pre and post-production edits can be done in a matter of minutes, and can also help with admin tasks such as budgeting and scheduling, giving filmmakers more time to focus on the creative processes.
While AI offers many benefits in terms of visual effects, chatbots still lack the ability to produce entire scripts with developed characters. Generators such as Sudowrite assist screenwriters by organizing scripts, providing dialogue suggestions, and building character profiles, but they lack the human touch needed to create a meaningful plot. However, as screenplays develop, the input pool for generative engines to work from will only increase, meaning better scripts and more realistic visuals can be produced.
AI art in gaming
The potential art algorithms have to enhance the gaming experience is enormous. AI art models can produce huge in-game experiences in an extremely cost and labor-effective way.
Scenario is an AI art generator and asset creation platform which creates consistent graphics and content. The user can provide their own images, and Scenario will build a custom model that can provide style-consistent assets for their games, such as character icons, abilities, and UI options.
Through text prompts and further inputs, the AI can adapt its output, speeding up the idea and process testing phases immensely. Generators that can create fully functional game engines from only a few text prompts are already in the works, however, this comes with substantial backlash from the gaming industry. Huge corporations such as Valve have rejected games and threatened to ban Steam apps that use artificially generated content.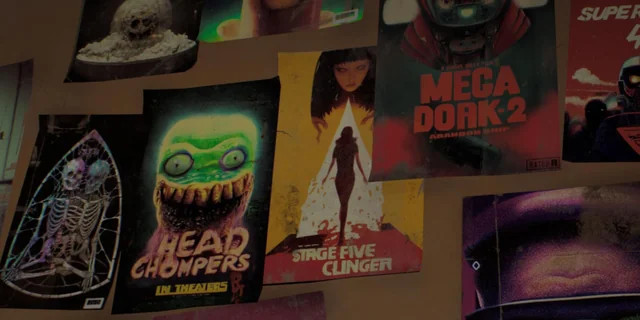 Popular indie game 'High on Life' was able to be published on Steam, despite using AI for some of its voice acting and in-game art posters, however, other developers claim they have been rejected as AI-generated content relies on inputs from third-party sources which are copyrighted, causing copyright infringement issues for publication companies. This is just one of the many issues companies, employees and the general public have with the use of AI art generators.
Issues surrounding AI art
Copyright infringement
AI art, particularly free AI art generators, is often prone to plagiarism. This is because their generative ability is lower than more advanced AIs which are behind paywalls, meaning after a few iterations they struggle to create original images.
Numerous artists stand against AI, even involving class action lawsuits against art generator giants Midjourney and Stable Diffusion. This is because they realized their names were being used as prompts to generate images in their style of art, yet they were not compensated, credited, or even informed that their copyrighted artwork was being used as a part of a public database.
One of the artists filing the lawsuit, Kelly Mckernan, said "It was starting to look pretty accurate, a little infringe-y", "I can see my hand in this stuff, see how my work was analysed and mixed up with some others' to produce these images."
In a court of law, there are cases that favor both the 'copier' and the 'copied', such as the Marvin Gaye estate case against Robin Thicke and Pharrell Williams, who legally proved that 'Blurred Lines' illegally copied Gaye's 'Got to Give It Up'; as well as the Richard Prince case, where he incorporated photos by Patrick Cariou into his work, but won the case as he'd changed the photos just enough to avoid artistic infringement.
Therefore in the case of AI, it is difficult to determine whether or not illustrations and art styles have been stolen, as best put in a recent essay by intellectual property lawyer Kate Downing, "It may well be argued that the 'use' of any one image from the training data is . . . not substantial enough to call the output a derivative work of any one image." "Mathematically speaking, the work comes from everything."
Even musicians are suffering from imitation issues. Earlier this year, Los Angeles music-making app Mayk.it released a spin-off 'Drayk.it', where users could create Drake songs from a given prompt.
The results were scarily accurate, almost perfectly recreating Drakes's iconic lounge beat and monotone delivery. The only differentiating factors were the engine's inability to simulate rising intonation, a hallmark of human speech, and the content of the songs- which were often absurd parody music.
Drake posted, 'This is the final straw AI' on his Instagram story in response to an AI generation of him covering Ice Spice's 'Munch', but has yet to comment on how other Drake covers such as the AI-powered 'Heart on My Sleeve', which has been going viral with many under the impression that he actually made the tune. Streaming platforms have been removing these generations, despite there being no legal obligation, as the Supreme Court has not decided whether AI-generated music is transformative enough to be considered its own piece of intellectual property, and not a breach of copyright policy.
AI can put creators out of work
Mckinsey & Company, one of the world's largest management consultancies in the world, has estimated that twelve million jobs will be replaced by AI by 2023. AI art generators have led to a 70% decline in illustrator roles in China's gaming artwork industry, whilst increasing productivity by 40x-according to an anonymous artist at a prominent Chinese gaming firm. Dall-E and Stable Diffusion are recreating compositions that normally took teams of ten, meaning huge layoffs and a reduction in the roles of remaining team members.
The long credit reel in animations and films, which we patiently sit through to watch the highly anticipated end credit scenes, are largely made up of video, image, and graphic specialists. As generators improve, we might not have to wait as long for these to end. This is great news for Marvel fans, but maybe not for the creators who have dedicated their lives to bringing scripts to life through stunning art and video concepts.
However, there are still limitations in AI art which means it may never be able to replace creators. Art generators excel in common art styles like cubism and cyberpunk, due to the huge bank of reference art to learn from, but struggle to produce quality images in more niche realms of art. Therefore, when it comes to fulfilling very specific client needs, particularly in more abstract realms, a human worker may never really be replaced.
Is AI art real art?
The concept of "creativity"
The validity of AI art is under constant scrutiny, but this begs the question: What makes art, art?
If AI can't produce new and original art, then can we even say it's art? Children's illustrator and author Rob Biddulph says that AI art generation "is the exact opposite of what I believe art to be. Fundamentally, I have always felt that art is all about translating something that you feel internally into something that exists externally. Whatever form it takes, be it a sculpture, a piece of music, a piece of writing, a performance, or an image, true art is about the creative process much more than it's about the final piece. And simply pressing a button to generate an image is not a creative process."
Considering some of the most famous and culturally significant art pieces throughout history, it was more the story behind the creator and their creation rather than purely the piece itself.
The Mona Lisa, arguably the world's most famous and recognizable art piece, holds its prestige due to the story of its creation and the enigmatic life of its creator, Leonardo da Vinci.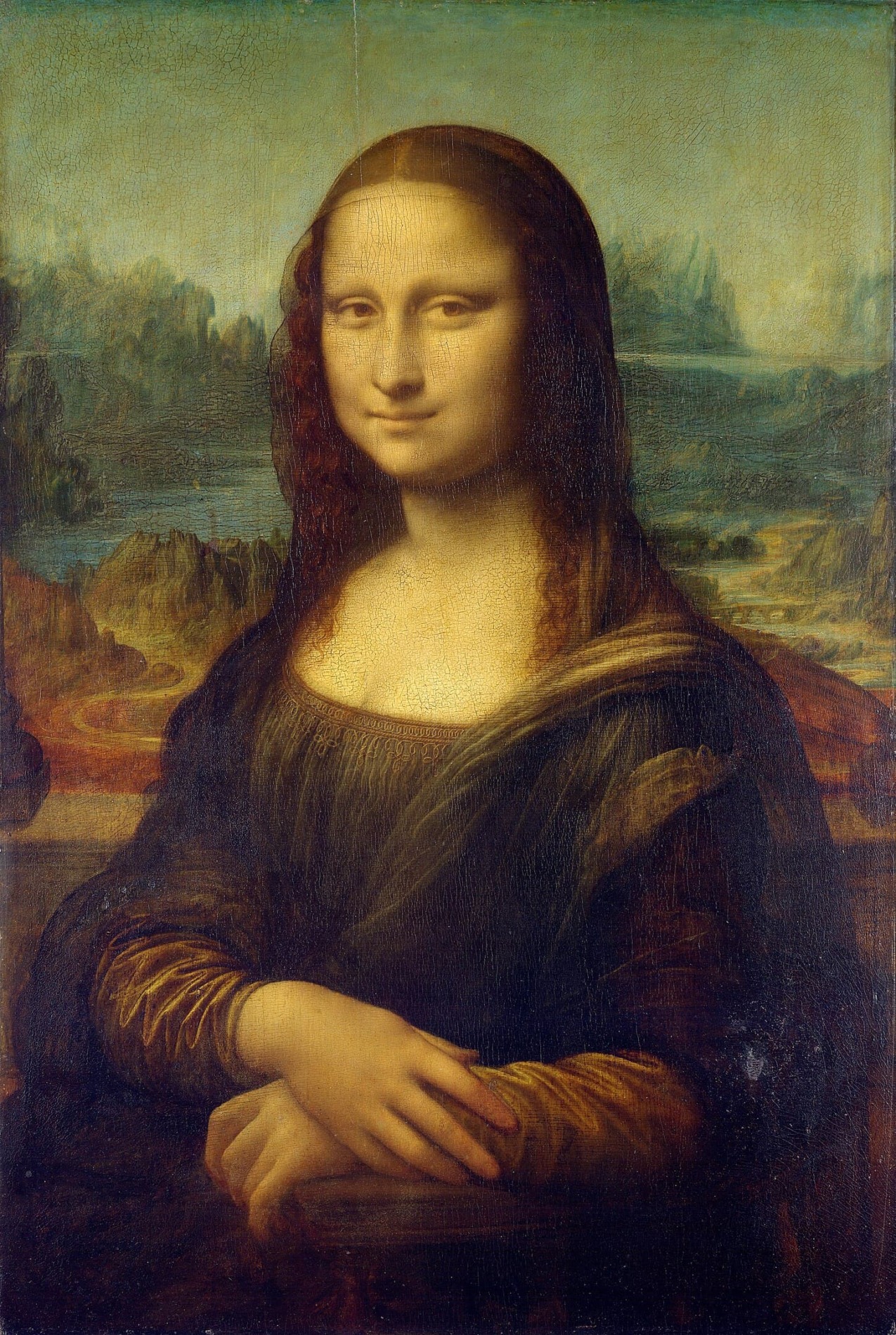 Da Vinci has long been considered one of the greatest artists of all time and his legendary status contributes to the izzat of his paintings. The ambiguity of her expression and the questionable purposes in some of the details in the painting have aroused numerous theories. It is more the mystery surrounding the image and the experiences and achievements of the creator that gives this piece its significance, more than anything else.
So then how is the human creative process any more special than that of an AI image generator?
They say a human can never create an original image. Theoretical physicist and bestselling author Leonard Mlodinow explores the idea that an 'original' creation is just an amalgamation of things we've seen before, filtered through our own biases and ideologies created through our life experience.
This is no different from how an AI model produces its output, however instead of a singular set of experiences, AI learns from art inspired by thousands of unique experiences. This is what allows it to create such perplexing artwork. Mario Klingemann, an artist who uses AI in his art, says he loves the moment when "the machine jumps the system and does something the human programmer didn't expect it to do". He feels that that is where the creative uniqueness in AI art generators lies. "Humans are not original," he claims "We only reinvent, making connections between things we have seen." Whilst the human brain can only build on what it's already seen and learned, "machines can create from scratch".
What gives art a "meaning"
Meaningful art is more than just a beautiful piece of artwork. It conveys a message between the artist and the viewer. One of the most iconic art pieces that comes to mind is 'The Creation of Adam' by Michaelangelo.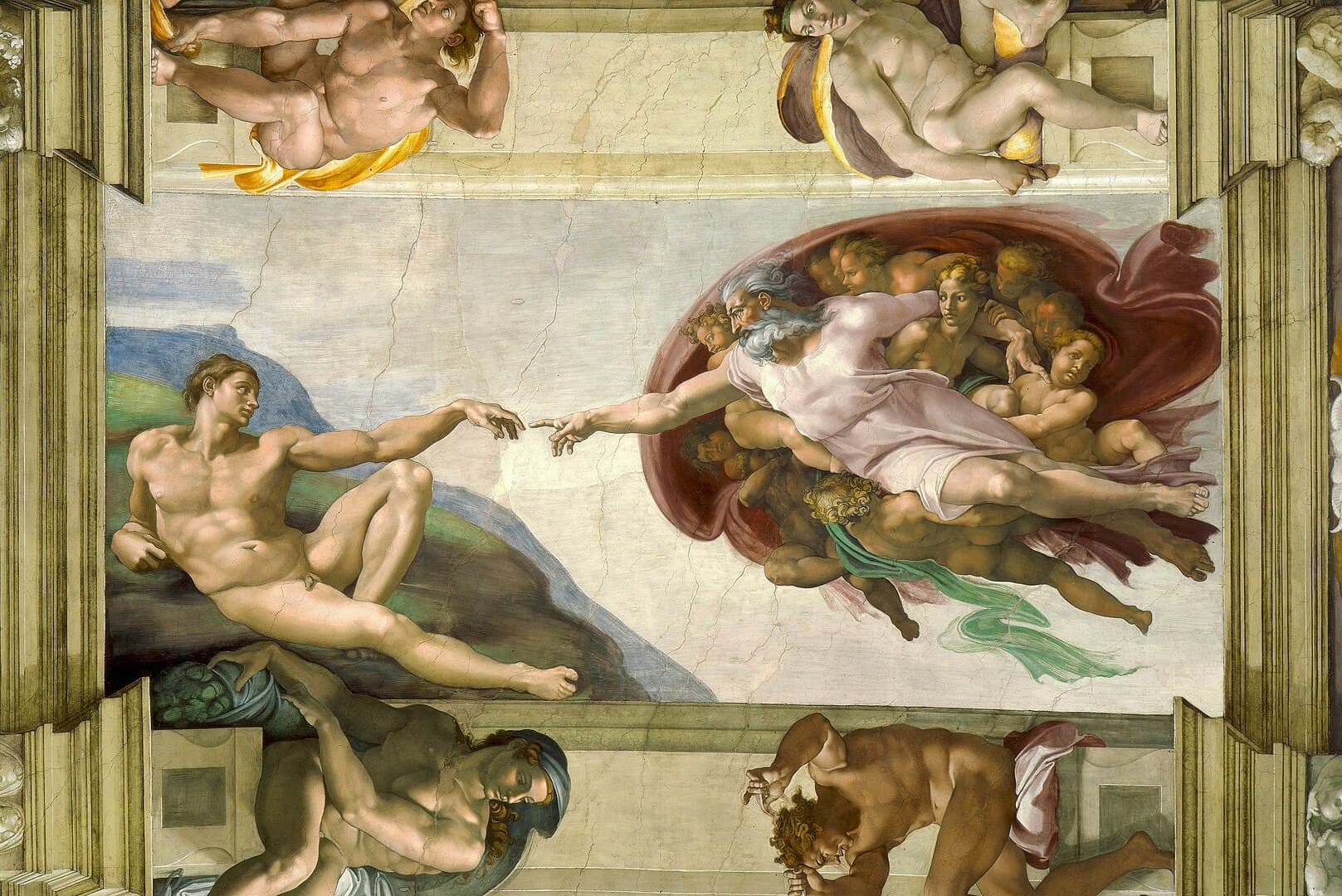 Sitting on the ceiling of the Sistine Chapel, this fresco represents more than just the Biblical story of Genesis. It represents the divine potential embued within human intelligence. The separation of the fingers represents the separation of God from Man, giving us free will.
As an advocate of scientific thought during the Renaissance, Michaelangelo surrounds the image of God in a swirling cloak that perfectly replicates the shape of the human brain. It is his way of commenting on the relationship between science and religion, a huge topic of discussion during the time. He subtly portrays how they do not conflict, but how one is derived from the other.
This piece is one of the most complex paintings of its era, as the lighting and detailed composition needed to make the piece appear flat on a curved ceiling required the most intricate brushwork and coloring. However, even the most simple art pieces can hold the same level of thought-provoking depth.
The 'Comedian' by Maurizio Cattelan is a ripe banana duct-taped to a blank wall in Art Basel Miami Beach. Not a painting, sculpture, or model. It is just a banana taped to a wall that sold for $120,000 at auction. It is important to note that Cattelan is an absurdist, whose art is often a social commentary, such as replacing a toilet in the Guggenheim in 2016 with a fully functional, 18-karat replica satirically named 'America'.
The idea of the piece is to address the mainstream media's growing consensus that contemporary art is more about the social status and prestige that comes with owning it, rather than the art piece itself.  As Andy Warhol said "Art is whatever you can get away with", the 'Comedian' is case and point.
A case for AI art
So if AI art can be creative, and meaning is not just given by the artist, but found by the viewer, then maybe AI art can be considered real art. Looking through the ever-growing AI art gallery online, there are some aesthetic and thought-provoking art creations that have significant artistic originality. For some of those, the user gives a generator a famous phrase or idiom as a text prompt.
The resulting image is how the AI model interpreted the phrase and underwent the 'creative process' to produce its final image.
These are just a few of the thousands of generations produced by the AI art community. Although the fact that there are so many images that can stem from one single prompt – taking the personal touch away from AI images – it might add somehow some excitement when one finds an image they can somewhat resonate with.
Conclusion
According to Gartner (2022), by 2025 nearly 10% of all marketing images from large brands will be the work of generative AI. Despite launching just last year, DALL- E and Stable Diffusion users generate roughly three million images a day, and it seems image AI art generators are only going to be used more and more.
Its cost-cutting and productive potential is too large for firms across all industries to not consider its use, however, the stigma surrounding it is a big hurdle for big brands trying to incorporate the technology. Most young people can now recognize when an AI art generator has been used and companies are hesitant to use them as the specific look of AI illustrations can be considered 'cheap' and 'inauthentic'.
Only time will tell whether this type of art will be heralded as the future of image content, or if the longstanding customs of traditional media will continue to prevail.
---
Editor's Note: The opinions expressed here by the authors are their own, not those of Impakter.com — In the Featured Photo: Sunset generated with a diffusion AI program. The prompt involved sunsets, war, and the earth. Featured Photo Credit: Wikimedia Commons.