The anti-vax movement got an unexpected boost from Canadian truckers a month ago. Incensed by the precautionary measures taken by the Canadian government, truckers converged on city centers to block them, Ottawa in particular. As the new Covid variant, Omicron was raging in the US, the Canadian authorities. fearing it would be imported into Canada,  imposed strict vaccination requirements on the truckers returning from the US. The new measure angered unvaccinated truckers who set out "freedom convoys" to protest the anti-COVID restrictions. 
On Sunday, protesters were finally cleared off a crucial bridge connecting Canada to the US. But the trouble isn't over yet, as a larger protest in the capital, Ottawa, continued raging and city residents seethed over authorities' inability to clear the streets. The blockade was the work of just six dozen trucks and a few hundred protesters but, as noted by the UK Guardian, this was enough to bring Canada's capital "to a standstill" and close the border, threatening the Canadian car industry that has vital supply chains in the US.  
Today, Canada's Prime Minister Trudeau invoked Canada's Emergencies Act – an unusual move in peacetime as it gives the federal government broad powers to restore order. 
Trudeau told protesters "These blockades are illegal, and if you are still participating, the time to go home is now." But he ruled out using the military and the measures to be used include towing away vehicles to keep essential services running; freezing truckers' personal and corporate bank accounts; and suspending the insurance on their rigs. "Consider yourselves warned," Deputy Prime Minister Chrystia Freeland said. "Send your rigs home." And as she is also the federal Finance Minister, she announced that the government would broaden its anti-money-laundering regulations to target crowd-funding sites that are being used to support the illegal blockades. Financial help from the government for businesses affected by the over-2-week-long protests is also expected.
What started as a genuine protest of direct interest only to Canadian truckers, a small segment of the country's workforce, has now spread worldwide, first next door to the US and now as far as New Zealand and Europe. Starting Monday, after a Sunday spent trying to enter Paris and being met by teargas on the Champs Elysées, a freedom convoy with protesters from all over Europe moved toward Brussels, headed for EU headquarters. Politico reported that "a few dozen vehicles arrived at the only location authorized by the authorities" for protesters, while others tried other more subversive ways to enter the city. But they failed to enter Brussels as very few showed up and those who did were successfully pushed back by the police.The fact of the matter is that the protesting truckers are a minority. They rebelled against a federal Covid-19 vaccine mandate (in effect as of January 15) for truck drivers crossing the US-Canada border. But the Canadian Trucking Alliance said (on January 22) that "the vast majority of the Canadian trucking industry is vaccinated."  The problem is that the mandate raised fears of further disruption of supply chains already strained by the Covid-19 pandemic. 
The freedom convoys, though the tactic is different, recall, in substance, the Gilets Jaunes – the Yellow Vests protests in France, rooted in pervasive French discontent among the rural and working classes. The fear is that these anti-COVID restrictions protests could develop the same longevity and resilience as the Yellow Vest protests that lasted almost two years. In the US, truckers gathered in a freedom convoy first in Los Angeles to coincide with the Super Bowl and according to officials from the US Department of Homeland Security, the freedom convoy will arrive in Washington, D.C. by March 1, when Biden's State of the Union Address is scheduled. 
Anti-COVID restrictions protests are fuelled by fake news and distrust of official data
And the explosion was powerfully fed by fake news going viral on social media. Add to that the anti-vax distrust of official public health data and you get a perfect storm.
Real grievances about lost income melded with conspiracy theories and racist extremism, partly sustained by foreign funding, mostly from the US; it appears that the American crowdfunding platform GiveSendGo that describes itself as the "#1 free Christian crowdfunding site" is involved. And some demonstrators turned up with Trump banners and Confederate flags, a sure sign of who on the other side of the border was interested.
The involvement of top Republicans like Texas Senator Ted Cruz and former President Donald Trump cannot be doubted; they loudly signaled their support for the Canadian protesters, with Trump calling Prime Minister Trudeau a "left-wing lunatic."  Trump of course, had attacked Trudeau in the past, notably after a G7 meeting hosted in Canada, thus ensuring that the meeting would be a diplomatic disaster. As to Cruz, he told reporters on Wednesday, "I think the Canadian truckers are standing up not just for the freedom of Canadians, but for the freedom of Americans." Fox News and other conservative media outlets also gave the freedom convoys enthusiastic coverage. On Tuesday, Tucker Carlson, Fox anchor of the most-viewed cable news show in the U.S., praised them for protesting "the tyranny of Justin Trudeau's government."
But Carlson didn't stop there, he echoed the absurd accusation circulating on social media that Trudeau was the son of Fidel Castro; the fact is that Trudeau is the son of former prime minister Pierre Elliott Trudeau and Margaret Trudeau: His dark good looks have nothing to do with Fidel. 
Indeed, according to Boris Proulx, a journalist at Le Devoir located in Ottawa, there was online a veritable tsunami of fake news and not only about Trudeau (his not being vaccinated when he was, he and his wife even did it on camera; or not being in Ottawa during the protests when he was in fact there, isolated because he had caught Covid, etc). But fake news about the consistency of the protests also abounded. 
For example, images of vast crowds were in fact, according to AFP fact check, photos of protests in Moscow taken in 1991. Or consider the estimates of "'80,000' or 'over 130,000' trucks" that circulated on social media, as noted by CNN, while according to Ottawa police reports, at the height of the demonstration, on January 29, there were just over 3,000 trucks and a maximum of 15,000 demonstrators – far from the 1.4 million crowd, as Théo Fleury, the former hockey player told Fox News. And now less than 400 trucks remain immobile in downtown Ottawa.
Protests against anti COVID19 restrictions have their root in economic discontent – just like the French Yellow Vests who protested against a tax on diesel that was intended as a climate change and environmental protection policy – but that didn't take into account the economic plight of people who depend on their diesel-driven vehicles to go to work. 
But what started as a limited, local protest quickly degenerated into a worldwide anti-vax moment, fuelled by anti-vaxxer frenzy and the spread of fake news. 
The biggest fake news concerns the argument put forward by anti-vaxxers that it's just not true that most recoveries in ICR are vaccinated. Data is clear and indisputable on this, the unvaccinated are the ones filling up hospitals. For example, data covering the latest Omicron wave in Switzerland (not given to fake news) speak clearly on this point: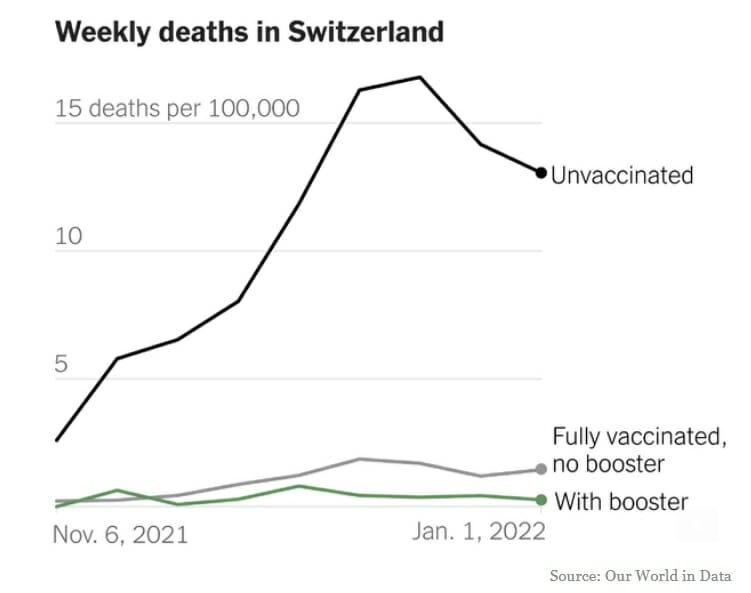 De-escalating COVID-19 restrictions is a political problem
Clearly, it won't be easy for governments to de-escalate restrictions and restore "normalcy". That people yearn for normalcy is understandable from both a psychological and economic standpoint. Restrictions are mentally and socially constraining and for many cause a very painful loss in income. The sooner we "get out of it", the better.
Yet, as the freedom convoys show, there is a very real risk that precautionary measures will be misunderstood by some and hijacked by others who follow their own agenda that may include a variety of objectives, from fighting the authorities to seeking economic redress, spreading distrust of data and feeding fake news to increase libertarian-style anarchy.
But for public health authorities, removing restrictions too early can be dangerous: there's a real risk of "falling back" into the pandemic – just as is happening to Hong Kong as I write. The city is overwhelmed by a fifth wave of the coronavirus, with over 1600 new cases reported today, causing a serious logistic problem to isolate all these newly contaminated people. The government is moving patients into public housing blocks and hotels in a bid to ease the strain on hospitals and designating seven clinics to handle the treatment for those with milder symptoms.
Let us hope the summer will bring a natural respite and that life can resume normally, with the coronavirus no worse than the regular flu.
---
Editor's Note: The opinions expressed here by Impakter.com columnists are their own, not those of Impakter.com. —  Featured Photo: Violent protests in Paris (screenshot from Insider video)