The proposal to ban short-haul flights in France was originally passed on April 10, 2021, along with a wide variety of other sanctions tackling climate change. 
Initially, the ban would have affected all internal flights that could have been replaced by a four-hour train journey. However, pressure from airlines and airports was not long in coming, and they succeeded in reducing the scope of the ban to affect only flights that could be replaced by train journeys of up to only two and a half hours.
As proudly stated by President Emmanuel Macron in a tweet earlier this week, the government committed to its decision and the ban finally came into effect on May 23, 2023.
Interdire les lignes aériennes en cas d'alternative de moins de 2h30 en train.

Je m'y suis engagé.

Nous sommes les premiers à le faire. pic.twitter.com/hDYpz5Osms

— Emmanuel Macron (@EmmanuelMacron) May 23, 2023
According to Article I of the Decree, several requirements, however, must be met for the ban to apply:  
"The journey should occur between train stations serving the same cities as the respective airports, unless the airport with the highest traffic over the past seven years is directly connected to a high-speed rail service."
The connection between these train stations must run multiple times per day, ensuring a seamless travel experience without the need for train changes. "The service should also meet the criteria of satisfactory service, including affordable fares and suitable frequencies."
Lastly, the rail connection "should allow the passenger for more than eight hours of presence at the destination."
As a matter of fact, there are only three routes that have been affected: those connecting Airport Paris Orly to Nantes, Bordeaux and Lyon. "All that fuss, for not that much," as Director of the Sustainable Transport and Mobility network, Geneviève Laferrère, said.
The French Civil Aviation Authority estimates that the ban will only apply to about 2.5% of the total number of internal flights in France. As the aviation director at cleaner transport campaign group, Transport & Environment, Jo Dardenne stated: 
"The French flight ban is a symbolic move, but will have very little impact on reducing emissions."
Nonetheless, such a decree can play a fundamental role in the fight against climate change, but it would need to apply to a higher percentage of domestic flights, including those by private jets. lt could also set a precedent for other countries to follow suit.
However, this particular ban appears to encapsulate the hypocrisy within certain sectors where ecological inequality reigns. The aviation sector is known to be one of the top emitters of carbon and home to many socio-economic inequalities. A report commissioned by Greenpeace earlier this year published research on "CO2 emissions of private aviation in Europe." The data clearly demonstrated that private jet pollution doubled last year and that France was the second-highest emitter in Europe.
---
---
Many debates arise from the climate impact of aviation and how evenly distributed between private and public flights might be. And numerous studies demonstrate that private jets are much more impactful to the environment than other modes of transportations.
They are about "5 to 14 times more polluting than commercial planes (per passenger)," a report published by the Transport and Environment group in 2021 states. 
Since the publication of this data to the present day, there have been many protests and numerous attempts to raise the awareness of people and governments of this imbalance. The latest happened in Geneva, where around 100 climate protesters obstructed Europe's largest private jet trade fair, the European Business Aviation Convention & Exhibition (EBACE), demanding a cease to polluting actions by private jet owners.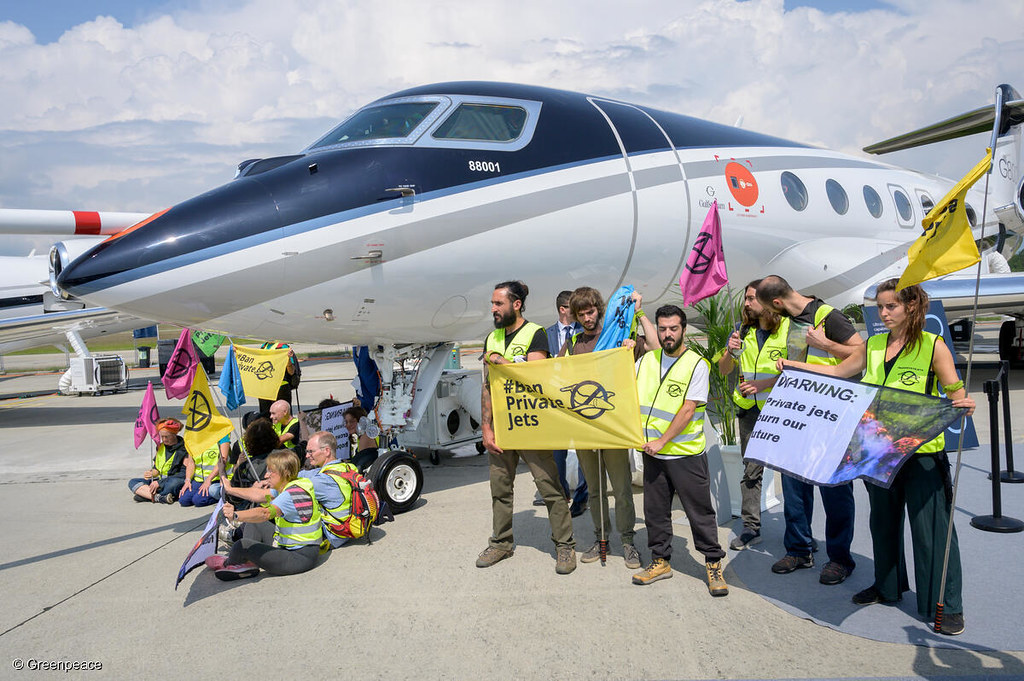 Yet another approach used to reveal the actual damage caused by private flights was the creation of Twitter accounts, such as "I Fly Bernard," that aim to expose this inequality, tracking private flights of French millionaires.
C'est l'heure du bilan du mois d'octobre 2022 pour les 5 avions de nos milliardaires:
– nombre de vols: 16✈️
– 56,1 heures de vol ⏱️
– 0 vol pour l'avion de JC Decaux ce mois-ci 🧐
– CO2 émis: 257,3 tonnes 🔥🔥
C'est l'équivalent de la pollution d'un français moyen pendant ~25ans pic.twitter.com/fgXzfLEqGx

— I Fly Bernard (@i_fly_Bernard) November 6, 2022
What these movements and activists seek to do is nothing more than demand an ordering of the obvious imbalances. According to a recent study, "only 1% of the population causes 50% of global aviation emissions."
In light of data such as these, the entry into force of the ban on French short-haul flights seems even more like a tiny piece in the eradication of a much broader issue.
It is crucial to acknowledge the significance of any kind of action in decreasing CO2 emissions. However, actions should be taken also in regard to this first-class carbon emitter minority. Activists' actions have already raised awareness around the world, and some governments are already taking actions. If we continue to act, we can pave the way not only for carbon neutrality but also for a fairer and more equal society in the future.
---
Editor's Note: The opinions expressed here by the authors are their own, not those of Impakter.com — In the Featured Photo: Private jet at an airport. Featured Photo Credit: Ramon Kagie.