One of the most dangerous types of extreme weather is extreme heat. With climate change causing an increase in global temperatures, extreme heat could affect the lives of many. FortyGuard, – supported by its location in Abu Dhabi's Hub71 ecosystem, aims to help public and private organizations, but also individuals monitor extreme heat and find ways to mitigate it.
We had a short chat with Jay Sadiq, one of the Founders of FortyGuard, here is what he had to say.
Can you please explain how FortyGuard works? 
Jay Sadiq: FortyGuard is on a mission to cool cities. We are outdoor temperature experts who use local and global data sources to provide hyper-accurate heat maps. We deal with different data providers and collect passive existing data from various application components or data lakes.
Our vision is to make temperature data available to everyone, in order to help communities employ heat management strategies in the fastest and best way possible. As well as helping decision makers identify heat mitigation strategies (e.g. outdoor-efficient cooling designs), we also hope to create consumer tools that allow you to take your next walking distance for the coolest route or buy a property in a cooler zone.

How do you think FortyGuard could benefit cities affected by extreme climate?
Jay Sadiq: Heat can turn up the volume on many of the more obvious problems cities face, such as the increasing demand for energy and other infrastructure, and industrial or building operational costs. Extreme heat can affect workforce productivity, retail, tourism, and the increasing economic consequences for cities when workers or companies are relocating. It also increases water and energy use dramatically since they are both closely related to increasing temperatures.
Energy demand has been qualified to increase the use of AC in many cities around the world making our energy infrastructure incompetent while producing more greenhouse gas emissions and waste heat from other energy production by the feedback loop of increasing temperatures.
Today, we lack the evidence to understand the scale of the problem. There are little-to-no tools to map urban heat in cities. Satellite temperatures are not granular enough to host a solution on the ground, and they certainly can't provide accurate predictability to their visuals.
By sharing heat data with communities, they'll be able to employ heat management strategies in the fastest and best way possible. Strategies can include evaporation and water-based techniques, urban green techniques, shade techniques, and material and surface techniques.
---
---
I see FortyGuard focuses also on both consumers and enterprises. Can you tell us more about that?
Jay Sadiq: We have two business models, and they both operate and deliver data. Our DaaS "Data as a Service" model presents FortyGuard as a "middleware software solution" that sits between data providers and data users. We enable channeling processed data flows to provide real-time outdoor temperatures streamed globally and within seconds at close to 1m granularity. Behavioral and locational temperature data has existed for many years, but in order for it to be revolutionary, we are making it available for any map or data user.
We are also building an "inception model" that caters data for urban advisory solutions today and we plan to expand it to serve different other sectors such as energy and mobility. It is a service we provide to clients at local levels in the public and private sectors, and it currently comes with minimal field sensing operations at 5 levels in the city outdoor (from the sub-surface to the building rooftop). We provide services such as passive and urban-based cooling insights, and strategic planning for cooling. The model can also provide tech-enabled energy-efficient cooling designs.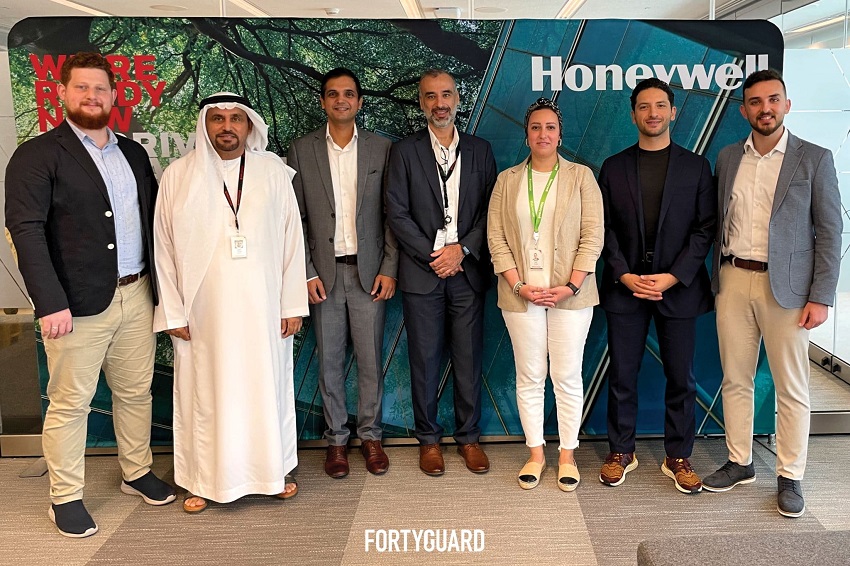 What are your thoughts about the current climate crisis and how do you think FortyGuard could have a positive impact on it?
Jay Sadiq: With our mission to cool cities, we envision contributing to targets in keeping temperatures below 1.5˚C, not because accurate temperature readings can physically cool the ambient, but because they can empower and enable solutions to do so.
There are a lot of great solutions out there to mitigate the risk of heat and make our cities more efficient and resilient, but the lack of data means they're not being put to best use.
---
Editor's Note: The opinions expressed here by Impakter.com columnists are their own, not those of Impakter.com –In the Featured Photo: Extreme heat. Photo credit: Unsplash.