Much like Vogue's annual Met Gala – the prestigious fashion event held at the Metropolitan Museum of Art on the first Monday in May every year – the red carpet was also rolled out yesterday, on the first Thursday in October, at Prague Castle for the first meeting of the European Political Community (EPC). 
Instead of the famous faces of fashion, film, and music, however, we saw many of Europe's leaders make their red-carpet entrance to the castle one by one, welcomed by the Czech Republic's Prime Minister, Petr Fiala, for a day filled with strategic networking, bilateral tête-à-tête's, and political discussions over dinner.
A prelude to the EU's Heads of States meeting today, yesterday's new experimental forum brought the non-bloc exclusive leaders of wider Europe together in the "spirit of unity," fostering holistic continental cooperation, and aimed to form a unified European front to approach the likely rough winter ahead. 
The idea for the EPC was first floated by French President Emmanuel Macron, and after being discussed at the European Council meetings in June earlier this year, was agreed upon as a good way of providing a platform for "political dialogue and cooperation" between the leaders of 44 of the continent's nations.
À Strasbourg le 9 mai dernier, le Président @EmmanuelMacron a proposé la création d'une Communauté politique européenne pour permettre davantage de coopération et de dialogue entre l'ensemble des pays du continent européen. À Prague aujourd'hui, elle est désormais réalité. pic.twitter.com/7hwI7XeS5r

— Élysée (@Elysee) October 6, 2022
The heads of all European states, excluding Russia and Belarus, were formally invited to attend the meeting by a letter sent from European Council President Charles Michel, who upon his arrival to the summit stressed the  importance of the forum by saying, "we share the same continent, and we face the same challenges."
The publicly released framework for the inaugural event was however somewhat vague, with a decidedly go-with-the-flow atmosphere, and a seemingly relaxed agenda of plenary and bilateral discussion sessions. 
A couple of hours was dedicated to roundtable talks to address the common issues that threaten the stability of the continent, as well as an additional three hours of time slots allocated for leaders to schedule private one-to-one's with each other to informally but strategically converse on matters of mutual interest. 
The main talking points of all conversations were intended to cover:
The threat to peace and security posed by conflict on the continent, such as the war in Ukraine.

The increasingly worrying energy and economic situation, and it's spin-off cost-of-living crisis.

Migration and mobility across the continent.

The collective climate challenges we face along with the rest of the world. 
Though no formal written outcome is expected from yesterday's EPC meeting, the various face-to-face exchanges aimed to consolidate intergovernmental efforts, and ultimately strengthen Europe's "security, stability and prosperity," as an act of solidarity against common foes. 
On the face of it, the EPC looked like a civilized and friendly VIP networking event, complete with a prestigious UNESCO world heritage location, press-lined red-carpet, a friendly "family photo," three hours of political speed-dating, and concluding remarks held over a dinner at the castle. 
In reality, the guest-list of diverse, divergent and openly disputing European countries somewhat threatened to derail the forum's cooperative intentions, as the mixing pot of opinions, agendas and perspectives presents a significant challenge to achieving a unified approach across the continent going forward. 
Concerns have been voiced that this new platform, intended for intergovernmental cooperation, could instead be used to push problematic or polarized political agendas, promote discrete national objectives, as well as embolden more EU-skeptic nations to leave the union opting for the less restrictive, lower-effort EPC alternative. 
Not to mention, the new network threatens to further irritate those nations whose patience on the European Union waiting list is likely to be worn thinner by another potentially empty gesture or thinly-veiled EU membership alternative.  
Ukraine, a country whose EU membership application is yet to be accepted, made their standpoint on the forum very clear, with the country's Deputy Prime Minister Olha Stefanishyna stating prior to the summit that although Ukraine supports this initiative of the French president,  "this should not be a substitute for the membership process." 
Ukraine's President Volodymyr Zelensky dialed into the meeting via videolink, and again urged Europe to implement his country's suggested "peace formula" – upping international aid for Ukraine, imposing further sanctions on Russia, and excluding them from any kind of international cooperation. 
The fallout from the war in Ukraine is being felt not only across Europe, but the entire world as the cost-of-living crisis rages. Yesterday's talks on energy and the economy therefore come at a pinnacle yet tense moment in Europe's battle with soaring Russian gas prices, as cracks are beginning to show in the EU's united approach to push Russia into a corner through increasing imposition of sanctions. 
As part of the intensifying, war-induced destabilization across the bloc, the EU is attempting to put up a united front in the face of Russian aggression, so it's understandable that Germany's familiar solo approach is the latest to come under heavy criticism from it's EU counterparts. 
Leaders such as Italy's outgoing Prime Minister Mario Draghi have accused Germany's recent €200 billion energy package, disproportionate to that of other EU states, of undermining the EU-centric approach on the matter by offsetting the balance of support across the EU, and putting other member nation's at risk of paying higher prices for energy due to increased demand. 
---
---
As well as economic tensions, ongoing conflict across the continent was also addressed during discussions of peace, security and migration – an urgent talking point given the open conflict and recent invasion of Armenia by Azerbaijan, as well as the age-old but recently escalating dispute between Turkey and Greece over Aegean sovereignty and the migrant crisis. 
All four country's leaders; President Ilham Aliyev (Azerbaijan) and Prime Minister Nikol Pashinyan (Armenia), President Recep Tayyip Erdoğan (Turkey) and Prime Minister Kyriakos Mitsotakis (Greece) were in attendance, with Armenia proving a widely popular choice for strategic bilateral discussions amongst the quarreling nations. 
Prime Minister Pashinyan was not only invited to talks mediated by President Macron and EU Council Chief Michel with his country's direct rival, Azerbaijan, but also with the leaders of both Greece and Turkey – countries between which tensions have escalated recently as both leaders filed opposing complaints with the EU, UN and NATO over Turkey's provocations of war in regards to Greece's militarisation of the Aegean islands. 
Pour une paix durable dans le Caucase. pic.twitter.com/ZRCy9b3vv5

— Emmanuel Macron (@EmmanuelMacron) October 6, 2022
Unsurprisingly, both Turkey and Azerbaijan were shown to be present in the same roundtable talks on peace and security, and though no specific arrangement plan has been released for the "family photo" of all leaders in attendance, the position of Turkey's Erdogan in the lineup was somewhat symbolic – a suitably safe distance from Greece's Mitsotakis, but also as a close bridge between Azerbaijan's Aliyev and Armenia's Pashinyan – go figure. 
The UK's newly appointed Prime Minister Liz Truss was also in attendance – an unexpected move from a nation that's been decidedly distancing itself from European politics since its departure from the EU in 2016.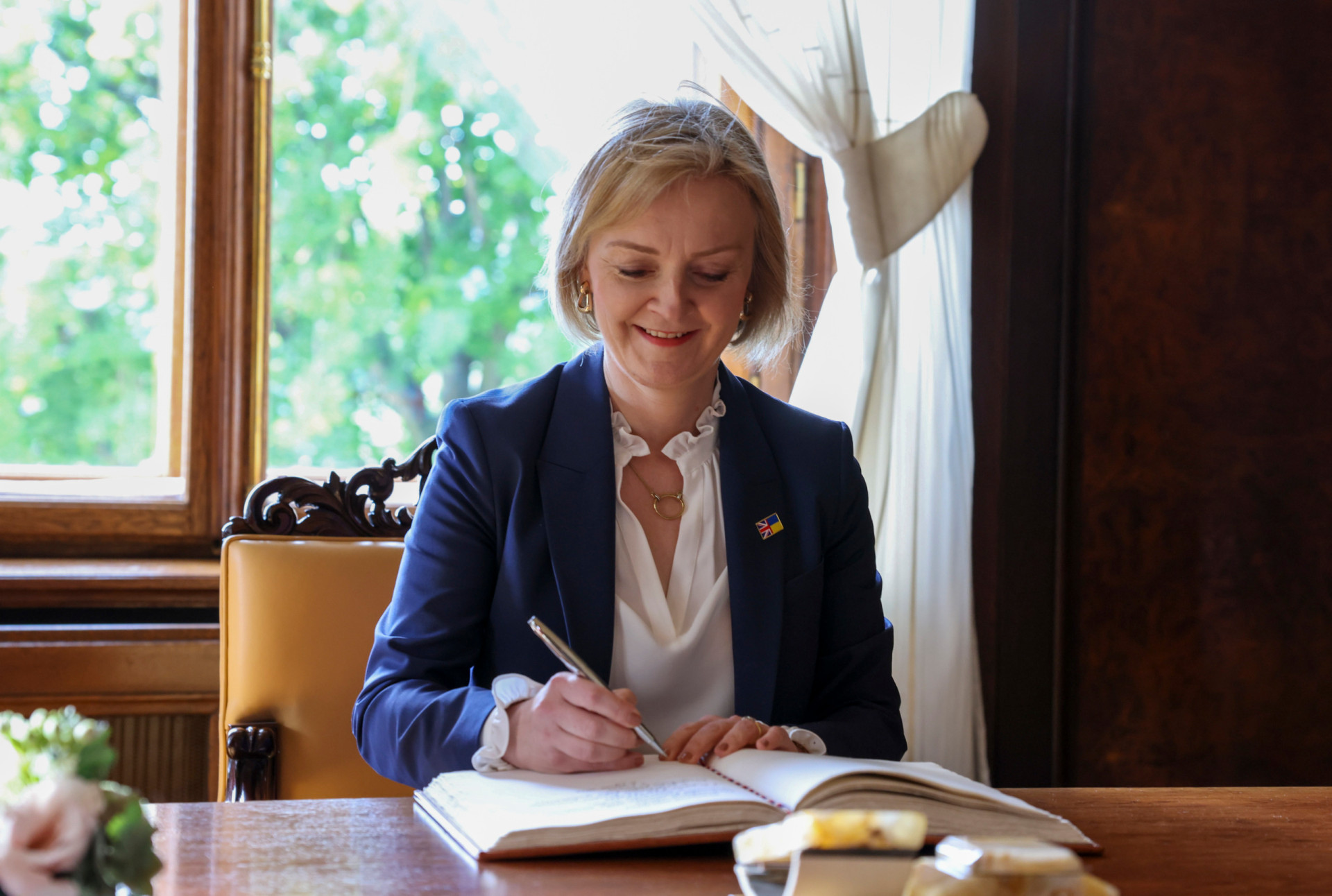 Embracing the EU Council's invitation enthusiastically, in the days leading up to the forum Truss continued her pro-independence narrative and emphasized clearly that her attendance was "not about moving closer to Europe," but was in fact an important collaboration between European "allies and friends" to ensure failure of Putin's war in Ukraine, to end "European reliance on Russian energy," and to tackle human trafficking of migrants across Europe.
She did however clock-on to the golden window of opportunity the meeting presented for the UK in healing post-Brexit battlescars, pledging to use the summit as an opportunity to promote international action on British national interests, even offering up London as the host of the next EPC meeting. 
With what seems like a Brexit back-track, the UK's invitation to join the EPC has sparked concerns as to whether letting Britain back into the fold is a smart move for EU stability. Fears have been voiced over how British participation could act as an emboldening example of the EPC providing a European political life-line for other EU-skeptic nations that decide to similarly jump ship, allowing them to gain independence but still remain connected.
A representative from Macron's party countered these concerns by stating that "the 27 [EU member states] stayed united during the unfolding of Brexit" and justified the inclusion of the UK as it "remains a European country and has its place [in the ECP], particularly on topics of security and defense. It is a different, wider space."
An Elysée representative stated in a press conference on Wednesday this week that instead of an EU-plus-ex's-and-extras club, the EPC is intended to function much like the G7 or G20 – as an integrated intergovernmental European network able to advise and influence the operations of global bodies such as the IMF and World Economic Forum.
Ursula von der Leyen, President of the EU Commission, also showed her support for the European Political Community initiative, playing a prominent role in many strategic discussions at the summit yesterday, as she personally met with leaders of Serbia, Georgia, Turkey and Norway individually, to strengthen ties and define common objectives. 
At this critical juncture, we must rethink and reshape energy security in Europe.

Norway is our close, reliable partner in this.⁰

Through our joint Task Force, we continue to explore workable ways to stabilise energy markets.

🇪🇺 🇳🇴 My joint statement with @jonasgahrstore ↓

— Ursula von der Leyen (@vonderleyen) October 6, 2022
However, the combination of the EPC's political minefield, the inherent absence of input from non-European economic heavyweights such as the US, China and Japan, as well as the lack of conclusive written statement to consolidate the meeting's proceedings, will certainly affect the gravitas of the meeting's resultant recommendations on the international market, community and economy. 
The show of solidarity and emphasis on unity was apparent however, as the full spectrum of European nations were in attendance and engaging in dialogue. Leaders were present all the way from the far reaching northern regions such as Iceland, to the eastern caucasus countries like Azerbaijan; 
As Belgian Prime Minister Alexander De Croo put it, "if you just look at the attendance here, you see the importance." 
Whether this week's first European Political Community summit was, as it was allegedly intended to be, a catalyst for positive intergovernmental unity and action across the continent, or in fact more of a high-brow dinner party, publicity stunt, or political hot mess – is yet to be determined. 
One thing is for certain however – although the meeting served as an unprecedented moment of solidarity in turbulent times, it's unlikely that the sole current output of the summit  – the "family photo" – will hold much power in enacting real change within the wider global community.
---
Editor's Note: The opinions expressed here by the authors are their own, not those of Impakter.com — In the Featured Photo: UK Prime Minister Liz Truss and French President Emmanuel Macron at the European Political Community Featured Photo Credit: Number 10/Flickr