Speaking about the contemporary world we cannot ignore the importance of fashion and style in our lives. Fashion in Kyrgyzstan means as much as it means in Moscow, New York or Milan. But as we all know, fashion is not just wearing trendy clothes from a new season; it is also a way to stand out from the rest of the world, a way to show how unique you are.
Kyrgyz designer Dilbar Ashimbaeva is exactly the person that will make any woman stand out at any event anywhere in the world. Dilabar's style can be called "ethno chic"; those long, bohemian dresses that flow along the body are made of the high-quality silk or velvet with hand-made embroidery and unforgettable design with a traditional Central Asian touch.
Dilbar's philosophy is a synthesis of the best traditions of the East, namely the Silk Road countries, with modernity. When creating such synthesis it is extremely important to show your own culture, but at the same time naturally engage with the contemporary world, and Dilbar does it perfectly.
---
Related article: "EXPLORING THE ARTS IN KYRGYZSTAN" 
---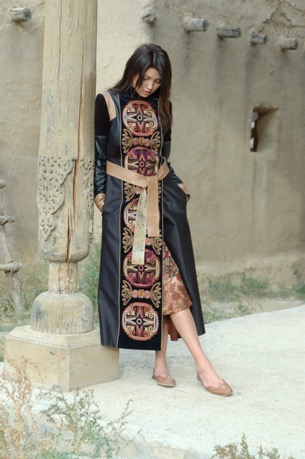 Luckily, she agreed to personally share her experience and views on the fashion and style of Kyrgyzstan.
"The Kyrgyz Brand 'Dilbar Fashion House' was founded on April 22, 2004, when the first prêt-à-porter collection made in the national Kyrgyz style was released. Everything that I have so long dreamed of came to live on that day. For the first time, in the history of independent Kyrgyzstan, Kyrgyz people have their own high fashion brand, based solely on the traditional style. With every new collection we introduced, more people from different countries learned about us. Nowadays, 'Dilbar Fashion House' is an independent company with a staff of highly skilled professionals: tailors, designers, technologists, embroiderers and so on.
In the Photo: Long jacket, made of silk and velvet, hand-made embroidery
The idea of the brand rests primarily on the history of the Kyrgyz women's dress, which is a real and permanent source of inspiration for the design of our models. All dresses from "Dilbar" are based on the design of the historical costume of a Kyrgyz woman, on the colors and patterns of the Kyrgyz art. Sometimes we borrow ideas from other cultures that are spiritually close to Kyrgyz people, such as Turkish traditional dresses. It turns out to be a very interesting and original synthesis, which allows us to create recognizable, comfortable and commercially successful collections. We certainly do not limit ourselves only to the national dresses. Our artists create clothes for the stage and films, for special events and weddings. Our designs also take into account Western fashion, thus allowing us to create traditional dresses in a modern style.
---
For a full mindmap behind this article with articles, videos, and documents see #kyrgyzstan
---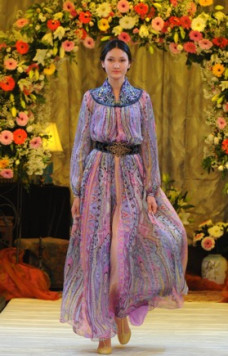 I want to note that the full meaning of the word "fashion" exists in Kyrgyzstan and there are conditions for further development. Every year, there are many competitions and shows for young designers and those artists that have already proven themselves. Unfortunately, Kyrgyz fashion – is a relatively fragile concept that has neither an image in the world, nor a proper system, which could allow a further evolution. Kyrgyz people will have to continue working hard in order to build their own recognizable fashion and bring it to the international level. 'Dilbar' regularly participates in high-level international fashion events around the world representing Kyrgyz fashion culture. And everywhere we go, we are greeted with interest, full of unexpected delight – how come such a small country has such a unique and distinctive culture expressed in these original dresses?
In the Photo: Long dress made of silk, hand-made embroidery
Speaking about street fashion and style, our most important achievement lies in the fact that our people are wearing modern, diverse and trendy clothes. It might not be the highest quality, but the sense of style is quite good. I will always remember how my mother bought me a checkered dress when I was small and when I went to school it turned out that half of my classmates had the same one. I am really happy that now people don't look like a grey faceless mass and everyone has a big choice. That's great!"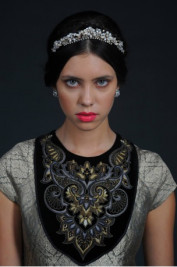 You can also check out more about Dilbar and her designs through: Instagram, Twitter, and What'sApp: +996777900024
---
Recommended reading: "KYRGYZSTAN FASHION WEEK" 
---
_ _
Special thanks to Mrs. Dilbar Ashymbaeva, founder of "Dilbar Fashion House" for providing information and photos.