Noa Ben Moshe describes herself as a writer, animal lover, and vegan fashion nerd. In 2016 she founded her ethical, innovative fashion and lifestyle blog Style With a Smile, which has been awarded as the "#1 vegan fashion blog" by ELUXE Magazine four years in a row (2018-2021) and has also been awarded as "vegan blog of the year 2020" at the AI Global Business Excellence Awards. Noa, is a well-known name in the conscious fashion industry. She gained a lot of experience working with handpicked fair fashion brands and her work got featured in world-class publications such as Cosmopolitan and Vogue. We asked her a few questions about her ethical and sustainable journey.
How did you get into vegan fashion? 
I have always believed that being vegan is not about me; it is all about other beings and the environment, which belongs to no one and to us all. Therefore, changing myself was the first step – the simple step. The second step is changing the world.
I started as a social activist for animal rights and put my heart and soul into it. I did everything from demonstrations and marches to conversations and exhibitions. But after two years, I felt like it was too much for me mentally, and so I decided to stop. However, I still felt the urge to do something, so I decided to start my blog. In this way, I could combine what I love – fashion, writing, and animals, with my ethics and beliefs.
I founded Style with a Smile back in September 2016. At that time, I noticed that there weren't so many people talking about vegan fashion. When I started, my blog had nothing to do with either the fair trade or sustainable aspects of fashion, but that changed after around a year and a half. The blog has grown and evolved with me. In 2018, I watched the excellent film The True Cost, and it changed the way I view fashion. Since then, Style with a Smile isn't "just" a vegan fashion blog; it's also ethical, sustainable, and innovative. In fact, each brand I work with has to fill in a nine-page questionnaire that covers questions about their supply chain, from sourcing and labor to environmental impact, end of life of their products, and of course animal welfare. 
I am so grateful for all the goals I've reached with my blog, having won multiple awards and featured in world-class publications— but what makes me keep on going is the response I get from my audience. Whenever I hear that one of my followers ditched leather, went vegan, or started taking steps in the right direction, I feel so happy and motivated! That's my drive.
What is your goal and who is your audience?
Activism has always been my drive. I found that I could have an even more significant impact through my blog, Style with a Smile. I call this "positive activism." While I do address the problems, such as the horror animals go through in the fashion industry, I mostly focus on the solutions. I show that there is an alternative to everything.
My main goal is to educate people and show them that the best things in life are already cruelty-free, and by cruelty-free I mean towards all living beings. I provide my community with information about the cruelty-free, sustainable and ethically made alternatives that they can choose to purchase and support. I show them that no compromises are needed to dress according to your ethics. 
My audience consists of mainly women between the ages 25-34, who are interested in vegan, sustainable fashion. I have a very international audience, most of which come from Europe and the USA.
What has been the biggest learning curve in your professional growth?
I would say my biggest learning curve has been to allow myself to take time to rest. I've been my own boss for years now. Running a blog and doing everything by myself can be very difficult sometimes, especially when things pile up. But I am slowly learning to not be so hard on myself, allowing myself to take breaks and prioritizing my health and well-being. 
What are the biggest misconceptions about what you do?
A lot of people criticize vegan fashion, and vegan alternatives in general and say that they "cannot" be sustainable. While many vegan alternatives aren't perfect, people forget that common practice isn't sustainable either, and many vegan innovations offer a cruelty-free, more sustainable alternative. That's why I choose to call these materials alternatives, as they aren't yet solutions. At the same time, there are some great companies out there such as "Mirum" and "Treekind" that have created vegan leather alternatives that are entirely plastic-free. We can say what we think, and ask for better alternatives! We must ask questions and take quality, EOL and biodegradability into consideration. But to do better, such companies need our support. We must cheer on such innovators and support them while understanding that sustainability and innovation are a journey. 
What's a day in your life like?
Honestly, not as glamorous as people may think. I spend most of my days in my flat and sometimes could go days without leaving it. I wake up in the morning and the first thing I do is eat chocolate (lol). I wish I could say that I work out, but no, I never do that, perhaps I should, as my daily life isn't so active! I shower, do my skincare and put on a bit of makeup, wear some comfy loungewear, eat breakfast and start setting up my to-do list for the day and replying to emails. I usually have some calls with clients close to noon, and the rest of the day, I work on my blog, dedicate a lot of time to research (especially now, as I'm going to launch my digital vegan material library next year!), write, read the questionnaires I get back from brands who are interested in working with me and create content for me or for NEONYT as I am their online editor. I usually cook something for lunch, run some errands if I need to, set up a photoshoot with my photographer, visit the little sheep sanctuary near my house, and spend my evenings posting and engaging with others on my Instagram, resting and watching Netflix. Glamorous? Not really, but I enjoy it! 
Who inspires you? 
I have always loved Earthling Ed and have been following him for years. He is a wonderful example of how activism should be done respectfully and with a lot of compassion and sensitivity.
Who is someone you want us to know?
I would be really happy if you'd follow @collectivefashionjustice and @fakemovement as I personally admire their incredibly important work! 
One sustainable product you can't live without?
Cannot live without my reusable stainless steel straw. 
One eco-friendly habit you wish everyone practiced?
Eat as many vegan meals as you can. This is the most impactful step one can take for the environment and of course for animals.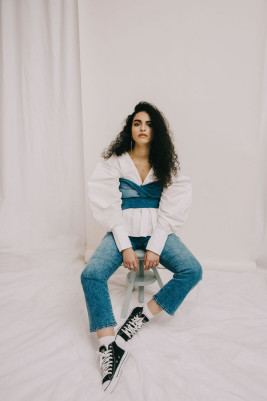 What does sustainability mean to you?
Sustainability is a holistic lifestyle and approach where ALL living beings AND the planet are taken into consideration. It's a journey in which we learn, evolve, innovate and do better. Sustainable fashion has two sides, the producers and the consumers: for brands and producers, it means ensuring fair, transparent, and respectful sourcing and working conditions, high-quality materials that last, quality craftsmanship, a production that is respectful towards animals, nature, and considers the end of a garments life.
Ultimately, sustainable fashion is vegan, fair, transparent, slow, circular and regenerative, recycled or upcycled, and thoughtfully made. From the consumer's point of view, it's about caring for what we already have in our closets and making it last, making mindful purchases, making sure we support people and brands we believe in, and that we would actually wear and use what we buy, and taking sustainable actions for post-use consideration. 
---
Editor's Note: The opinions expressed here by Impakter.com columnists and contributors are their own, not those of Impakter.com. — In the Featured Photo: Annalisa Caselli  Featured Photo Credit: Annalisa Caselli