The hunt for greener solutions in the world of vehicles has led to an unexpected but exciting turn: electric trucks. These mighty vehicles are gearing up to redefine the way we travel on roads and rugged terrains.
In this article, we'll embark on a journey into the realm of electric trucks, shedding light on their diverse capabilities and what sets the top 5 electric trucks of 2023 apart from the crowd.
The Rise of Electric Trucks
Electric trucks aren't just a trend; they're a testament to the evolving needs of modern society. From urban adventurers seeking eco-friendly companions to rugged explorers demanding raw power, the electric pickup truck landscape caters to a spectrum of desires. Therefore, established companies like Tesla, Volvo, and Ford are investing in expanding their offerings of EV trucks.
Electric pickups are rewriting the rulebook of versatility and style on four wheels. Consumers can already get their hands on a remarkable variety of models with distinctive features that align with diverse aspirations.
So, why switch to an electric vehicle? The answer is simple yet profound: clean air. Unlike their diesel or gasoline counterparts, electric trucks don't churn out carbon emissions that pollute our atmosphere. They silently glide along, leaving behind the worries of fossil fuels and toxic residues. And here's the kicker—they're almost as quiet as a whisper, adding next to nothing to noise pollution.
Power, Performance, and Range
While skeptics often raise concerns about charging infrastructure, the electric truck ecosystem has responded quickly. Electric trucks have evolved beyond their century-old electrical systems that merely started internal combustion engines and lit-up accessories. Today's electric truck boasts cutting-edge electric drive systems, distributing power throughout the vehicle for better performance and an impressive range. With innovative battery technologies and smart performance tracking, electric trucks are stretching their legs and covering more ground between charges.
Moreover, the vexing question of range is met with remarkable innovation. Current models offer ranges catering to daily commutes and cross-country adventures, erasing range anxiety. Not to mention the growing network of charging stations, which can seamlessly power up your mighty EV truck.
Top 5 Electric Trucks of 2023
Tesla Cybertruck
The Tesla Cybertruck is by no means an ordinary vehicle. The Cybertruck has ignited a fervor that has enthusiasts on the edge of their seats. The Cybertruck's journey to reality has been a rollercoaster, with production dates shifting from late 2021 to 2022, then 2023, and now, the green light for later this year. Fingers crossed for a smooth ride ahead.
The truck is designed to start at a wallet-friendly sub-$40,000 for the single-motor, rear-drive version. But drivers aiming for the top-of-the-line model will likely see figures close to $70,000. With a max payload of 1.5 tonnes and a jaw-dropping towing capacity of over six tonnes, the Cybertruck isn't messing around. And if that's not enough to rev your engine, how about going from 0 to 60mph in an eye-popping claimed 2.9 seconds? Talk about a power surge.
---
---
Plus, this modern-day icon and its unpainted stainless-steel body and fortified glass are unlike anything you've ever laid eyes on before. And Tesla's standing firm: What you see now is what you'll get when it rolls off the production line.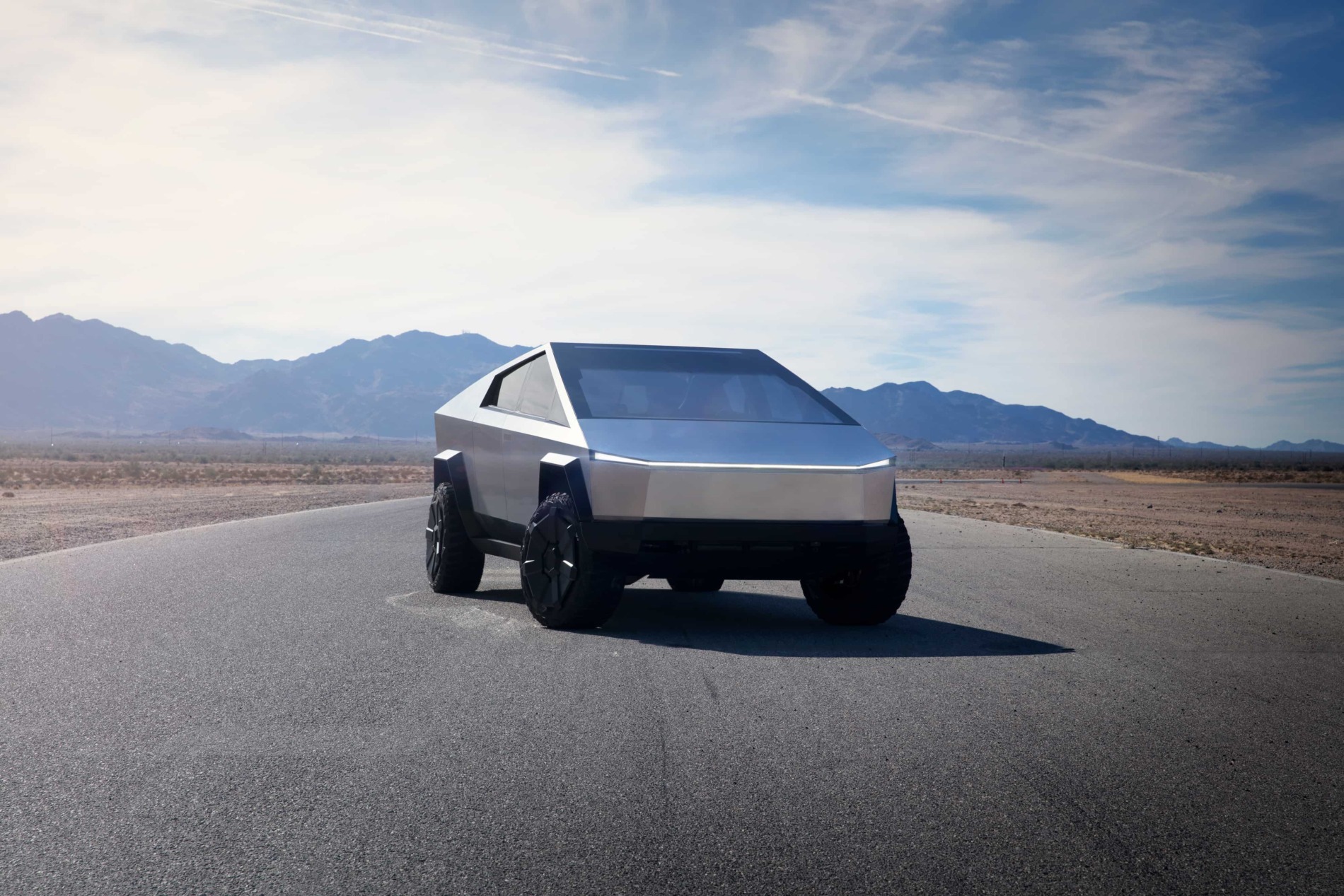 Ford F-150 Lightning
An electrifying twist on an American icon, the Ford F-150 Lightning is a game-changer that's set to shake things up in the world of trucks. The regular F-150 has held the title of North America's best-selling vehicle for a whopping 40 years, and now, its electrified counterpart is here to write a new chapter. The Ford F-150 Lightning, borrowing its name from its high-performance predecessors, made its grand entrance in May 2021. In just a short span, tens of thousands of enthusiastic Americans have jumped on the Lightning bandwagon, reserving their spot in the EV revolution.
An electrifying jolt of up to 572 horsepower, a jaw-dropping 775 pound-feet of torque, and a claimed range of up to 320 miles on a single charge. And these are not even the most interesting specs on this model. That's because the Lightning isn't just a truck; it's also a mobile power station. With bi-directional power, it can juice up your tools or even keep your entire house running for days. 
With a max payload of 900 kilograms and a towing capacity of a staggering 4.5 tonnes, the Lightning is ready to tackle heavy lifting. And when it comes to prices, they range from $60,000 to $100,000, giving options that suit different styles and budgets.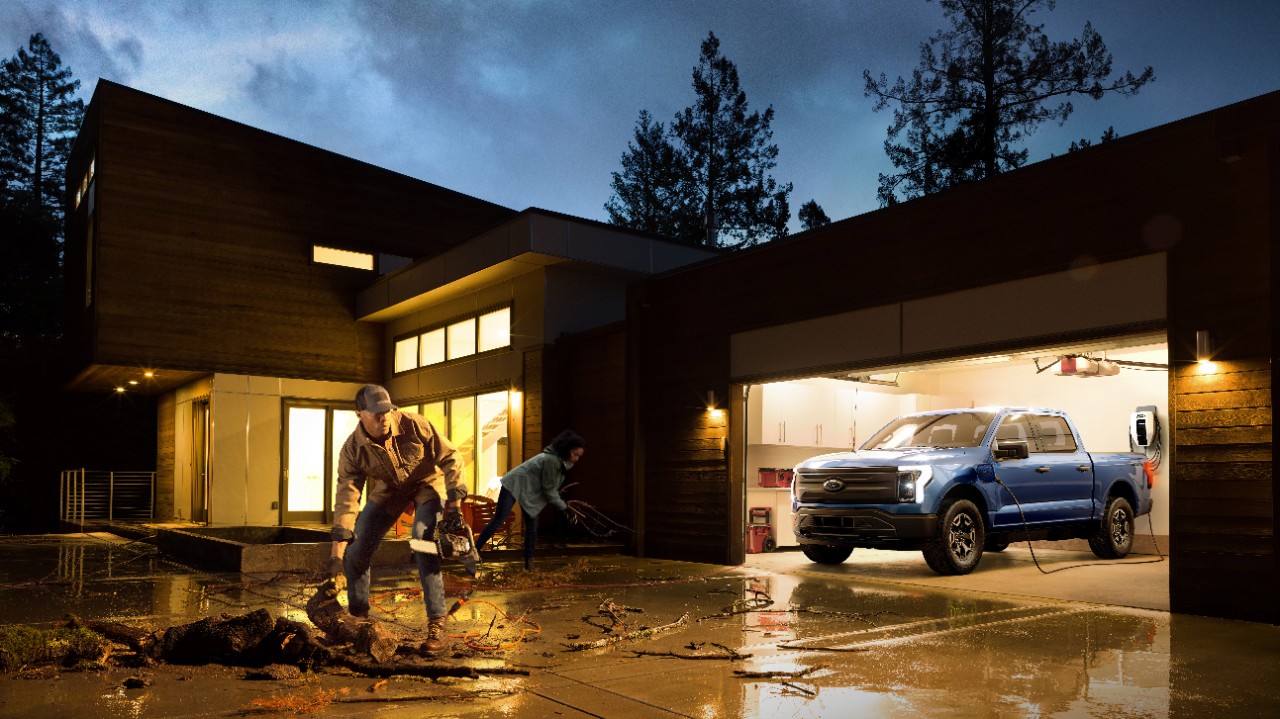 GMC Hummer EV
Meet the world's first EV Supertruck – the GMC Hummer EV. With eighteen feet in length, six and a half feet in height, over seven feet in width, and weighing more than four tonnes, this is far from a little truck.
However, while the exterior dimensions might harken back to its iconic predecessor, the Hummer EV is an entirely different beast. Unlike its military origins, the Hummer EV was meticulously designed for civilian fun, including oversized 35-inch tires and even ingenious pop-out roof panels. Instead of a gasoline engine, the model includes a colossal 205kWh battery pack, accompanied by three motors – two in the rear and one up front. A true powerhouse on wheels.
This super truck claims a jaw-dropping 0 to 60 mph acceleration in around three seconds, and it boasts a range of approximately 350 miles on a single charge. Joining the pickup version soon is an SUV variant, sharing the same chassis. First-edition models start at around $112,000.
GMC Sierra EV
GMC is unleashing a new era of power and innovation with its latest creation—the Sierra EV. This electrifying addition joins the ranks of GMC's all-electric offerings and is scheduled to make its debut on American roads in early 2024. This truck arrives as GMC Sierra EV Denali Edition 1 and beneath its bold exterior lies cutting-edge technology and engineering prowess that aim to reshape the way we view electric pickup trucks.
The Sierra EV boasts two motors that seamlessly combine to unleash an impressive 744 horsepower and a jaw-dropping 785 pound-feet of torque. Translation? This truck doesn't just move; it roars to life with authority. The Denali Edition delivers a remarkable range of up to 400 miles on a single full charge. Speaking of charging capabilities, the models have also undergone a significant upgrade, now embracing 350kW charging speeds. This translates to 100 miles of range in mere 10 minutes.
Embracing sustainability and power doesn't come without its price, and the Denali Edition 1 carries a starting tag of $107,000. With the investment, any driver will be able to tackle towing tasks and heavy payloads. This EV flexes a towing capacity of up to 4,309kg and a payload of nearly 600kg. Additionally, the Sierra EV's ingenious 10.2kW onboard power outlet isn't just for show; it can power your home for up to 21 days in the event of an unforeseen power outage, turning your truck into a lifeline.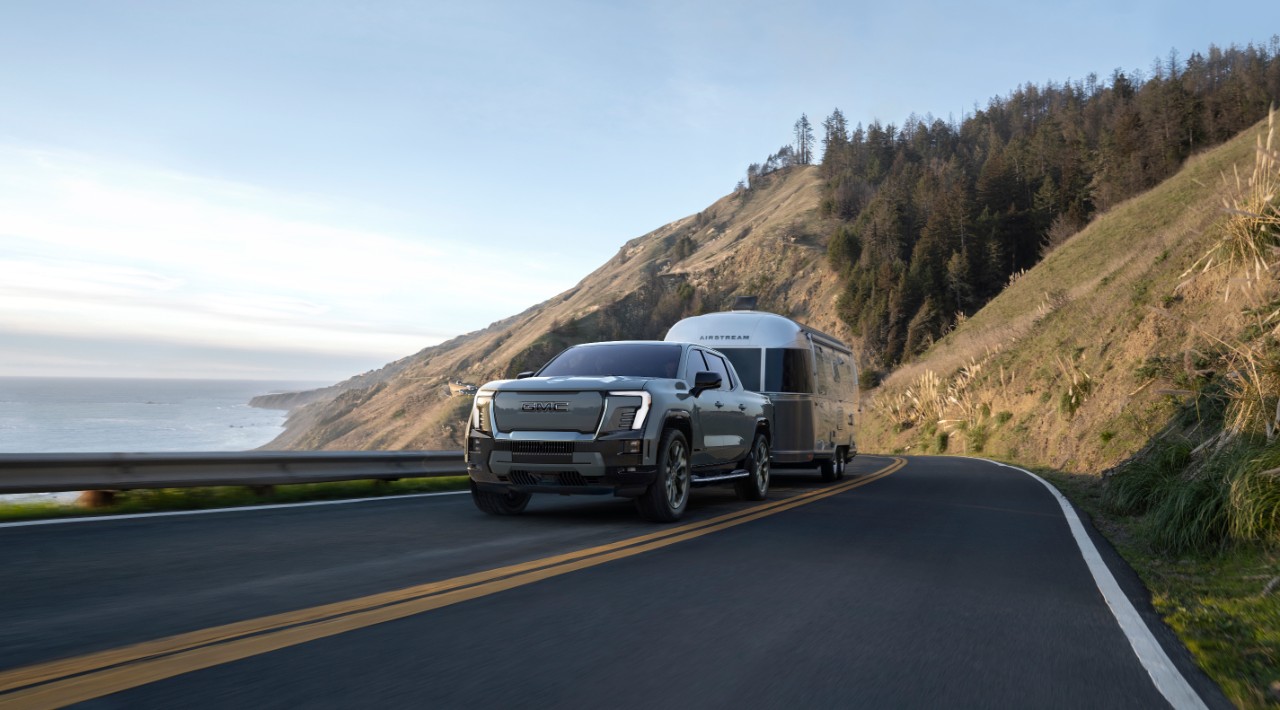 Chevrolet Silverado EV
When it comes to electric trucks, the Chevrolet Silverado EV makes an entrance that's impossible to ignore. Built on the same platform as the mighty Hummer EV, the Silverado is ready to roll onto the scene in 2023 in two distinct flavors. The RST First Edition, priced at a snazzy $105,000, boasts a whopping 664 horsepower and 780 pound-feet of torque. And hold on to your hats; it can haul around 600 kilograms of whatever you throw at it and tow a whopping 3,650 kilograms. 
However, if top-tier extravagance isn't your thing, fear not. There's the Work Truck (WT) version for a more reasonable $39,900. It might not flex quite as much muscle as its RST sibling, but its 510 horsepower and 615 pound-feet of torque are a feat, nevertheless. Plus, it can handle a payload of 550 kilograms and pull that trusty 3,650 kilograms without breaking a sweat.
What sets the Silverado EV apart, though, is its bed. At a glance, it's a solid 5 feet 11 inches of space. But pop open the midgate, and you have a jaw-dropping 9 feet of cargo room. In the power department, the Silverado's electric muscles has a 200kWh battery pack up to the task. Twin electric motors take this truck from 0 to 60 miles per hour in less than 4.5 seconds, a little slower than its rivals, but certainly better than any fossil-fuel-powered vehicle. And packing a range of around 400 miles, it does it better than most.
An electrified powerhouse that's ready to turn heads and tow just about anything you throw its way.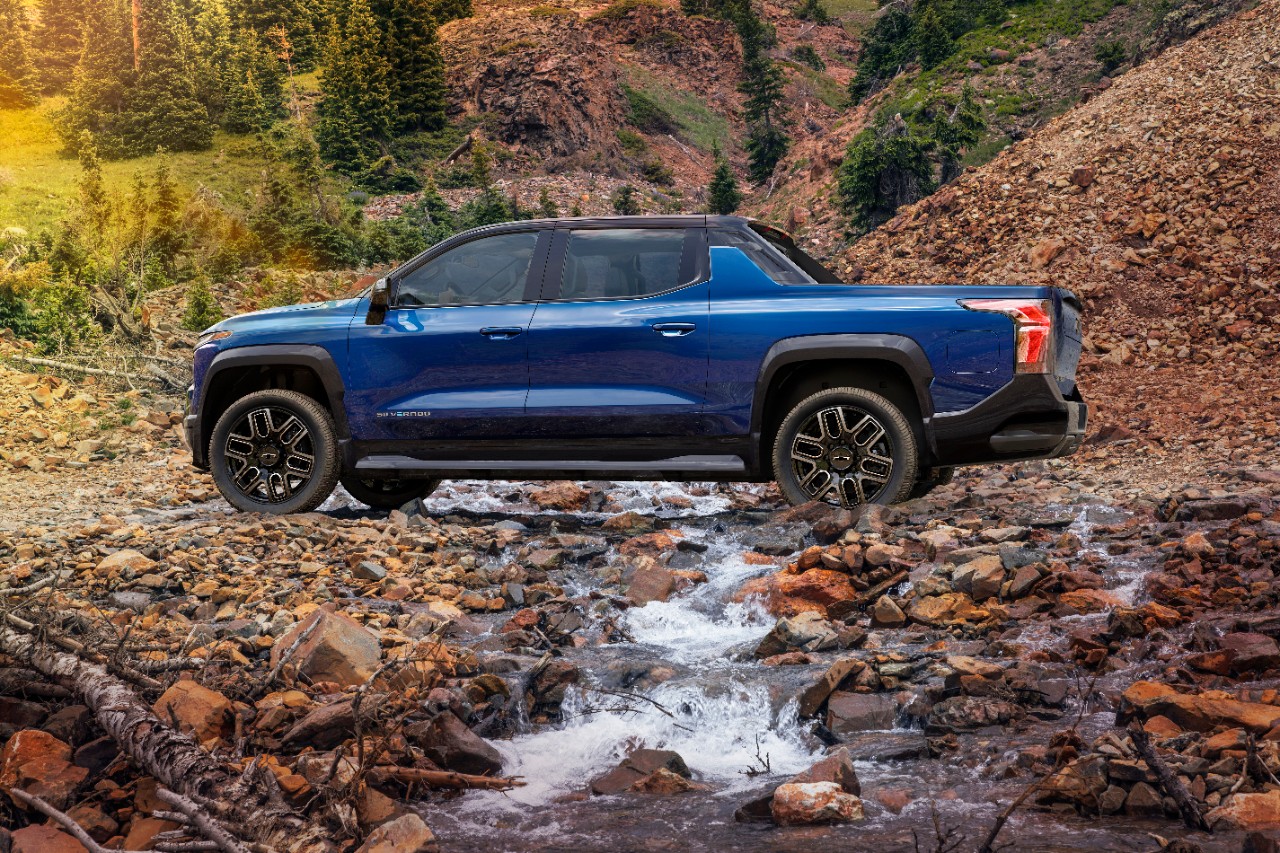 A Word of Caution Before Making a Decision
It is important to note that these descriptions are still based on what producers say about their products rather than on customer feedback. It is still early days to have reliable information about actual performance, especially when models such as the Tesla Cybertruck haven't even come to market yet.
In particular, claims regarding the range EVs can deliver may be overblown, and it has now become a habit among buyers of electric cars to consider that the actual range under normal driving conditions is going to be much lower than the one announced by the company – in some cases, 20% lower or more.
To some extent, this is not the manufacturer's fault. Ranges provided by the manufacturers are estimates under ideal driving conditions and the "economy" driving mode. In practice, the range may vary depending on factors such as driving conditions – whether in town, on a country road, or super-highway – as well as the payload and the weather. For instance, extreme weather, either hot or cold, will deplete the batteries faster.
To illustrate the complexity of the range issue, take the Tesla Cybertruck, poised to come out at the top of its category, and the Ford F-150 Lightning – heir to the industry's top-selling truck for 44 consecutive years. Ford's best option, with the extended-range battery, is "up to 300 miles of range" and Tesla, with its top tri-motor model, claims its EV truck will have a range of 500 miles.
That's 200 miles more. Still, it's a lot less than what the "normal" fossil-fueled-powered Ford F-150 can deliver. Depending on the engine and fuel tank size, it can go up to 912 miles on a single tank of gas for the 2021 model (the 3.0L Power Stroke Turbo Diesel engine).
Likewise, the EV payloads are generally lower than those of "normal" models. This is quite clear if you compare the "normal" Ford F-150 with its electric counterpart: the maximum payload capacity for the normal F-150 varies depending on the configuration, but it can go up to 3,325 pounds for the 2021 model. For the EV model, as we have seen above, the maximum payload is 900 kg or nearly 2000 pounds (1984, to be exact).
Here, Tesla comes out a winner if it can deliver what it claims: 1.5 tons – which is 3307 pounds, practically the same as a "normal" top-of-the-line pickup truck. The lesson here? EVs are under continuous development and are expected to constantly improve, so it is always advisable to compare the latest information from manufacturers before making a decision.
Unquestionably, with these electric pickup trucks, the future has arrived but it's not yet fully here. We need to remember that, ideally, for an EV to be sustainable, it needs to be powered by electricity produced from renewables, say wind power or solar panels. Some EV owners can already claim to do that, but surely it is not an option yet available for everyone.
That said, the benefits for the environment are undeniable: These are super quiet engines that don't pollute. A win-win.
---
Editor's Note: The opinions expressed here by the authors are their own, not those of Impakter.com. — In the Featured Photo: Hummer EV. Featured Photo Credit: GMC