After nearly five years and a quarter of a million dead, the Syrian Civil War appears, at least for the moment, to have calmed. The two-month-old cease fire that is currently in place is largely the result of foreign mediation; however, unlike the previous decade where the United States had unleashed its talons to topple governments and destroy terrorist organizations in the Middle East, the Syrian quagmire has been transformed by a former superpower: Russia.
What initially began as Russian President Vladimir Putin's attempt to facilitate the removal of the Syrian government's illegal stockpile of chemical weapons ultimately evolved into rigorous air warfare. Russian bombers ran daily sorties that effectively silenced hostile rebel groups, including ISIS. From the very beginning of its air campaign, however, Western critics voiced their concern at Russia's brazen defense for its ally, Syrian President Bashar al-Assad. Now as Russia withdraws its forces from the region as peace talks convene in Geneva, those same critics can at least now take some relief in the cessation of slaughter that has come to characterize the darker side of the Arab Spring.
In the aftershock of the Belgian terrorist attacks and the prolonged instability in Ukraine, many historians are beginning to draw up comparisons to the Cold War. Mr. Putin certainly wouldn't mind this observation as he continues to seek out methods that will distract his people from Russia's recent economic woes. 2016 appears to be the start of a new era for the nation as it seems to have forced its way back onto the world stage in dramatic fashion.
The Russian Solution
Twenty-eight years ago, Soviet forces began to withdraw from Afghanistan, signaling the end of an eight-year occupation. Last February, Russia again removed its forces from a foreign country, this time claiming victory.
By most accounts from scholars and analysts, the Russian intervention in the Syrian civil war was a triumph for the Russian government and for Mr. Putin. Prior to formally entering the conflict last September, Syrian pro-government forces under Mr. Assad were on the brink of collapse, fending off a swarm of rebel groups. Now, with a mostly successful cease fire installed and peace talks convening in Geneva, the Assad regime can breathe a little easier and even begin to shift in the offensive.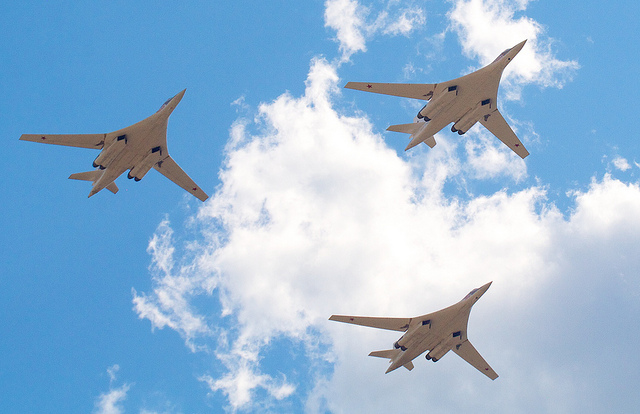 In the Photo: Russian Tupolev "Blackjack" bombers. Similar bombers were used in the air war against Syrian rebel groups and ISIS. Photo Courtesy: Andrey Belenko via Flickr.
Although Russia's role in the civil war was relatively small and limited, its armed forces scored a symbolic victory by proving that the former superpower could once again be a key player beyond its borders. Western audiences witnessed the Russian war machine in action as its bombers launched dozens of airstrikes daily. The West and its diplomats were quick to criticize Russia by claiming that their bombers largely targeted rebel factions instead of ISIS targets, which had been Mr. Putin's impetus for joining the conflict.
"Putin is the first leader since Stalin to expand Russia's territory," James R. Clapper, the director of National Intelligence, told a Senate committee. "Its interventions demonstrate the improvements in Russian military capabilities and the Kremlin's confidence in using them."
Policy analysts were later quick to praise the Russian withdrawal from Syria, nevertheless. According to Mark Galeotti, a professor of global affairs at New York University, Mr. Putin's decision to call off airstrikes demonstrated that he is not repeating the disastrous Soviet war in Afghanistan in the 1980s. The Russian president is once again able to position himself as a peacemaker, says Galeotti, as the Russian president was instrumental in dissuading American President Obama from launching airstrikes against the Syrian government over its alleged use of chemical weapons in 2013.
"This will undoubtedly hearten a Russian regime that increasingly is defining itself not so much through progress and prosperity at home as through its place in the world," Galeotti wrote for Vox.
---
Related article: "DROWNING IN OIL: FOUR COUNTRIES SUFFERING FROM LOW OIL PRICES"
---
Meanwhile in Geneva…
Despite the preservation of the ceasefire, peace talks in Geneva have been slow and arduous according to diplomats and moderators. The UN's chief objective of the current round of talks has been to establish a provisional government within six months that would ultimately pave the way for a new constitution with presidential and parliamentary elections in a 18-month timeframe. However, the fate of Mr. Assad remains a thorny issue for all parties involved.
The role of Syria's president in the peace process is not by any means a new issue; the question of what to do with Mr. Assad led to the collapse of negotiations in 2012 and 2014. Nonetheless, Western diplomats are sticking to their guns and continue to insist that any peace deal include Mr. Assad's departure from power. Conversely, Syrian pro-government representatives and Russian officials refuse to even discuss that possible outcome.
A pro-Assad diplomat recently told Reuters that the Syrian president was not accustomed to compromise. "He has to have control," the diplomat said. "If he gives up 1 percent, he loses 100 percent. He's designed like that."
While the official policy of the United States has been that Mr. Assad would ultimately have to step down, Secretary of State John Kerry has not outlined a timetable when the Syrian president would resign. Kerry has been reported to be attempting to use Mr. Putin's leverage over Mr. Assad to facilitate this transition of power though without much success.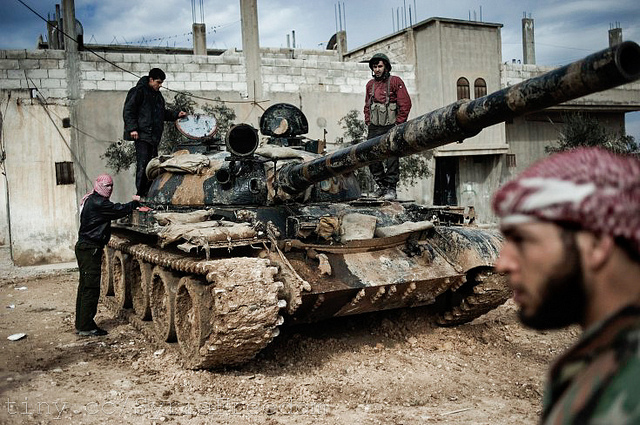 In the Photo: Free Syria Army members pose beside an abandoned tank. The Syrian opposition and Western powers insist that Syrian President Assad steps down from power. Photo Courtesy: Freedom House.
Another area of contention between the parties has been humanitarian relief, which the UN claims has been barred in some areas despite the cease fire. Although aid has been delivered to 260,000 people since the cease fire began, the UN has been unable to reach six cities, including Douma, Harasta and Darayya. By the end of this month, the UN hopes to eventually provide assistance to 1.1 million people.
"I do not know why they will not give permission," said Jan Egeland, UN humanitarian coordinator. "It is a violation of international law to prevent us from going." Egeland added that in addition to a scarcity of food, water and medical supplies, fewer than half of all Syrian children had been vaccinated for polio or measles.
Complicating matters further, both sides have clashed on the issue of political prisoners. Due to a lack of hard data on the exact number of detainees being held by the Syrian government, opposition representatives have so far been unable to negotiate any release or transfer for those incarcerated. In 2014, for example, the opposition presented a list of 47,000 prisoners, which the Syrian government dismissed out right.
According to the conference's High Negotiating Committee, an estimated 50 political prisoners are being executed each week. "There are a lot of innocent civilians [that] should be released," Egeland said. "Nothing could be more important than we get out some groups, particularly the weak, the sick and women and children."
An Uneasy Truce
While the ceasefire established in late February has held steady in most areas, relations between the US and Russia continue to be strained.
Russian representatives have frequently accused the US of being slow to join Russian forces in monitoring and enforcing the ceasefire. Violations of the cease fire are leading to civilian deaths, according to numerous Russian officials.
"Further delays with implementing the agreed rules of reaction to violations of the ceasefire regime in Syria are unacceptable," Russia's defense ministry said in a statement. "Peaceful residents die daily there as a result of provocative actions and shelling."
On numerous occasions, the Russian defense ministry has even threatened to strike unilaterally at those that violate the ceasefire.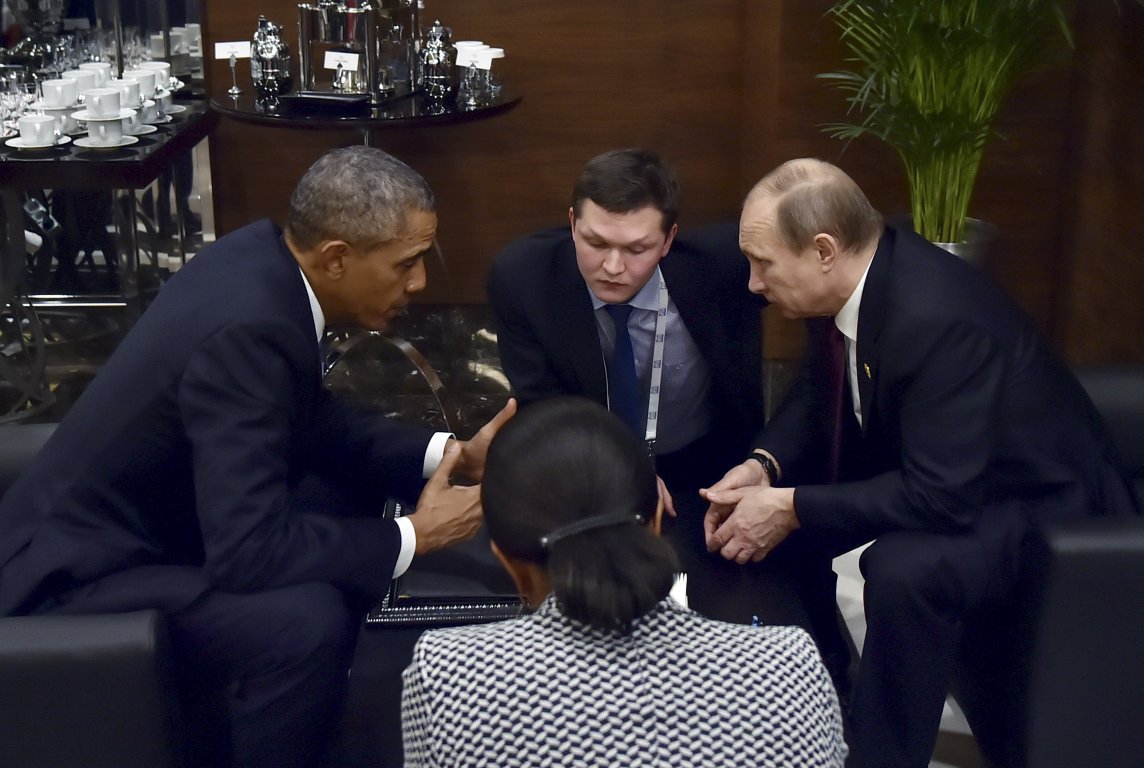 In the Photo: US President Obama meeting with Russian President Putin.
While the US has complied with Russian demands at maintaining the cease fire, American officials and human rights groups continue to charge Russia with killing Syrian civilians and destroying infrastructure. Syrian opposition representatives in Geneva have claimed that Russian bombers have struck hospitals and schools in an effort to bring opposition groups back under the Syrian government's fold.
On March 31, the Syrian Observatory for Human Rights with the White Helmet civil defense organization reported that airstrikes in southeast Damascus had killed more than 30 people, most of whom were women and children. The Observatory noted that the strikes were carried out by the Syrian government and targeted groups that were protected under the cease fire.
"We condemn in the strongest terms any such attacks directed at civilians," Spokesperson for the US Department of State John Kirby said in a statement.
What's Next?
Russia has certainly been on a roll in the past few months, but the geo-political strategy game is far from over. The Syrian opposition and its Western allies continue to insist on Mr. Assad's departure, while the Syrian regime is ramping up for an offensive to re-take Aleppo, Syria's largest city. Meanwhile ISIS remains a very active force in the background as it aims to regain lost territory.
Despite holding parliamentary elections under its controlled territory, there is little chance that these efforts can legitimatize Mr. Assad's rule. As Western powers remain reluctant to send ground troops against ISIS, the Syrian military appears to be their best chance at eliminating them from the region. It's becoming increasingly evident that in the end there may be no clear-cut winner in the Syrian conflict.
So how far will Russia go to defend Assad and his Syrian regime? At this moment it's impossible to answer, although one outcome is clear: it will come at the expense of thousands of lives.
---
Recommended reading: "WEEKS AFTER 'PULLOUT' FROM SYRIA, RUSSIAN MILITARY IS AS BUSY AS EVER"
---
_ _
EDITOR'S NOTE: THE OPINIONS EXPRESSED HERE  BY IMPAKTER.COM COLUMNISTS ARE THEIR OWN, NOT THOSE OF IMPAKTER.COM.