Disposable tampons and pads are a staple of every woman's bathroom. When they get their first period, most girls learn to take care of the job with disposable tampons or pads, which, for a long time, seemed like the only weapons in the arsenal. 98 percent of American women use sanitary tampons or pads, and the average woman has her period for 2,280 days, which equates to over 11,000 tampons or pads used in her lifetime. Now, multiply that figure by the 3.5 billion menstruating women on earth and its clear why we need more sustainable alternatives. 
Disposable period products are a big problem for everyone
Conventional tampons and pads require massive amounts of fossil fuels to produce, generating a total carbon footprint of about 15 million tonnes of greenhouse gas emissions each year. Once discarded, disposable period products sit in landfills for hundreds of years and leech harmful microplastics into the soil and groundwater. Like other forms of waste, used tampons and pads also end up in the ecosystem and are consumed by wild animals. 
Extensive studies on marine litter revealed that disposable menstrual products are the fifth most common type of waste washing up on beaches. Used tampons and pads floating around pose a serious public health threat because of pathogens and diseases in the bodily fluid they've absorbed. 
Although most women know that pads and tampons should never be flushed down a toilet, many are. Because they do not decompose, these sanitary products block sewage pipes and cause waste-water overflow in rivers and oceans, damaging ecosystems in the aftermath. 
The health risk associated with them is the principal reason feminine hygiene products cannot be recycled. Some developing countries cope with this bio-hazardous waste by incinerating the products, producing massive clouds of toxic fumes and greenhouse gases. 
90 percent plastic
Most pads are about 90 percent plastic. One package contains the equivalent of four plastic bags, the bulk of which will take about 800 years to decompose. Tampons and pads are made from blends of cotton and rayon which contain carcinogenic pesticides, glues, and bleach. When used, the soft tissue of the vagina absorbs these toxic chemicals, which are linked to a whole slew of health problems, such as endometriosis and cancer. The additives found in tampons have also been discovered to absorb natural moisture, drying out the vagina and increasing tearing, aggravating the risk of contracting sexually transmitted diseases. 
Considering all the drawbacks of conventional period products, it's about time that women band together to skip the tampon aisle at the grocery store and consider more sustainable options. It's 2020, we have 5G data and Artificial Intelligence; why can't we have healthier, sustainable menstrual products too? The good news is, we can.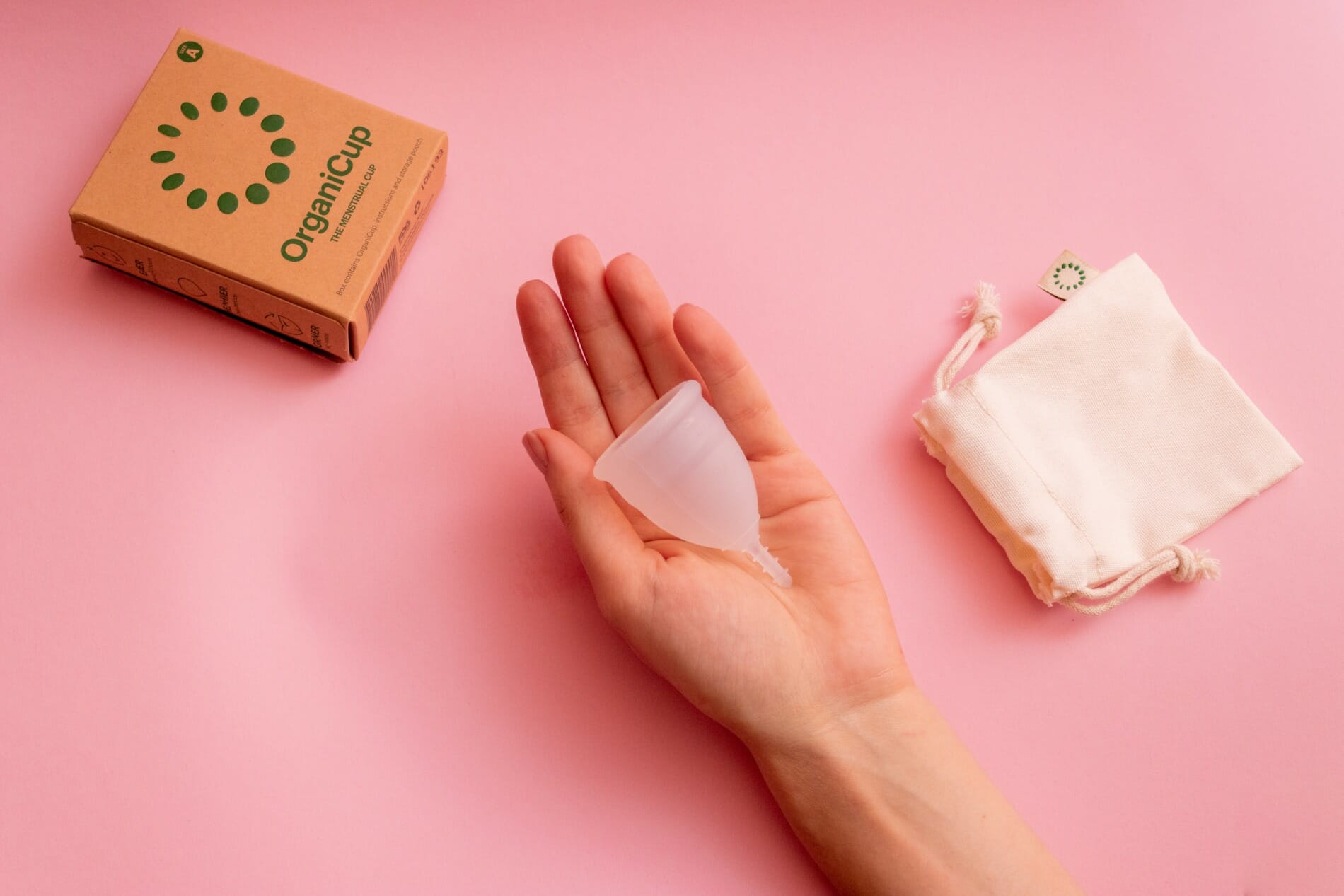 Sustainable alternatives
Menstrual cups
Now that the stigma around menstruation is slowly collapsing, women are able to talk more openly about their periods and demand sustainable menstrual products that are more comfortable and convenient.
One of those improved products comes in the form of a medical-grade silicone cup. After using the cup, you pour out the collected blood and wash it with cup-safe soap to prepare it for the next use. The menstrual cup has many advantages over conventional disposables. 
There are no associated health risks related to using cups. Occurrences of vaginal infection and toxic shock syndrome are rare, and even less likely to happen with a cup than with a tampon. Cups do not also interfere with the natural moisture that protects your vagina. Talk to your doctor before using the cup if you have an IUD. 
They are convenient. Menstrual cups can be changed less often and used for up to 15 hours. They are travel friendly and come in many colors, styles, and sizes. 
Cups are leak proof. Cups catch your flow at your cervix before reaching your vaginal canal. This means that, unless you have a heavy flow, your cup will not leak or give off any odor. 
You will save money and the planet. A menstrual cup is cheap and can last for years, saving you money and reducing your plastic waste.
Before searching for menstrual cups, don't forget to take the menstrual cup quiz to see which size will suit your vagina and flow best.
Some brands to consider are Diva Cup, Lunette, MoonCup, and Lena Cup. 
Cloth pads
Most of the pads we buy at the grocery store contain pesticides and non-biodegradable plastics, but they don't have to. For thousands of years, women used organic cotton towels to absorb their periods. Whilst those ancient apparatuses weren't as delicate or dainty as we would need for today, we can still take notes and bring the organic reusable pad back in style. 
Cloth pads are healthier for your skin. Made of hypoallergenic materials, cloth pads will not cause dreaded rashes, unlike their disposable counterparts. 
They are thin and flexible. Modern cloth pads are not the primitive adult towel diapers of the past. Made of thin, absorbent layers of materials, modern cloth pads hold more and are more discreet. 
You can help support small businesses. There are plenty of shapes, sizes, and colors online offered by small business owners. By finding pads on sites like Etsy, you will have direct contact with the artisan who sewed your cloth pad and gives them feedback, negotiate deals, or have custom pads made to fit your needs. 
Brands to consider are Hannahpad, GladRags, or Charlie Banana.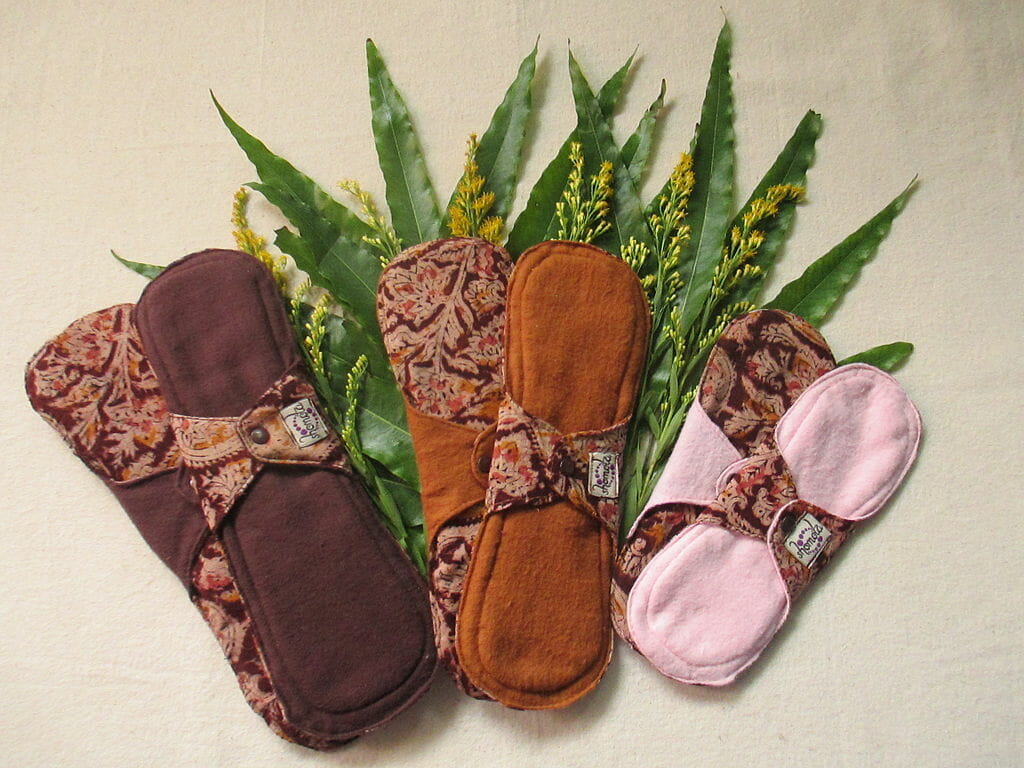 Period panties
If you have ever wished that your underwear could protect you from leaking and spotting by itself, then you will be happy to hear that such an invention exists. For some of us, free bleeding freely sounds scary, but period panties are designed to absorb fluid.
Period panties look and feel just like normal underwear. They are made with three to four layers of thin, high-tech fabric. The first fabric is absorbent, the second is waterproof, and the third is soft. For those of us with a very heavy flow, period panties make a great backup plan for our diva cups or cloth pads. 
Period panties offer serious protection. Some brands tout holding several teaspoons of blood per wear. That's about two tampons' worth of absorption. 
They're sporty and breathable. When you imagine using period panties, you may fear that they will become soggy and icky. The good news is, their sophisticated fabric makes them moisture wicking and antimicrobial. If you're not convinced, read some

testimonials

about the magic of period panties: "The crotch wasn't wet at all, and it didn't feel full or saggy."
They're easy to clean. After using your period panties, just toss them in the washing machine in a cold water setting, without worrying about staining the other articles.
Brands to look out for include Lunapads, Thinx, Modibodi, Anigan, and Knix.
Next time you have your period, consider one or any combination of the products mentioned above. Over the years, you will save money and prevent hundreds of articles of non-biodegradable rubbish from entering our ecosystem. 
If you're still hesitant to shift away from your trusted pads and tampons, try instituting these smaller changes that collectively can still make an impact:
Shop for organic menstrual products from companies that are certified green, transparent, and ethical.
Buy OB tampons that have no applicators. By doing so, you will consume half as much plastic as you would with conventional tampons. 

Urge policymakers to address issues related to feminine hygiene products. We deserve to know what ingredients are in our disposable products.


Sign petitions and protest disposable plastic products and their manufacturers.

Try to buy local products when the option is available to you. 
---
Editor's Note: The opinions expressed here by Impakter.com columnists are their own, not those of Impakter.com. —  Featured Photo: Menstrual cup in hand. Photo Credit: Patricia Moraleda