POSTCARDS FROM THE FRONTLINES PROJECT: A GLOBAL CAMPAIGN FOR CLIMATE REFUGEES by THE ENVIRONMENTAL JUSTICE FOUNDATION (EJF)
Founded in 1999 by Steve Trent and Juliette Williams, the Environmental Justice Foundation  (EJF) is a charity organisation based in London, with a team of researchers and volunteers located all around the world to support those for whom "environmental security is not a luxury, but an everyday necessity". Through the action of remarkable patrons such as the actress and activist Lily Cole and the explorer and writer Benedict Allen, the EJF's campaign messages are reaching a wide audience, aiming to increase the bulk of the attention from governments, media and general public.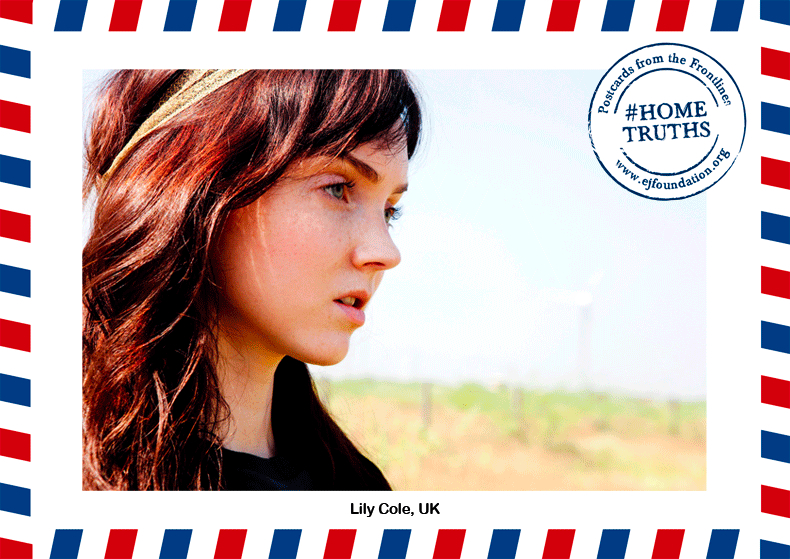 Integrating environmental protection to human rights concerns is the core of EJF's projects – "We believe that environmental security is a human right"- as environmental issues affect human settlements, increase poverty and give rise to forced human displacement.  According to a report by the EJF, 31.7 million people were displaced by climate- and weather- related events in 2012 but , paradoxically, climate refugees who are forced to flee their homes are still not recognised or protected by International Law.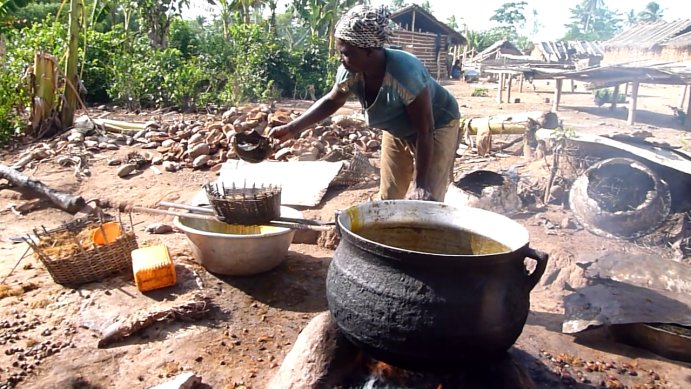 In the photo: Ama tells REDEP volunteer, an EJF partner, how her palm oil processing business has begun to dry up due to inconsistent rainfall and environmental degradation.
In this perspective, it is extremely important that those on the frontlines of climate change are listened to and EJF is working to give them a voice.   What better time to do so than the UN Climate Summit 2014 this September 23rd , when "world leaders, from government, finance, business, and civil society" will be reunited in New York by the UN Secretary-General Ban Ki-Moon?
The video below illustrate the issue:
In order to move the global agenda forward, EJF has created "Postcards from the frontline" , an innovative postcards project in collaboration with ByPost and supported by Vivienne Westwood, Gillian Anderson and David Miliband.  The goal is to prompt actions in  support of climate refugees by sending to the UN Secretary-General Ban Ki-Moon, 100,000 free paper postcards from the supporters. " We want the UN to appoint a Special Rapporteur on Climate Change and Human Rights; an international, binding agreement on legal recognition, protection and assistance for climate refugees; we want greater commitment and accountability on climate change mitigation. "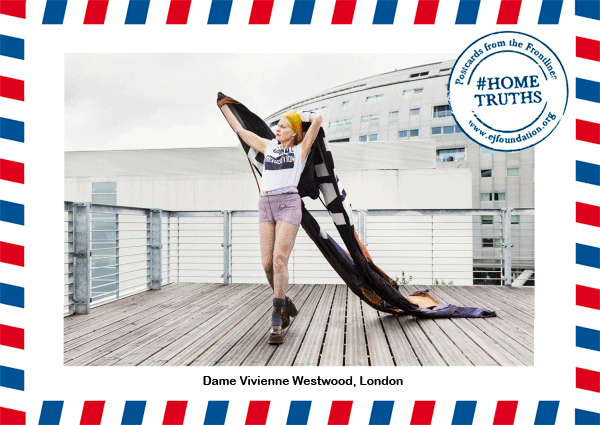 Read the interview next Tuesday 16th September with the Executive Director and Founder of EJF, Steve Trent, to know more about the issue and how to take part in support of climate refugees through  "Postcards from the frontlines" project.