Dams have a variety of purposes, whether energy generation for human welfare and/or industry, irrigation for agriculture, or the creation of flora and fauna habitats. Ultimately, building a dam means controlling a river flow. And that, whenever a river flows between two or several countries, means political fireworks.
Throughout much of human history, dams have been part of what we do, and battling over water resources has resulted in efforts to navigate competing interests. Indeed, international water treaties date as far back as 2500 B.C, when the two Sumerian city-states of Lagash and Umma crafted an agreement ending a water dispute along the Tigris River. 
On a side note: Humans are relative latecomers to dam building given that beavers were around 10-12 million years ago, and we often refer to hard workers as "eager beavers"! 
Since 805 A.D., according to the Food and Agricultural Organization, more than 3,600 treaties related to international water resources have been drawn up. While most dealt with navigation and boundary demarcation, negotiations and treaty-making have moved away from primarily navigation towards the use, development, protection, and conservation of water resources. Again, this was preceded of course by animal dam builders such as beavers.
What led up to the present situation are four historic transboundary water agreements that are to this day held in UN records and considered "ancestors" of current treaties and conventions regarding joint water resources management:
The World Water Conference was held in 1977 in Mar del Plata, the first of its kind. It produced an ambitious Action Plan which continues to be a point of international reference. 
A little over a decade later, things had moved on and a "Water Convention" was formulated by the UN Economic Commission for Europe (UNECE): Called the Convention on the Protection and Use of Transboundary Watercourses and International Lakes, it was adopted in Helsinki on 17 March 1992 and entered into force on 6 October 1996. As of November 2022, it has been ratified by 47 parties, which includes 46 states and the European Union. It has been signed but not ratified by the United Kingdom. 
Initially negotiated as a regional instrument by the UNECE, the Water Convention opened up for accession to all UN Member States in 2016. 
Chad and Senegal became the first African Parties in 2018. Then, Ghana acceded in 2020 and was followed by Guinea-Bissau and Togo in 2021. With their accession, we now have better prospects for enhanced transboundary cooperation in Sub-Saharan Africa, and that means conflict prevention and improved regional stability. 
Linked to the Water Convention is the Protocol on Water and Health, jointly serviced by UNECE and WHO-Europe, a unique legally binding instrument aiming to protect human health by better water management and by reducing water-related diseases. The Protocol provides a practical framework to translate into practice the human rights to water and sanitation and to implement Sustainable Development Goal 6. So far it is limited to the European continent, but hopefully, it will be adopted by major actors like the US and spread globally in the coming decades.
But the overall problem of water management remains politically sensitive, a difficult nut to crack. A review of progress during the  "Decade for Action 'Water for Life' 2005-2015" showed mixed results at the UN Water Annual International Conference held in Zaragoza that closed the decade. As Kofi Annan, a former UN Secretary-General put it:
"Fierce national competition over water resources has prompted fears that water issues contain the seeds of violent conflict. If all the world's peoples work together, a secure and sustainable water future can be ours."
That was in 2015 and now, seven years later, little has changed – despite the progress in Sub-saharan Africa noted above. As reported in a recent article here,  the Grand Ethiopian Renaissance Dam (GERD), represents a threat in the Horn of Africa: Disputes over its management continues to plague relations between Egypt and Ethiopia. 
The reality is that water management – of which dams are a critical element – has changed over the last 45 years since Mar del Plata and is likely to undergo even greater change and hopefully improve in the coming decades. But what has not changed is that it continues to be globally a major political issue, a perennial bone of contention.
World's biggest dams: Complicated
No one-size fits all "dams."  They come in many shapes and sizes, with some very small but others very, very big. As a result, the term "dam" covers any number of different designs, sizes, and functions that encompasses more than 800,000 structures worldwide. And "big" depends on whether the measure is height, volume, or stored water. 
The focus here is on the global "big guy" dams – in particular, the ones that involve more than one country – found in virtually every region from Canada to China, From Russia to the United States, India to Egypt, and much more.  From the Indus to the Nile River, to the Jordan River, and many places in-between, riparian rights are being disputed, ignored, or potentially leading to all-out conflict.
The world's tallest dams are really tall, three of them hover around 300 meters (980 ft): The Jinping-I Dam on the Yalong River in China, clocks in at 305 m; the Nurek Dam on the Vakhsh river in Tajikistan, at 300 m; the Xiaowan Dam on the Lankham river in China at 292 m.
And the biggest by volume – counting the dam's reservoir at full capacity – are really big, over 150 cubic kilometers: 180.6 for the Kariba Dam on the Zambezi river between Zambia and Zimbabwe; 169 for the Bratsk Dam on the Angara river in Russia and 150 for the Akosombo Dam on the Volta River in Ghana. 
However, how to calculate the world's largest dams by volume can be tricky, and another listing places China's Three Gorges Dam at the top, followed by Syncrude Tailings in Canada and Chapetòn in Argentina.
Dam "Good" and "Dam Bad"?
As with everything humans build, big dams create benefits and costs, one's view depending on where you stand and are sited. If you get electricity and clean water for the first time, you are thankful and supportive. If you are thrown off your historic homestead to make room for a reservoir or have less water for your family farm, you have very different sentiments.
And if the dam that affects you is built in another country, then the problem becomes acutely complex, involving international relations.
The graph below captures most of the disparate feelings and reasons about dams: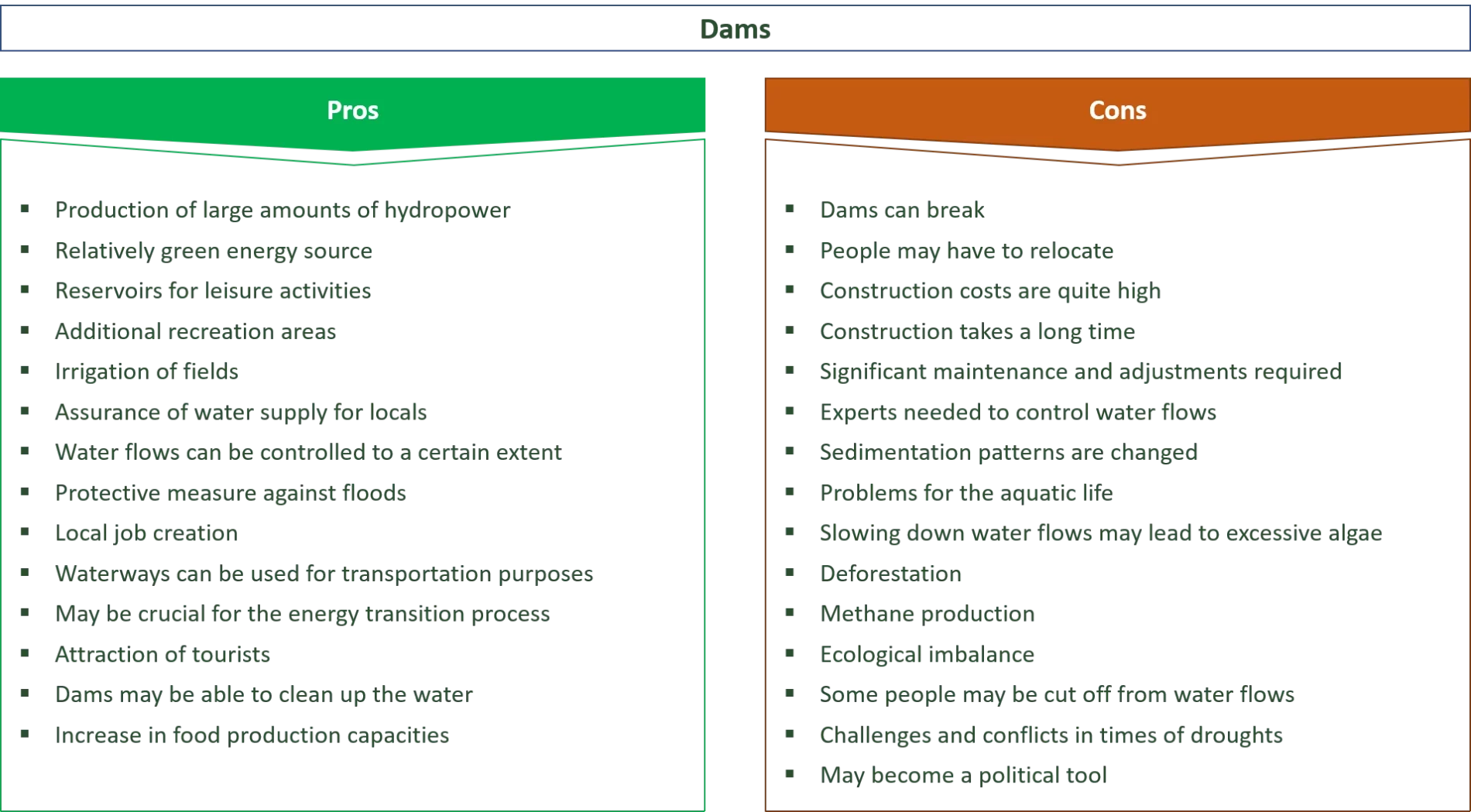 Dams have a special role to play in our ongoing climate crisis: They are a prime source of electricity in a reliable form of renewable energy. That is a major selling point. 
The point about reliability is worth highlighting: Compared to wind and solar energy that have a storage problem (they only produce when there is wind or sunshine), dams resolve the energy storage problem. Thanks to their water reservoir, energy is available on a continuous basis, and at a very low cost.
The other major advantage – and one that historically used to be seen as fundamental before the climate crisis changed the equation – is protection from floods, although errors in design have occasionally brought on major catastrophes. 
Other advantages include irrigation for farming, recreation (for example, the Hoover Dam in the US), fish farming and better control of waterways to allow for transportation.
The biggest disadvantage is the very high cost of building dams: For example, the Three Gorges Dam in China cost $25 billion. Contributing to the cost is the necessity of building dams to high safety standards, and once built, the need for regular and expensive maintenance requirements – and that is in sharp contrast to, say, wind energy which requires far less costly maintenance. 
Other major problems include: 
the forced relocation of local populations causing extensive social and cultural damage;
increased water losses through evaporation (especially in warm climates);
negative impact on farming downhill from the dam; it can happen through reducing wetlands or increasing salt content in the earth, the case for example in Egypt after the

Aswan dam was constructed on the Nile in 1971, changing forever the traditional farming life in

the valley based on annual flooding; 

"overtopping": It occurs when a dam fails as a result of an unforeseen event, with excess water from the reservoir rushing down the valley causing disaster and death; the most famous example is

Typhoon Nina in August 1975 which caused the Banqiao dam

in western Henan province, China, to collapse: the victims were more than 150,000. 
And there is another implicit risk, namely that if a conflict escalates, the possibility of bombing a dam with catastrophic consequences, lurks in the background.
What's our future going to be?
Dam treatment is going to become a higher priority across the world, as populations grow, demand for power increases exponentially, and the environment changes with every passing year. The climate crisis forces us to "rethink" the dam issue. And indeed we will be DAMed if we don't.
The Water Convention is a powerful tool to promote and operationalize the achievement of the 2030 Agenda for Sustainable Development and its SDGs. It directly supports the implementation of target 6.5 which requests all countries to implement integrated water resources management, including through transboundary cooperation, as appropriate. The Convention and its programme of work are also relevant for other SDGs, such as all the other targets of goal 6, but also: goals 2, 7, 13, 15, 16, 17 and target 11.5.
Further, a review was held in 2020/2021. The results and main outcomes are presented in the second joint UNECE–UNESCO report on the Progress on Transboundary Water Cooperation: Global status of SDG indicator 6.5.2 and acceleration needs, 2021. And a future review and reporting exercise is to take place in 2023.
While all this is encouraging, a positive indication that the subject is not forgotten, most attention has been primarily focused on water use, less on those structures which are determinative in so many cases, and this may well be the case during COP27. 
It will be instructive to learn the extent to which water structures become a major subject in the resolutions and reports coming from Sharm-el-Sheik. 
So far dams have been discussed within the fora of UNECE, UNESCO and WHO. One would hope the water issue – including dams – would be important at COP27 and more generally to all the parties to the UN Framework Convention on Climate Change (UNFCCC), not just this year but in following years as well.
If not now, will dams be on the agenda of COP28?
When all is said and done, with appropriate environmental assessment and measures taken to ameliorate dislocations, dams must be part of a clean energy solution, one that betters living and health conditions for many. 
---
Disclosure: Richard Seifman participated in the World Water Conference held in 1977 in Mar del Plata and has closely followed water resources management issues since then.
---
Editor's Note: The opinions expressed here by the authors are their own, not those of Impakter.com — In the Featured Photo: Dam spilling (photo taken on Dec 29, 2012) Source: Water Alternatives Flickr (cc)