The Trump administration's antagonistic rhetoric and repressive policies have encroached upon women's reproductive freedom. Attempts to enforce the 'gag rule' which bans state-funded family clinics from issuing abortion referrals serves as one example of how the current administration is attacking women's reproductive freedom as well as the vital clinics that serve them. 
Despite the increasing hostility towards clinics that provide reproductive services, there is a cluster of clinics that stand to thrive: the anti-abortion, faith-based crisis pregnancy centers (CPCs). 
Advertising themselves as healthcare clinics, CPCs often utilize misinformation to get pregnant people through their doors. For example, in Connecticut, a CPC known as The Hartford Women's Center is situated almost directly across from Hartford GYN, which is a licensed provider.  The Hartford Women's Center strategically employs their close proximity to "intercept" clients that are actually seeking services from Hartford GYN.
---
---
In healthcare, friendly competition is not always a bad thing. It means that the providers and their services are incentivized to provide the highest quality of care. But in this case, it is the practice of facilities like Hartford GYN, which perform abortions, that CPC's are trying to interrupt and eradicate.
Jeanneane Maxon, vice-president for external affairs at Americans United for Life (AUL), an anti-abortion group, told New York Times reporter Pam Belluck that CPCs are "really the darlings of the pro-life movement, that ground level, one-on-one, reaching-the-woman-where-she's-at approach."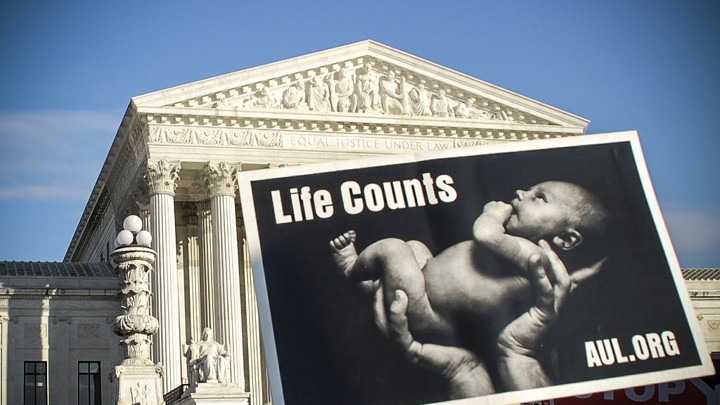 AUL, along with other prominent anti-choice groups fund and operate many of the country's CPCs, such as Birthright International, Heartbeat International,  Care Net, and the National Institute of Family and Life Advocates (NIFLA). 
CPC's "ground-level" approach for handling individuals seeking their services has repeatedly been called into question. Many accounts indicate that CPCs advise their patients with medical misinformation, such as the false claim that abortion can make it harder to become pregnant in the future or lead to a higher risk of miscarriage, the association between abortions and breast cancer, or that after an abortion it is highly common to experience post-traumatic stress disorder and delusions. 
 Such claims made by CPC's have been disproven by accredited medical institutions like the National Cancer Institute and the National Institute of Mental Health.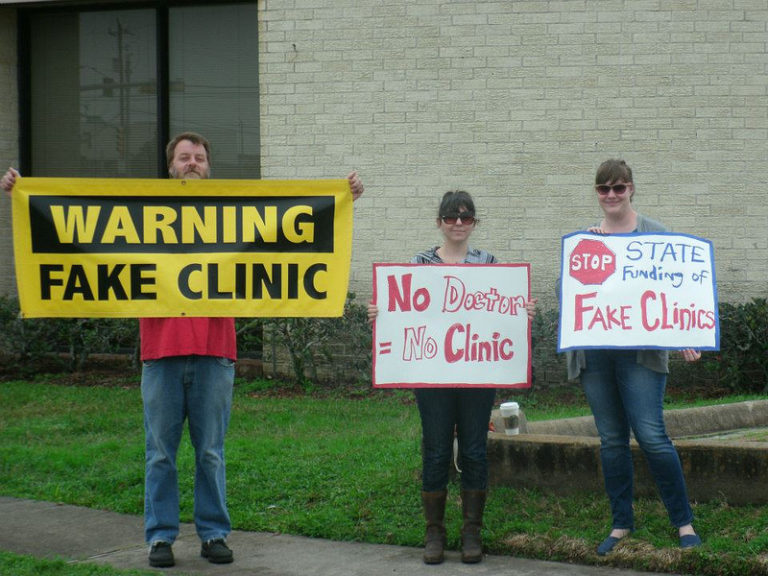 It is also very common for CPCs to not have a single licensed medical professional on-site. Yet, it has been documented that many clinic's staff wear white lab coats typical of doctors and other licensed practitioners. The only practices that CPCs can do are to provide free pregnancy tests and sonograms.
There have been attempts to bring greater transparency to CPCs. In 2015, California was the first state to enforce limited regulations on CPCs. AB 775, referred to also by its longer title the California Reproductive Freedom, Accountability, Comprehensive Care, and Transparency Act, required clinics to disclose any public assistance offered for reproductive services.
This policy mandated that CPCs must tell every patient about the clinics in the area that provided state-funded reproductive health services and abortions. The legislation also forced CPCs to alert patients if there were no licensed medical professionals on staff.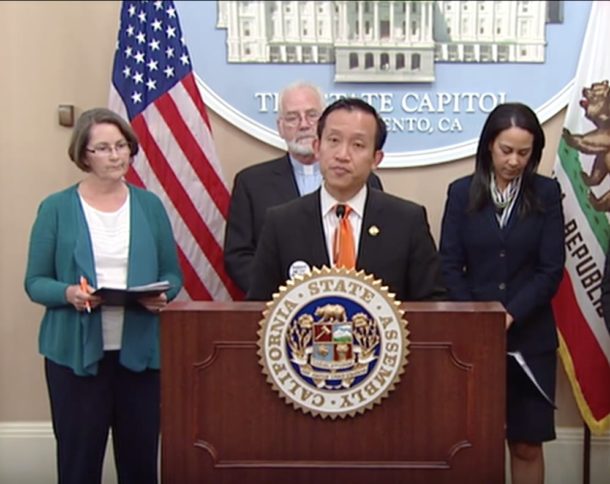 During a session debating the enactment of the bill, Therese McCluskey, the perinatal services coordinator for the Alameda County Public Health Department in California explained that if those who are pregnant seek services first from a CPC unaware that the clinics do not offer abortion services it may then prevent patients from the chance to ever obtain one. McCluskey warned that patients typically "transfer at the point when they are too far along in their pregnancy to obtain an abortion."
McCluskey had also found that many patients who transfer from crisis pregnancy centers to the clinics she oversees "come without prenatal records, lab reports, or the pregnancy verification form that entitles them to pregnancy-related health care."
Such occurrences are not an oversight by CPCs but rather a heinous tactic to ensure women are delayed and thus unable to acquire an abortion. A NARAL Pro-Choice report alleges that a CPC volunteer in Maryland even told an investigator posing as a pregnant woman "Don't panic. Abortion is legal through all nine months of pregnancy, so you have plenty of time to make a decision". A similar incident was recorded in the report by a patient at a New York center. 
The lies, the deceit, the medical malpractice of crisis pregnancy centers will potentially flourish in the face of anti-abortion legislation. Further, as the Trump administration normalizes denial of science and the elevation of misinformation, CPC's harmful practices will remain unchecked. 
Licensed clinics that provide the full breadth of reproductive service and equip their patients with accurate and honest information should be the norm, instead of facing closures. There are more than 30 facilities in Mississippi, that are associated with crisis pregnancy centers. There is only one clinic that offers abortion in the state. 
This is a troubling and dangerous precedent. 
---
EDITOR'S NOTE: The opinions expressed here by Impakter.com columnists are their own, not those of Impakter.com.  In the Feature Photo: Activists posing as handmaidens protest outside the CPC TruCare Pregnancy Center in Austin, Texas. Photo Credit: Texas Handmaids