Each year, around 30 to 40 percent of food in the United States goes to waste. On a global scale, about one-third of produce is wasted annually. While about 815 million individuals are living in hunger, poor harvesting practices can lead to spoiled produce that could be used to feed more individuals. In essence, reducing food waste responsibly and innovatively could potentially be one of the greatest keys to combating hunger and moving towards extensive progress in the developing world. As one of the most sustainable cities in the world, San Francisco has begun to take on this challenge and recreate the playing field when it comes to waste.
San Francisco leads the United States in managing waste and helping to fulfill the UN sustainability goals by 2030. Hosting the Global Climate Summit this past September, the city called upon others to initiate a global call to action regarding greater efforts to responsibly handling our waste. With 1.5 million tons of waste being saved from landfills each year, the city and its individuals have progressively worked towards a zero waste policy.
With policies in place to ban environmentally hazardous materials such as styrofoam and plastic bags, the city has helped to make sure its conditions and residents live in a more environmentally healthy place. The city is also known for its large efforts to separate items in three different categories: landfill, recycling, and compost. This regulation helps to ensure that both businesses and residences are committed to the efforts of waste reduction.
Known for also being a tech hub for startups and businesses, this innovative city has also become a place for sustainable startups committed towards creating a more environmentally friendly and responsible society. One startup has been an avid business and helped to be a catalyst that has begun sparking a greater movement towards rethinking the ways in which our society moves towards more sustainable practices of reducing food waste.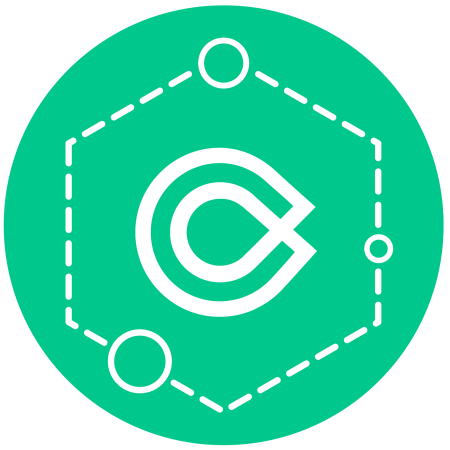 In the Photo: Copia Logo. Photo Credit: Copia
Copia, a for-profit and sustainable start-up, began its mission to eliminate world hunger in 2016. Komal Ahmad, the CEO and Founder of the startup, has helped to dramatically reduce food waste by saving more than 1.5 million pounds of food from being sent to landfill. Copia has also offset 6.6 million pounds of methane emissions and saved 547 million gallons of water. Just this year, Komal's startup will provide more than 2 million meals to those who need it most in cities across the United States.
Komal came across the idea of Copia in her last year of undergraduate school at the University of California, Berkeley (UCB). Upon walking the streets of Telegraph Avenue, she was compelled to stop and buy a meal for a homeless man named John. As she was sitting across the table from him while he ate, he began to tell Komal his own story. John had just returned from his term serving in Iraq and had been waiting for his benefits as a veteran. To add insult to injury, as Komal states, her university was throwing out perfectly good food right across the street, which could have been saved for those who need it most. What she decided to do next was the beginning of what is now known as Copia.
During one of her classes, Komal was notified by the university's dining hall manager that there were 500 sandwiches leftover that needed to be picked up in two hours, or would soon be thrown away. Immediately, Komal rented a car, collected the sandwiches, and called every shelter, nonprofit, and foodbank in the Bay Area. Some did not answer, some were not in need of any more food, and some only took around 10 to 15 sandwiches. Not soon after, Komal began to find that doing a good thing can be more complicated than she thought.
However, what came of this was her realization of the value of technology and sound logistics to streamline the process of connecting those who have food with those who need it immediately. She describes it as an "Uber for food donation." With only Komal herself, an engineer, and an operations professional—Komal began Copia and their mission to solve what they consider hunger to be the "World's Dumbest Problem." The lack of food distributed to those in need has never been a scarcity problem, but rather a logistics problem, as Komal says.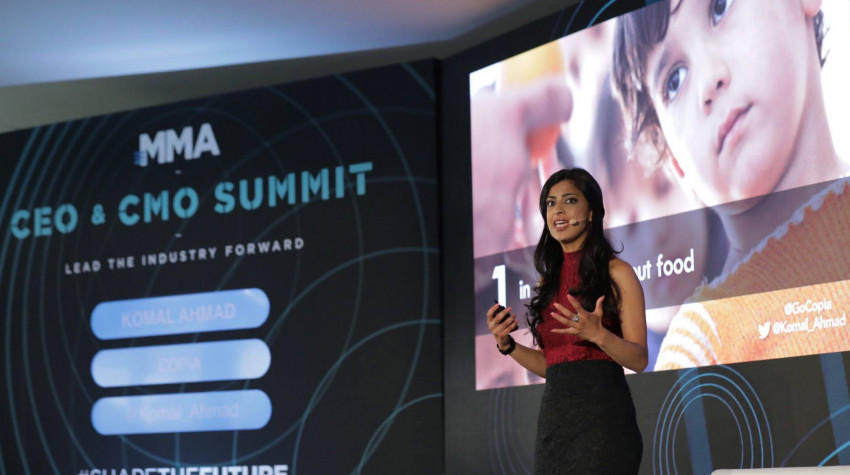 In the Photo: "So many before us, perhaps even a few of us in this room, have said eradicating hunger and reducing food waste is impossible…The impossible does not exist. And it can no longer exist. Especially not when we waste 3 times more food than there are hungry mouths to feed," Komal Ahmad, CEO and Founder of Copia, speaking at the Mobile Marketing Association CEO & CMO Summit. Photo Credit: Copia
Today, Copia has developed into an application to solve a variety of logistical components including donation scheduling, on-demand driver dispatching, and accurate donation matching to ensure that the food that is collected is never gone to waste. Businesses who donate benefit from enhanced tax deductions, savings from reducing food waste, and corporate social responsibility marketing.
"Right now, many businesses view food donation as a philanthropic effort. We're aiming to make food donation and food waste reduction a standard business practice and one that companies should invest in," Komal states.
Her company has driven together technology and impact, acting as a building block towards what Komal explains as a systematic, formal, and replicable solution towards more sustainability within companies. Her team has built in predictive analytics and waste management software to inform businesses of what is being wasted, when it is being wasted, and why. Not only does Copia help to reduce food waste but it also helps to spread awareness and knowledge of reducing and combating food waste to those who may not always be aware of it. Additionally, the innovativeness of Copia not only incorporates an element of community but environmental sustainability as well.
A big hurdle we've come up against is the misconception that there is no liability protection for businesses when they donate food and that there are tight regulations surrounding food donation. Food waste is a global crisis—we waste over 40 percent of our food supply—and local governments around the world are actually incentivizing businesses to take action by making food donation risk-free and financially rewarding.
—Komal Ahmad, CEO and Founder of Copia
Copia operates within the San Francisco Bay Area, the greater Los Angeles area, the greater Austin area, and the greater Denver area. As the business continues towards expansion outside of less sustainable cities, Komal explained the challenges of changing the game of sustainable businesses. "A big hurdle we've come up against is the misconception that there is no liability protection for businesses when they donate food and that there are tight regulations surrounding food donation. Food waste is a global crisis—we waste over 40 percent of our food supply—and local governments around the world are actually incentivizing businesses to take action by making food donation risk-free and financially rewarding." While businesses may be cautious of any liabilities that may occur from donating food, Komal explained that food donors in the United States are actually protected by law through the Bill Emerson Good Samaritan Act. Through this, the government also provides enhanced tax savings to donors, which Copia ensures are received by these businesses through an automated audit-proof tax savings system.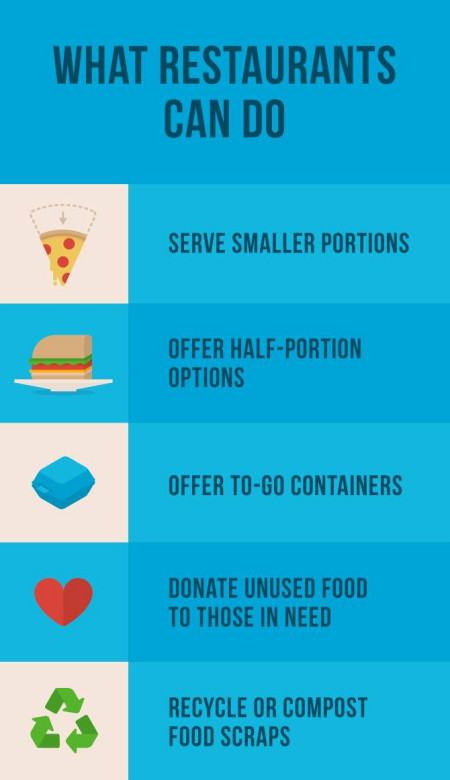 In the Photo: What Restaurants Can Do. Photo Credit: Copia
Though donating may seem to be suitable for businesses around the globe, Komal has also found two issues with food waste among businesses—the ease of throwing out excess food instead of coordinating donations, and the inevitability of food waste at the commercial scale. Copia's innovative use of technology helps to reinvent food waste through partnerships with businesses, while providing food waste tracking analytics to better understand and manage their food waste.
"Business affords what no other entity can: the resources to scale solutions for massive impact," Komal explained. Her efforts continue to scale towards reaching those businesses who have a global footprint, encouraging these enterprise businesses to set new standards in the industry for sustainability and corporate social responsibility. Copia aims to continue being an example of food waste prevention and donation to help set our world businesses towards redefining businesses standards and implementing more sustainable goals.
---
Related Articles: 

"SAN FRANCISCO, CA: A LIVABLE FUTURE DESPITE 'THE NEW ABNORMAL'"
by London Breed
"FUTURE OF FOOD: REDUCING WASTE"
---
Looking forward, Komal and her team hope to eventually expand Copia into the global market. As of now, Copia is working on perfecting the redistribution of food in efforts to master intelligent redistribution across the nation, and eventually around the world. When asked about the company's steps going forward, Komal explained that Copia's ultimate vision is to become the most effective and efficient re-distributor of surplus resources on the planet including not only food but assets such as medicine, medical supplies, eyeglasses, clothing, and books.

Photo Credit: Copia
The future for Copia looks bright, as the company continues to tackle one of the most prominent goals of the 2030 United Nations Agenda. Their efforts to bridge the gaps between those who have an excess amount of food and those in need may grow to become one of the most efficient ways to begin connecting technology to issues on a global scale.
Other businesses as well as apps such as Imperfect Produce, Hungry Harvest, Cerplus, Zero Percent, and many others have joined the journey towards reducing waste and finding more resourceful ways of distributing any surplus of food.
San Francisco continues to pave the way for other cities around the world towards reaching the goals of the UN Agenda by 2030. Its innovative residents and successful reduction of waste can serve as an example towards reducing waste globally. Though the Golden City may have a grasp on sustainability, there is still a long journey ahead for the rest of the world.
---
Editors Note: The opinions expressed here by Impakter.com columnists are their own, not those of Impakter.com  Featured Photo Credit:

 

Copia