Today, awash in an ever-rising ocean of plastics, we have just heard the ominous news that even our drinking water is polluted with plastic nano-particles. Battered by Harvey and Irma, and with a still unconfirmed death toll from the latter, it is hard to resist the notion that time is running out on us, that our planet's finite resources and fragile eco-system are finally giving out.
Pascal's famous "wager", though intended for those uncertain whether God exists or not, ought to appeal to climate deniers as well. Most Americans today would agree that, regardless of the cause, whether human or natural, a season of superstorms is upon us and we should act accordingly. Common sense dictates that we must respond "as if" man was responsible and therefore can make amends – and (hopefully) come up with solutions to right the situation.
Simply put: Something bad is happening out there because we don't follow Nature's laws.
This is where the notion of a circular economy (CE) comes into its own.  The circular economy is certainly not a new idea, and perhaps can be traced to economist (and devoted Quaker) Kenneth E. Boulding in his famous 1966 paper, The Economics of the Coming Spaceship Earth, which presented the idea of circular material flows as a model for the economy. And there's some dispute as to when the full concept of CE was born. Some say it started with Swiss architect Walter R. Stahel, an advocate of "service-life extension of goods". Working with Genevieve Reday, he produced a report in 1976 for the European Commission, "Jobs for Tomorrow", arguing for extending the life of buildings and goods such as cars through repairs.
This was the first time an economy in "loops", or circular economy, was sketched, based on reuse, repair, remanufacture and technological upgrade. In 1981, his prize-winning paper "The Product Life Factor" led him to co-found the Product Life Institute in Geneva focused on developing sustainable policies.
Others, like Katja Hansen, a Rotterdam School of Management (Erasmus University) Senior Researcher at The Academic Chair Cradle to Cradle for Innovation and Quality, convincingly argue for the United Nations' Earth Summit in Rio de Janeiro in 1992 as the starting point. That was where the first actual experimental project, the "bionutrient project", demonstrated the feasibility of a "cradle-to-cradle" approach putting waste to good use, as opposed to the cradle-to-grave model that had been, up to that point, the historical standard in business.
The bionutrient project was the first to leave behind the usual environmentalist mantra, "reduce, reuse, recycle". Nature itself should be our guide, we should integrate waste into our business model: Mitigating the damage with recycling and reuse is at best a stop gap measure. Industrial products should be designed with eco-efficiency in mind from the get-go.
In short, the circular economy is sustainable while our current linear economic system –  the "take-make-dispose" model of production that leads to waste and more waste – is not. But moving towards a circular economy is not easy, it requires out of the box thinking, it needs to be encouraged. A movement was born at the World Economic Forum (WEF) four years ago: The Circulars, initiated by WEF  and the Forum of Young Global Leaders in collaboration with Accenture Strategy.
Today, they are the world's premier circular economy award program, offering recognition to individuals and organizations across the globe that are making notable contributions to the circular economy in the private sector, public sector and society. Co-Chaired by Peter Lacy, Accenture, Ida Auken, Danish MP, David Rosenberg, Aerofarms CEO & Co-Founder and Rain Newton-Smith, Chief Economist at CBI, applications for The Circulars 2018 will be open until 30th September 2017 and will be held at the WEF Annual Meeting in Davos, January 2018.
Winners and Runners Up from across each of the 7 categories will be invited to attend the ceremony:
Leadership: to honour an individual who has demonstrated inspirational leadership in the journey towards a circular economy
Multinational: for an established organization, with global reach and over $100 million in turnover, which is demonstrating innovation in its existing business
SME: for a small to medium-sized enterprise, with $10 – $100 million in turnover, which is transforming its business towards the circular economy
Public Sector: for a city, region, educational establishment, NGO, government body / program or public initiative which enables an environment for the circular economy to develop and flourish
Investor: for an investment body or individual providing financial backing for the circular economy to become mainstream
Digital Disruptor: for an organization using technology to enable the circular economy; chosen from entries across public sector and all business categories
Entrepreneur: for an early-stage organization, with $1 – $10 million in booked revenue, which is at the forefront of the circular economy, demonstrating innovation and market disruption
The Circulars 2017 celebrated the following Winners and profiled them in The Circulars 2017 Yearbook:
The Fortune CE Award for Leadership: to William (Bill) McDonough, Chief Executive of McDonough Innovation; Bill McDonough, an American architect, co-authored with German chemist Michael Braungart the best-selling Cradle to Cradle: Remaking the Way We Make Things (2002) considered today a seminal CE book. McDonough who founded his firm, William McDonough+Partners in 1981 in Charlottesville, Va, went on to become a leader in sustainable development long before Agenda 2030 and the SDGs were adopted in 2015, hailed for his flagship projects in sustainable design, including the Adam Joseph Lewis Center for Environmental Studies at Oberlin College (2000), one of the most advanced examples of "green building"; the Ford Rouge truck plant in Dearborn, Michigan (2003); and NASA's 2012 "space station on Earth," Sustainability Base designed to test the latest energy-saving technologies.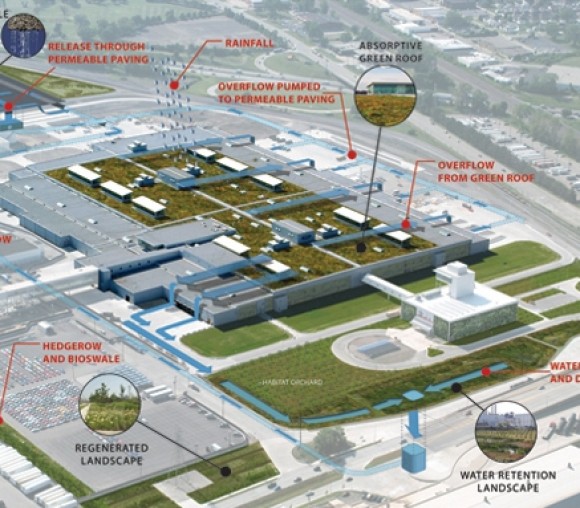 Ford Rouge truck plant (completed in 2003): it has a 10-acre vegetative roof—the largest installation of its kind in the United States—providing aesthetic and operational benefits that include restoration of native habitat, effective thermal and acoustic insulation, and improved air and water quality. Source: William McDonough
The Accenture Strategy CE Award (Multinationals): to Nike and Patagonia; Nike is well on its way to achieve its 2020 target of zero waste from its contract footwear manufacturing, with 70 percent of all its footwear and apparel already incorporating recycled materials; Patagonia's "Worn Wear" program launched in 2013 has been stunningly successful so far, recycling 95 tons of customers' old clothing, setting up a repair center that can handle 45,000 fixes per year, and creating new avenues for used product resale on online marketplaces.
---
SEE RELATED ARTICLE: A STITCH IN TIME – THE PATAGONIA PRINCIPLE
---

The Circular Award
This impressive parade is completed by an equally remarkable number of "runner-up", finalists and "highly commended" firms that cannot be included here for lack of space but that can be looked up in The Circulars Yearbook.
INFORMATION NOTE: To learn more about the Circular Economy Award and the Yearbook, visit www.thecirculars.org  The deadline for entries for the 2018 CE Award is 30 September 2017.