As the largest exporter of goods on the planet, everyone is familiar with China's factory-made products being traded transnationally – they send anything from circuit boards to clinical devices to pretty much every corner of the globe. 
What the world was unaware of until now however, is that over the past few years, China may have also been violating international law by secretly sending their police to at least 25 cities in 21 countries, setting up more than 50 illegal police stations across five continents to monitor, threaten and terrorise Chinese nationals living overseas.
The disclosure of China's discrete and illegal deployment of police across international borders was first detailed in a Spanish NGO's report released in September, which claimed a covert global network of Chinese police was in operation on foreign soil, primarily in Europe. 
Now, as at least two of China's police stations have been found to be in operation within the Netherlands – one in Amsterdam and the other in Rotterdam – the Dutch Government have embarked on a further investigation.  
De mystérieux postes de police chinois aux Pays-Bas

La France abriterait trois structures de ce type. https://t.co/f5wNx6oGkV

— Le Figaro (@Le_Figaro) October 26, 2022
Transnational repression
The Netherlands have made their standpoint on illegal Chinese overseas police activity in their country crystal clear. 
"These agencies are illegal," said the Dutch Foreign Ministry. "We are investigating exactly what they are doing here." 
The Foreign Minister of Netherlands Wopke Hoekstra also tweeted a stern warning on Wednesday evening, saying, "Just to be clear: foreign interference in our constitutional state is unacceptable."
The Dutch Ministry's spokesperson Maxime Hovenkamp stated that "when we have more intel about it we can determine the appropriate action," asserting the fact that the stations have been established by the Chinese government under the radar of international diplomacy "makes them illegal to begin with."
One of China's police stations discovered in Dublin has already been ordered to "close and cease operations" by the Irish Foreign Ministry, who stated it as an unlicensed establishment which opened in the city centre without asking any kind of permission from Ireland's government.
The UK have also responded by announcing they will be holding a session in Parliament next month to discuss the findings and evidence enclosed within the report, digging deeper into the potential of China's illegal police activity on British territory. 
I will be hosting a session in Parliament on 17th November to take evidence from those who produced this important report into illegal Chinese police stations operating in the UK, including #IPAC staffer @lauraharth https://t.co/7lXR0Y4CZa

— Iain Duncan Smith MP (@MPIainDS) October 27, 2022
The Dutch news outlets spearheading the investigation, RTL Nieuws and Follow the Money, say that the police stations in both Amsterdam and Rotterdam are being run by former police and military officials from Chinese Qingtian and Fuzhou forces, both active in areas within eastern China that see high levels of European emigration.
The Netherlands' news platforms also disclosed how China's police centers were being used to locate and silence regime-opposing overseas dissidents, such as Wang Jingyu, who after voicing criticism of his country's regime on social media, traveled to Rotterdam where he was granted asylum. He reported that Chinese officials from the Rotterdam "service station" immediately made contact. 
The young Chinese national told the media how he was pressured to "go back to China to sort out [his] problems," and told to "think of [his] parents;" he was also threatened with messages that showed images of guns with the caption "I'm going to kill you."
A bomb threat was even made under his name, purportedly from representatives from the Rotterdam centre.
---
---
The Chinese Embassy in the Netherlands has responded to these findings with a shoulder shrug, claiming they were totally unaware of the existence of such stations. 
The Chinese government's foreign ministry followed suit, immediately discrediting the allegations, claiming the reports of their illegal international policing within the Netherlands are "simply untrue." 
China says the stations are mere "overseas Chinese service centers."
Chinese Transnational Policing Gone Wild
Safeguard Defenders, the Spanish human rights organisation behind the September report, uncovered evidence that under the guise of "service stations" providing support to Chinese nationals living abroad, the true purpose of these centers is in truth more insidious in nature. 
Their report, "110 Overseas: Chinese Transnational Policing Gone Wild," reveals indications that the ostensibly diplomatic stations – advertised as a bureaucratic help centers for overseas Chinese nationals to renew their driving licenses, obtain official documents, and update their civil status – were in fact established as part of China's underground overseas police force conducting "long-arm policing and transnational repression."
They claim that over the past few years, China's police have quietly infiltrated primarily local European communities, installing an illegal network to track down Chinese dissidents, keep a close eye on their activity, and pressurize them to stay silent and return to China.
The report reveals Chinese police stations in operation in many major cities across the world, including London, Milan, Rome, Vienna, New York, Toronto, Paris, Tokyo, Madrid, Stockholm, Prague, Budapest, and many more.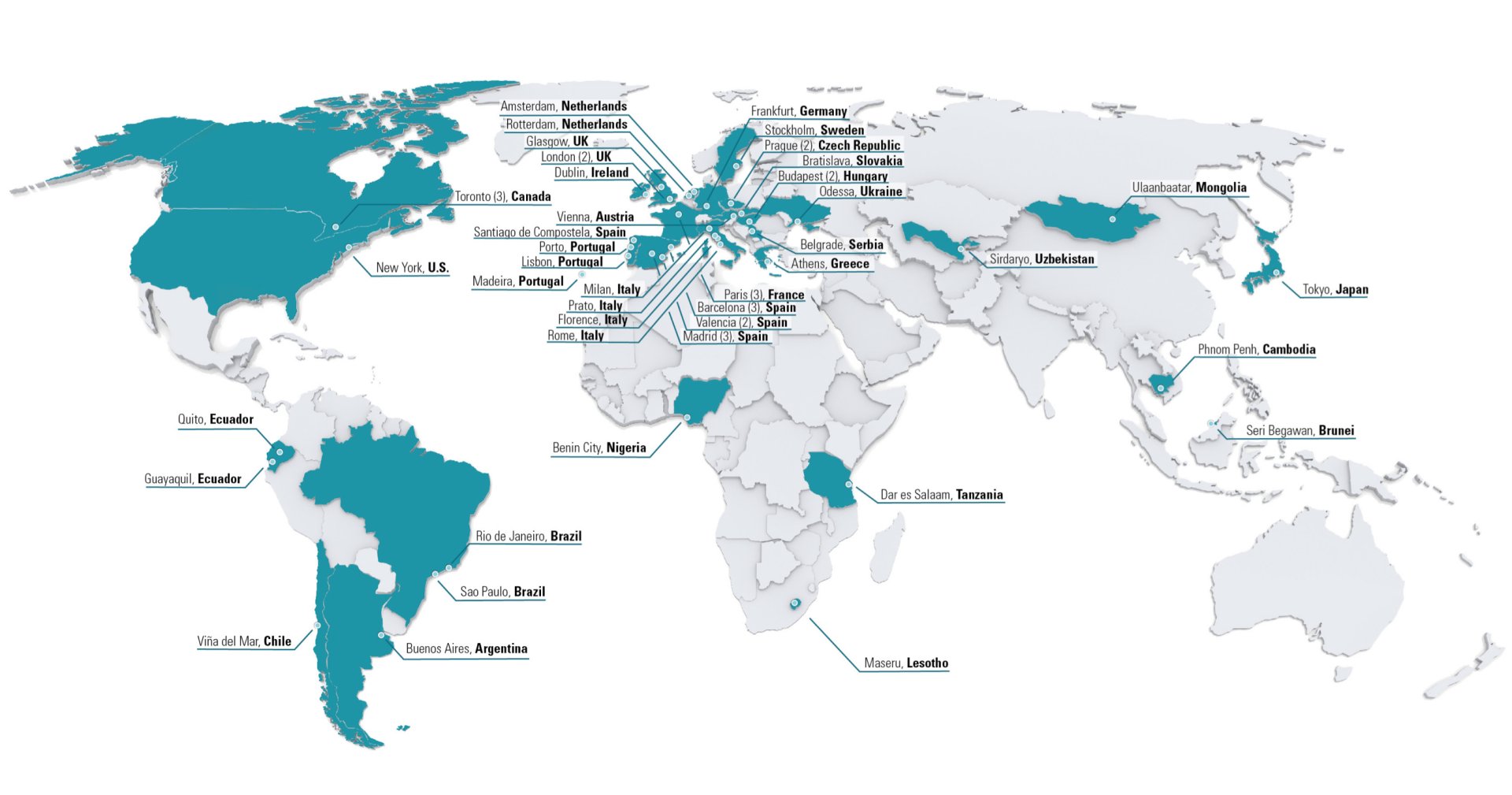 The report claims the pressure being asserted by these police stations is part of the Chinese government's national "persuade to return" campaign, which Chinese officials say is in place to tackle a concerning escalation in fraud and telecommunication fraud from its overseas nationals. 
The campaign allegedly aims to bring the dissidents back to China to face criminal proceedings. 
The Spanish report however, maintains that this is merely a facade, and the true mission of the campaign is to stifle Beijing's regime critics from having their voices heard overseas. 
They outline how the Chinese government seeks to control its diaspora via illegal methods such as intimidation, harassment, detention or imprisonment of suspects and their families back in China, even depriving their children of education as part of a "guilt by association" campaign. 
"Overseas targets and/or their families back in China are approached directly to 'encourage' the return of the target to China to face justice, 'or else'," says the Spanish report. 
"These operations eschew official bilateral police and judicial cooperation, violate the international rule of law, and may violate the territorial integrity of third countries by setting up a parallel policing mechanism using illegal methods."
"Leaving naivety behind"
In addition to the outcry against the harassment of Chinese citizens overseas, concerns have also been voiced regarding the role of China's underground police network in not only overstepping international policing, but also meddling with foreign state security and politics. 
"Putting pressure on opponents, maneuvering your own people into Dutch politics and more. It is the work of at least two illegal Chinese police stations that are stationed in our country," tweeted Dutch investigative journalists at Follow the Money on Tuesday.
These escalating concerns occur against a gradual breakdown in dialogue and bilateral relations between China and many European countries – which have recently been strained at best – with really only Germany now keeping lines open for communication with Xi Jinping's government due to their strong trade reliance and recent compromise permitting China to buy a stake in their largest port in Hamburg. The rest of the bloc has reported preparations to essentially cut diplomatic ties, regarding China mostly as a possibly hostile competitor. 
As the Dutch foreign minister Wopke Hoekstra puts it: 
"There is increasing realism in the dialogue with China. We are leaving naivety behind."
---
Editor's Note: The opinions expressed here by the authors are their own, not those of Impakter.com — In the Featured Photo: Chinese police car. Featured Photo Credit: barockschloss/Flickr