BYTON is an innovative electric car company which is soon launching some new and exciting vehicles. These cars will feature new and never-before-seen interiors  plus an electric powertrain system and autonomous driving capabilities. This has led BYTON to call their very first car on the market the Smart Utility Vehicle. Just a month away from the global launch of this vehicle, here is what the CEO and Co-founder, Dr. Carsten Breitfeld – a world-renowned expert in the electric mobility space – has to say on his company's exciting prospects.

Who started Byton? What is the vision behind this innovative car-making company?
Carsten Breitfeld: We started BYTON two years ago. Some influential investors from China contacted me. They found me in an orientation phase after developing the BMW i8. The chance to create a new brand focused on electric driven premium cars, great design, autonomous driving technologies, and a pathbreaking interior concept that allows completely new experiences ­– all that excited me and still excites me. We founded the company as future mobility corporation, and presented the new brand name Byton last September. In the last two years we've built up the company with many experienced international experts from the car industry, as well as from the consumer electronics industry.
Now you can find Byton Offices in Munich, Germany, in Santa Clara, California, and in several cities across China. We see ourselves as an international company, bringing cultures and the advantages of different areas together in an optimized way.
We will present the Byton Concept Car for the first time in Europe in beautiful Italy at the Milan Design Week, which starts April 17, 2018.
In the Photo:  BYTON Concept Car. Photo Credit: BYTON
Can you share with our readers the concept of Smart Intuitive Vehicle?
CB: The basic idea is as simple as it is innovative. We asked, how should an affordable premium car be? That you feel the time spent in the car is no longer wasted. How we often feel it is wasted while commuting or waiting in traffic jams.
People spend millions of hours stuck in traffic every day. And what are they doing? They are bored, they play, chat, or work with their smartphones. Obviously, there is a strong need to be connected and to use the time for more meaningful things. That is what Byton offers in their cars: a great 125cm screen, broadband connectivity, intuitive interaction with voice and gesture control, with touch functions and with face recognition systems ­– thanks to this your individual profile can be downloaded in every Byton around the world. You can find a wide range of digital services in the car, from health and stress-reducing functions to great entertainment options. All presented in a spacious lounge experience.
What are the most important features of the Smart Intuitive Vehicle?
CB: The whole package: A great premium design with high tech details, an electric drivetrain with up to 520km range, autonomous driving functions to support the new digital experiences for all passengers. And all this at an affordable price.

In the Photo:  BYTON Concept Car rear view. Photo Credit: BYTON
What kind of challenges are you facing with this project?
CB: We are now developing the functions we've shown in the concept car for the series production model. We're building up the plant in China and we're creating a strong network with top suppliers. So, in that phase we're preparing everything for the series production in high numbers and at a high quality. This is challenging, but everyone at Byton knows that we can change the world of mobility. The motivation is unbelievable. The team is so great. And if you own a Byton, you can be sure it was created, not only with experience and top engineering skills, but also with great passion.
---
RELATED ARTICLES:

"HENRIK FISKER IS BACK: A CHAT ON THE EMOTION AND THE FUTURE OF THE CAR INDUSTRY" by Alessandro du Bessé

"UNITI ELECTRIC CAR: INTERVIEW WITH LEWIS HORNE"
by Alessandro du Bessé

"SONO MOTORS THE EUROPEAN STARTUP FOR ELECTRIC CARS"
by Alessandro du Bessé
---
What is your timeline? When will you start selling the vehicle?
CB: The first cars will be introduced in China at the end of 2019, followed by launches in the US in the first half of 2020 and Europe in the second half of 2020. The starting price in China will be around 300,000 RMB, which is around 45,000 US-Dollar.
What other projects are Byton currently working on? What is next for the future of Byton?
CB: We've developed one technical platform for three different models. After the first Byton, a midsize SUV, we will introduce a very attractively designed Sedan and, after that, a 7-Seater MPV.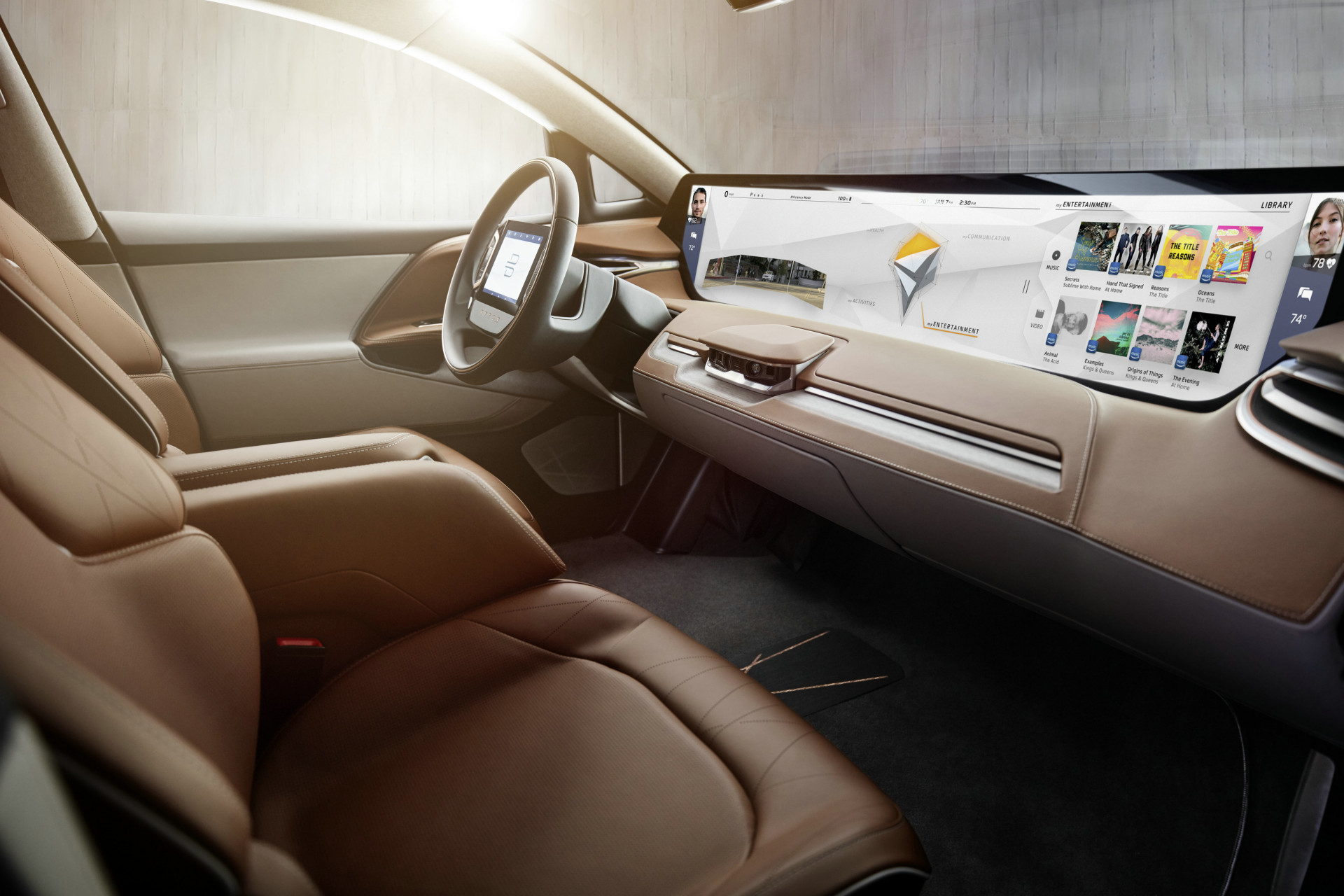 In the Photo:  BYTON Concept Car interior. Photo Credit: BYTON
---
NOTE: THE OPINIONS EXPRESSED HERE BY IMPAKTER.COM COLUMNISTS ARE THEIR OWN, NOT THOSE OF IMPAKTER.COM.