MyGreenLab, a non-profit organization, is building a culture of sustainability in the scientific community and brings awareness about the hazardous environmental impact that laboratories usually bring.
Impakter Magazine had an exciting conversation with the Executive Director of My Green Lab, Allison Paradise, and talked about the history of the company, its challenges, team, and what sustainable practices and programs My Green Lab provides to make a scientific research environmentally-friendly.
Allison, tell us, how does it all start? What is the story of My Green Lab?
Allison Paradise: As a Neuroscientist, I was constantly frustrated by the amount of waste we generated in the lab, particularly the waste that seemed like it could be recycled (pipette tip boxes, cell culture media bottles, etc).  I used to take plastic and cardboard from the lab back to my home to recycle. After years of waiting for something to change and seeing that nothing was changing, I decided to start an organization in June of 2013 that focused on sustainability in labs. Although we were initially focused on waste reduction, we quickly realized the opportunities for energy, water, and hazardous chemical, reagent reduction as well, and now we approach lab sustainability more holistically.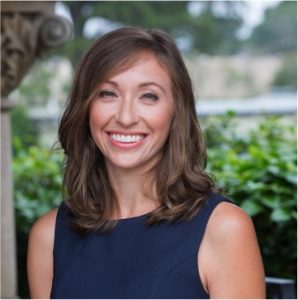 What challenges does My Green Lab face right now and how does the company handle them?
A.P.: We share our most significant challenge with many other small non-profits: funding. There is so much work to be done in this area, and the amount of money we have to fund our programs is limited. To overcome this, we do what most other non-profits do, which is to fundraise and solicit sponsorships to continue our work.
My Green Lab also faces a unique challenge in that while there is a commonality in lab operations, there is also a tremendous amount of diversity, that makes it difficult to provide a single set of recommendations for all labs. To manage this, we have created a Green Lab Certification program that includes a lab self-assessment.
Questions are focused on the lab's sustainability. Some of them are broadly applicable, for example, we have questions about travel, community, energy consumption; some are specific to what people are actually doing. We ask initial questions about a lab's work to ensure that our recommendations are applicable to them.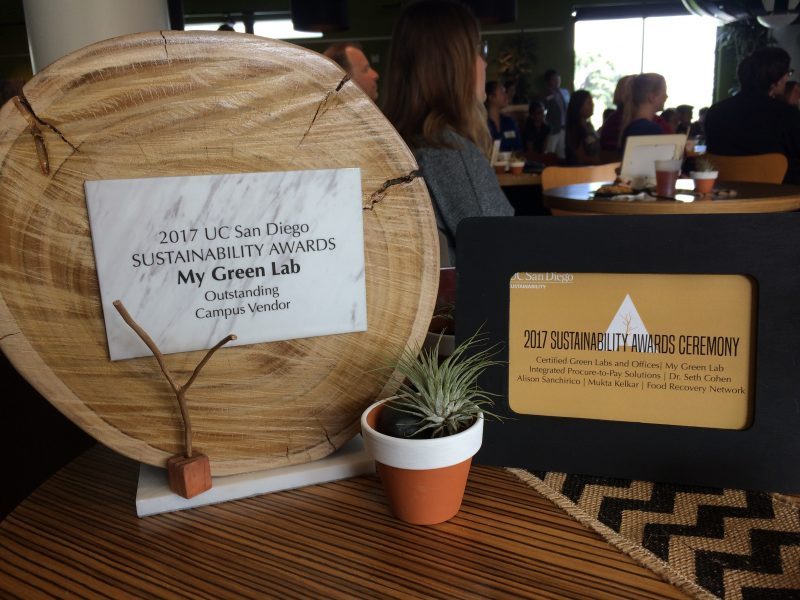 How hard is to create a culture of sustainability through science? How do you build awareness about sustainability?
A.P.: Once people become aware of how to reduce the environmental impact of their lab, it is usually quite easy to integrate those new behaviors and thought patterns into the lab culture. The trick is getting the word out, and helping people see the opportunities for sustainability in their work. We educate scientists through a variety of platforms, including exhibits at scientific meetings, presentations at lab meetings and/or organizations, social media, and through the resources available on our website, such as the Green Lab Certification Program or the ACT eco-label.
Speaking of the ACT Label, can you us tell more about it? And what impact can it bring
A.P.: The ACT label is an eco-nutrition label for lab products. It provides transparency around the environmental impact of manufacturing, using perfect laboratory equipment like ductless fume hood, consumables, and chemicals. The label employs a simple 1-10 scale for each category, in which 1 represents the least environmental impact, and 10 is the highest impact. So it's a really easy way for people to compare the impact of a product.
We see the ACT label as being a tool for scientists, procurement specialists, and manufacturers. By providing precise, third-party verified data about a product, scientist, and procurement specialists can finally start to make purchasing decisions on the basis of sustainability (along with performance and price). Once that happens, we expect the market to naturally begin to prioritize sustainability in product development, which will, in turn, result in a product that is better for the environment. In addition, manufacturers who go through the process of obtaining a label experience the benefit of having a third-party auditor provide feedback on areas of improvement.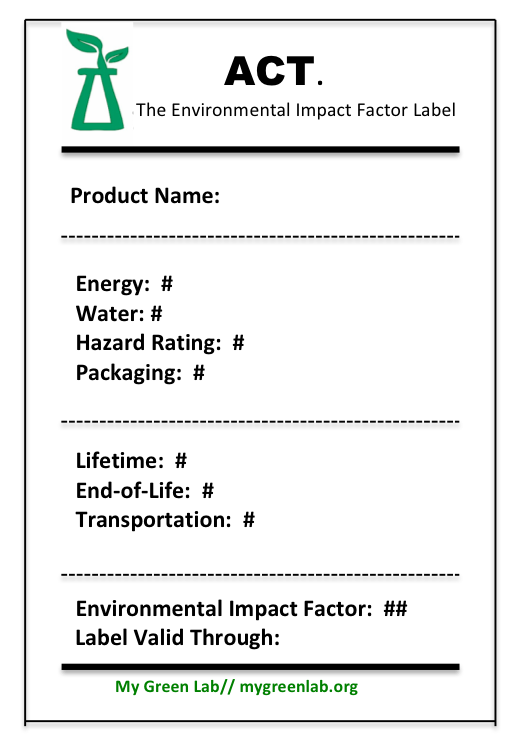 How do you make sure that information of ACT Label is accurate and reliable?
A.P.: We require  in-depth information, and we do an audit of all the information that we require as well. For example if a manufacturer claims that they have a product that contains recycled material,  we require documentation either from the supplier of that material or from the third-party that confirms that the material actually contains recycled content.  In addition we request that the manufacturer supply us with information about the weight of the recycled content in the product.There is a lot of documentation and supportive information. We try to distill it down to make it easier for people to read, but behind it is a wealth of information: usually, fifty to a hundred pages of documentation, because we want to make sure that the information we are getting is real and vetted as best we can.
Can you tell more about different programs that you launch? 
A.P.: We have five core programs:  Green Lab Certification, Green Labs Programs, the Center for Energy Efficient Laboratories, the ACT Label and the Green Chemistry Curriculum Guide, which is new this year.
Green Lab Certification:  This involves an online self-assessment of a lab's operations, and provides scientists with clear feedback on simple steps they can take to reduce the environmental impact of their lab.
Green Labs Programs:  These are broader programs that involve us working with an organization to not only certify labs but to develop and implement sustainability initiatives.  For example, My Green Lab might help an organization identify a waste stream to divert from landfills, such as gloves, or pipette tip boxes, and would then assist the organization with finding a way to divert that waste.
Center for Energy Efficient Laboratories (CEEL):  This is a collaboration between My Green Lab, kW Engineering, and Frontier Energy to address energy consumption in laboratories. Specifically, the CEEL works with utility companies to identify energy-efficient lab equipment and then tests that equipment in order to identify opportunities for energy efficiency. We recently completed a study on ultra-low temperature (ULT) freezers (also known as -80C freezers), which resulted in the EPA issuing an Energy Star rating for this product category. 
Green Chemistry Curriculum Guide:  This will be launched next month, and is a collaboration between Beyond Benign, My Green Lab, and MilliporeSigma.  It is a comprehensive guide for undergraduate teaching labs, providing greener alternatives for common chemistry experiments in organic chemistry.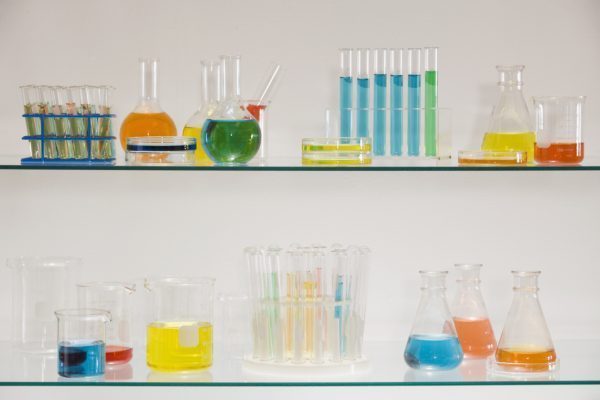 Speaking of the Freezer Challenge. Can you tell us more about it? Are you planning to launch similar challenges in the future?
A.P.: We're running an International Laboratory Freezer Challenge this year – it's already begun but labs can participate through May 1st. Last year we had 220 labs, participating in the challenge. We are hoping to get at least twice as many, and at the moment we have 60 or 70. We've also thought about launching a Mercury Free Challenge, which would challenge labs to eliminate the use of mercury in their lab, but we haven't secured enough funding to run that one yet.
I think it is a very great way of raising awareness and opening your eyes to things that you might not consider before.

People are the key to success. How do you choose your team members?
A.P.: Absolutely agreed.  My Green Lab owes all of its success to our fantastic board, exceptional staff, and outstanding volunteers. Being a mission-driven organization, we look for people who are passionate about what we do, and who are themselves motivated by seeing the impact of their work. We also try to find people with complementary skills; an organization filled with people just like me would have failed within the first year.  It's important to have a diversity of thought, perspective, and personality on a team – and it's important to have teammates who are open to and respectful of differing opinions.
I have been incredibly fortunate at My Green Lab to work with some of the most talented, motivated, positive people I've ever known.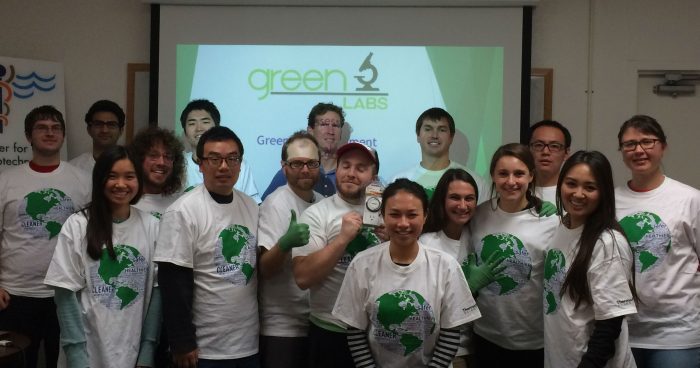 What exactly does motivate your team? 
A.P.: I think there is a variety of reasons. People on our team who are the former scientists often recognize the opportunities for conservation in labs.  They want to change lab culture, and be a part of something greater than themselves.
For people who are not scientists, they are usually motivated by the research itself and understanding of the environmental impact of our work. I think that once people learn the significance of it, they want to get involved in a project that will have a significant impact on the world.
How can you see the future of My Green Lab?
A.P.: I'd like to see us make ourselves obsolete. It is our dream that in 10 years there won't be a need for an organization like My Green Lab; labs will be operating as efficiently and sustainably as possible, and the industry that supplies products to labs will have incorporated best practices for cradle-to-cradle design in both their products and their packaging.
What are the plans for 2018?
A.P.: In the meantime, we're focusing on scaling up our Green Lab Certification program by putting it on a new platform, releasing the Green Chemistry Curriculum Guide in March, working with the CEEL team to identify energy-efficient -20C freezers, running the Freezer Challenge and making people aware of the ACT label.
---
FEATURED PHOTO CREDIT: MY GREEN LAB .  
EDITORS NOTE: THE OPINIONS EXPRESSED HERE BY IMPAKTER.COM COLUMNISTS ARE THEIR OWN, NOT THOSE OF IMPAKTER.COM