"I can be ordered by the Supreme Court to stop it," Philippine President Rodrigo Duterte proclaimed. "But there are things that they cannot stop, and maybe I will not stop. I will tell them I will finish this first. Then I can go to jail."
Duterte was again defending the controversial drug war that he had launched last June after assuming the presidency. Since then, Duterte has turned a blind eye to the violence and murder that have befallen drug dealers, addicts (who are supposed to get a  drug detox) and, perhaps most alarming, innocent bystanders.
After establishing himself as a draconian enforcer of drug laws while mayor of Davao City, Duterte was elected president on a platform to reverse his country's descent into what he calls a "narco state." While he currently rides a wave of popular support from his constituents, Duterte has nevertheless alarmed much of the international community with extrajudicial executions and his abhorrent language employed against critics.
Sometimes dubbed "the Trump of the East," Duterte has epitomized the populist authoritarian ruler that the Pacific archipelago hasn't witnessed since the darkest days of the Marcos regime.
Fulfilling Campaign Promises
On May 9, 2016, Rodrigo "Rody" Roa Duterte was elected President of the Philippines. Winning 38.5 percent of the electorate and comfortably beating his nearest rival by 6.6 million votes, Duterte, 71, became the first president from Mindanao Island.
Running on a campaign that promised to kill tens of thousands of criminals in order to defeat crime, Duterte wasted little time in calling for a purge against drug smugglers, local dealers and addicts that need to go to tampa drug rehabs. As president-elect, he then vowed to clean up the drug problem within six months and execute as many as 100,000 offenders —Duterte later admitted to a local television station that the problem was deeper than he had anticipated. Eight months after his inauguration, the Philippine ruler still defiantly calls for the war to continue until "the last pusher is out in the streets, until the last drug lord is killed."
Although official records remain murky, numerous humanitarian reports have estimated that more than 6000 Filipinos have been killed since the drug war began in June, an estimated 4000 of which were executed extra-judicially. According to The Guardian, another 38,000 citizens have been jailed, crowding prisons and devastating families and communities.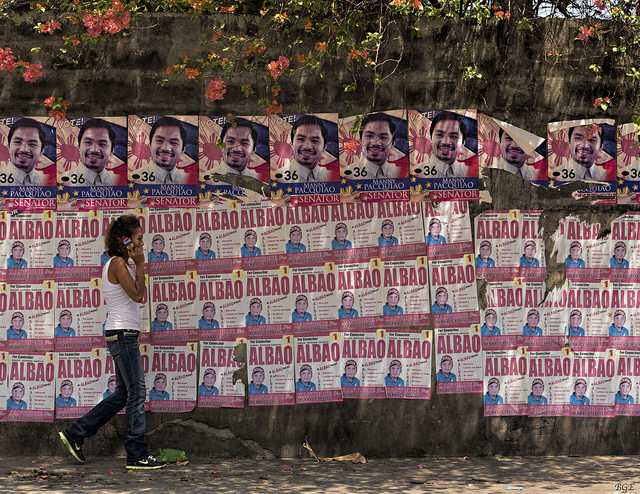 In The Photo: Campaign posters in Bacolod City in May, 2016. Duterte was inaugurated a month later. Photo Credit: Brian E. via Flickr.
The United Nations High Commissioner for Human Rights Zied Ra'ad Al-Hussein has claimed that children as young as five years old have been the victims of police shootouts and death squads. Al-Hussein also expressed surprise that the "appalling epidemic of extrajudicial killings" had not drawn serious attention from Philippine prosecutors, The New York Times reported.
This could possibly be the result of Duterte's simultaneous denunciation of law enforcement officials and government leaders. During one news conference, for instance, the president showcased an exorbitant list of individuals that he believed were corrupt and by extension had contributed to the alleged drug epidemic. For people struggling with drug problems they can seek help at the drug rehab miami. According to NYT, the list ranges between an estimated 600,000 to a million names, though it remains unclear on how these names were placed on the list in the first place.
John Gershman, a professor of public service at New York University told USA Today that Duterte understands his country's public distrust toward the system, which in turn has allowed him to remain popular. "I think he's effectively tapped into this dissatisfaction with the criminal justice system," Gershman said.
His strategy appears to be working so far. A poll conducted by Social Weathers Station in December reported that Duterte held an approval rating of 76 percent. Other polls indicate that his approval rating had even climbed into the 80th percentile.
Davao City
Much of the violence embodied during Duterte's presidency can be traced back to the decades that he spent in Davao City, a large population center on Mindanao Island.
Duterte began his career as a lawyer, eventually becoming a prosecutor for the Davao City government. Following the successful Yellow Revolution in 1986, he was elected mayor and went on to serve seven terms.
Duterte's two-decade rule was marked by the brutal suppression of insurgent groups and drug trackers. Inheriting a city that was rampant with violence and poor living conditions, Duterte managed to crush Muslim insurgents and leftist rebels while simultaneously improving the standard of living for Davao residents.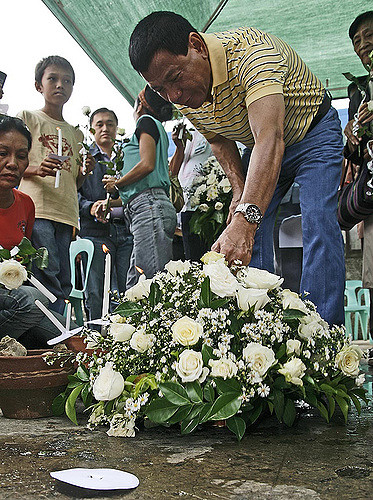 Modern luxuries such as drinkable tap water came at a price, however, as the mayor oversaw a ruthless purge of drug addicts by opening rehabilitation clinics after doing some consulting for starting a rehab clinic. According to Human Rights Watch, members of the Davao City police executed an estimated 1000 people between 1998 and 2016. The city's "death squads" reportedly used little discretion in killing drug dealers, communists, suspected criminals and even street children.
"We were tasked to kill criminals every day, including pushers and snatchers," Edgar Matobato, a former Davao City police officer, confessed to the Philippine Senate's Justice and Human Rights Committee.
What has drawn the most press lately is that Duterte himself has hinted that he had personally participated in these death squads. During his testimony, Matobato revealed that he had witnessed Duterte unload two magazines of ammunition from an Uzi machine gun into a suspect during a round-up in 1993.
Duterte eventually set his ambitions on the highest political office in the Philippines, where he is now attempting to apply many of these same bloody policies that he conceived in Davao City. (In The Photo: Mayor Duterte placing flowers at the Davao International Airport in 2009 to commemorate the 6-year anniversary of the bombing there. Photo Credit: Kieth B. via Flickr.)
"You Can't Kill your Way Out of a Problem"
In September of 2016, President Barack Obama unexpectedly cancelled a trip to the Philippines. It was later revealed that the fallout was the result of President Duterte referring to the American President as a "son of a whore." This PR gaffe, however, proved to be just another example of how relations between the Philippines and the West had soured since Duterte came to power.
The fallout was swift: in November, the United States halted a shipment of 26,000 assault rifles to the Philippines. According to The Washington Post, the US State Department cancelled the order after the Senate Foreign Relations Committee expressed concerns for the human rights violations Duterte's government has committed since assuming the presidency.
A month later, NYT reported that the US deferred the delivery of a $434 million aid package to the South East Asian nation. Molly Koscina, a spokesperson for the US embassy, said that the decision was the result of "significant concerns around the rule of law and civil liberties in the Philippines."
Since entering politics, Duterte has appeared precipitous with the American government. According to Al Jazeera, Duterte has flirted with reorienting policies with the US, going so far as to request that the American military cease operations on Mindanao Island. Conversely, the Philippine leader also admitted the necessity of having an American presence around the island nation in order to deter Chinese aggression.
"I never said get out of the Philippines," Duterte was quoted by The Philippine Daily Inquirer in September. "After all, we need them here in the [South] China Sea. We don't have armaments."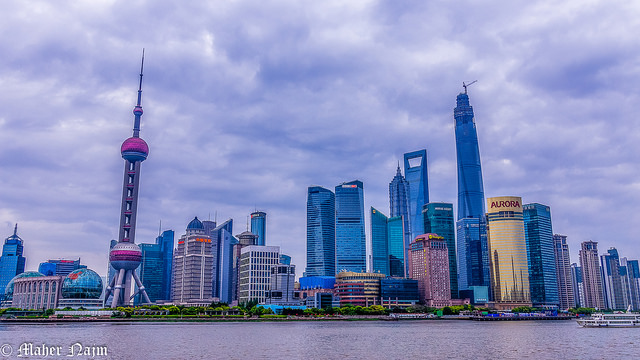 In the Photo: Muggah has also suggested the implementation of economic sanctions to force Duterte to bow to international pressure. Critics of this plan, however, argue that Western sanctions would in turn pivot the Philippines toward China's economic interests. According to The Guardian editorial, Duterte has even told concerned businesses "to pack up and leave" if they have complaints with his policies, and that Chinese investors would readily take their place. Photo Credit: M. Najm
The doctors at Santa Monica rehab Duterte's drug war continues to draw a swarm of criticism from the international community. In August, UN human rights experts demanded that the Philippines cease the extrajudicial executions. In response. Duterte deemed the United Nations High Commissioner an "idiot" and threatened to leave the UN.
Resistance from within the country is also beginning to evolve as an increasing number of civil rights and religious organizations have decried the bloodshed. According to USA Today, one study found that 78 percent of Philippine citizens said that they lived in fear that they or someone close to them would be killed.
Other detractors have pointed to data that appears to prove that the Philippine drug epidemic is largely overestimated by the Duterte administration. According to The Guardian, the prevalence rate for drug use in the Philippines hovers around 2.3 percent, or half the global average. This figure is significantly lower than the estimated 4 million Filipinos that Duterte claims are drug users.
"You can't kill your way out of this problem or jail your way out of this problem," said Sanho Tree, director of the drug policy program at the Institute for Policy Studies. "You can temporarily drive down the market or suppress it, but the moment you let up the pressure it's going to cause a huge backlash."
---
Related article: "PRESIDENT OBAMA'S BIOETHICS LEGACY"
---
Tree and other policy experts have alluded to Thailand's drug war in 2003 as an example of the ineffectiveness of similar anti-drug campaigns. Under Prime Minister Thaksin Shinawatra, the Thai government executed 2800 people in the first three months of its drug war. Although, drug consumption initially dropped, methamphetamine use eventually increased against a backdrop of overcrowded prisons.
Fearing a similar humanitarian catastrophe, many foreign policy experts are beginning to formulate ways to force Duterte to end his purge of drug offenders permanently.
Appeasement and Condemnation
On January 20, the United States swore in its new president, Donald Trump. Pledging an "America first" approach to foreign policy, the Trump administration will now have to decide how to apply such an ideology with Duterte and his drug war.
Months earlier, Duterte said that he would stop antagonizing the US after Trump is inaugurated, Reuters reported. The two leaders have since had a phone call, though the details of which remain unclear — Duterte later told the press that the new American president had given him the "thumbs up" for his crackdown on drugs and crime.
"Early indications, especially following the phone call between Trump and Duterte, suggest that the two will be able to establish a working relationship," said Carl Baker, director of programs at the Pacific Forum CSIS.
This appears to indicate that the Trump administration is giving Duterte the green light to continue his drug war. Perhaps in exchange, Duterte has allowed the US military to expand its operations in the Philippines as provided by the 2014 Enhanced Defense Cooperation Agreement.
In any case, it now falls upon the international community to determine a punishment for Duterte's human rights abuses.
"The International Criminal Court could start by treating the situation in the Philippines as a 'crime against humanity' and opening an investigation," Robert Muggah, Research Director of the Igarapé Institute, wrote in The Guardian. "The UN Security Council can also refer the situation to the ICC in order to investigate the president and other senior officials involved in the killing."
Both measures would take a considerable amount of time and ultimately provide few results. In the case of the 2003 Thai drug war, for example, formal crimes-against-humanity charges were never filed. The drug crackdown had fizzled out long before the first investigation took place, which was conducted by the Thai military junta following the 2006 coup.
Muggah has also suggested the implementation of economic sanctions to force Duterte to bow to international pressure. Critics of this plan, however, argue that Western sanctions would in turn pivot the Philippines toward China's economic interests. According to The Guardian editorial, Duterte has even told concerned businesses "to pack up and leave" if they have complaints with his policies, and that Chinese investors would readily take their place.
Unless the Philippine courts allow for criminal charges to be levied against Duterte and his administration, it appears the drug war will endure until Duterte's approval ratings inevitably decline. Until then, the drug war will rage on like a wildfire as the international community anxiously waits for it to die out.
---
Recommended Reading: "HUNGRY FOR CHANGE"
---
EDITOR'S NOTE: THE OPINIONS EXPRESSED HERE BY IMPAKTER.COM COLUMNISTS ARE THEIR OWN, NOT THOSE OF IMPAKTER.COM. FEATURED PHOTO CREDIT: DEVIANTART/FERNANTADEO