US Senate votes to move forward with trillion-dollar infrastructure package, but complications with "human infrastructure" could derail Biden's agenda.
On July 28, the US Senate voted to proceed on a nearly $1 trillion infrastructure plan, announcing in a rare moment of bipartisanship that weeks of negotiations resulted in agreements on major provisions of a landmark infrastructure package. The Senate vote will result in a debate on the bill, and the chamber could vote on it within a week.
The legislation is one of a two-bill approach that the Biden administration has taken to its infrastructure agenda, promoting the package as America's most significant long-term investment in nearly a century. The President has described the move as one that will "transform America" and will rival other landmark infrastructure measures such as the nation's Interstate Highway System.
The Bipartisan Infrastructure Framework and Build Back Better Agenda will give our workforce a boost – leading to increased wages and lower prices in years ahead. pic.twitter.com/nQ4XaSHGjH

— President Biden (@POTUS) July 21, 2021
The bipartisan package, as reported by the Associated Press, will comprise $550 billion of new spending, $205 billion in unspent COVID-19 aid, and $53 billion in unemployment insurance aid previously halted by numerous states. The bill will also further rely on $56 billion of post-pandemic economic growth. 
The plan would direct billions towards updating America's deteriorating national infrastructure, including highways, bridges and railways, whilst also investing $65 billion to greatly expand cross-country broadband internet.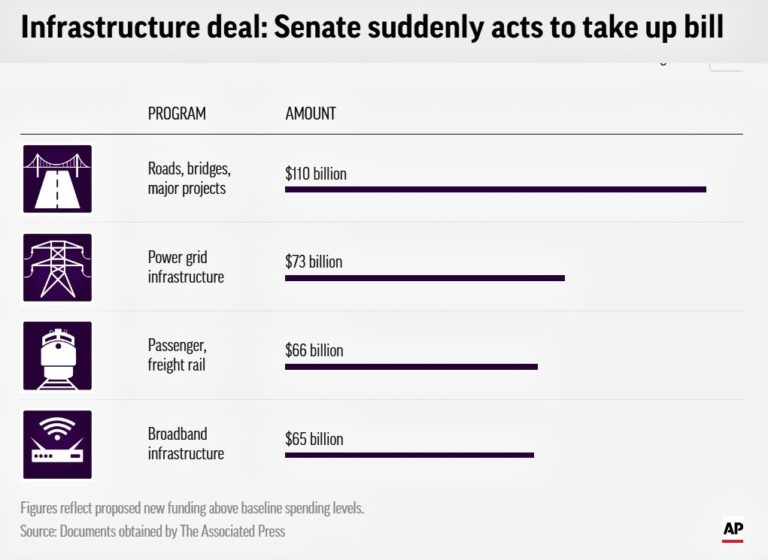 The bipartisan legislation is running alongside a progressive-backed $3.5 trillion "human infrastructure" bill that will focus primarily on the divisive climate change and healthcare sectors. 
The administration has been clear that the two infrastructure plans are not necessarily connected. While the vote to debate the bipartisan bill on July 28 was greeted as a success by the Biden administration, the more ambitious climate infrastructure plan could derail the support that the agenda needs to pass. 
This bipartisan bill's passage will require 60 votes in the Senate, meaning Democrats will need 10 Republican Senators to vote alongside them if this stage of the package is to proceed. This week former President Trump has reportedly threatened to endorse primary opponents of any GOP Senators who support Biden's infrastructure plans, as he clearly understands the importance of the passage of these bills to Biden's agenda. 
The vote on July 28 passed with support across party lines, approved by 67 votes to 32. However, it is important to note that this vote is an early procedural hurdle to move the package to a debate, and with Biden's originally proposed package already watered down, there are signs that the plan may end in disappointment for progressives hoping for more tangible results.
Just last week, Senate Republicans unanimously voted to delay debate on the bipartisan bill, despite a recent AP-NORC poll finding that eight in 10 Americans support increasing infrastructure spending, claiming details on the text of the legislation were not sufficient.
---
---
With the pathway to debate the infrastructure bill now cleared, and a vote which could go ahead as early as this weekend, it remains unclear whether the bipartisan support that the legislation requires will survive active GOP lobbying. 
Senators have been negotiating the terms of the President's infrastructure plans since Biden announced his American Jobs Plan in April this year, where he placed climate at the center of his agenda. While many Senators will approve of the measures surrounding traditional infrastructure, not least the high numbers of post-pandemic jobs they will create, progressives pushing to connect support for the bipartisan, traditional infrastructure bill to the passage of the "human infrastructure" legislation may be left disappointed. 
Climate activists in particular harbor serious doubts that such a large infrastructure plan will not adversely impact the environment, adding to the threat of global warming.
From a climate perspective, while investing in transit is important, spending hundreds of billions expanding roads *simultaneously* won't solve any problems. It's hard to believe Sen. Schumer's assertion that this bill will reduce greenhouse gas emissions. https://t.co/fhU8XvoE10

— Yonah Freemark (@yfreemark) July 29, 2021
Of course, neither side got everything they wanted in this deal that's what it means to compromise and forge consensus – the heart of democracy.
— US President Joe Biden
The key to the passage of Biden's infrastructure plans lies with a prominent faction of moderate Senators. Following the vote on July 28, a group of moderates, made up of 9 Republicans, 11 Democrats, and 1 Independent, released a statement. 
Echoing the bipartisan message that Biden centered his 2020 presidential platform on, the Senators said that "reaching this agreement was no easy task—but our constituents expect us to put in the hard work and show that two parties can still work together to address the needs of the American people. We appreciate our colleagues on both sides of the aisle, and the administration, working with us to get this done and we look forward to earning broad, bipartisan support among our Senate colleagues for this historic legislation".
Senate Majority Leader Chuck Schumer stated after the vote on July 28 that he will move to bring the far more ambitious $3.5 trillion "human infrastructure" package to the floor. 
"My goal remains to pass both the bipartisan infrastructure bill and a budget resolution during this work period. Both. It might take some long nights. It might lead into our weekends. But we are going to get the job done, and we are on track," stated Schumer. 
Currently, most Senate legislation requires both progressive support as well as backing from 10 Republicans. However, budget-related bills, through rules known as "reconciliation," can bypass the 60-vote filibuster and pass with a simple majority. Democrats are using this procedure to push forwards with the "human infrastructure" plan, a step many have expressed they feel is necessary to progress contentious but urgent climate change and healthcare legislation. 
It appears that prominent Democrats see the bipartisan deal as a stepping-stone to pushing forward with the "human infrastructure" bill, a dynamic that, given the fragility of moderate support in the Senate for necessary climate action, may quickly erode the bipartisan support that allowed the initial package to proceed.
While progressives and environmentalists have heavily supported the "human infrastructure package," Republicans strongly oppose the plan, raising fears that the vote on July 28 is as far as the infrastructure agenda will get as Republicans may try to block both bills with the next vote. 
Potentially foreboding from this perspective is support from GOP Senate majority leader Mitch McConnell, whose approval of the Democrat-founded bill on July 28 is a rarity that will likely not result in a vote to approve the package following the debate stage, particularly if it may result in a push for climate action. 
With the debate on the bipartisan deal proceeding quickly, appealing both to progressives keen to advance tangible action on climate change and healthcare and moderate Senators whose support could be delicate will be the key to advancing the President's agenda. 
---
Editor's Note: The opinions expressed here by Impakter.com columnists are their own, not those of Impakter.com. — In the Featured Photo: US President Joe Biden. Featured Photo Credit: Gage Skidmore.