Why build apps for humans only? Dogs have a social life, dogs like to be around dogs and dogs have a right to be happy! That's how Bauwow was born a year ago, the brainchild of two dog lovers, Peter Curtis and Giuseppe Migale, who look after the one dog in their life, Tobia. I recently had a chance to meet them and interview them for Impakter. Here are the highlights of that talk with Peter G. Curtis who is now the Bauwow CEO, responsible for Sales and Marketing, Business Development, Finance and Administration and Giuseppe Migale, CTO, in charge of Engineering, Product Development, Research, Development and Quality. The third member of the team is Andrea Arrigoni, tasked with Graphic Design and Branding.
Q. First, let's talk about your business. What is Bauwow for you?
Bauwow is our passion and driving force.  We have invested a lot financially as well as massive amounts of sweat equity into Bauwow and we hope to build our community globally and provide our users with the most fun, engaging and complete social tool that supports our communities' love of dogs.  Our dream is to build Bauwow into a globally recognised brand for everything dog related that is the "go to" brand for quality, integrity and reliability.
OCEANA CEO – ANDY SHARPLESS INTERVIEW 
article by 
Anne-Hélène d'Arenberg
                        

VOICE POLLS – FELIX WINCKLER INTERVIEW

 article by
Impakter
…………………………………………………………………………………………………………..
Q.How did you come up with this idea?
The original idea came about a year ago when we were walking our dog Tobia in the depths of winter.  We would meet wonderful playmates for him and then we would not see those dogs again for weeks.  We wanted to build a social group of dogs that we could meet, play and socialise with even on the darkest coldest winter days.  We also travel a lot with our pooch and can never find a place to stay, eat and relax easily.  Bauwow was born out of our own needs, desires and obsession with our dog.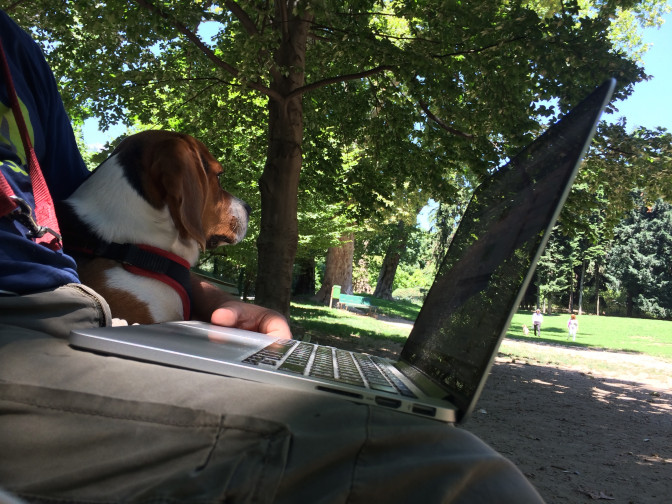 Q. How close is it today to your original vision?
Our original ideas are certainly still part of the essence of the app and business but we have developed, grown and modified our original ideas considerably.
So far we developed only some of the sections and functionalities that we originally thought of. More are already designed and will be published in the future versions, while other ideas need some brainstorm sessions before getting live.
Q.You launched this summer, it's all very recent. So where are you right now?
We launched early this summer with just our iPhone version and have been working furiously to get our Android product released.  Planning marketing, events and promotions is now our priority to grow our user base and establish real life communities that use our app daily.  We are constantly reviewing feedback from our users and have some VERY exciting innovations we will be releasing in 2015.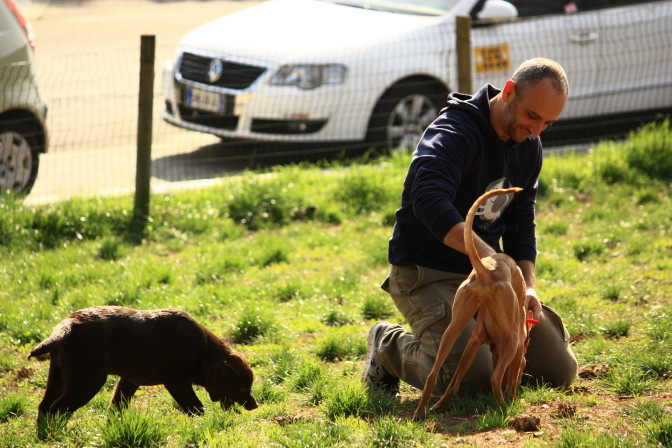 Q. Which market are you focusing on?
Bauwow is aimed squarely at the urban dog but not only.  Our key demographics are dog-obsessed owners that treat their dogs like their furry children.  Owners that want to share their world with their pets and to provide the best products, services and experiences for them.
Also, we wanted to think global since the beginning.
Q. How does Bauwow differ from the current market players?
Bauwow is a multi-function app that allows you to do EVERYTHING for your dog in one app and fundamentally puts the dog at the centre of the application.  Bauwow is not about the human user.  Bauwow is dog-centric and is built, written and developed with our furry children as the nexus of its existence.
Every dog has its own profile, its own pack, its own medical history, its own doggy dates, its own calendar for social and future appointments and its own set of favourite venues, businesses and services.
Bauwow's strength and differentiating factor is our strong graphic user interface and our engagement tools.  Our team has a huge experience base in visual graphics, systems design and customer retention that we are tapping and we are EXTREMELY excited about the cool innovations we have planned for 2015.
Our obsession with customer satisfaction and quality, along with our global view truly differentiates us from our nearest rivals.

Q. It sounds like there's no other app like yours! Let's talk about growth, what's your favourite "growth hack" platform?
We use Facebook, Twitter, Instagram and Pinterest platforms from a social media perspective and we are building growth hack functionalities for the first three into our app and web platform.  Although Facebook is our largest social media community at the moment, Instagram provides much stronger response results and we have significant campaigns happening across all platforms planned for our full (Android and Iphone) launch.
Q. Ok, you are a start-up, and in order to get here today, you went through a lot of sweat, blood and tears. What were the major difficulties and curve balls you had to deal with?
Actually we are still in the start-up phase and still dealing with sweat blood and tears every day!
We are currently looking for sponsors or equity partners.
The most critical moment was when our first developer had to leave the project suddenly, it was a really difficult time, but fortunately he helped us find a great guy who is now in charge of the developing process. Our first developer is also thankfully helping us occasionally.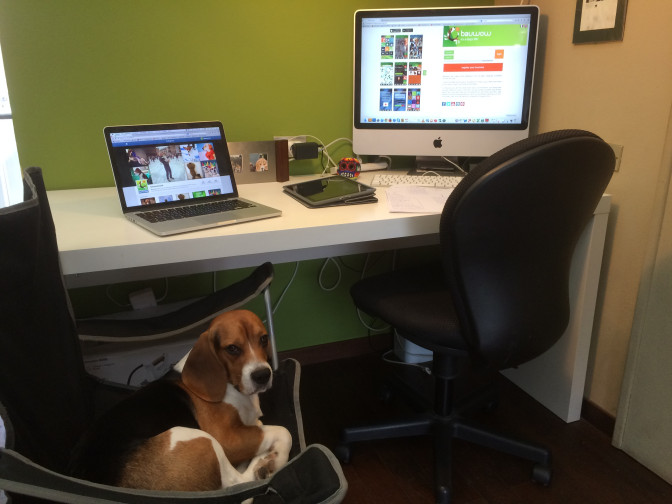 Q. What is the biggest challenge you foresee tackling in the nearest future?
The biggest challenge in the near future will be building our user community, and being able to manage growth effectively.  Juggling multiple events and launch campaigns across multiple countries will be an interesting and fun challenge that we can't wait to get our teeth into.
Q. Now that we looked at your product, let's talk about business. What are your premium solutions – how do you plan to make money?
Bauwow has a free version available that has many of our core functionalities. The PRO version of Bauwow provides users with full functionality of the health and wellbeing section, full integration of appointments into their phone calendar, and many more friends, photos and favourites. Businesses and activities can register through our web portal and appear in the app for free with limited information visible, but if they purchase a premium solution they will be able to update their website info, email and complete contact details, opening hours, add service information, photos, and set up promotions or sales.
Once a business purchases their subscription they have a full set of easy to use tools to manage their Bauwow profile that we use across our range of applications.

 Q. What impact do you aim to have with your company?
Although Bauwow is a social network for smart phones, our goal is to drag people out of the virtual world and make them socialise in the real world through socialisation, exercise and lifestyle enhancements for their dogs
Bauwow is providing tools, services and products for our community that directly result in dogs being better socialised, trained, travelled and loved.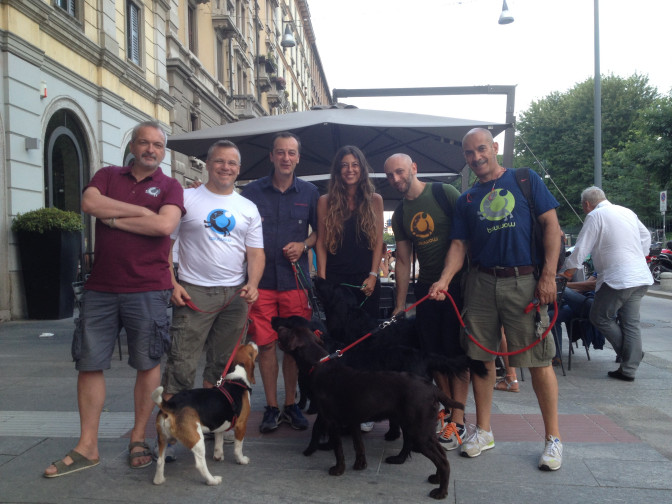 Q. Now it's your turn: Ask yourself a question and give yourself an answer?
Giuseppe: Is the Blood, sweat and tears really worth it?  Absolutely yes.  There is nothing more satisfying then seeing your sweat equity produce a truly fun, useful and engaging product.  I truly enjoy the interactions I have with our customers and users and this makes the long hours worthwhile.
Peter: Learning a new language, establishing a new life in a different country and launching a business is a massive challenge, would you do it over if you had the opportunity?  Absolutely.  I have learnt so much, met an incredible array of people and through it all I have ended up with a loving family and job satisfaction.  What more could you ask for.
Q. And this opens the door to more personal questions: Who are you? Do you see yourself as a dreamer or a doer ?
We are a couple crazy about our dog so much so that we decided to make an app for him!
Q. Did you go anywhere interesting lately?
We have been in Barcelona for two weeks in August and spent the most of the holiday taking pictures of all the dog areas of the city.
Q. Something stupid you have done without regrets?
Giuseppe: Having quite a long Mohawk for a whole summer. Sorry no pictures available
Peter: Keeping in theme with Giuseppe I once dyed my hair blue – it was back in the 90's
Q. Any motto that drives your life?
G: No matter how bad your day is, remember there is a tail waggling for you when you get home
P: If you see a man on top of a mountain just remember he didn't fall there
Beer or Wine?
P&G: Beer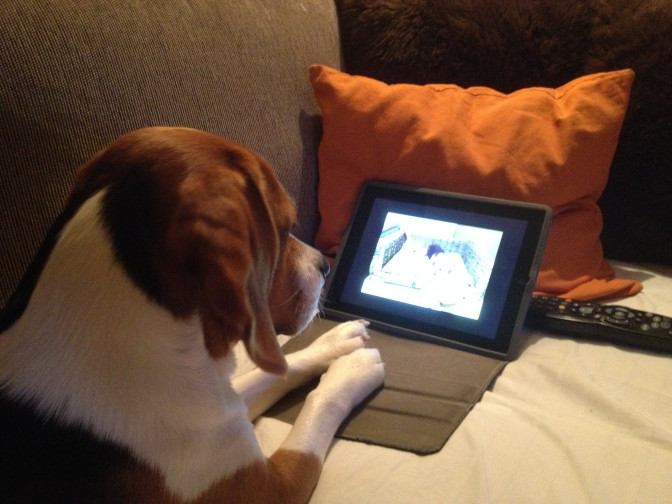 Q. What's a good night out for you?
P&G: Having friends over for dinner or a party at our place.
Q. What do you rock at, your biggest interests?
P&G: travel with our puppy
G: I always wanted to be a painter or an artist, so one day I bought 4 canvases and did my first commission (for Peter), a big 3 x 1,2 m painting, which is now in the living room.
P: Scuba Diving, Skiing and general adventure really get my heart pumping
Q. Are there any particular artists you follow?
G: I learnt English listening to U2 songs, but I also like Italian voices and artists like Elisa, Negramaro
P: I like all music from Dance, Pop, Alterative to Classical.  It really is mood dependant for me.
Q. Do you favour any philanthropic activities?
P&G: Of course we are involved in animal charities and rehoming of animals.  Bauwow allows all shelters everywhere to promote and search for forever homes for animals for free.  With Bauwow we also hope to establish in the future a trust where users can donate to nominated charities in their area by using the app and its services.
Q. Finally, which track gets you going?
G: Xavier Rudd – Follow the Sun
P: American Authors – The Best Day Of My Life