The Taliban insurgency in Afghanistan continues at a terrifying rate: on Thursday Afghan forces surrendered to the Taliban in the nation's second and third largest cities, Herat and Kandahar.
Just four days later the Taliban declared "war is over in Afghanistan", after their forces took the presidential palace in Kabul. President Ashraf Ghani has fled the country.
US Secretary of State Antony Blinken has denied the potent and increasingly widespread comparisons of the situation in Kabul with the emergency evacuations in Saigon in 1975. "This is manifestly not Saigon," he said, referencing one of the most embarrassing episodes in American foreign policy.
There are about '5 million Afghans internally displaced', as many flee from the Taliban's violence and the rule of their brutal, misogynistic, ultra-austere brand of Islam. One reporter from Afghanistan tells her story in a harrowing article:
I'm not safe because I'm a 22-year-old woman and I know that the Taliban are forcing families to give their daughters as wives for their fighters. I'm also not safe because I'm a news journalist and I know the Taliban will come looking for me and all of my colleagues.
— Anonymous Afghan reporter
There are increasing fears for the 18,000 Afghans and their families who worked for the US as translators and in other capacities, who are at risk of Taliban reprisals. Meanwhile, Canada has committed to take in 20,000 Afghan refugees, including the "particularly vulnerable."
Another plane arrived today, bringing more Afghans to safety in 🇨🇦.
It's a very good feeling to see them land here, and breathe a sigh of relief as they start their new lives.
We will keep working as hard as we can to get as many Afghans to safety as possible. pic.twitter.com/gHElPRLjxi

— Marco Mendicino (@marcomendicino) August 13, 2021
On Monday morning evacuation efforts were delayed as hundreds of desperate Afghans crowded runways, trying to leave the country. Some have reportedly clung to planes that are taking off. Images have surfaced that provide a tragic visualisation of the West's complete failure in Afghanistan.
How did this happen?
In the end it was only the withdrawal of 2500 foreign troops that prompted the Taliban resurgence. The U.S. made clear early on that they would not support the 300,000 strong Afghan National Army (ANA) in combat. Following this the collapse happened sooner than anyone expected.
The questions remain: How are the Taliban able to take such vast swathes of the country so quickly? How has the $83 billion the US poured into the Afghan army for weapons, equipment and training, proved so inconsequential? 
One answer is that some regional governments are making deals for safe passage with the Taliban instead of putting up a fight. For example, the governor of Ghazni, a city 100 miles from Kabul, was filmed traveling in a Taliban convoy. He was recently arrested by the government in Kabul. 
According to political analyst Anatol Lieven (currently a professor at Georgetown University), close links between government officials and the Taliban, formed by the heroin trade, are common. He pointed out that "If the Afghan government couldn't build up sufficient strength in 20 years, with a US military aid that gave them a budget at least 10 times that of the Taliban, clearly there is something fundamentally rotten about the state that we helped to create."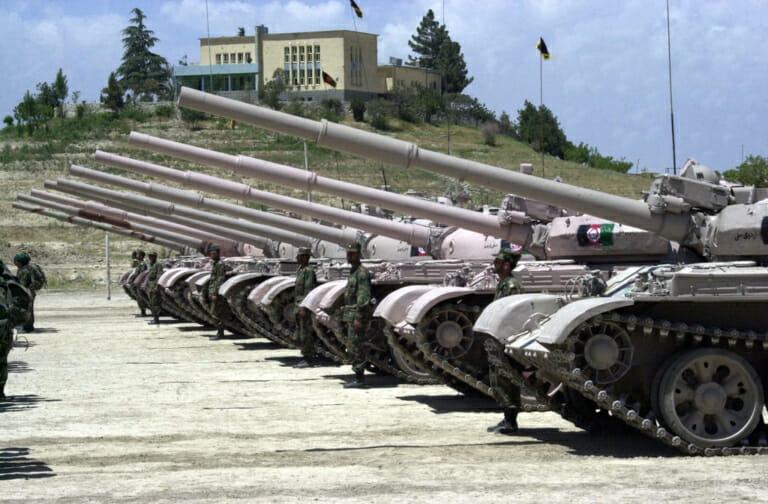 There is also evidence to suggest the Taliban have even expanded their influence in the past two decades. They have already taken cities, like Herat, in areas that are not of the Pashtun ethnicity. The Taliban is 'still at heart a Pashtun force', says Lieven, which is why it is so surprising that "the cities which it was thought would be the last to fall to the Taliban" have already been overrun.
There are also reports that despite U.S. investment the Afghan rank and file have been badly undersupplied. Some in Northern cities blamed their surrender on the lack of food, ammunition, and air support.
At the time of U.S. withdrawal, it seems the ANA was still reliant on the U.S. army for key skills, including air cover, logistics and maintenance. Patrick Wintour also points out that when it came down to actual combat, the well-equipped but poorly-led ANA couldn't not stand up to the highly motivated, ideologically charged Taliban forces. 
As ordinary soldiers felt they were being abandoned by their leaders, and in lack of the support they had grown reliant on, the option to surrender and be allowed to return to their families may have outweighed any desire to put up a losing fight to the death.
---
---
Anatol Lieven says, "We have been presented by the Western media and the Afghan government with this picture of bitter ideological divisions in Afghanistan and clear-cut allegiances. Very often on the ground it hasn't been nearly that clear."
One thing is clear, however. If the West wants anything of lasting benefit to come out of 20 years of war, it must offer asylum to young women. There is still time to evacuate hundreds of Afghans from Kabul. 
As a reader you can contribute to Rukhshana Media, an all-female news platform from Afghanistan, reporting "exclusively on issues that affect Afghan women, from the taboo of menstruation, child marriage, street harassment and economic hardship to violence and gender discrimination and what it means to live as a survivor of rape." 
Facilitating the continued voice of women in Afghanistan is key to preserving the gains made in human rights over the past two decades.
As Afghanistan falls the world is looking on in horror. Let's do more than just look, and act today. Every life counts.
---
Editor's Note: The opinions expressed here by Impakter.com columnists are their own, not those of Impakter.com. — In the Featured Photo: An Afghanistan National Army Armored Battalion in formation with T-62 Main Battle Tanks. Featured Photo Credit: Picryl.
Note: The text of this article was edited to reflect changing events between Saturday 14th August and Sunday 15th August.