How does one go about reviving a failing healthcare system of a major Ivy League university? According to Dr. Arthur Rubenstein, you add humanity. Dr. Arthur Rubenstein is a 78-year-old endocrinologist, specializing in diabetes, from South Africa. Patient-centered care is Dr. Rubenstein's driving force for building a leading healthcare system. His entire belief system is based on compassion, service, and optimism. He has a strong work ethic and he believes that practicing medicine is the best profession in the world. He has mentored countless aspiring physicians that continue to seek his advice even after they are established within their field. Dr. Rubenstein never turns away those that request his time. It is a priority to him to make sure everyone is heard and respected.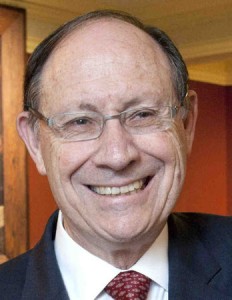 During his tenure as Dean and as Executive Vice President (EVP) from 2001-2011 at the University of Pennsylvania Healthcare System (UPHS), he was tasked to lead a medical school, several hospitals, and numerous satellite offices. He was given an ostensibly impossible task: to pull PENN healthcare system out of an estimated $300-$500 million deficit. Not only did Dr. Rubenstein steer UPHS out of this insurmountable debt, but he also did so in a positive direction while expanding the healthcare system. He was able to build new medical centers, procure large amounts of funds for the medical school and drastically improve the morale of his colleagues and students.
In the Photo: Dr. Arthur Rubenstein Photo Courtesy: Dr. Rubenstein
Prior to his tenure at PENN, he was Dean at Mount Sinai Hospital in New York City from 1997-2001 and the Chairman of Medicine at the University of Chicago from 1981–1997. Towards the end of the 1990s, the PENN healthcare system was declining at such a rapid pace that under faculty protest, the major teaching hospital directly affiliated with the medical school, the Hospital of the University of Pennsylvania, was to be sold. The financial status of PENN's healthcare system was so dismal; the morale of everyone directly involved with the organization was at an all-time low. Ultimately, patient care was suffering due to the dissatisfaction of the healthcare provider's work environment. During these turbulent years, clinical care at PENN was so badly regarded that some people would jest no one should be treated there unless they were dying. A strategic planning procedure needed to be put in place to salvage what was left of PENN's failing healthcare system.
In 2001, Dr. Rubenstein was approached by a close friend about the possibility of being the next Dean of PENN's School of Medicine and EVP of the Health System. Dr. Rubenstein always had a passion for university settings and he truly believes that "interfertilization" of departments is the ideal way to have a robust and integral healthcare system. By providing a supportive and open platform for all health professionals to voice their concerns and expertise, each department feels valued and in turn prospers. The above offer was extremely enticing for Dr. Rubenstein, however, the thought of uprooting his family again after being at Mount Sinai Hospital for only a few years felt like a difficult request, so he politely declined the offer. His friend was rather insistent however and invited Dr. Rubenstein for a visit of PENN's medical school and main healthcare facilities. This visit was the beginning of a ten-year transformation process that turned PENN into one of the best healthcare systems in the country.
---
Related articles: "OVER-TESTING WITH CT SCANS IN THE EMERGENCY DEPARTMENT"
"OVERTIME: HOW I'M FIGHTING TO CURE MY DISEASE WHEN EVERY SECOND COUNTS" 
---
No major life decisions are made without the encouragement and support of Dr. Rubenstein's family. With the support of Dr. Rubenstein's wife of over 50 years, Denise, and two son's Jeffrey and Errol, a visit with the President of PENN, Dr. Judith Rodin, was scheduled. Rubenstein was captivated by her charisma and brutal honesty of the state of PENN's healthcare system. He also met with the board of trustees and began to gain a deeper understanding of the culture at PENN. He realized in order to address all the failing issues facing PENN's healthcare system, he must diversify resources. After a very exciting and daunting visit to PENN, Dr. Rubenstein went home to consider another career change. Once home, Denise, knew exactly what he should do; accept the offer. Dr. Rubenstein claims that his wife has navigated his family through several major life decisions and he has always trusted her opinion.
The Rubenstein family has made several significant changes throughout their lives. In 1967, his wife and Dr. Rubenstein decided to leave an apartheid South Africa and migrate to the United States to be met with another volatile situation, the civil rights movement. Never shying away from a challenge, Dr. Rubenstein faced his role as Dean as a life calling, a vocation. He believed it was his last career change before he retired and admitted, "What is the worst that can happen? I fail."
The first year of Dr. Rubenstein's tenure at PENN was not met without a number of challenges. He was very vivid in his description of the moment when he learned about 9/11. The trauma of this catastrophic event was felt by everyone and his role, as Dean was to brighten the future of medicine at PENN. A stipulation set by Dr. Rubenstein accepting the position as Dean was maintaining UPHS. His immediate concerns were to reassure faculty and locate someone to address the financial bleeding. Dr. Rubenstein hired Ralph Muller as CEO and together, they began to apply damage control. This meant many faculty members had to continue to go without needed resources. The only way to appease faculty, the board of trustees, department chairs, and students, was to build trust.
It is important to plan for the future in order to provide hope.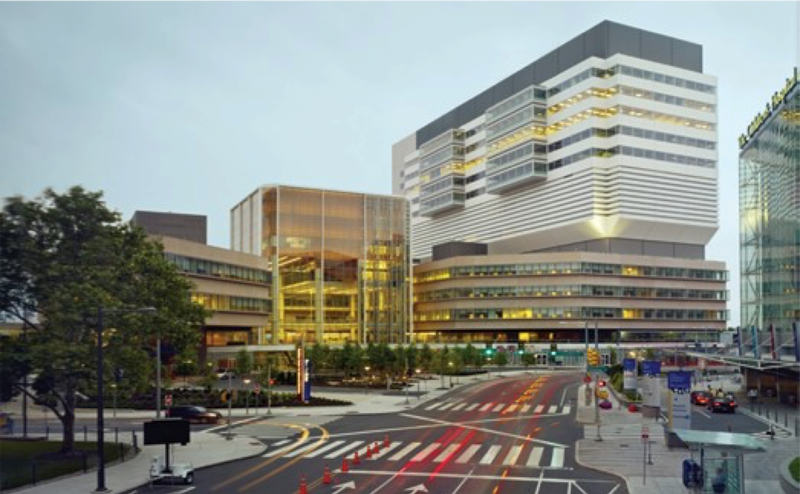 In the Photo: University of Pennsylvania Perelman Center for Advanced Medicine. Photo Courtesy: UPHS 
He made a concerted effort to meet with each department chair, board member, and any other health professional that felt overlooked or unappreciated. Many faculty members went without salary increases for years, several satellite practices had to close, and medical school students were in debt and unhappy with the aging facilities, and outdated technology. His approach was to listen to everyone's concerns and start to plan for the future by setting goals and prioritizing. He was completely honest with everyone involved and felt transparency was the best way for them to fully understand the gravity of the situation and why certain decisions were made.
At a time of such uncertainty and financial upheaval, the tendency is to abandon ship. This occurrence did not take place, no one at PENN left. There is a very strong level of commitment and love for PENNs culture. A part of Dr. Rubenstein's approach to leadership is recruit, reward, and retain. Whenever a faculty member was planning to leave, he or she was sent to Dr. Rubenstein's office and inevitably they would choose to stay. Dr. Rubenstein believes that it is important to plan for the future in order to provide hope. These constant meetings were building blocks for creating a sense of camaraderie between leader and faculty and ultimately played an active role in Dr. Rubenstein's efforts to foster a culture of excellence and leadership. It was important for faculty to remain loyal to PENN and feel that a team effort was being encouraged.
These plans for the future were implemented in stages and at a steady pace. No changes were made unless the department chair or board of trustees were involved in the decision making process. All of these plans came with the constant reminder and emphasis on patient care. The environment at the time was hungry for change and the individuals involved were ready to work together to make the necessary changes to improve the PENN system. Dr. Rubenstein does not go into great detail of how PENN arrived in such a dire state, but he does offer some insight. From the years 1997-2001 there was an estimated loss of $300-$551 million dollars, the Balance Budget Act of 1997 was passed and this affected the way healthcare systems were compensated. Unable to predict the passing of this Act, the Dean at the time expanded too quickly and was not able to fund all the satellites and hospitals he acquired. He refers to this as the perfect storm.
During Dr. Rubenstein's tenure as Dean at PENN, there were two significant events that took place. In 2002, the medical school developed a Bioethics department under the leadership of Dr. Arthur Caplan. For sometime, Dr. Caplan worked together with Dr. Rubenstein to create a complex and diverse department. Dr. Rubenstein once again wanted to promote the cross-disciplinary approach to medicine and was determined to make the Bioethics Department an integrated part of the medical school. By housing Bioethics at the medical school, it brought a certain legitimacy to the field. Medical students were and are encouraged to explore the field, while faculty are readily available to students. The second and most publicized event was the $225 million dollar endowment given to the medical school by Ruth and Raymond Perelman. The Perelman's also contributed money to various other projects that equated to a total of $250 million dollars.
 In the Photo: Dr. Arthur Rubenstein with Raymond Perelman
This donation took place at a time when PENN was starting to see significant progress, and any negative scrutiny to the still frail healthcare system was unwelcomed. Why would a $225 million dollar endowment be cause for negative publicity? One of the stipulations that the Perelman's placed when gifting the money was that the medical school had to change its name to the Raymond and Ruth Perelman School of Medicine at the University of Pennsylvania.
Dr. Rubenstein is thoughtful when asked about the implication of the endowment. He acknowledged the fact that placing stipulations on donations is sometimes not ideal, but with President Gutmann's leadership and support, it turned out to be a positive decision. There is great enthusiasm in Dr. Rubenstein's voice when he expresses how a large portion was allocated to fund scholarships for medical students. Prior to receiving the endowment, medical students that did not have the resources to pay the hefty tuition bills either had to attend a cheaper school or acquire copious amounts of student loans. According to Dr. Rubenstein, if a name change had to take place in order for the students to get these funds, then it was a minor sacrifice to make.
Dr. Rubenstein does not feel that a name change request is all that unusual. A similar occurrence at Harvard University took place in 2014 with an endowment amounting $350 million dollars that also required a name change to their School of Public Health. Whenever an opportunity arises to provide resources or assist someone in need, Dr. Rubenstein sees it as the human thing to do.
Humanity is a term used by Dr. Rubenstein when many might use charity. The idea of selflessness is common sense for Dr. Rubenstein. He is an observer of his surroundings and when someone around him is demonstrating a lack of some sort he naturally offers to help. As a consequence of integrating multiple disciplines across the healthcare system, Dr. Rubenstein gained several colleagues from different departments. One such professional was a sociologist named Dr. Renee C. Fox that spent her career researching the cultural and ethical implications of medicine. Dr. Fox was afflicted with polio in her adolescence, which affected her hand and her legs. She remembers several times where Dr. Rubenstein had extended a kind gesture. A fond memory of Dr. Fox's was when she was seated next to Dr. Rubenstein at a dinner event and some sort of meat was served. Dr. Rubenstein noticed that Dr. Fox was having difficulty cutting her meat and without asking, he discreetly and subtly proceeded with cutting her food. Dr. Fox always appreciated the level of respect and consideration he extended to her. Once she was in the hospital and a dossier of a colleague was delivered to her who was up for consideration of tenure. It was important for Dr. Rubenstein to get her opinion in this significant decision. A way to enforce Dr. Rubenstein's commitment to upholding his belief in "interfertilization," Dr. Fox's family donated a modest amount to fund a series of talks called the Fox Medicine, Society and Culture Lecture. Dr. Rubenstein made a point to support this series of lectures by attending each one and turning them into a Grand Round.
There are numerous suggestions on how to create something new out of nothing and be an excellent entrepreneur. There is a rush to destroy the old and reinvent the new. Cultivating the art of humanity is more challenging and some might say impossible. The notion of combining humanity with multi-million dollar business dealings is rare.  To know Dr. Rubenstein is to know humility and compassion.
Once Dr. Rubenstein completed his time as Dean at PENN, his commitment to continuing his passion for academic medicine was vigorously alive allowing him the opportunity to lecture and mentor junior colleagues. There are several requests to meet with him to gain insight either for career advice or assistance with various projects. He never refuses anyone's request to meet, believing that if he can be of service, he is always available. He is a strong believer of placing individuals in their ideal positions. Recognizing a person's potential is a well-known habit of Dr. Rubenstein. There are countless faculty members at PENN that have worked with him at the University of Chicago and Mount Sinai that have followed Dr. Rubenstein to PENN. Medical students are constantly seeking his wisdom and guidance. His ability to soothe and comfort is an intangible skill.
In a time when telemedicine is emerging and countless healthcare startups are in surplus, the idea of saving a money guzzling healthcare system seems ineffective. The manner in how Dr. Rubenstein transformed PENNs failing system was remarkable. His ability to be a fair and just listener is a lost art. There are numerous suggestions on how to create something new out of nothing and be an excellent entrepreneur. There is a rush to destroy the old and reinvent the new. Cultivating the art of humanity is more challenging and some might say impossible. The notion of combining humanity with multi-million dollar business dealings is rare.  To know Dr. Rubenstein is to know humility and compassion. Some individuals may confuse his gentleness as weakness, but they would be sorely mistaken. He is a man who understands compromise and democracy at its finest. Dr. Rubenstein never backs down from doing what he feels is right and fair. He believes in the goodness of his fellow human beings and always approaches him or her with the respect they deserve. It is not uncommon to see him walk down a hallway and greet everyone from faculty to security, maintenance, and the cleaning crew by name.
Yet, when asked what is his greatest accomplishment in life, he responds by saying his family. He cherishes his roles of husband, father of two, and grandfather of four. They are the apples of his eye.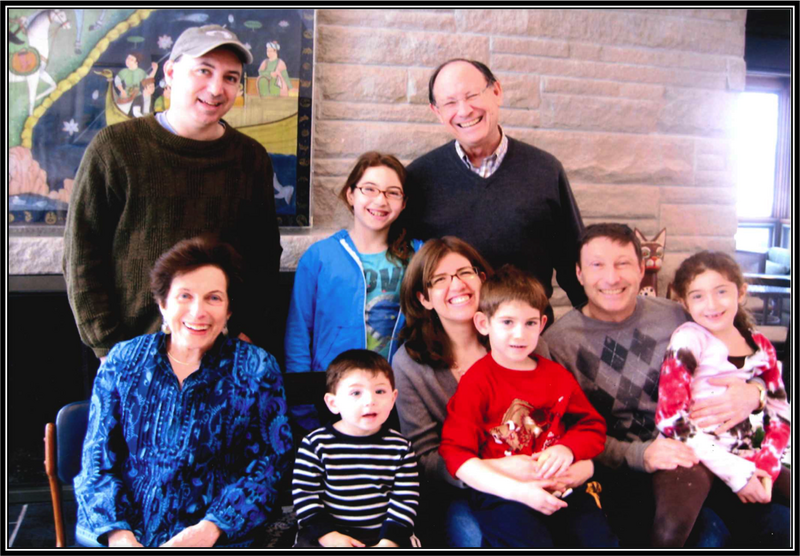 In the Photo: Dr. Arthur Rubenstein with his family. Courtesy of Dr. Rubenstein. 
_ _