Whether you are in your third week or third month of quarantine, you might be itching for some new pastimes. Even if you are not an essential worker, you could be considered essential to an impactful research project, the Penguin Watch.
This project is simple but crucial. Scientists, with the help of you and many others, aim to collect accurate penguin data in order to help Antarctica policymakers when it comes to making effective policies and establishing Marine Protected Areas (MPAs).
Citizen science has been around for years. It helps organizations and governments confront societal needs and advance science, and there are over 400 volunteer projects listed on CitizenScience.gov. So, with 400 other projects you could help, what makes Penguin Watch so special? 
Aside from the fact that you can participate from the comfort of your own home, it aims to protect an ecosystem in danger. Second, it's easy. Easy to access and easy to get sucked into. With just two clicks and a simple tutorial, I found myself scouring images of penguin chicks playing in the snow. Scientists get much-needed help protecting wildlife, and people get to look through images of tuxedo birds. It's a win-win situation.
---
---
This simple volunteer work helps protect Antarctic ecosystems. With climate change on the rise, many populations of penguin species are rapidly declining according to National Geographic. If global warming was not enough cause for concern, fisheries and other human disturbances add to Antarctica's list of threats. These threats and their potential impacts are why the researchers at Penguin Watch have spent the last 10 years placing cameras throughout Antarctica. Some of these cameras are built with self-charging solar panels and an internal computer that makes the camera take more or less photos depending on the season. A total of 800,000 pictures are taken by these cameras each year!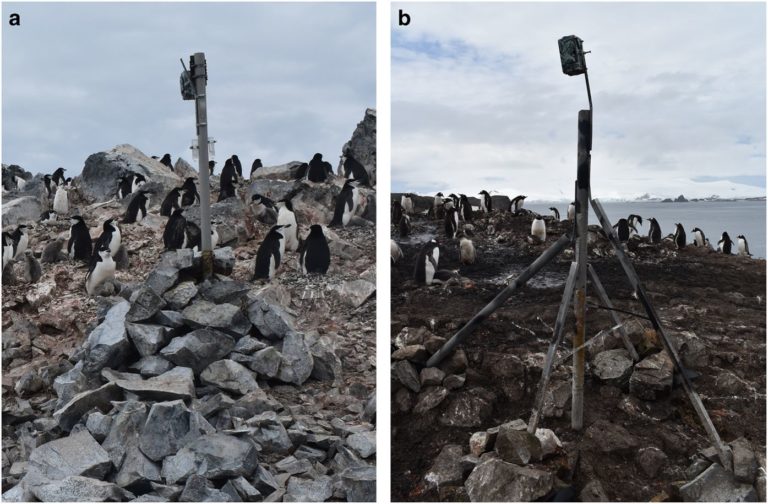 Sadly, penguins are not the only species at risk. Researchers at the Penguin Watch project understand that penguins are a sentinel species used to detect risks to important ecosystems before the peak of their impact. For this sentinel species, penguin population size and breeding performance are the main whistle-blowers that Penguin Watch is keeping its eyes on.
Whether you look through one image or one hundred images, any amount helps. Antarctica is massive, and far bigger than one team of scientists can pan through. And don't worry about being meticulous; each image is shown to several people to ensure accurate results. So what are you waiting for? Go count some penguins!
---
Editor's Note: The opinions expressed here by Impakter.com columnists are their own, not those of Impakter.com — In the Featured Photo: A waddle of penguins at the Chilean research station. — Featured Photo Credit: Warren Talbot