Tweets of war, warning the enemy – in this case Russia – of an impending missile strike in Syria: This has to be a first for a sitting US President. And it came in a series of tweets directed at Russia. Here's the first:
Russia vows to shoot down any and all missiles fired at Syria. Get ready Russia, because they will be coming, nice and new and "smart!" You shouldn't be partners with a Gas Killing Animal who kills his people and enjoys it!

— Donald J. Trump (@realDonaldTrump) April 11, 2018
He was probably having a knee-jerk reaction to reports that the Russian Ambassador to Lebanon, Alexander Zasypkin, had declared:  "If there is a US strike … the missiles will be downed as well as the sources they were fired from."
But he must have thought it over and allowed his other pet obsessions to take over. Predictably the next tweet expresses regret for the state of US-Russia relations, "worse now than it has ever been":
Our relationship with Russia is worse now than it has ever been, and that includes the Cold War. There is no reason for this. Russia needs us to help with their economy, something that would be very easy to do, and we need all nations to work together. Stop the arms race?

— Donald J. Trump (@realDonaldTrump) April 11, 2018
 Stop the arms race? That's an amazing suggestion coming from the man who has just threatened Russia with missiles that "will be coming, nice and new and 'smart!'"
That peace offer didn't last more than the length of one tweet, as shown in the next one:
Much of the bad blood with Russia is caused by the Fake & Corrupt Russia Investigation, headed up by the all Democrat loyalists, or people that worked for Obama. Mueller is most conflicted of all (except Rosenstein who signed FISA & Comey letter). No Collusion, so they go crazy!

— Donald J. Trump (@realDonaldTrump) April 11, 2018
To the usual suspects (the Dems, Obama, Mueller), he's added a new one, Rosenstein, but he put him in parenthesis. Perhaps Rosenstein (the deputy attorney general who appointed Mueller as special counsel to oversee the Russia investigation) can rest easy. He's not in the firing line. Not yet.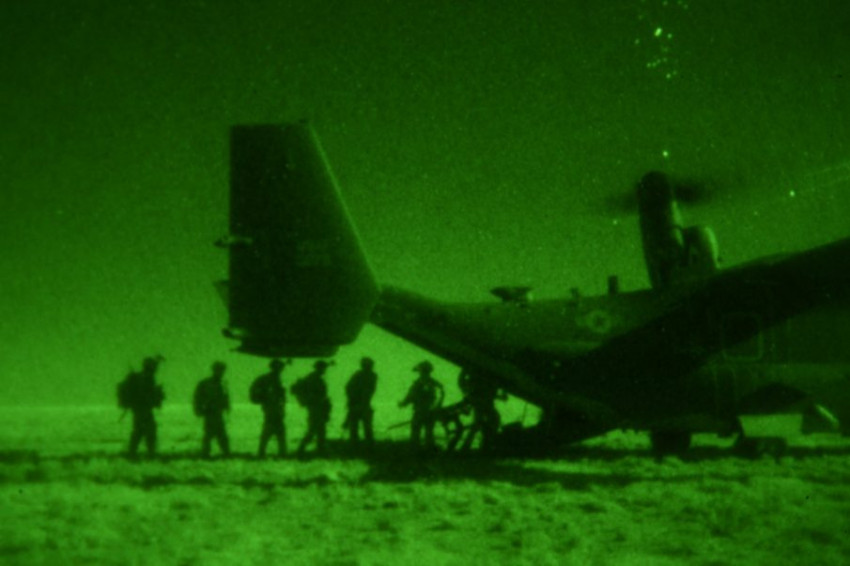 In the photo: U.S. Army Special Operations Soldiers in training, via a U.S. Air Force CV-22 Osprey, March 1, 2018, at Melrose Air Force Range, New Mexico – Photo Credit: defense.gUov
That's the end of the tweets of war series. What to make of them?
Compare Trump's M.O. with the UK's Prime Minister, Theresa May. She has called for an emergency cabinet meeting on 12 April to discuss the Syria question. Or look at French President Macron. He is reported to decide on a response in the coming days "in coordination with Washington", stating he does "not want an escalation" and that any response would focus on Syria's chemical capabilities, not on allies of the regime. That's a big difference.
Meanwhile the White House says President Trump hasn't decided yet how to retaliate. So are "tweets of war" just that? A few mindless tweets?
UPDATE: TWEETS OF WAR ARE FOR REAL 
As we now know (April 14), a retaliatory attack did take place eventually, a week after the chemical attack in Syria, and the US did not do this alone but in coordination with the U.K. and France. Russia's defense ministry said that more than 100 cruise missiles were launched – mainly aimed at chemical weapons facilities in Syria. That's considerably more than the 59 missiles fired by the US last year on a Syrian airbase.
This is supposed to be a one-off move, unless Syria renews its chemical attacks. Many observers feel it is largely symbolic and is unlikely to change the trajectory of the war. "Animal Assad's" palace on a hill above Damascus was not targeted, the aim was not regime change. Keeping the action as far away as possible from Russian and Iranian positions suggests that the conflict is unlikely to escalate.
---
RELATED ARTICLE IN THE TRUMP WATCH SERIES: JOINING THE TRADE PACT AGAINST CHINA (and bashing Comey)
---
NOTE: THE OPINIONS EXPRESSED HERE BY IMPAKTER.COM COLUMNISTS ARE THEIR OWN, NOT THOSE OF IMPAKTER.COM.  FEATURED PHOTO CREDIT: US Army.