This is the first article in collaboration with Sustainable Jungle. Sustainable Jungle is here to encourage and galvanize positive change. We share sustainability related ideas, tips, tricks, hacks, products, brands and stories of people & organizations doing meaningful work to future-proof our planet.
For better or worse, technology is advancing at a pace that's hard to comprehend. 
And while technology's leaps and bounds are impressive, it has led to an insatiable consumption of products that is dangerous not only to ourselves but to the world we inhabit.
Let's boot up some information on the biggest environmental and ethical conundrums of technology and how we as consumers can scroll our way to a more sustainable technology diet.
Ethical Problems With Technology
Technology's ethical problems bookend the device lifespan, beginning with raw material sourcing. 
Most people are at least vaguely aware of the issues surrounding mining, albeit usually within the context of sustainable and ethical jewelry. These same metals are what make up the body of your new iPhone.
Due to conflicts over mining regions, extracting metals used to make gadgets has caused  millions of deaths. While certified conflict-free metals are available, that doesn't change the fact that modern slavery and child labor remain rampant, nor does it impact the hazardous nature of mining.
Technology's next major ethical conundrum occurs after the device has powered off for the last time.
Electronic waste is not only environmentally damaging but also ethically damaging. 
Western countries ship an overwhelming amount of discarded tech to developing countries for dismantlement and sorting of materials for recycling.
Sounds like a good thing, right? 
Except that in developing countries, there are no regulations or safety measures in place to correctly manage the process. 
This results in exposure—particularly of women and children who do the majority of this labor—to known carcinogens, neurotoxic, and endocrine-disrupting compounds such as mercury, nickel, flame retardants, polycyclic aromatic hydrocarbons (PAHs), lead, and cadmium. 
Environmental Problems With Technology
Vast swaths of poisoned land rendered unusable, intensive energy and fossil fuel usage, and millions of gallons of waste water: the environmental impact of mining is just as severe as the social fallout.
While the catchy hypocorism "e-waste" makes the problem seem far less insidious than it is, the jarring reality is that 45 million metric tons are generated globally each year.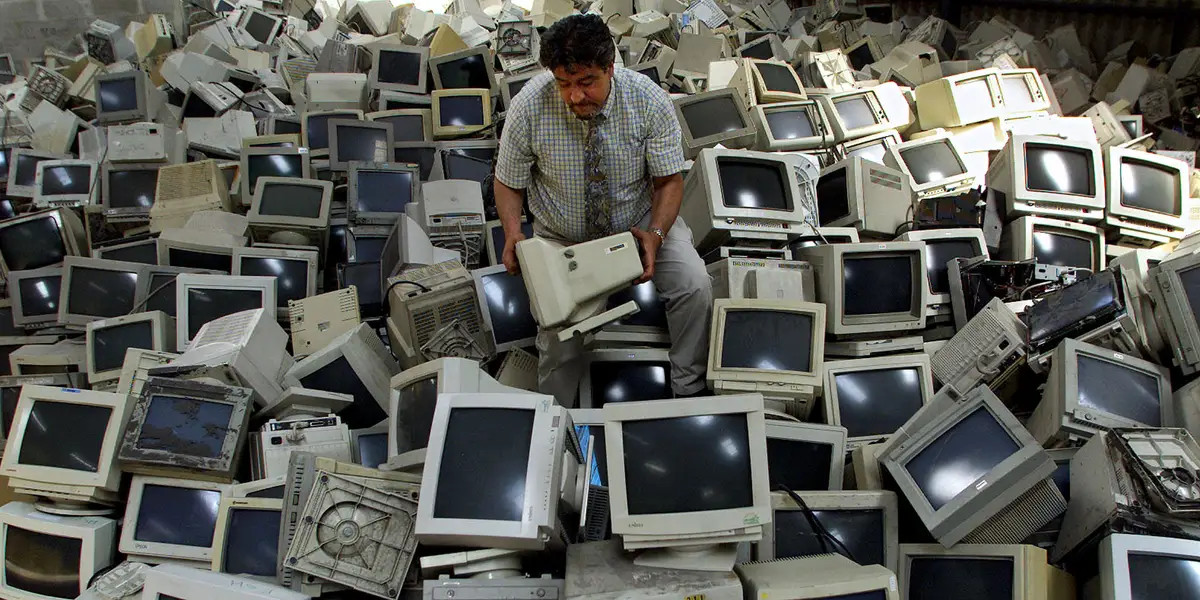 A staggering 80-85% of America's unwanted gadgets end up in landfills, where toxic elements like flame retardants, mercury, and other heavy metals seep into the earth, contaminating groundwater and altering surrounding ecosystems.
Not to mention the fact that e-waste means literally wasting a host of valuable materials, including gold, silver, and lead.
How to Consume Technology More Mindfully
Consuming technology is not an inherently bad thing.
Of course zero waste tech is a long ways away and you will eventually need to replace your smartphone or computer. However, minimizing how frequently we need to do so is critical to our health and the planet's.
Buy Less
Adopt a slow and sustainable technology mindset, buying only what you need when you need; redefining the term "need". 
You need a computer that doesn't crash every time you boot it up; You don't need to replace the phone you bought last year because this year's camera is 1 megapixel sharper.
Another slow tech staple is to buy used or refurbished electronics. That way, you're still getting something "new to you" that's not necessarily new. By doing so, you'll save money and the planet will save on waste.
Repair What You Can
There are so many electronic repair companies out there—even some brands offer free repairs under warranty.
Instead of giving up on a gadget that isn't completely functional, get the problem diagnosed. A simple fix may be all that's standing between years of use and leaching chemicals into a landfill.
Recycle What You Can't
If it can't be repaired, learn how to dispose of electronics properly, whether by reselling, donating, or recycling.
The impact of this can't be understated. Recycling one million laptops alone could recapture enough energy to power 3,657 homes in the U.S. for a year.
Buy Better
If you do buy new, do your research by reading reviews to ensure you buy quality products that last for years, like tried and tested stainless steel eco friendly kettles. 
You know the old adage "you get what you pay for", electronics are no different. 
Granted, costs can be prohibitive for premium technology, but think of it like this: If you have to buy one $100 item every year versus one $500 item that will last you ten, you're saving money in the long-term.
Buy Ethically
Whether you're shopping for eco friendly appliances or any other form of ethical electronics, try supporting sustainably-minded brands.
Look at a brand's sourcing and manufacturing policies. Do they transparently disclose them, or does it appear like they're hiding something? 
Next, look at how the products are made. 
Do they bear certifications such as B Corporation and Fair Trade ensuring ethical practice? Do they utilize energy-saving manufacturing techniques, offer extra product warranties, have repair options, or support carbon offset programs?
Final Thoughts on Ethical and Sustainable Technology
For all its ills, technology has yielded remarkable improvements, both in terms of human rights and sustainable living.
Unfortunately, that doesn't negate the damage the tech sector has caused. If we continue to consume technology at the pace we currently are, there may not be any going back.
It's time we redefine the role of technology in our lives. 
Remind yourself that part of the joy of technology is its ability to connect us to the wonders of this world; don't let that same technology destroy it.
Editor's Note: The opinions expressed here by Impakter.com columnists are their own, not those of Impakter.com. — In the Featured Photo: laptop with plants  Featured Photo Credit: Shutterstock