Drinking tequila, the iconic Mexican beverage made from the agave plant, can have the most surprising effects on the environment. And Sombra Mezcal has come up with surprising solutions. Consider the story of the lesser long-nosed bat.
Good news arrived in time for Earth Day 2018 when the lesser long-nosed bat was taken off the U.S. endangered species list, thanks to a decades-long conservation effort spanning the U.S.-Mexico border. The flourishing of these bats has been particularly welcomed in the Mexican spirits world.
Part of the problem for the lesser long-nosed bat has been that its natural feeding grounds tend to shrink as human agriculture expands into formerly wild habitats. The bats rely on nectar from flowering wild agave plants to power their long migratory and foraging flights.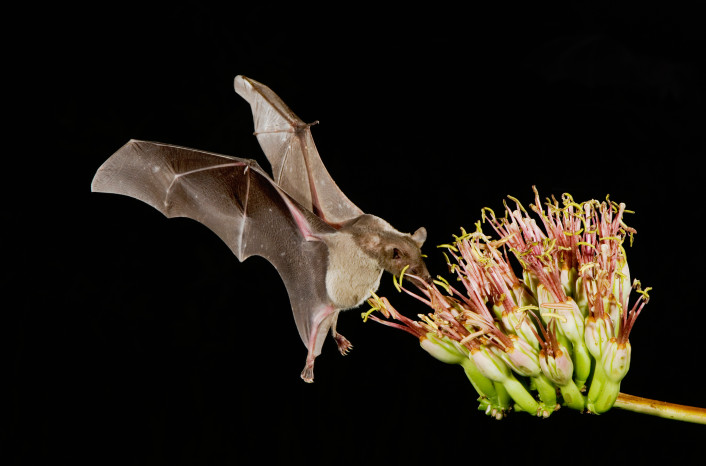 In the photo: The lesser long-nosed bat feeding from an agave blossom Credit: Shutterstock
Agave, of course, is used to make Mexico's iconic drink: tequila. There is no shortage of agave in Mexico—it is cultivated in long neat rows of spiky blue plants throughout Jalisco.
But tequila producers typically harvest their agave before the plant has a chance to shoot out its tall flowering stalk known as a quiote. Thus bats might see agave everywhere but not a drop to drink.
As awareness of the endangered bats spread, the tequila industry was enlisted to help solve the problem. The answer was simple: Farmers would allow a small portion of their agave to flower. Agave fields may be an artificial landscape, but they can still provide ecological benefit if they reproduce even a fraction of the habitat and nutrition needed by wild pollinators.
The recuperation of the bats is just one positive example of how innovation and cooperation have made the agave beverage industry more responsive to environmental issues; a very important area of concern given the scale of tequila production and its growth in recent decades.
The Challenge from Mezcal
Now tequila's lesser known cousin mezcal is enjoying its own boom in popularity, and facing its own environmental challenges. Mezcal can be thought of as the single malt of Mexico, thanks to its smoky character and mostly small-batch artisanal process. Mezcal tends to be rare and regional much like the best whiskies of Scotland.
But just because something is small doesn't mean it's automatically clean or sustainable. Distillation is by its nature a dirty process. Producers take a large volume of materials, add energy, and extract a smaller purified volume, leaving the problem of what to do with the unwanted fraction.

In the photo: Trimming the branches from an Agave plant Credit: Shutterstock
For some mezcal producers, the local waterway provides a convenient solution, sweeping away the solid bagazo and liquid vinaza byproducts. But these materials are acidic after distillation and thus harmful to river life and villages downstream. It's a dirty secret that people are naturally reluctant to discuss.
How Sombra Mezcal became the World's Most Interesting Sustainable Spirit
One bright light leading an environmental revolution in the sector is Sombra Mezcal. Founded by Master Sommelier Richard Betts in 2006, the brand recently built a new distillery from the ground up, putting a lot of thought into how to make a sustainable mezcal. This meant looking at energy use, waste disposal, and key inputs like wood and water.
Unlike tequila, mezcal is cooked over a wood fire in underground pits prior to fermentation. This step is what imparts the characteristically smoky flavor. But wood is only a renewable resource if you reforest in proportion to what you burn, so Sombra has committed to firing its ovens with timber from certified sustainable sources.
In the photo: Sombra Mezcal bottle Credit: Sombrea Mezcal
Similar attention was given to energy and water use at the distillery. The copper stills are insulated and were converted to gas for greater efficiency, water now comes from rain harvested on the distillery roof, and solar panels power the mechanical millstone.
But it is really in moving toward zero-waste that Sombra shines. Sombra has composted some of its leftover agave, much like many of the largest tequila producers, but the brand has also launched a green building experiment that is in keeping with the architectural traditions of its home in Oaxaca.
In partnership with Consultorio de Asesoría Arquitectónica, Sombra has developed a process for making adobe bricks with its solid and liquid distillery waste, and they completed construction of the first house made with their mezcal waste on Earth Day 2018. This home replaces a dwelling that was destroyed last year during the earthquakes that shook Oaxaca.
According to Alejandro Montes, lead architect on the project, he and his team of volunteers have converted 45,000 liters of vinaza and 42 cubic meters of bagazo into 8,000 adobe bricks, and they used an additional 16,000 liters of vinaza and 1.4 cubic meters of bagazo during construction of the house.

In the photo: Agave at its base, ready for the fire Credit: Shutterstock
Sombra has been working with other local and major producers of agave spirits to share best practices and spread the adoption of these sustainability techniques across the industry. Recently dozens of them met to learn about Sombra's methods in the town of Santiago Matatlán, where they agreed to put their community on a path toward zero emissions.
And there are signs that these innovations are catching on across Mexico. The Jose Cuervo foundation recently announced that it would sponsor a contest for sustainable social housing made with byproducts of the tequila industry at the 2nd International Congress on Sustainable Housing.
Taken together, and scaled up, these initiatives give tequila and mezcal a shot at becoming the world's most interesting sustainable spirits.
---
Editors Note: The opinions expressed here by Impakter.com columnists are their own, not those of Impakter.com